By Darren Rovell
ESPN.com
Everyone knows Super Bowl tickets are a hard get. But don't believe everything you hear at your water cooler. As of Tuesday morning, the average price of a Super Bowl ticket on the secondary market was close to $3,000. With the help of StubHub co-founder Eric Baker and chief executive Jeff Fluhr, here are the top nine myths about Super Bowl tickets …
9. A cold-weather location will put a freeze on prices.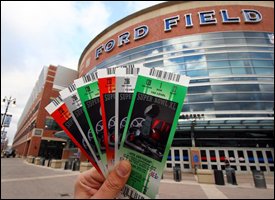 AP
A lot of people would like to get their hands on these tickets.
Any Pittsburgh Steelers or Seattle Seahawks fan who has actually shopped for a ticket this year knows this isn't true. Weather might have been more of a factor than it has been in the recent past, especially given the fact there's expected to be a sprinkling of snow this week -- including on game day. But because there are so many factors that determine the ticket market, weather seemingly isn't one of the most important ones this year.
"A lot of Seahawks fans were told that they would get to the Super Bowl when hell froze over, so I guess a little cold weather is nothing to be unhappy about," said Baker.
This year's biggest determining factors are tradition and location. The Pittsburgh Steelers are one of the most storied franchises in football, and their town is only 285 miles away. StubHub's data suggests that more than 25 percent of ticket purchases on the secondary market are coming from Pennsylvania, while less than 10 percent of buyers are coming from Seattle.
Do less people want to come to Detroit? Apparently not. And don't forget Ford Field only seats 67,500 -- that's more than 10,000 fewer seats than the number for last year's game.
8. You have a good chance of obtaining a face-value ticket if you are a season-ticket holder of one of the Super Bowl teams.
Unfortunately, this is not true. The Super Bowl is the only championship of the four major sports for which season-ticket holders do not have the right to purchase seats. (Of course, it's also the only one of the four played at a neutral site.) The Seattle Seahawks and the Pittsburgh Steelers are given 17.5 percent of the tickets -- 11,800 seats each. Each team will give about 8,800 tickets to its fans. Meanwhile, season-ticket holders take up approximately 46,000 seats in Seattle and 50,000 seats in Pittsburgh. Better try to strike up a relationship with an executive of an NFL sponsor.
7. The NFL doesn't make much money off Super Bowl tickets.
It is true that the league keeps 25 percent of the tickets to distribute, and that many of the people attending -- especially league sponsors and corporate executives -- aren't taking money out of their own pocket. But the league is moving closer and closer to market price. Sure, the face value this year still isn't $3,000, but the face value is now $700. That's a far cry from the face value of $325 for Super Bowl XXXV just five years ago.
Although there's some sentiment out there that the league doesn't charge enough, multiple surveys have confirmed that because of the way tickets are distributed, only about one-fifth of the stadium pays more than face value for their tickets. And remember, if a broker sold a ticket for $3,000, it doesn't necessarily mean he's making that much money.
Although there are costs associated with the game, I assure you, the league isn't losing any money at that price. It's making money.
6. The Internet has made it more expensive to go to the game.
Not true. It's still a free market, but the Internet has made the marketplace transparent. Now, unlike the old days, you can discover what a ticket costs almost instantaneously. Unfortunately, many people are misguided by the outrageous prices on some sites. What they need to realize is that these tickets often aren't being sold at these prices. It's simply the asking price.
5. The odds of getting scammed are very low.
They might be low, but maybe not as low as you think. Last year, the Jacksonville sheriff's office said it recovered 146 counterfeit tickets. So you figure, given the fact that there were 78,125 fans in the stadium, your odds of getting something fake are roughly .18 percent. Not bad, right?
Except that number only represents what they recovered. Also, many victims of fraud didn't buy their tickets on the street, where the police could recover them. A lot of incidents of fraud go unreported. This year's tickets have a black-on-black hologram that have the Super Bowl logo, the word Detroit and the game date. But remember, only the pros' pros dabble in counterfeiting at the Super Bowl. A woman has already been charged with selling 105 fake Super Bowl XL tickets for $400 each for a profit of $42,000.
4. Once in town, the closer you get to the stadium, the better chance you have of getting tickets.
If anything, it's the exact opposite. Scalpers know you are close, but they also know you are likely desperate. It's also the place where they are most likely to get caught. Some of the most brisk business takes place in the downtown area near the hotels.
3. The closer it gets to game time, the cheaper it gets.
This is often true, but it is not always the case. In 2002, I held out until right before game time and snagged a ticket for $100. In 2003, the cheapest you could get at the last minute was $1,500. But average prices do fluctuate, depending on supply and demand, determining whether there will be what I like to call, "The Scalper's Panic."
Will the lowest price come at the last minute this year? I'm not convinced. Here is the data of the average price of a ticket sold on StubHub.com over the last month. Notice the highest price was the Monday after the teams were set.
Jan. 2: $2,200.00
Jan. 4: $2,765.00
Jan. 6: $2,499.00
Jan. 12: $2,175.00
Jan. 13: $2,525.00
Jan. 15: $2,275.00
Jan. 16: $2,275.00
Jan. 17: $2,483.00
Jan. 18: $2,621.67
Jan. 19: $2,627.00
Jan. 20: $2,214.80
Jan. 21: $2,515.00
Jan. 22: $2,734.57
Jan. 23: $3,410.94
Jan. 24: $3,020.36
Jan. 25: $2,967.38
Jan. 26: $3,010.74
Jan. 27: $3,362.92
Jan. 28: $3,311.93
Jan. 29: $2,545.85
Jan. 30: $3,295.28
2. The Super Bowl ticket is the hottest ticket in town.
The hottest tickets are usually the top parties, which might -- at the most -- have only a couple of hundred tickets to sell. VIP tickets to the Playboy party can be had for more than $2,500 apiece. Balcony access to the Penthouse party can be had for $1,000 each. Maxim stopped selling tickets to its party after counterfeit tickets were discovered in 2002. Try to pay your way into that one.
"There's not one piece of paper that will get you into our party," said publicist Lewis Kay, who noted there are about 1,000 names on the list. "We've been offered a lot of things, but unfortunately, we can't be bought."
1. No matter what the price, attending the Super Bowl is worth it.
Of course this is subjective, and depends on how much you pay and how much you value you being there, but the average Joe Fan should weigh the opportunity cost. If you don't make it to the Super Bowl and your team wins, you are still happy. If you go to the Super Bowl and your team gets throttled, imagine how much that hurts. Not just the loss, but the fact that you could have watched the commercials and purchased a 50-inch flat screen television instead.
Darren Rovell, who covers sports business for ESPN.com, can be reached at darren.rovell@espn3.com.

Darren
Rovell
SUPER TICKET MYTHS