By Aaron Schatz
Special to Page 2
Peyton Manning is having the greatest quarterback season ever.
That's the assumption. After all, he's on pace for nearly 5,000 yards passing and 59 touchdowns. But how do you compare Manning's numbers to quarterbacks from the past, with NFL rules and styles of play constantly changing? The average quarterback now puts up completely different numbers compared to the average quarterback of 1994 or 1975 or 1962.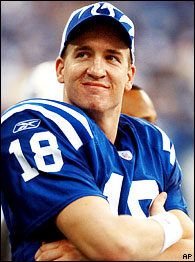 AP Photo
Manning can smile with all the huge numbers he's putting up.
Sure, Manning has eye-popping statistics -- in one of the most offense-oriented seasons in NFL history. The league as a whole has never had a completion percentage over 60 percent, but thanks in part to stricter enforcement of illegal contact by defensive backs, the leaguewide completion percentage is currently 60.1 percent. NFL teams are averaging more passing touchdowns per game than in any non-strike year and fewer interceptions per game than in any season ever. So is Manning really having the best season ever, or has he been helped by the rules?
We've gone through every quarterback season since the AAFC-NFL merger in 1950 to figure out the best passing performances in history. We created a level playing field by transferring each season to the offensive environment of 2004. If interceptions were more common than they are in 2004, we project fewer interceptions. If teams threw less often than they do now, we project more passing. If teams played only 14 games a year, we give the quarterback an extra two games -- and Manning and the other 2004 quarterbacks get an extra four games to make a full season.
Then we created a formula that turns passes, yards, touchdowns, and interceptions into the same PAR points (points created above a replacement-level QB) that you find each week in the Snap Judgment QB ratings. Unfortunately, we can't break down every single play like we do for Snap Judgment, so we can't adjust quarterbacks who get stuck in bad field position or have no running game. We couldn't include sacks since those numbers don't exist for some seasons, and we didn't adjust for strength of schedule. Also, this is a list of the best passing seasons of all time, not necessarily the best quarterbacking seasons of all time. Rushing yardage isn't included, which is one reason why Steve Young's 1994 season didn't crack the top 10.
It turns out that Manning is indeed having a historic season -- the greatest of all time, in fact. But two other 2004 QBs could also end up with historic years (factoring in regular-season performance only).
10. Kurt Warner, 2001 St. Louis Rams
Actual stats: 375 for 546, 68.7% completion rate, 4830 yards, 36 TD, 22 INT
2004 projection: 374 for 534, 70.0%, 4945 yards, 40 TD, 20 INT
Like a lot of big stars around the turn of the millenium, Kurt Warner came out of nowhere, was huge for a couple years, and then fell apart, only to launch a series of aborted comebacks. His tenure with the Giants this season was the NFL equivalent of one of those VH-1 "I Love the '90s" specials. But for three years, he was the best in the business. He's the only QB with two seasons in the top 10. This season is a bit lower than 1999, despite the better completion rate, because Warner threw fewer touchdowns and more interceptions.
What's scary is that according to my numbers at Football Outsiders, the 2000 Rams were actually the best of the three St. Louis offenses. That was the season that Warner missed five games due to injury, and Trent Green took over and didn't miss a beat, but the Rams were betrayed by a defense that completely imploded.
9. Rich Gannon, 2002 Oakland Raiders
Actual stats: 417 for 616, 67.7%, 4676 yards, 26 TD, 10 INT
2004 projection: 397 for 582, 68.2%, 4663 yards, 27 TD, 9 INT
Hi, remember me? A couple of years ago, I set an all-time record for pass completions in a season. I led my team to the Super Bowl and was voted league MVP at the ripe old age of 37. Since then I've injured myself in roughly 40 different places and now you'll find me on the side of a milk carton. Even though I broke a vertebra in my neck this season, I'm considering a comeback in 2005. Can I quarterback your team?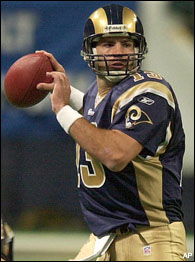 AP Photo
Warner and the Rams' high-powered offense played in two Super Bowls.
8. Kurt Warner, 1999 St. Louis Rams
Actual stats: 325 for 499, 65.1%, 4353 yards, 41 TD, 13 INT
2004 projection: 323 for 471, 68.6%, 4315 yards, 44 TD, 11 INT
In 1999, Warner set a record for most fantasy football leagues won by the guy with waiver priority in the first week. The bad news for Manning and Donovan McNabb fans is that this is the only season in the top 10 that ended with an NFL title. In fact, the only other two seasons in the top 20 that ended with a Super Bowl victory were Ken Stabler's 1976 and Steve Young's 1994.
7. Ken Anderson, 1975 Cincinnati Bengals
Actual stats: 228 for 377, 60.5%, 3169 yards, 21 TD, 11 INT (13 games)
2004 projection: 348 for 501, 69.3%, 4480 yards, 29 TD, 8 INT
To understand how a quarterback with only 228 completions and 3169 yards can somehow project to 348 completions and 4480 yards under current conditions, you have to remember how much different the NFL was before the liberalization of passing rules in 1978. In 1975, the average quarterback barely completed half his passes. Teams averaged 4.5 fewer passes a game than today, but ran the ball eight more times a game. But a few quarterbacks stood head-and-shoulders above the rest of the league: Anderson, Fran Tarkenton and Bert Jones. Tarkenton won the MVP this season but Anderson threw for 175 more yards on 48 fewer attempts. The Bengals had to play in Oakland in the first round of the playoffs, and Anderson led a two-touchdown comeback in the fourth quarter, but the Bengals couldn't recover the onside kick and lost 31-28.
6. Donovan McNabb, 2004 Philadelphia Eagles
Actual stats: 256 for 393, 65.1%, 3356 yards, 28 TD, 5 INT (through 12 games)
2004 projection: 341 for 524, 65.1%, 4476 yards, 37 TD, 7 INT
McNabb is the only player in the top 10 who is occasionally overshadowed by his mom. Yes, he's been this good, and no, there was no reason to expect it. Manning's record 2004 is just the logical next step in his career path, but McNabb is going to have twice as many touchdowns as last year and four times as many touchdown celebrations on "NFL Prime Time." No star wide receiver who changed teams has had the kind of effect on his quarterback's numbers that Terrell Owens. More often the star receiver just sees his numbers drop and the quarterback's numbers don't change at all. Think of Peerless Price, or John Jefferson to Green Bay back in 1981.
The scary thing is that McNabb might end up better than this projection, because Dallas and St. Louis are still on the schedule and those are two of the worst pass defenses in the league. Forget five touchdowns in the first half, McNabb might throw for five touchdowns in the first five minutes against one of those teams.
5. Warren Moon, 1990 Houston Oilers
Actual stats: 362 for 584, 62.0%, 4689 yards, 33 TD, 13 INT
2004 projection: 411 for 617, 66.5%, 5020 yards, 37 TD, 12 INT
Ah, the run and shoot. Some might object to the presence of Moon on this list, since he was playing in an offense that allowed him to throw, throw, and throw some more. It is hard to take a football strategy seriously when it is invented by a guy named "Mouse." But Moon's performance was more than just some gimmick offense. No team ran less often than the Oilers, so opposing defenses could play with extra defensive backs the whole game. Moon led the league in completion percentage anyway. Despite the run and shoot, he only led the league in pass attempts by 30. But he had an astonishing 700 more yards than the quarterback in second place, Jim Everett.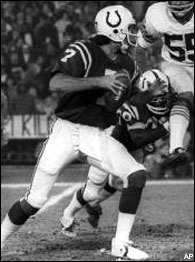 AP Photo
Jones' career was derailed by a separated right shoulder in '78 and later a spinal injury.
Here's the scary thing: if he played today, Moon might be throwing more. The average NFL team today passes 5 percent more often than in 1990, with a higher completion percentage and more yardage. Imagine the run and shoot with stricter pass interference calls making things easier on the receivers.
4. Bert Jones, 1976 Baltimore Colts
Actual stats: 207 for 343, 60.3%, 3104 yards, 24 TD, 9 INT (14 games)
2004 projection: 332 for 478, 69.6%, 4629 yards, 35 TD, 8 INT
Who? It's almost impossible to find a football fan younger than30 who has ever heard of this guy. When people talk about the great quarterbacks from the '70s, you hear about Terry Bradshaw, Fran Tarkenton and Roger Staubach -- never Bert Jones. But for a short three-year stretch, from 1975 to 1977, Jones was probably the best quarterback in the league. People knew who he was then -- he was the second overall pick in the 1973 draft and won the 1976 MVP award. Unfortunately, history does not look kindly upon quarterbacks who lose in the first round of the playoffs for three straight seasons, lose most of two years to injury, and eventually get traded to the Rams and rot on the bench behind Vince Ferragamo. But Bert Jones, not Johnny Unitas, had the greatest single season in the history of the Colts. Until 2004, that is.
3. Dan Marino, 1984 Miami Dolphins
Actual stats: 362 for 564, 64.2%, 5084 yards, 48 TD, 17 INT
2004 projection: 385 for 562, 68.4%, 5042 yards, 50 TD, 13 INT
You may have heard something about this man recently. Because offense is up all over the league this year, a lot of people assume that Manning is chasing after Marino's record under somewhat easier conditions. But actually, 1984 was a very strong year for offense as well, so Marino set the record in an offensive environment pretty similar to today's. The main differences were lower completion percentages for quarterbacks around the league and a lot more interceptions thrown. Plus the big hair. Seriously, imagine Peyton Manning with Marino's hair from 1984. Yikes.
2. Otto Graham, 1953 Cleveland Browns
Actual stats: 167 for 258, 64.7%, 2722 yards, 11 TD, 9 INT (12 games)
2004 projection: 303 for 368, 82.2%, 4251 yards, 16 TD, 6 INT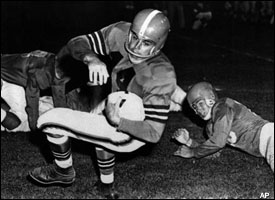 AP Photo
Graham also rushed for six TDs in 1953.
Jim Brown may have been the greatest NFL player ever at his peak, and Jerry Rice the greatest over the course of an entire career, but neither of them can claim the title "Babe Ruth of football." Otto Graham can, because he revolutionized the game like nobody before or since. Like Ruth, his statistics look ludicrous when normalized for their era because he was playing the modern game while the rest of the league was in the dead-ball era. Cleveland was the first team whose offensive linemen formed a passing pocket instead of trying to block a pass play like a running play. Coach Paul Brown also originated timing routes, sideline passes, the draw play, and the concept of players keeping their own playbooks. Graham turned the new ideas into points on the scoreboard.
Graham had a very low number of passing touchdowns, because Cleveland preferred to go into the end zone on the ground. (One of Graham's halfbacks, "Dub" Jones, would later father a pretty good quarterback named Bert.) Otherwise, Graham's 1953 line looks like a modern quarterback. Except he was completing 65 percent of his passes in a league where quarterbacks completed only 47 percent of their passes. He averaged 10.5 yards per pass attempt; nobody has averaged more than 10 since. Every single year Otto Graham played professional football, his team made the championship game. But they didn't win it in Graham's best season, falling to Detroit 17-16.
1. Peyton Manning, 2004 Indianapolis Colts
Actual stats: 262 for 385, 68.1%, 3621 yards, 44 TD, 9 INT (through 12 games)
2004 projection: 349 for 511, 68.4%, 4833 yards, 59 TD, 12 INT
A lot of people just don't like Peyton Manning for some unexplained reason. If you are one of those people, put aside your grievances for the next four weeks and enjoy history. Even taking into account the rise in offense across the league, Manning is on his way to the greatest passing season of all time, not just in TD passes but in terms of overall performance. Ironically, the team that has the best chance of forcing him into a bad game is the team whose fans hate the Colts the most. Only one quarterback has thrown for more than 230 yards against Baltimore this year, so this may be the only time in his life where Manning gets the advice to "be more like Carson Palmer."
What happens come playoff time? Well, since he would probably have to beat the Patriots in New England, the Steelers in Pittsburgh, and then Philadelphia in the Super Bowl, I wouldn't count on Manning crowning his record-setting season with a Lombardi Trophy. But do you want to count out a guy who might pass for 60 touchdowns?
The Next Ten
11. Daunte Culpepper, 2004 Minnesota Vikings (projected)
12. Peyton Manning, 2003 Indianapolis Colts
13. Fran Tarkenton, 1976 Minnesota Vikings
14. Dan Fouts, 1981 San Diego Chargers
15. Roman Gabriel, 1973 Philadelphia Eagles
16. Ken Anderson, 1974 Cincinnati Bengals
17. John Brodie, 1970 San Francisco 49ers
18. Steve Young, 1994 San Francisco 49ers
19. Ken Stabler, 1976 Oakland Raiders
20. Johnny Unitas, 1967 Baltimore Colts
Aaron Schatz is editor-in-chief of FootballOutsiders.com.