By Aaron Schatz
Special to Page 2
In December, I wrote an article for Page 2 analyzing the greatest quarterback seasons of all time by translating the numbers of the past into the offensive environment of 2004. For the new book "Pro Football Prospectus 2005," I revisited that analysis, taking into account not only the final four games of 2004 but also several suggestions made by ESPN readers. The new analysis includes sacks, strength of schedule and rushing numbers. (Thanks to that last change, Steve Young now has two of the top 10 seasons of all time.)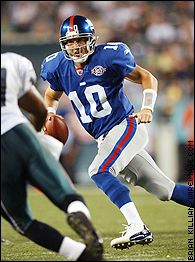 Eli Manning didn't have the worst QB season ever last year -- it just seemed like it to Giants fans.
Of course, 2004 was notable not only for a high number of outstanding quarterback seasons but also for a number of dreadful quarterback seasons. A lot of the story lines in training camp are connected to overcoming last season's offensive black holes. Can Eli Manning mature? Can Rex Grossman stay healthy? Can anybody get the ball deep to Arizona's talented receivers? Miami, meanwhile, is hoping that if it signs enough defensive linemen, maybe it won't even need a quarterback at all.
But the bad seasons of 2004 actually were not as bad as you might imagine. I put together a list of the worst quarterback seasons since 1960, using the same formula used to rank the best seasons, and you won't find anybody from last year in the top 10. You will, however, find three quarterbacks from 1998, forever to be marked as Year of the Leaf.
We've created a level playing field by transferring every quarterback season to the offensive environment of 2004. If interceptions were more common then than they were in 2004, we project fewer interceptions. If teams threw less often than they do now, we project more passing. If teams played only 14 games a year, we give each quarterback an extra two games.
Of course, players this bad don't usually get to start for an entire season, so we've set a minimum of 200 pass attempts (175 attempts before 1978) for a player to be eligible for the list. And as noted earlier, this list also takes into account sacks, strength of schedule and rushing statistics.
10. Mark Malone, 1987 Pittsburgh Steelers (8-7)
Actual stats: 12 G, 156-for-336, 46.4%, 1,896 yards, 6 TD, 19 INT
2004 projection: 16 G, 226-for-446, 50.8%, 2,563 yards, 8 TD, 20 INT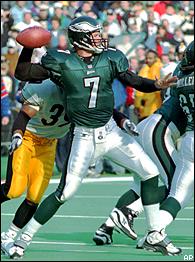 Considering Philly's wide receiver issues, will Donovan McNabb put up Bobby Hoying-like numbers?
Malone probably wishes the 1987 strike had never ended. Then again, Steelers fans might have felt the same way, because Pittsburgh managed more passing touchdowns in three strike games (7) than Malone managed in the other 12. Malone signed with San Diego the next year and was almost as bad, once again throwing just six touchdowns in 12 games. Strike quarterback Steve Bono, meanwhile, used his Pittsburgh performance to restart his career. When he finally retired after 1999, he had more career yards and touchdowns than Malone.
9. Bobby Hoying, 1998 Philadelphia Eagles (3-13)
Actual stats: 8 G, 114-for-224, 50.9%, 961 yards, 0 TD, 9 INT
2004 projection: 8 G, 120-for-222, 54.0%, 989 yards, 0 TD, 9 INT
Hoying began the 1998 season as the Philadelphia starter, was replaced by Rodney Peete halfway through Week 3, came back in Week 5, was replaced again by Peete in Week 6, took over yet again when Peete was injured before Week 8, then got pulled for rookie Koy Detmer in Week 13. In between all those lineup changes, Hoying became the only quarterback in NFL history to throw at least 160 passes without a single passing touchdown. When you look at these numbers, is there any surprise the Eagles passed up Ricky Williams to choose Donovan McNabb with their first-round pick in the following draft?
8. Craig Whelihan, 1998 San Diego Chargers (5-11)
Actual stats: 11 G, 149-for-320, 46.6%, 1,803 yards, 8 TD, 19 INT
2004 projection: 11 G, 157-for-317, 49.5%, 1,860 yards, 8 TD, 18 INT
The 1998 Chargers had a dominating defense led by Pro Bowlers Junior Seau and Rodney Harrison, yet couldn't win games because of the worst quarterbacking in NFL history. Whelihan had the eighth-worst quarterback season since 1960 and wasn't even the worst quarterback on this team. Whelihan never played in the NFL again, but he resurfaced in 2001 when the Memphis Maniax took him in the 41st round of the XFL draft. (Admit it, you had no idea the XFL draft even had 41 rounds.) Believe it or not, he's still around as the backup quarterback for the Arena League's Las Vegas Gladiators.
7. Jake Plummer, 1999 Arizona Cardinals (6-10)
Actual stats: 12 G, 201-for-381, 52.8%, 2,111 yards, 9 TD, 24 INT
2004 projection: 12 G, 199-for-360, 55.1%, 2,074 yards, 10 TD, 20 INT
The 1998 Arizona Cardinals were one of the great flukes of NFL history, going 9-7 despite being outscored by opponents 378-325. In the 1999 Stats Inc. "Pro Football Scoreboard," writer Tony Nistler declared that Plummer would lead the Cardinals to the Super Bowl someday and called him a player who "has eaten pressure for lunch." Clearly, pressure gave Plummer indigestion, because his game completely collapsed in 1999 despite the addition of eighth overall draft pick David Boston to his receiving corps. Unlike the other quarterbacks on this list, Plummer was able to recover from his historically awful season, even returning to the playoffs after signing with Denver in 2003.
6. Joe Kapp, 1970 Boston Patriots (2-12)
Actual stats: 11 G, 98-for-219, 44.7%, 1,104 yards, 3 TD, 17 INT
2004 projection: 13 G, 161-for-305, 52.7%, 1,625 yards, 4 TD, 15 INT
Kapp won two Grey Cups with the British Columbia Lions before coming down to the NFL and leading the 1969 Minnesota Vikings to the Super Bowl. They rewarded him with a trade to the Patriots, a team with three straight 10-loss seasons. Kapp enjoyed his struggles in Boston so much that he refused to sign the Standard Player Contract in 1971. He sued the NFL for antitrust violations and won -- only to have a jury decide he was not due any damages. Kapp's lousy year did give the renamed New England Patriots the first overall selection, which they used to replace Kapp with Stanford's Jim Plunkett.
By 1976, Namath was a shell of the QB who led the Jets to victory in Super Bowl III.
5. Joe Namath, 1976 New York Jets (3-11)
Actual stats: 11 G, 114-for-230, 49.6%, 1,090 yards, 4 TD, 16 INT
2004 projection: 13 G, 187-for-332, 56.3%, 1,643 yards, 6 TD, 15 INT
With his glory days five knee operations in the past, Namath completely fell off the cliff in 1976. With 7.0 yards per attempt in 1975, he was a below-average quarterback, but with 4.7 yards per attempt in 1976, he was an embarrassment. Figuring they had a good track record with quarterbacks out of Alabama, the Jets used their first-round pick on Richard Todd to be Namath's heir apparent. When Namath couldn't play because of his knees, Todd was just as bad, barely completing 40 percent of his passes with a similar 1-to-4 touchdown-interception ratio. Roll Tide!
4. Dick Wood, 1966 Miami Dolphins (3-11)
Actual stats: 14 G, 83-for-230, 36.1%, 993 yards, 4 TD, 14 INT
2004 projection: 16 G, 124-for-264, 46.9%, 1,189 yards, 4 TD, 10 INT
Well, somebody from an expansion team had to show up. As you can see from this photo, Wood is trying to push a television camera aside so nobody will see how bad he's playing. In the film version of "worst quarterback seasons ever," Wood will be played by Peter O'Toole.
3. Dan Darragh, 1968 Buffalo Bills (1-12-1)
Actual stats: 11 G, 92-for-215, 42.8%, 917 yards, 3 TD, 13 INT
2004 projection: 13 G, 167-for-305, 54.7%, 1,321 yards, 4 TD, 10 INT
Hey Falcons fans, remember how angry you were when your star quarterback was lost for most of the 2003 season thanks to an injury in a preseason game? Imagine if instead he had been lost with a knee injury in a full-contact intersquad scrimmage. That's what happened to the Bills' Jack Kemp in 1968. Backup Tom Flores went down in camp, as well, leaving the team in the hands of rookie Dan Darragh, a 13th-round draft pick from that famous football factory, William & Mary. Seriously, would you trust a quarterback with hair like a troll doll? By the middle of the season, Darragh was knocked out, too, thanks to the porous Buffalo line, and by the end of the year, the Bills were so desperate they moved return specialist and part-time wide receiver Ed Rutkowski behind center. Take that, Troy Brown! Darragh's name might sound like a Welsh curse word but he was a blessing to the Bills -- because his poor play helped them get the top pick in the joint AFL-NFL draft, and that pick became O.J. Simpson.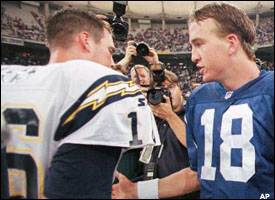 Remember when the Colts considered drafting Leaf over Peyton Manning?
2. Ryan Leaf, 1998 San Diego Chargers (5-11)
Actual stats: 10 G, 111-for-245, 45.3%, 1,289 yards, 2 TD, 15 INT
2004 projection: 10 G, 116-for-243, 48.0%, 1,320 yards, 2 TD, 15 INT
Yes, he was as bad as you remember.
1. Gary Marangi, 1976 Buffalo Bills (2-12)
Actual stats: 11 G, 82-for-232, 35.3%, 998 yards, 7 TD, 16 INT
2004 projection: 13 G, 135-for-335, 40.3%, 1,513 yards, 10 TD, 15 INT
But this guy was worse. Marangi managed to lead the Bills to eight straight losses despite the presence of NFL rushing champion Simpson. The 1976 Bills were 2-4 through six games even though veteran Joe Ferguson was having a strong season (9 TDs, only 1 INT). When Ferguson was lost for the year with an injury in Week 7, third-year backup Marangi took over and put on the worst passing performance in NFL history -- so bad that this ranks as the worst quarterback season ever, even though Marangi had positive value when he ran with the ball (230 yards on 39 carries with two TDs).
Marangi managed a handful of touchdowns because Simpson's legs kept putting the Bills into good field position, but check out that completion percentage. Marangi is the only quarterback in history who, even after adjusting to the friendly 2004 offensive environment, ends up with a completion percentage below 45 percent. The 1976 Bills ended up 2-12, and no game tells the story of this season like their Thanksgiving matchup with Detroit. Simpson broke his own NFL rushing record with 273 yards, but Marangi passed for just 15 yards and the Lions beat the Bills 27-14.
HONORABLE MENTION
1974 Atlanta Falcons
Actual stats: 14 G, 160-for-356, 44.9%, 1,781 yards, 4 TD, 31 INT
2004 projection: 16 G, 252-for-492, 51.2%, 2,675 yards, 6 TD, 26 INT
Although they didn't have a single quarterback with at least 175 pass attempts, the 1974 Falcons were the third-worst passing team of all time, behind the 1968 Bills and 1998 Chargers. Veteran Bob Lee began the year as the starter after leading the Falcons to a 9-5 record in 1983, but he managed only three touchdown passes in nine games. His backup, Pat Sullivan, had won the 1971 Heisman Trophy for Auburn, but he threw eight interceptions with just one touchdown pass. Third-stringer Kim McQuilken was the worst of all: On 79 passes, he had just 373 yards, nine interceptions and not a single touchdown. The Falcons averaged fewer than eight points a game, went 3-11 and got the No. 1 pick in the draft. Not surprisingly, they used it on a quarterback: Steve Bartkowski.
THE NEXT 10
11. Kerry Collins, 1997 Carolina Panthers
12. Steve DeBerg, 1978 San Francisco 49ers
13. John McCormick, 1966 Denver Broncos
14. Rusty Hilger, 1988 Detroit Lions
15. Archie Manning, 1975 New Orleans Saints
16. Jack Trudeau, 1986 Indianapolis Colts
17. Ryan Leaf, 2000 San Diego Chargers
18. Boomer Esiason, 1992 Cincinnati Bengals
19. A.J. Feeley, 2004 Miami Dolphins
20. Terry Bradshaw, 1970 Pittsburgh Steelers
Aaron Schatz is editor-in-chief of FootballOutsiders.com and an author of Pro Football Prospectus 2005, now in bookstores.
Aaron
Schatz
WORST QB SEASONS