By David Schoenfield
Page 2
Which is the best team of the past 25 years? ESPN will answer that question Tuesday night at 7 p.m. during the first edition of "Who's #1?" -- a 13-episode series highlighting a different top 25 list each week throughout the ESPN25 anniversary.
Of course, Page 2 couldn't wait until Tuesday to get an answer to this debate. So I took the list of top 25 teams from the "Who's #1?" show and decided to rank them myself. You can do the same by clicking here.
Just read this before you vote, however; sometimes we remember the great teams to be a little greater than they actually were.
24-25. 1992 Dream Team and 1980 U.S. hockey
There is no denying the greatness of the Dream Team or the legacy of the Miracle on Ice squad, but comparing all-star teams to other teams is sort of like comparing apples and pomegranates. I'll leave them at the end of my list and quickly move on.
23. 1983 Iowa wrestling
Captured NCAA title with four individual champions, but an idiosyncratic choice for the list; nothing wrong with that, but a better wild-card candidate would have been the 1992 North Carolina women's soccer team that went 25-0, outscored its opponents 132-11 and won the title game 9-1 as Mia Hamm scored a hat trick.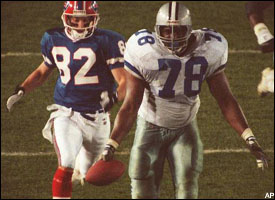 Did Leon Lett's showboating cost the '92 Cowboys a few places in the rankings?
22. 1992 Dallas Cowboys
Record: 13-3
Playoffs: 34-10 vs. Eagles, 20-10 vs. 49ers, 52-17 vs. Bills
Winning 13 games is nothing special in the NFL, the Cowboys didn't lead league in either most points or fewest points allowed and they also played a soft schedule with only five games vs. teams with winning records. While they were impressive in the playoffs, lots of NFL teams have been impressive in the playoffs (as you'll see).
21. 1990 UNLV Runnin' Rebels
Record: 35-5
Tournament: 102-72, 76-65, 69-67, 131-101, 90-81 vs. Georgia Tech in semifinals, 103-73 vs. Duke in championship
My issue with including the Runnin' Rebels is the '91 squad, which was undefeated until getting upset by Duke in the Final Four, was clearly the better team. Plus, losing five games in a college basketball season is nothing special.
20. 1991 Miami Hurricanes
Record: 12-0
Umm ... are you one of the top 25 teams if you're not even the best team in your sport that season? Chalk this one up to East Coast bias: the Hurricanes outscored their opponents 386-100, but Washington, which shared the national title with Miami, outscored its opponents 495-115.
19. 1979 Pittsburgh Steelers
Record: 12-4
Playoffs: 34-14 vs. Dolphins, 27-13 vs. Oilers, 31-19 vs. Rams
The Steelers have a lot of positives: No. 1 in the NFL in points scored despite leading the league in turnovers; 10 Pro Bowlers; the best per-game yardage differential of any Steelers team (+124.3); a tough schedule (10 games vs. winning teams).
Eddie Epstein, in his book "Dominance: The Best Seasons of Pro Football's Greatest Teams," ranks the '79 Steelers as the third-best NFL team of all time, behind two teams from the ESPN era (the '85 Bears and '91 Redskins). Nonetheless, I downgrade the Steelers due to their 12-4 record, including just 4-4 on the road, and a Super Bowl win over a mediocre Rams team.
18. 1982 North Carolina Tar Heels
Record: 32-2
Tournament: 52-50, 74-69, 70-60, 68-63 over Houston in semifinals, 63-62 over Georgetown in championship
Yes, I know: the Tar Heels had Jordan, Worthy and Perkins. They beat Olajuwon and Ewing in the Final Four. Ahh, but here's the rub: Jordan was still a freshman, their Tournament run was anything but dominant (two points over James Madison?), Olajuwon and Ewing were young (sophomore and freshman, respectively) and this team had no depth whatsoever past the starting five.
17. 1984 San Francisco 49ers
Record: 15-1
Playoffs: 21-10 vs. Giants, 23-0 vs. Bears, 38-16 vs. Dolphins
Wait: only one loss by three points, a great playoff run including a convincing victory over a 14-2 Dolphins team, 10 Pro Bowlers and Joe Montana at the helm? Yes, but & as Epstein points out, there are a few holes after you dig: the 49ers played a weak schedule (only five games vs. winning teams) and ranked just fourth in the NFL in yards and ninth in yards allowed. I defer to Eddie on this one and he doesn't rank this 49ers among his 12 best of all time.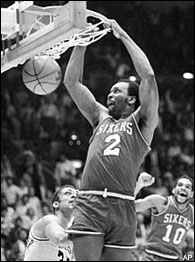 Moses Malone's prediction of Fo', Fo', Fo' was just one game off.
16. 1983 Philadelphia 76ers
Record: 65-17
Playoffs: 4-0 vs. Knicks, 4-1 vs. Bucks, 4-0 vs. Lakers
Differentiating between the four NBA teams on the list is difficult; you could call any of the four the best NBA team ever and not sound stupid. This team featured MVP Moses Malone (24.5 points per game) and aging but still effective Julius Erving (21.4). They went 12-1 in the playoffs, coming very close to fulfilling Malone's famous "Fo', Fo' and Fo'" prediction. However, Norm Nixon and Bob McAdoo were both injured for the Lakers, making that sweep a little less impressive; but mostly my gut says this team falls a little short of those other NBA dynasties.
15. 1986 New York Mets
Record: 108-54
Playoffs: 4-2 over Astros, 4-3 over Red Sox
No National League team since 1909 has won more games (the '75 Reds also won 108), but I have two nagging complaints about this team. First, as we all know, they should have lost the World Series. If that's not a fair knock, this one is: how come they never won again? The answer is pretty simple: only Gary Carter, who was a little past his prime in 1986, is a Hall of Famer. Even in '86, Doc Gooden and Darryl Strawberry were very good players but not MVP or Cy Young candidates. I think this team just lacks the superstar power to be considered a truly all-time great team.
14. 1982 New York Islanders
Record: 54-16-10, 118 points
Playoffs: 3-2 over Penguins, 4-2 over Rangers, 4-0 over Nordiques, 4-0 over Canucks
This was the Islanders' third of four straight Stanley Cups and also their season-high point total of the run. The biggest knock against the greatness of this '82 team is the lack of competition in the playoffs: due to upsets, their toughest matchup was against the 92-point Rangers; Vancouver, their opponent in the Finals, actually had a losing record during the season.
13. 1998 Tennessee Lady Vols
Record: 39-0
The Lady Vols, led by Chamique Holdsclaw, won their third straight national title, outscored their opponents by an average of 30 points per game, and beat Louisiana Tech 93-75 in the title game. The question which will remain forever unanswered: who would win the mother of all battles between the '98 Vols and '02 UConn Huskies?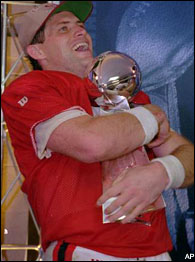 Steve Young deserved to hug the Super Bowl trophy after his 6-TD performance.
12. 1994 San Francisco 49ers
Record: 13-3
Playoffs: 44-15 vs. Bears, 38-28 vs. Cowboys, 49-26 vs. Chargers
Steve Young led one of the most high-powered offenses in NFL history. The 49ers led the NFL in points and yards during the season and then really kicked it into gear in the postseason. Highlighted by Young's six TD passes in the Super Bowl, the Niners marched through their three playoff opponents 131-69.
11. 1986 Boston Celtics
Record: 67-15
Playoffs: 3-0 vs. Bulls, 4-1 vs. Hawks, 4-0 vs. Bucks, 4-2 vs. Rockets
Yes, Bird at his absolute peak; McHale, Parish, D.J. and Ainge; a great 15-3 playoff run (although the Rockets had upset the Lakers in the Western Conference finals). Here's why I didn't rate the '86 Celtics higher: they had a unique homecourt advantage during this era that made them nearly unbeatable at home. In '86, they went 40-1 at the Garden, just 27-14 on the road. I can't get it out of mind that if you played the '86 Celtics vs. the '87 Lakers or the '96 Bulls in a seven-game series on neutral courts, the Celtics would come up short.
10. 1992 Duke Blue Devils
Record: 34-2
Tournament: 82-56, 75-62, 81-69, 104-103 over Kentucky, 81-78 over Indiana in semifinals, 71-51 over Michigan
You have one of the most clutch players in NCAA history in Christian Laettner; you have a dynamic sophomore in Grant Hill; you have an All-America point guard in Bobby Hurley to run the show; and you have Coach K on the bench. I'll take this team against all other college hoops teams of the past quarter-century.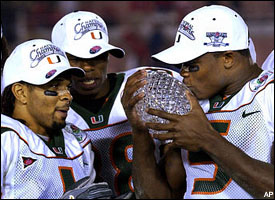 Miami beat Nebraska 37-14 in the Rose Bowl to win the national title.
9. 2001 Miami Hurricanes
Record: 12-0
They outscored opponents 512-117, led the nation in scoring defense and had five first-round picks in the 2002 NFL Draft. The big negatives: a mediocre schedule (only game against a top 10 team was vs. No. 8 Nebraska in the Rose Bowl) and a close 26-24 win over No. 18 Virginia Tech.
8. 1989 San Francisco 49ers
Record: 14-2
Playoffs: 41-13 vs. Vikings, 30-3 vs. Rams, 55-10 vs. Broncos
Check that playoff line again: that's a 126-26 total. Yes, that Montana-to-Rice combo was lethal. They were No. 1 in the NFL in points scored and No. 3 in points allowed. They were 8-0 on the road and 6-2 vs. winning teams, and they lost twice by a combined total of five points.
7. 1987 Los Angeles Lakers
Record: 65-17
Playoffs: 3-0 vs. Nuggets, 4-1 vs. Warriors, 4-0 vs. Sonics, 4-2 vs. Celtics
Showtime at its best: six players averaged in double figures, led by Magic Johnson's 23.5, as the Lakers scored nearly 118 points per game. They beat their heated rivals in the NBA Finals, but the Lakers do lose a few points for lack of serious playoff competition: Denver and Seattle had losing records and Golden State was just 42-40. Even the Celtics had slipped a notch, with 59 wins.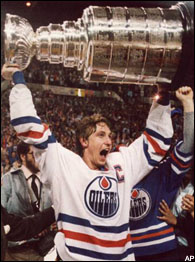 Gretzky holds up the Cup after the Oilers dethroned the Islanders.
6. 1984 Edmonton Oilers
Record: 57-18-5, 119 points
Playoffs: 3-0 vs. Jets, 4-3 vs. Flames, 4-0 vs. North Stars, 4-1 vs. Islanders
Just roll the names off your tongue: Gretzky, Messier, Coffey, Kurri, Fuhr, Anderson. Wayne Gretzky scored 205 points to lead an onslaught of offensive firepower that featured the first-, third- and fifth-leading goal scorers in the NHL. Gretzky and Paul Coffey were 1-2 in points. The Oilers unseated the four-time champion Islanders in the Cup Finals and then won three more titles in the next four years.
5. 1998 New York Yankees
Record: 114-48
Playoffs: 3-0 vs. Rangers, 4-2 vs. Indians, 4-0 vs. Padres
The Yankees set an AL record with 114 wins (although that was ecliped by the 2001 Mariners, making it a little less impressive in retrospect) and led the league in runs scored and runs allowed. And then they did what they had to do in the postseason, going an impressive 11-2. In the NFL and the NBA, the team with the best regular-season record usually wins it all. It's not that easy in baseball; since 1990, only the '98 Yankees had the best record and won the World Series.
4. 2002 Connecticut Huskies
Record: 39-0
How good were the Huskies? They led the nation in scoring offense andscoring defense. Their average margin of victory was 35.4 points; their closest games was nine points. They beat Oklahoma 82-70 for the national title. In the 2002 WNBA Draft, just a few weeks after they beat Oklahoma 82-70 for the national title, the first two players (Sue Bird and Swin Cash) and four of the first six were from UConn.
3. 1995 Nebraska Cornhuskers
Record: 12-0
Many call it the greatest college football team of all time. It's hard to argue against that. The Huskers averaged over 52 points per game and their closest game was a 14-point win over Washington State. In the regular season, they beat final No. 5 Colorado 44-21 and No. 7 Kansas State 49-25. In the Fiesta Bowl, they destroyed unbeaten and No. 2 Florida 62-24, rushing for 524 yards behind quarterback Tommie Frazier. Even the computer says the '95 Huskers are the best: Jeff Sagarin's computer rankings have this squad as college football's best ever.
2. 1985 Chicago Bears
Record: 15-1
Playoffs: 21-0 vs. Giants, 24-0 vs. Rams, 46-10 vs. Patriots.
We all know about the Bears' famed 46 defense, which allowed the fewest points and yards in the regular season and then crushed opponents in the playoffs -- none of the three postseason opponents gained even 200 yards of offense. But underrated is Chicago's offense, led by Walter Payton and an efficient Jim McMahon. The Bears ranked No. 2 in the NFL in points scored (thanks in part to a defense which forced 54 turnovers) and No. 6 in totals yards. Eddie Epstein ranks them as the best NFL team of all time ... but they rank No. 2 on this list to another Chicago team.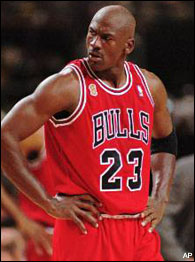 "What do you mean you almost didn't put us No. 1?"
1. 1996 Chicago Bulls
Record: 72-10
Playoffs: 3-0 vs. Heat, 4-1 vs. Knicks, 4-0 vs. Magic, 4-2 vs. Sonics
The Celtics and Lakers of the '80s have developed a certain mythology about them, but I'll take the Bulls. Consider:
They nearly led the NBA in both offense and defense, finishing No. 1 in points (105.2) and No. 3 in points allowed (92.9). The Celtics or Lakers never came close to doing that.
Chicago's average margin of victory was 12.2 points -- in a lower-scoring environment than the '80s. And the Celtics or Lakers never had margin even as great as 10 points per game.
The Bulls beat the 60-win Magic in the East finals and then the 64-win Sonics in the Finals. None of the three other NBA teams on this list beat even one 60-win team in the playoffs.
They went 72-10, best record in the NBA history.
They had Jordan.

David Schoenfield is still wondering why the 116-win 2001 Mariners didn't make this list.