By David Schoenfield
Page 2
The Miami Heat are the latest team to ask themselves the $30 million question: Are there any championships left in Shaquille O'Neal's large but aging bones?
It's been reported both ways. Last week, SportsCenter ran a statistic showing this year at age 32, Shaq's scoring average had decreased 21 percent from the previous season. Page 2's Bill Simmons wrote that, "Next year will be Shaq's 13th season. Just about every Hall of Fame center started declining between seasons 12 to 14 ..."
On the other hand, most NBA pundits are saying Shaq remains the most dominant player in the league and how the team that lands him instantly becomes a title favorite.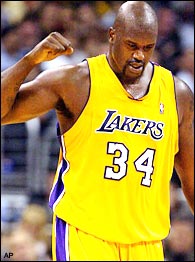 Shaq's scoring average fell from 27.5 in '03 to 21.5 in '04.
Which is it? Is Shaq still capable of being the center of attention for a championship team? Or will he become a $30 million albatross?
After comparing Shaq to six other Hall of Famer centers who also won MVP awards (leaving Willis Reed and Bill Walton out of the discussion) and seeing what happened to their careers after they turned 32, the answer is clear: Any team trading for Shaq is taking a huge risk, gambling not only that he can reverse last year's scoring decline, but that he can remain healthy and productive enough to be the best player on a title contender. This is rare: Of those six Hall of Fame centers, only Hakeem Olajuwon was the focal point of an NBA championship team beyond the age of 31.
Is Shaq actually in decline? That's debatable, although there is no denying his defensive prowess has slipped a notch or five. While his scoring average dipped from from 27.5 to 21.5 from '03 to '04, his field-goal percentage was slightly above his career norm. And his rebounds per game actually increased from 2003.
What happened is that Shaq's field-goal attempts dropped by four per game -- and, no, not because of Kobe. Bryant's field-goal attempts decreased by five per game from '03; it was Karl Malone and Gary Payton who were taking shots away from Shaq, not Kobe.
Then again, it could be argued that Shaq is merely getting too old and too large to run the court effectively and position himself for as many shots. That's the big question his new team will have to answer.
OK, here's what happened to those other Hall of Fame centers after they turned 32:
Bill Russell
Age 31: 12.9 ppg, 22.8 rpg, 43.4 minutes
Age 32: 13.3 ppg, 21.0 rpg, 40.7 minutes
Age 33: 12.5 ppg, 18.6 rpg, 37.9 minutes
Championships before 32: 8
Championships after turning 32: 2
Russell's role, of course, was primarily defensive -- he never averaged more than 19 points per game. He did win titles as a player-coach when he was 33 and 34, and then retired. He won five MVPs -- but the last when he was 30.
Analysis: Slight decline in abilities, but still surrounded by Hall of Fame teammates who could carry the offensive lead for him; retired early before he became too old.
Wilt Chamberlain
Age 31: 24.3 ppg, 23.8 rpg, 46.8 minutes
Age 32: 20.5 ppg, 21.1 rpg, 45.3 minutes
Age 33: injured, played only 12 games
Age 34: 20.7 ppg, 18.2 rpg, 44.3 minutes
Championships before 32: 1
Championships after turning 32: 1
Chamberlain was traded from the Sixers to Lakers for his age-32 season. The Lakers lost the NBA Finals in seven games with Wilt -- same as the year before. They did finally win it all in 1972, when Chamberlain was 35 and averaged just 14.8 points per game (and Gail Goodrich and Jerry West were the primary offensive weapons). Chamberlain won four MVP awards, but the last when he was 31.
Analysis: Could have scored more on another team, but remained a formidable presence. Other than his injury in 1970, however, he was an extremely durable player -- something Shaq has not been. Chamberlain played at least 70 games every season except 1970, and played 79 or more 11 times in 14 seasons. Shaq has played as many as 79 games just four times in 12 seasons, and just once in the past nine.
Kareem Abdul-Jabbar
Age 31: 23.8 ppg, 12.8 rpg, 39.5 minutes
Age 32: 24.8 ppg, 10.8 rpg, 38.3 minutes
Age 33: 26.2 ppg, 10.3 rpg, 37.2 minutes

Championships before 32: 1
Championships after turning 32: 5
When Kareem turned 32, the Lakers drafted a rookie named Magic Johnson. But Kareem did win the last of his six MVP awards that year and scored 23.4 points per game at age 38.
Analysis: Kareem certainly remained one of the best players in the league through age 34 (although not the MVP-caliber player of the past), at which time his rebounding and defense started to nosedive. He remained a key offensive weapon all the way until age 39, but clearly was not the dominating force of his 20s. And, of course, having Magic and Co. helped out. Bottom line: Kareem didn't win any titles with the Lakers until Magic came on board.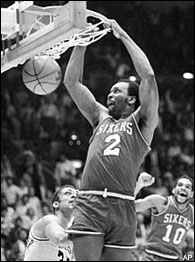 Malone won his third MVP award in 1983 at age 28 -- but it was his last one.
Moses Malone
Age 31: 24.1 ppg, 11.3 rpg, 34.1 minutes
Age 32: 20.3 ppg, 11.2 rpg, 34.1 minutes
Age 33: 20.2 ppg, 11.8 rpg, 35.5 minutes

Championships before 32: 1
Championships after turning 32: 0
Can you believe Malone was only 28 when the 76ers won the NBA title in 1983? Even Dr. J had just turned 33. Their starting guards were 25 and 26. They drafted Charles Barkley in 1984. True, Doc got old and Andrew Toney got hurt and they had to beat the Celtics . . . but still, they never reached the Finals again.
Analysis: Definitely started to hit the wall at 32. Malone was in his ninth NBA season in 1983 and won the third of his MVP awards that year, but he was traded to the Bullets when he 31 and to the Hawks when he was 33. He was done at 36.
Hakeem Olajuwon
Age 31: 27.3 ppg, 11.9 rpg, 41.0 minutes
Age 32: 27.8 ppg, 10.8 rpg, 39.6 minutes
Age 33: 26.9 ppg, 10.9 rpg, 38.8 minutes
Championships before 32: 1
Championships after turning 31: 1
Hakeem won his two titles at age 31 and 32, and his only MVP in 1994 at age 31. He clearly remained a dominant player through age 34, at which time he suffered a series of injuries the rest of his career.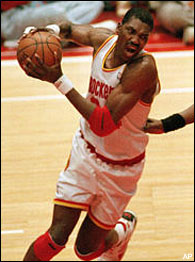 Olajuwon led the Rockets to the title in '94, without a fellow Hall of Famer on the team.
Analysis: So far, the only center on the list who maintained his peak value at age 32 and beyond.
David Robinson
Age 30: 25.0 ppg, 12.2 rpg, 36.8 minutes
Age 31: Injured, played only six games
Age 32: 21.6 ppg, 10.6 rpg, 33.7 minutes
Age 33: 15.8 ppg, 10.0 rpg, 31.7 minutes
Championships before 32: 0
Championships after turning 32: 2
Of course, Robinson's two titles coincided with the arrival of Tim Duncan, who was clearly the No. 1 guy for both Spurs' titles teams. Robinson's lone MVP season came at age 29. After that, injuries helped lead to a decrease in Robinson's scoring, and he was no longer the same great player.
Analysis: Merely a very good complementary player after turning 32.
* * * * *

There you have it: the six other greatest centers in NBA history besides Shaq -- and only Olajuwon maintained his peak ability at age 32.
You know what's even more incredible? Of all these guys, only Olajuwon ever won an NBA title without another Hall of Famer playing alongside. Russell teamed with a slew of Hall of Famers on the Celtics, Wilt had Hal Greer and Billy Cunningham in '67 and West and Goodrich with the Lakers, Kareem had Oscar Robertson in Milwaukee and then Magic and James Worthy, Malone had Dr. J, and Robinson won only when Duncan joined the Spurs and became the team's best player. Shaq? He didn't win a title until Kobe blossomed into one of the best players in the game.
But Olajuwon won in '94 with Otis Thorpe, Vernon Maxwell and Kenny Smith, who never made a first-, second-, or third-team all-NBA team between them. The Rockets did add Hall of Famer Clyde Drexler in '95, but even Drexler was 32 by then.
The bottom line? Shaq is signed for two more years; and considering he's never been as durable as the other great centers to begin with, odds are he'll continue to pile up as many injuries as bricks from the free-throw line.
And even if Shaq does remain healthy and productive, he'll need another Hall of Fame alongside him.
Maybe the question for the Heat is this: Is Dwyane Wade that man?