By David Schoenfield
Page 2
I've been to one Expos game. The roof leaked onto the yellow seats in front of us, the crowd was small, an usher booted us when we tried to sit in an empty section near Vladimir Guerrero and the cheese fries were a little soggy.
But I have fond memories of the Expos anyway. I possessed an Expos hat in college. I've played softball in a Guerrero Expos replica jersey. I believe Andre Dawson's MVP season with the Cubs was a sham and his true glory years were played out in Stade Olympique.
And now the Expos will be no longer. Maybe that's a good thing, considering baseball's treatment of the franchise in recent years. But let's mourn the loss of baseball in Montreal with 35 random notes, factoids and memories in honor of their 35 years in the National League:
1. High point in Expos history: Steve Rogers beats the Dodgers 4-1 in Game 3 of the 1981 NLCS to put the Expos one win away from the World Series.
2. Low point in Expos history: Blue Monday. Rogers comes on in relief in the ninth inning of Game 5 of the '81 NLCS with the score tied 1-1. Rick Monday hits a two-out home run that wins the game and series for the Dodgers.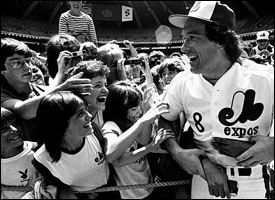 Back in 1983, Gary Carter and the Expos were the toast of Montreal.
3. Or ... September 1991, when a huge cement beam collapsed at Olympic Stadium, forcing the team to play its remaining games on the road.
4. Or ... the 1994 strike. Despite baseball's second-lowest payroll, the Expos had the majors' best record at 74-40 when the strike hit on August 12. Led by Moises Alou, Larry Walker, Marquis Grissom, Ken Hill, Pedro Martinez and John Wetteland, the Expos had gone 20-3 over their previous 23 games.
Montreal's final home game before the strike drew 39,044 fans.
5. Baseball in Montreal did not die immediately following the fire sale of players in the spring of 1995. The Expos were 10th out of 14 NL teams in attendance in '95 and 11th in '96 (when the team won 88 games and missed the playoffs by 2 games). But owner Claude Brochu and his partners invested nothing in the team and by 2001, attendance had dipped to less than 8,000 per game.
6. In 1983, the Expos finished second in the NL in attendance (2,320,651). The first time the Expos finished last in the NL in attendance was 1991. The year original owner Charles Bronfman sold the Expos to Brochu and his group of investors: 1991.
7. Expos retired numbers: Gary Carter, No. 8; Rusty Staub and Andre Dawson, No. 10. Carter became the first Expos player inducted into the Hall of Fame.
8. Tim Raines. Will he be next? The most underrated player of the '80s, from 1983 to 1987 "Total Baseball" rates Raines as one of the National League's five best players each season.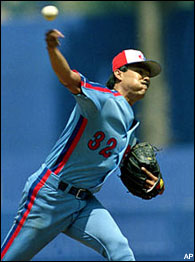 Dennis Martinez pitches during his perfect game at Dodger Stadium.
9. No-hitters:
Bill Stoneman, April 17, 1969 at Philadelphia
Stoneman, Oct. 2, 1972 vs. New York
Charlie Lea, May 10, 1981 vs. San Francisco
David Palmer, April 21, 1984 at St. Louis (five innings, perfect game)
Pascual Perez, Sept. 24, 1988 at Philadephia (five innings)
Also, Mark Gardner pitched nine no-hit innings against the Dodgers on July 26, 1991 before allowing a hit in the 10th.
10. El Perfecto: Two days after Gardner's game (which he lost), Dennis Martinez beat the Dodgers with a perfect game.
11. Almost perfect: Pedro Martinez pitched nine perfect innings at San Diego on June 3, 1995 before allowing a hit in the 10th.
12. The longest game: 1-0 loss at home to the Dodgers on August 23, 1989. Rick Dempsey homered off Dennis Martinez in the top of the 22nd inning.
13. Vladimir Guerrero. Only eight Expos have ever hit 30 home runs in one season and Guerrero did it five times. Henry Rodriguez, Larry Parrish, Rusty Staub, Carter, Dawson and Tony Batista and Brad Wilkerson (both this season) each did it once.
14. The franchise has had only 20-game winner. Ross Grimsley, who didn't bathe on days he pitched, went 20-11 with a 3.05 ERA in 1978.
15. The franchise did have a Cy Young Award winner, however -- Pedro Martinez in 1997, when he went 17-8 with a 1.90 ERA and 305 strikeouts. He was traded to Boston that offseason.
16. The 1982 All-Star Game at Olympic Stadium featured four Expos in the starting lineup: Rogers, Carter, Dawson and Raines. The National League beat the American League 4-1 behind Dave Concepcion's home run.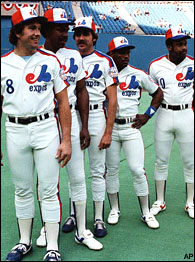 The Expos sent five players to the 1982 All-Star Game in Montreal.
17. No Expo won an MVP Award. Gary Carter finished second in the voting in 1980, Andre Dawson finished second in 1981 and 1983, Moises Alou finished third in 1994 and Vladimir Guerrero finished fourth in 2002.
18. Youppi!
19. Jarry Park. The team's original home was supposed to be temporary, but lasted eight seasons, until the team moved into Olympic Stadium in 1977.
20. Pete Rose, wearing on Expos jersey, collected his 4,000th career hit at the team's home opener in 1984.
21. The 1980 pennant race. The Expos and Phillies entered the final weekend tied for first place with a three-game series in Montreal. The Phillies won 2-1 on Friday as Mike Schmidt drove in both runs. The Phillies clinched the next day with a 6-4 win in 11 innings, tying it in the ninth and winning it on Schmidt's two-run homer off Stan Bahnsen in the 11th.
22. Ellis Valentine's legendary arm. Valentine and fellow outfielder Warren Cromartie each had 24 assists in 1978.
23. Best defensive player: Andre Dawson won six Gold Gloves in center field.
24. Best trade in franchise history: Pedro Martinez acquired from Dodgers for Delino DeShields in 1994.
25. Worst trade in franchise history (pre-1995): Ken Singleton and Mike Torrez traded to Baltimore after 1974 season for Dave McNally, Rich Coggins and Bill Kirkpatrick (none lasted even two months with the Expos).
26. Or ... fighting for a playoff spot in 1989, Montreal traded a young left-hander named Randy Johnson to Seattle for Mark Langston. The team collapsed in September and finished 81-81 and Langston left as a free agent.
27. The fire sale. Following the 1994 strike, the Expos lost Larry Walker to free agency and traded away outfielder Marquis Grissom and pitchers Ken Hill and John Wetteland. Conventional wisdom says the Expos never recovered, but that's not exactly true as the '96 Expos nearly made the playoffs.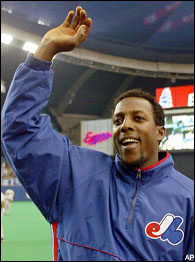 The Expos are waving goodbye, leaving only the memories.
28. Mr. Expo: Gary Carter. He played 10 seasons with the Expos, making seven All-Star teams and was twice the All-Star Game MVP in an Expos uniform (1981 and 1984).
29. Kid K: Rookie right-hander Bill Gullickson fanned a club-record 18 Cubs at home at on September 10, 1980, a major-league record for rookies until Kerry Wood fanned 20 in 1998. Gullickson spent six solid years with Montreal, although he never became the big strikeout pitcher that game would have indicated.
30. After 10 losing seasons, Montreal final had its first winning season in 1979. The Expos won 23 games in September and finished 95-65, two games behind Pittsburgh, and weren't eliminated until the next-to-last day of the season.
31. Le Grand Orange: Rusty Staub played only three full seasons in Montreal (1969-1971, part of 1979) but was one of most popular Expos in history.
32. Ouch. Ron Hunt set a major-league record in 1971 when he was hit by 50 pitches.
33. Team records. Batting average: Vladimir Guerrero, .345, 2000; home runs: Guerrero, 44, 2000; RBI: Guerrero, 131, 1999; runs scored: Tim Raines, 133, 1983; stolen bases: Ron LeFlore, 97, 1980; wins: Ross Grimsley, 20, 1978; ERA: Pedro Martinez, 1.90, 1997; strikeouts: Martinez, 313, 1997; saves: John Wetteland, 43, 1993.
34. Feats by opposition players: Tony Gwynn collected his 3,000th career hit in Montreal off Dan Smith in 1999; David Cone pitched a perfect game against the Expos in 1999. Darryl Strawberry's mammoth moonshot in the 1988 season opener at Olympic Stadium that ... well, who knows how far it would have gone if didn't hit the roof.
35. Archi Cianfrocco, Rex Hudler, Coco Laboy, Larry Biittner, Milton Bradley, Pepe Frias, F.P. Santangelo, Woodie Fryman, Oil Can Boyd, Andres Galarraga, Hubie Brooks, Floyd Youmans, Pascual Perez, Carlos Perez, Tony Perez, Rowland Office, John Boccabella, Miguel Dilone, Dave Cash, Ugueth Urbina, Mark Grudzielanek, Felipe Alou, Bill Lee ...
Some of this article appeared previously on ESPN.com.