By David Schoenfield
Page 2
George Steinbrenner hasn't won a World Series in four years. His $200 million team has been playing like the Bad News Bears before Amanda Whurlitzer joined the squad. They've given up seven or more runs nine times in their first 13 games, and The Boss is more ornery than Gary Sheffield at the "Fever Pitch" premiere.
In fact, George is so mad he's already had enough. "Enough is enough," he said in a statement after a weekend sweep at the hands of the Orioles. "They are not playing like true Yankees," he added.
Ahh, yes ... the solution to George's $200 million headache is actually quite simple: find more "true Yankees."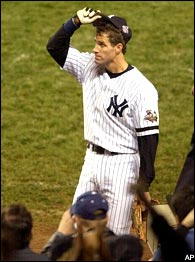 To many Yankee fans, Paul O'Neill defines a "true Yankee." But does he really fit the definition?
And as Monday night's 19-run outburst proved, these Yankees seem eager to prove they are "true Yankees."
Alas, it's not so easy, finding those "true Yankees." One 13-run inning against the lowly Devil Rays proves nothing. After all, what defines a "true Yankee"? As my ESPN.com colleague Rob Neyer points out, it's not clear what Steinbrenner himself is saying.
I asked some die-hard Yankees fans for their definition of a "true Yankee." One said, "Not anyone who is playing on the field currently."
Somebody else suggested "true Yankees" are all about comebacks and rallies.
Another simply said, "Someone who wins."
And another went on a long-winded diatribe that began with, "Back in the day, 'true Yankees' got visibly angry when they failed on the field. They got their uniforms dirty when they didn't have to. They gave their opinions when talking to reporters. They were able to knock balls down near the bag at third. They were able to throw ropes from center field. They were able to hit and run. They were able to bunt their way on base. They were willing to chew out teammates – often."
I think that was his way of saying he still worships at the shrine of Paul O'Neill.
Now, O'Neill never laid down a sacrifice bunt while wearing a Yankee uniform, which either makes him incredibly selfish or a "true Yankee" in reputation only.
See why this is so difficult? Perhaps the only way to solve this issue is to go through a roll call of Yankees past and present and separate the "true Yankees" from the phony ones.
ARE THEY TRUE YANKEES?
A True Yankee
Not a True Yankee
Luis Polonia. Just win, baby. Played in one World Series while with Yankees and hit .500 in winning effort.

Hideki Irabu. Spent two seasons as a rotation regular, and Yankees won two titles. Plus, Mickey and Billy would've loved him.

Luis Sojo. Four rings.

Ed Whitson. Compiled impressive career 15-10 record while a Yankee. And following the footsteps of Reggie Jackson, got into a fight with manager Billy Martin.

Steve Balboni. A true Yankee should be beloved by the fans and have a great nickname, like "Bye-Bye."

Chad Curtis. Let's see: scrappy white outfielder who got in his teammates' faces, delivered clutch hits, could steal a base and lay down a bunt, and won two World Series in three years. Seems like O'Neill stole his "Warrior" nickname.

Bobby Meacham. Sure, he hit only .218 in 1985, but he showed he's a team player by leading the American League with 23 sacrifice bunts.

Howard Spira. A true Yankee does whatever The Boss asks, even if it involves illegal activities.

Karim Garcia and Jeff Nelson. Earned their true Yankee stripes by beating up a Red Sox groundskeeper.

Wade Boggs. Showed his true Yankee loyalty by riding around on a horse.

Jason Giambi. Yankees fans showed their love for him by cheering him loudly upon his return to the field this season.

Cecil Fielder. Midseason pickup who sparked Yankees' return to glory in 1996 with postseason heroics.

Jeffrey Maier. Proves that a true Yankee will do anything to win, even if it means getting your season ticket revoked.

Darryl Strawberry and Tim Raines. You can be a true Yankee if you've overcome a drug addiction – if you win.

1996-2000 Yankees. If in doubt, if you played for the team during this era, you're probably a true Yankee, because Yankees fans think of you as a winner.

Don Mattingly. The ultimate Yankee loser. Never played in the World Series or even won a postseason series.

Babe Ruth. Won four World Series in 15 years with Yanks, but three in six years with Red Sox. Obviously peaked in Boston.

Dave Winfield. Mr. May.

David Wells. Yankees fans love this guy. The same guy who asked out of Game 5 of a World Series start! After one inning! With the Series tied 2 games apiece!

Bernie Williams. A true Yankee would be able to throw the ball from center field to the cutoff man.

Paul O'Neill. Yankees fans and biographers love to rave about the Yankees' professionalism on and off the field. You know, like kicking Gatorade coolers and yelling at umpires or practicing your swing while playing right field.

Tino Martinez. You know how many sacrifice bunts he has had in his Yankees career? One. Plus, he sulked when benched in the '96 Series.

Don Zimmer. A true Yankee does not rip The Boss, quit the team, then go work for the Devil Rays.

Kevin Brown. Getting beat up by the Red Sox in Game 7 of the ALCS means you're "human filth" to Yankees fans.

Billy Crystal. Showed his true Yankee loyalty by wearing a Mets cap in "City Slickers."

Roger Maris. Yankees fans can't claim him now. They were rooting against him when he chased The Babe's record in 1961.

Derek Jeter. Hit .148 in 2001 World Series. Hit .200 in 2004 ALCS. And no titles since he became captain in 2003.

Alex Rodriguez. Doing anything to win might mean moving to a new position, but not slapping the ball away from Bronson Arroyo.

Mike Kekich and Fritz Peterson. You can't be a true Yankee if you've traded wives and children with a teammate.

2001-2005 Yankees. If you played for the Yankees during this era, you're probably not a true Yankee, because you're just a bunch of overpaid bums.
David Schoenfield recently gave you 86 reasons to hate the Red Sox.