By David Schoenfield
Page 2
Hate is a strong word.
But it has been 16 years since Jim Presley played for the Mariners and he still ticks me off. Presley had power, a quick bat, a strong arm at third – and absolutely no idea what a strike was. Here was how a typical Presley at-bat went:
LOVE TO HATE
So much hate, so little time ... and to heap it all on one person? Forget it.

Spread the love, um, hate all around and vote on who you hate the most from the playing field to the front office.

VOTE NOW!
Strike one.
Adjust cup.
Strike two.
Adjust cup.
Slider, low and away in the dirt, 18 inches off the plate. Swing … and a whiff.
It was the easiest scouting report in the league. Presley's on-base percentage with the Mariners went from .324 to .303 to .296 to .280 to .275. To make matters worse, the Mariners kept playing him while Edgar Martinez rotted for three years in the minors, losing service time that will probably cost Edgar a plaque in the Hall of Fame.
I really grew to dislike him.
Fans of every team have their Jim Presley. Their Public Enemy No. 1. Earlier this season, the Cubs were essentially forced to trade LaTroy Hawkins to the Giants because of Hawkins' persona non grata status among Cubs fans for his string of blown saves.
Sometimes Public Enemy No. 1 is a rival player, or opposing manager, or maybe a team executive. It cannot, however, be George Steinbrenner. That's too easy. We all hate Steinbrenner. With that, here are my suggestions for Public Enemy No. 1 for all 30 major-league teams (click on each team name to vote in a poll for your choice of Public Enemy No. 1 for that team):
Baltimore Orioles: Jeffrey Maier. Imagine losing a playoff game because a 12-year-old brat who roots for your archenemy snatches defeat from the claws of victory by stealing a flyball from your right fielder, setting in motion a series of events that turns your archenemy's rookie shortstop into on October hero, which helps your team lose the series and your archenemy reestablish its once-proud dynasty, and your team to spiral into a lengthy period of depressing, losing seasons. The hate does tend to fester.
Boston Red Sox: Alex Rodriguez. Bucky Dent, Bill Buckner and Grady Little, you're now excused.
New York Yankees: Curt Schilling. Bloody hell, indeed.
Tampa Bay Devil Rays: Vince Naimoli. Is there a bigger joke in pro sports right now than the Devil Rays? Thank you, Mr. Naimoli. Now, can you please sell the rest of your stake in the team? Naimoli's latest act of bush-league ownership: Allowing a local furniture store to set up a showroom at Tropicana Field, complete with dangling price tags. Here, Mr. Piniella, test out the cushions on this leather couch. Sitting here during games may help you relax.
Toronto Blue Jays: Raul Mondesi. Canadians are the nicest people this side of the Danes, so, really, Blue Jays fans are filled only with love and admiration for all things baseball. And slight bursts of animosity for the grim period known as the "Mondesi Debacle."
Chicago White Sox: Cubs fans. Maybe it has something to do with the fact that White Sox fans possess a gritty bitterness while Cubs fans (well, most of them) have a sunny cheeriness, content to sit shirtless at Wrigley Field, downing a few beers in the bleachers and after the game, petting the dog that sits outside the firehouse on Waveland Avenue.
Cleveland Indians: Jose Mesa. Game 7, 1997 World Series. Indians 2, Marlins 1, bottom of ninth inning. Indians on the verge of winning their first World Series since 1948 …
Detroit Tigers: Randy Smith. The ex-Tigers general manager presided over the franchise from 1996 through 2001. During his reign, the team never finished above .500 and lost 90 or more games four times in six seasons. He left the franchise in such disarray, it lost 106 and 119 games the next two seasons. And you wonder why no team has hired Smith to run a club since he got canned in Detroit.
Kansas City Royals: David Glass and his cheap kids. Hey, at least that gig as CEO of Wal-Mart worked out OK.
Minnesota Twins: Ozzie Guillen. Since those of us in the world of mass media tend to ignore anything that goes on in the Upper Mississippi Region, unless it involves Randy Moss fake-mooning Packers fans, you may have missed the brewing rivalry between the Twins and White Sox. As the leader of the Sox, for Twins fans Ozzie isn't just an amusing quote machine who plays a fun brand of ball, but an insipid, dirty manager who can take his Ozzieball crap and go rot with the rest of the rats who live in the upper levels of U.S. Cellular Field.
Los Angeles Angels: Jose Guillen. Guillen, now with the Nationals, got kicked off the team right before last year's playoffs. He's apparently still a little upset at manager Mike Scioscia: "I don't care really much about Mike Scioscia. I have no respect for him any more, because I'm still hurt from what happened last year. Mike Scioscia to me is like a piece of garbage. I don't care if I get in trouble. He can go to hell."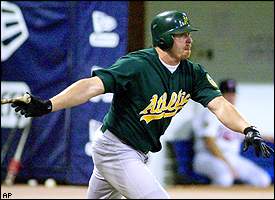 AP
"Dear Jeremy, thanks for helping me become a legend. Love, Derek."
Oakland A's: Jeremy Giambi. The outlook wasn't brilliant for the Oakland nine that day/The score stood 1 to zero, with but a few innings left to play/So upon that stricken multitude, sat grim melancholy's fate;/for there seemed but little chance of the A's getting to the plate/But Giambi let drive a single, to the wonderment of all./ And Long, the much despised, tore the cover off the ball … Oh, somewhere in this favored land the sun is shining bright./The band is playing somewhere, and somewhere hearts are light./And, somewhere men are laughing, and little children hide,/but there is no joy in Oakland – mighty Giambi has failed to slide.
Seattle Mariners: Alex Rodriguez.
Not that fans
really
care what athletes make or anything.
Texas Rangers: Alex Rodriguez. Ranger fans will take Michael Young for $2.5 million, thank you very much.
Atlanta Braves: Kent Hrbek. That fat pig pulled Gant off first base!
Florida Marlins: Bobby Cox. Although the way Al Leiter is pitching, he's quickly becoming the top dog in the doghouse.
New York Mets: Chipper Jones. The Brave originally known as Larry Wayne hit .400 with seven home runs and 16 RBI against the Mets back in '99, killed them in a couple key games in September, hit .395 against them in aught-zero and brings just enough Southern charm to drive New Yorkers nuts.
Philadelphia Phillies: J.D. Drew. After refusing to sign with the Phillies after an acrimonious negotiation between the team and agent Scott Boras, Drew played in the Vet with the Cardinals for the first time in 1999 and was greeted with insults, batteries and other large projectiles. And then things got really ugly.
Washington Nationals: Cristian Guzman. Guzman is hitting .201 with a .239 on-base percentage and .291 slugging percentage. Why was he still playing every day until his recent hamstring injury? He's the worst regular in baseball, having one of the least valuable seasons in history. They have to sit his sorry butt on the bench. It's not even an issue and if he's still playing after the All-Star break, it says a lot about Frank Robinson, Jim Bowden and the Nats' pennant chances.
Chicago Cubs: Sammy Sosa. Et tu, Brute?
Cincinnati Reds: Those keeping Pete Rose out of the Hall of Fame. Eric Milton is merely a convenient whipping boy for the moment. Pete Rose's enemies will forever incur the wrath of Cincinnatians.
Houston Astros: Brad Ausmus. OK, I know longtime Astros fans have painful memories of Lenny Dykstra in 1986 or Del Unser in 1980 or Scott Rolen last fall. Call this one a personal pet peeve. Here's the deal: Ausmus can't hit! Yet he sucks up at-bats year after year after year. He has a low batting average, no power and a miserable on-base percentage. Maybe he's not Public Enemy No. 1 in Houston. But he's killing the 'Stros.
Milwaukee Brewers: Bud Selig. The Brewers were 68-94 in 2001, but, hey, at least they were baseball's most profitable franchise that year.
Pittsburgh Pirates: Derek Bell. For a two-year, $10 million contract, the Pirates got a .173 batting average, 13 RBI and this spring-training quote: "Nobody told me I was in competition. If there is competition, somebody better let me know. If there is competition, they better eliminate me out of the race and go ahead and do what they're going to do with me. I ain't never hit in spring training and I never will. If it ain't settled with me out there, then they can trade me. I ain't going out there to hurt myself in spring training battling for a job. If it is (a competition), then I'm going into Operation Shutdown. Tell them exactly what I said. I haven't competed for a job since 1991."
St. Louis Cardinals: Don Denkinger. Memo to Cardinals fans: It's been 20 years. Sure, Jorge Orta was out; tough break there. But Denkinger didn't drop the foul pop or allow the passed ball that helped the Royals score the two runs, and he had nothing to do with the 11-0 shellacking in Game 7. So the point is this: it hurts, but it's time to let the anger go. Your team is good now, you've got Albert, you've got Rolen. It's time to find a new Public Enemy No. 1.
Arizona Diamondbacks: Tony La Russa.
By a slight edge over the dude who designed their uniforms.
Colorado Rockies: Mike Hampton and Denny Neagle. Let's see, combined record of GM Dan O'Dowd's $172.5 million coup for the season: 40 wins, 51 losses, 5.66 ERA, one arrest for solicitation of a prostitute. So other than completely destroying the franchise with those two signings, O'Dowd's done a pretty good job.
Los Angeles Dodgers: Barry Bonds. Fear, respect, anger, hate, dread, malice … many emotions, one enemy.
San Diego Padres: Tommy Lasorda. It would be easy to pick Kirk Gibson or Scott Brosius -- slayers of San Diego World Series title dreams -- but, really, Tommy Lasorda and his Dodger blue bluster is still enough to make any diehard Padres fan recoil in fury.
San Francisco Giants: Tommy Lasorda. Hard to believe, but Lasorda's shtick didn't go over too well in San Fran, either.