By David Schoenfield
Page 2
In the first part of our Hall Roll Call, we listed our first 20 future Hall of Famers from among the pool of active players. Most were pretty easy choices. The next 20, however, took hours of blood-and-sweat research and contemplation. But these are the fun debates, the players you're willing to brawl over in a steel-cage match as you defend their Hall of Fame-worthiness or attack them for their obvious lack of Cooperstown credentials. So here you are: 20 more future Hall of Famers.
21. Pedro Martinez
Only five starting pitchers in the Hall have fewer wins than Pedro's 194: Dizzy Dean (150), Addie Joss (160), Sandy Koufax (165), Lefty Gomez (189) and Rube Waddell (193). Every starting pitcher in the Hall has at least 100 complete games. Pedro has 44. And no starting pitcher with a jheri curl has ever been elected.
STATISTICAL KEY
OPS = on-base percentage + slugging percentage
OPS+ = Adjusted OPS, compares a player's OPS to his league average, with 100 being average and 110 being 10 percent better than average, etc.
ERA+ = Adjusted ERA, compares a pitcher's ERA to his league average, with 100 being average and 110 being 10 percent better than average, etc.

OPS+ and ERA+ taken from Baseball-reference.com
Ahh, but … his career batting average-against is .209 (third-best all time behind Nolan Ryan's .204 and Koufax's .205) … his on-base percentage allowed is .269 (best-ever for anyone who pitched after 1920) … his lifetime winning percentage (194-79, .711) currently ranks No. 1 all time … he has three of the top 15 seasons ever for adjusted ERA (ERA compared to the league average).
The numbers overwhelm. But let's put it in terms even people who only watch "Around the Horn" can understand: From 1997 to 2002, Pedro was the most dominating pitcher in the game's history.
22. Curt Schilling
The bloody sock, the three 300-K seasons, the three near-Cy Young Awards, the World Series MVP … but is it really possible for a modern pitcher who might not win 200 games (he's at 186), let alone 300, make it in? Schilling has all the extra intangibles -- the fame, the postseason heroics, the Dunkin' Donuts commercials -- that I think will put him in the Drysdale class as opposed to the Blyleven class. He gets the nod when a couple of controversial ballots from Florida push him over the top.
OUT: Kevin Brown
A good pitcher, more valuable than many Hall of Fame hurlers, but he lacks the gold stars that Martinez or Schilling have. And he's not exactly a favorite of the scribes, so he won't get within spittin' distance of Cooperstown.
23. Mark Prior and 24. Roy Oswalt
My top two Hall candidates among the 30-and-younger pitching set.
Prior's injuries, of course, raise a red flag, but I think they actually help his long-term future, since they served to limit his innings at a young age. A lot of pitchers have burned out from too many innings at a young age -- think Dwight Gooden and Fernando Valenzuela -- while many Hall of Fame pitchers didn't have heavy workloads until their mid-20s.
Oswalt, 27, is on pace for his second 20-win season, has had an ERA higher than 3.01 just once in his first five seasons, has terrific control and excellent strikeout numbers. Other than proving he can stay healthy for 10 more years and having zero recognition beyond the radar of fantasy players, he looks like a good bet.
25. Gary Sheffield
I can't wait for all the "Gary Sheffield was misunderstood" columns in 20 years: Hey, Sheffield could have gone after that lunatic fan that one year in Boston, but he showed the true character of a Hall of Famer by not walloping the guy. He gets my vote!
Well, maybe not. But Sheffield, with his ability to hit for average and power (and have more walks than strikeouts), is one of the best 30 hitters who has ever lived. Adjusted OPS for Sheffield and Hall of Fame outfielders elected by the writers since 1970:
| | |
| --- | --- |
| Player | OPS+ |
| Mickey Mantle  | 172 |
| Willie Mays | 156 |
| Hank Aaron | 155 |
| Frank Robinson | 154 |
| Ralph Kiner | 149 |
| GARY SHEFFIELD | 147 |
| Duke Snider | 140 |
| Reggie Jackson | 139 |
| Al Kaline | 134 |
| Billy Williams | 132 |
| Roberto Clemente | 130 |
| Carl Yastrzemski | 130 |
| Dave Winfield | 129 |
| Kirby Puckett | 124 |
| Robin Yount | 115 |
| Lou Brock | 109 |
Of course, I'll take a wild guess that most of the voters won't be checking adjusted OPS when they fill out their ballot. That will leave them to contemplate his final career numbers (which should approach 500 home runs and 3,000 hits), his reputation and whether he really thought he was rubbing facial moisturizer on his bad knee. Some say Jim Rice's relationship with the press is keeping him out of the Hall; I don't think that's the case, and I don't think that will keep Sheffield out. I do think he needs to get 500 home runs to sway enough voters (he's at 435). Can he hit 65 more home runs? Yes.
26. Frank Thomas
The Steroid Era means 500 home runs no longer ensures automatic induction -- and the Big Hurt is moving toward 500 more slowly than Bob Wickman moves through a buffet line. Ultimately, whether he scrapes past the 500 barrier should have no bearing on his Hall status; it is, after all, just a number. Thomas (along with Sheffield) is going to be a litmus test as to how much voters have learned from the Sabermetric Revolution: Do they understand that this guy was baseball's best hitter during the 1990s? Before Bonds became Bonds, there was no more feared hitter in the game (excepting maybe the late '90s blips of Mac and Sammy). He won two MVPs (and finished in the top three in three other years), led the AL four times in OPS and on-base percentage, hit above .340 three times and generally scared the hell out of opposing pitchers.
27. Rafael Palmeiro
The Hall isn't Ruth, Mays and Mantle. It's also a whole bunch of other guys who weren't nearly as good as Raffy. And ultimately, the facts are that the Hall is about the numbers. Why is Dale Murphy out but Eddie Murray in? Why is Jim Rice out and Robin Yount in? How come Paul Molitor made it, but not Steve Garvey or Don Mattingly? Some had the reputation, some have the numbers.
OUT: Jim Thome and Carlos Delgado
This one pains me, but it also shows how one's Hall of Fame potential can drop precipitously in one season. At the start of 2005, Thome was coming off four straight 40-plus homer seasons; and, despite advancing age (35 in August), he looked like a reasonable bet to reach 600 career home runs (he had 423). One bad back and one bad elbow later, rumors had the Phillies wanting to dump his contract like he was Len Matuszek.
Delgado's problem is he'll likely have to line up behind Jeff Bagwell, Thomas, Palmeiro and Thome for honors.
28. Ichiro Suzuki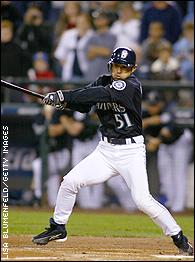 Shouldn't Ichiro get credit for what he did in Japan?
Page 2's Jim Caple addressed this issue a few weeks ago: "If Ichiro winds up with 10 .300 seasons, another batting title or two and 2,500 hits in this country, should we factor in his 1,278 hits and seven batting titles in Japan at least a little?" I'm predicting that Ichiro will continue to rack up 200-hit seasons in the U.S. (he's the type of player who should age well), that he will finish with 2,000-plus hits and that, yes, voters intuitively will factor in his dominance in Japan, as well.
29. Andruw Jones
To begin with, he's the best to patrol center field since Willie Mays, with seven straight Gold Gloves and counting. He's 28 and has 282 home runs -- only Alex Rodriguez (381), Juan Gonzalez (301), Hank Aaron (298) and Frank Robinson (291) had more through the same age. Ten Gold Gloves? Six hundred home runs? I don't see how he can be denied.
OUT: Jim Edmonds
Edmonds' 2000-04 peak rivals the best five-year runs of many Hall of Fame center fielders; but unless he has an astonishing late-30s performance, he'll fall into the Hall of Very, Very Excellent.
30. David Wright and 31. Hank Blalock
Is this the golden age of third basemen? Alex Rodriguez, Scott Rolen, Eric Chavez, Aramis Ramirez, Troy Glaus and these two young sluggers. Third base is the most under-represented position in the Hall; it's time for that to change. Blalock, 24, is on pace for his second straight 30-HR, 100-RBI season and has made just three errors. Wright, just 22, is going to be a hitting machine.
OUT: Scott Rolen and Chipper Jones
Rolen has put together half a Hall of Fame career. But I worry that the back and shoulder problems he's had will ruin the second half.
Chipper's a tough call, following a subpar 2004 and injury-riddled 2005. Can he rebound and have a couple more big seasons? Will he stay at third base? I do know that it will help when Greg Maddux and Tom Glavine are on the Veterans Committee in 2036.
32. Jeff Kent
In some regards, if Kent makes it to Cooperstown, he'll become one of the least-likely Hall of Famers ever. No hitter has fashioned a Hall of Fame career almost exclusively with what he accomplished after the age of 30, but that's what Kent is doing. His first big year came with the Giants in 1997 at age 29. Since then, he's had seven 100-RBI seasons as a second baseman (a feat matched only by Hall of Famers Charlie Gehringer and Tony Lazzeri). No player has hit more home runs as a second baseman. Only four other second basemen since World War II have won an MVP Award -- Jackie Robinson, Nellie Fox, Joe Morgan and Ryne Sandberg -- and all are in the Hall.
Still, Kent just doesn't feel like a Hall of Famer. He was never the guy you automatically punched on your All-Star ballot. Hey, let's run a chart and compare Kent to two contemporaries and some other Hall of Fame second sackers:
| | | | | | | | | | | | |
| --- | --- | --- | --- | --- | --- | --- | --- | --- | --- | --- | --- |
| Player | H | R | HR | RBI | AVG | OBP | SLG | SB | OPS | OPS+ | AS |
| Kent | 2013 | 1095 | 319 | 1273 | .290 | .353 | .506 | 90 | .859 | 125 | 5 |
| Alomar | 2724 | 1508 | 210 | 1134 | .300 | .371 | .443 | 474 | .814 | 116 | 12 |
| Biggio | 2737 | 1661 | 247 | 1035 | .286 | .372 | .436 | 405 | .808 | 116 | 7 |
| Sandberg | 2386 | 1318 | 282 | 1061 | .285 | .344 | .452 | 344 | .795 | 114 | 10 |
| Carew | 3053 | 1424 | 92 | 1015 | .328 | .393 | .429 | 353 | .822 | 131 | 18 |
| Morgan | 2517 | 1650 | 268 | 1133 | .271 | .392 | .427 | 689 | .819 | 132 | 10 |
| Mazeroski | 2016 | 769 | 138 | 853 | .260 | .299 | .367 | 27 | .667 | 84 | 7 |
| Fox | 2663 | 1279 | 35 | 790 | .288 | .348 | .363 | 76 | .710 | 94 | 12 |
| Robinson | 1518 | 947 | 137 | 734 | .311 | .409 | .474 | 197 | .883 | 132 | 6 |
| Doerr | 2042 | 1094 | 223 | 1247 | .288 | .362 | .461 | 54 | .823 | 115 | 9 |
The "AS" refers to All-Star appearances, not All-'Stache team, although Kent would make that in a landslide. Final conclusion: He doesn't look out of place in the above list. I think he needs two more productive years after this one, and he'll have to line up behind Roberto Alomar and Craig Biggio. But he makes it.
33. Trevor Hoffman
Of the modern closers, only Mariano Rivera can match Hoffman's dominance and consistency. He's about to move past John Franco for second on the all-time saves list. He has saved 89 percent of his opportunities (a total surpassed only by Eric Gagne and John Smoltz for those with at least 50 saves). And he has one of the top three entry songs of all time (AC/DC's "Hell's Bells").
34. Francisco Rodriguez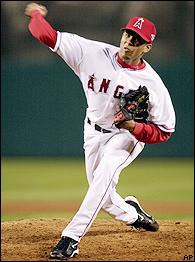 K-Rod's got the potential to be one of the best closers ever.
I expect K-Rod to thank me in his Hall of Fame speech.
OUT: John Franco, Eric Gagne, Braden Looper
35. Adam Dunn
The crystal ball predicts 702 home runs and 4,685 strikeouts.
OUT: Bobby Abreu
But he'll make the Sabermetric Hall of Fame and the Fantasy Baseball Hall of Fame.
36. Johnny Damon
Whoa … hold on there, Schoenfield … Johnny Damon? The Hair Hall of Fame, sure, but Cooperstown?
Yes, I'm surprised, too, since Damon has been an All-Star just twice and hit .300 just three times. (He's headed for a fourth.) Here's why he makes it: Damon will get 3,000 hits. If he does, he's as good as butter. The long-locked one has over 1,720 hits and should finish the season with around 1,800. He's 31. If he averages a conservative 160 hits per season (he's had more than that every year since 1998) through age 36, he's sitting at 2,600 and thinking Cooperstown. He's also coming up on his eighth season of 100 runs scored -- only 27 others have that many. And only 11 have done it 10 times (Alex Rodriguez would make it 12 this year). He's better than we realize.
OUT: David Ortiz, Jason Varitek, Trot Nixon, Bill Mueller, Mark Bellhorn
OUT: Garret Anderson
Anderson has an outside shot at 3,000 hits. He's not a great player due to his mediocre on-base percentage and has only topped 30 home runs once, but that magic barrier makes him a candidate.
37. Johan Santana and 38. Joe Mauer
I like that Santana wasn't overly used as a young pitcher. I like that he's already won a Cy Young Award. I like that in an "off" year he has a 154-28 strikeout-to-walk ratio. As for Mauer, he has, as they say, more tools than the Iron Chefs.
OUT: Alfonso Soriano and Mark Teixeira
It's possible that Soriano will pass Kent someday as the all-time home run leader for second basemen. But keep in mind that he's already 29 (he was one of those who "matured" in the infamous Dominican Aging Scandal), is losing speed (from 43 steals as a rookie to 12 this year) and will eventually move to the outfield. Teixeira certainly has enormous long-term power potential -- if he stays with the Rangers. Eighteen of his 27 home runs this season have come at home.
39. Omar Vizquel
The way I see it, the cynical old-timers who hate all the pumped-up modern-day sluggers will vote for Omar, a symbol of the good old days when baseball was pure, when Hall of Famers played for the love of the game, when you actually had to be a good fielder to make a major-league team!
Does he deserve it? The obvious comparison, of course, isn't to his power-hitting contemporaries, but to The Wizard, Ozzie Smith, another light-hitting glove magician.
First, the hitting stats:
| | | | | | | | | | | |
| --- | --- | --- | --- | --- | --- | --- | --- | --- | --- | --- |
| Player | H | R | HR | RBI | AVG | OBP | SLG | SB | OPS | OPS+ |
| Ozzie | 2460 | 1257 | 28 | 793 | .262 | .337 | .328 | 580 | .665 | 87 |
| Omar | 2248 | 1175 | 68 | 748 | .275 | .341 | .359 | 332 | .700 | 85 |
Overall, pretty even. Both started out as terrible hitters (Ozzie hit .211 with 27 RBI in 1979, while Omar couldn't crack the .250 barrier until his fourth season) and eventually became good enough to post above-average OPS marks despite their lack of power. Ozzie became a little better at the plate, nine times posting an adjusted OPS of 90 or better; Omar has done that six times. Both were even traded early in their careers in lopsided deals (the Padres acquired Garry Templeton for Smith, while the Mariners acquired Felix Fermin and Reggie Jefferson for Vizquel).
In two other categories, Ozzie holds a more significant edge:
Gold Gloves:
Omar: 9
Ozzie: 13
All-Star appearances:
Omar: 3
Ozzie: 15
Ozzie is probably the greatest fielder at any position, ever. He was enormously popular with the fans. Vizquel only made three All-Star Games, but look who he was competing against: Ripken, Rodriguez, Jeter, Garciaparra and Tejada. Ozzie was battling Hubie Brooks and Rafael Ramirez for starting spots.
Vizquel might not be Ozzie, but that doesn't mean he won't make Cooperstown. He has the flair and reputation that go beyond numbers, and that should be enough to persuade the voters.
OUT: Tim Hudson, Barry Zito, Mark Mulder, Rich Harden
Hudson hasn't won a Cy Young, but among this group he's had the best career so far (99-44 career record). He's 30 and hasn't been quite as good the past two seasons, and I wonder if he'll hold up. But all of these guys have early Hall potential, and it wouldn't be unexpected to see one of them end up in Cooperstown.
And, finally...
40. Todd Helton
Hitters with .330 career averages usually find their way into the hallowed Hall.
So there you go. Print this out, save it and pull it out of your wallet in 35 years. We'll see then if this forecast was more accurate than the one I would have written in 1985. That one would have had Darryl Strawberry, Pedro Guerrero, Bret Saberhagen and Willie McGee as sure things.
David Schoenfield is a long shot at being elected to the Baseball Hall of Fame.