By David Schoenfield
Page 2
We all have our own personal stories of misery about our favorite NFL teams. I'm from Seattle. We once were forced to live through the Seahawks' setting an NFL record with minus-7 total yards in a game -- in a season in which they finished fourth in the NFL in points scored.
We had to watch Dan McGwire attempt to play quarterback. He was a first-round pick and, well, to be fair, he did throw two touchdown passes ... in his entire Seahawks career.
But I'm not here to talk about the past. I'm here to talk about misery. And these are the 25 most misery-inducing moments in the NFL during the ESPN era.
25. "We couldn't do diddly-pooh offensively. We couldn't make a first down. We didn't run the ball. We didn't try to run the ball. We couldn't complete a pass. We sucked. We sucked. It was a horse--- performance in the second half. Horse---!" Ahh, these are your New Orleans Saints.
Getty Images
Doug Williams and the Redskins trailed Denver 10-0 before scoring 35 second-quarter points in the 1988 Super Bowl.
24. Broncos get torched for 35 points in one quarter. In the Super Bowl. Has there ever been a more humiliating quarter in the history of pro football?
23. Tony Eason's Super Bowl performance. Yes, kids, there was a time when Patriots fans actually suffered. The Patriots had a miracle run in the playoffs in '85 and reached the Super Bowl against the mighty Chicago Bears. It was an ugly game. Eason was 0-for-6 before being replaced and was sacked 18 times in the first quarter by Richard Dent.
22. Chiefs draft Todd Blackledge. It was 1983, the Year of the Quarterback Draft. The Chiefs had the No. 7 overall pick -- and passed on future Hall of Famers Dan Marino and Jim Kelly for the Penn State star. "Sackledge" finished his career with 29 TD passes and 38 interceptions and changed the fortunes of the Chiefs for the next 15 years.
21. Marty Mornhinweg calls heads. OK, maybe it wasn't the worst decision an NFL coach ever made. (After all, Bruce Coslet once let Browning Nagle throw 387 passes in one season.) But when the Lions won the overtime coin toss against the Bears in 2002, elected to kick and then watched the Bears drive for the game-winning field goal, Mornhinweg immediately sealed his fate as a Detroit legend -- right alongside Tommy Hudspeth, Monte Clark, Rick Forzano and Harry Gilmer. Makes you pine for the genius of Wayne Fontes.
20. Akili Smith is not the next Randall Cunningham. Or even the next Kordell Stewart. In a seven-year span, the Bengals drafted David Klingler (6th overall), Dan Wilkinson (1st), Ki-Jana Carter (1st) and Smith (3rd). With a draft history like that, you knew the Bengals had pulled another colossal blunder on draft day 1999. On the positive side, it allowed the Bengals to continue to stink long enough to draft Carson Palmer with the first pick in 2003.
19. Giants blow 38-14 lead in final 19 minutes of a playoff game. The funny thing about Giants fans is they think they've suffered a lot. But let's recap: two Super Bowl wins in the last 20 years, another Super Bowl appearance, several other playoff teams, plus the pure comedy of Lawrence Taylor's post-retirement career. OK, sure, there were the two seasons in which Danny Kanell led the team in passing. And, of course, this stunning 39-38 loss to the 49ers, which ended when 41-year-old long-snapper Trey Junkin botched his second snap of the game on a potentially game-winning field goal. Still, you got your game on this list; now quit your whining.
Getty Images
Ty Detmer -- another in a long line of non-Pro Bowl quarterbacks to lead the Lions.
18. Ty Detmer throws seven picks in one game. These are the QBs who've led the Lions in passing yards each season since 1979: Jeff Komlo, Gary Danielson, Eric Hipple, Danielson, Hipple, Danielson, Hipple, Hipple, Chuck Long, Rusty Hilger (!), Bob Gagliano (!!), Rodney Peete, Erik Kramer (who actually threw 29 TDs one year ... for the Bears, that is), Peete, Peete, Dave Krieg, Scott Mitchell (this was the 4,300-yard, 32-TD season), Mitchell (this is when he got fat), Mitchell (this is when he got cut), Charlie Batch, Gus Frerotte, Batch, Batch, Joey Harrington, Harrington, Harrington, Harrington. None of them made the Pro Bowl.
17. Bucs draft Vinny Testaverde … and trade Steve Young. From 1983 through 1994, the Bucs never won more than six games in a season. Buy, hey, at least they got second- and fourth-round picks for that washout Steve Young.
16. Eugene Robinson's oral history. In 1998, the Falcons went 14-2, just their third winning season in their last 16, and made the Super Bowl. Falcons fans hadn't been this excited since Bobby Hebert made the Pro Bowl in '93. The night before the game, starting safety Robinson, who earlier in the day had received the Bart Starr Award from Athletes in Action for displaying "high moral character," was arrested for soliciting an undercover cop. Robinson doesn't sleep all night, starts the game anyway, and -- shockingly! -- gets burned by Denver's Rod Smith on an 80-yard TD play.
15. Jim Harbaugh's Hail Mary rolls off Aaron Bailey's chest. Fact (read it and weep, Colts fans): The Indy Colts came closest to reaching the Super Bowl, not with Peyton Manning at the helm, but with Journeyman Jim. How miserable was their loss in the 1995 AFC Championship Game? Indy radio voice Bob Lamey initially called the last-second play a catch for Bailey.
14. Matt Hasselbeck's fearless prediction. Good times: being at a baby shower in Connecticut with a bunch of displaced Seahawks fans watching a playoff game against the Packers as Hasselbeck says "We want the ball and we're going to score" after he wins the overtime coin toss. Silence at baby shower. Seahawks fans know. Needless to say, the baby is not named Matt.
13. And he never kicked again in the NFL. The Chiefs were the toast of the NFL in 1995, finishing with a league-best record of 13-3. They were hosting the mediocre 9-7 Colts in the divisional round. But kicker Lin Elliott missed three field goals and the Chiefs went down 10-7. They haven't won a playoff game since.
12. Goodbye, Barry. Just 31 years old and coming off a 1,491-yard season, Barry Sanders unexpectedly retires. Lions have gone 38-74 since.
11. Bill Bidwell moves the Cardinals from St. Louis to Phoenix. A painful moment for every pro football fan ... in Arizona.
Getty Images
"Wait, what do you mean we're losing 24-3?"
10. The Rich Kotite Era. In retrospect, perhaps the Jets shouldn't have been so quick to can Pete Carroll after one year. Kotite went 4-28. Jets fans hadn't seen football this bad since Joe Namath was hobbling around on two bad knees.
9. Eagles lose 2002 NFC title game to Tampa Bay. It was a perfect situation for the Eagles: the final game at Veterans Stadium, freezing cold weather against the warm-weather Bucs who had never won a playoff game on the road. Bucs 27, Eagles 10. But at least Donovan McNabb didn't throw up.
8. Gary Anderson's wide left. Ask yourself this: Did Anderson have a great season in 1998? Leading up to his biggest kick of the season, Anderson was 39-for-39 on field goals and 67-for-67 on extra points. Minnesota led Atlanta 27-20 in the NFC title game when Anderson came on for a 38-yarder to seal the victory in the final minutes. He went wide left; Falcons win in OT; eventually, Mike Tice is hired as coach.
7. Oilers blow 35-3 lead, lose playoff game to Bills in OT. What made this one even more painful for Oilers fans is that after Buffalo had rallied from 32 down in the third quarter to take the lead, Houston actually tied it up and then lost, 41-38. Which begs another question: Was Warren Moon a great quarterback? He won just three playoff games in his career, and all three were wild-card games. He made nine Pro Bowls and threw for nearly 50,000 yards (not counting the CFL!) but never took his team to a conference title game. He's up for the Hall of Fame in a few weeks. Does he go in on the first ballot?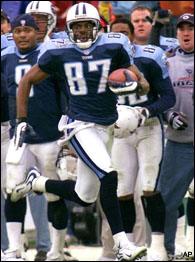 Admit it: You felt a little sorry for Bills fans after Kevin Dyson scored in the Music City Miracle.
6. The Music City Miracle. A man can die but once, but don't try to tell that to Bills fans, who've died 1,000 deaths. How do you lose a playoff game on a contested backward lateral kickoff return. Just after your kicker boots a 51-yard field goal that apparently has won the game with 16 seconds left? Only Bills fans know.
5. "The Fumble." Memo to Browns fans: Even if Earnest Byner had scored on the play, John Elway would have had 1:05 left to break the tie. So, really, all "The Fumble" did was prevent "The Drive II."
4. Ricky Williams appears on the cover of ESPN The Magazine in a wedding dress. How do you convince Mike Ditka to go along with this?
ESPN The Magazine editor: "Yes, Coach, Ricky will be in a dress and you'll be in a tux."
Ditka: "Will he be wearing a veil?" Editor: "Umm ... I guess we'll let Ricky decide."
Ditka: "Well, OK, I'll do it. But just one thing ..."
Editor: "Sure."
Ditka" "If this job in New Orleans doesn't work out, you think you got anything for me up there?"
3. Chargers draft Ryan Leaf with second overall pick in the 1998 draft. "I think whoever gets me next is going to have fun," Leaf said before the draft. He showed up at the combine workouts weighing 261 pounds. But Chargers GM Bobby Beathard loved Leaf's cannon arm so much that he traded two first-round picks, a second-rounder and two players to move up one spot in the draft, ensuring that the Chargers could take either Peyton Manning or Leaf -- whichever QB the Colts passed on. The Colts took Manning, and the Chargers selected the worst disaster in the history of professional sports. Leaf once followed a 1-for-15 game with a four-interception game. He was out of the NFL by 2002.
2. Norwood's boot. Think how bad this would have felt if Bills fans had known at the time that they would lose the next three Super Bowls, too.
1. Art Modell betrays Cleveland; Robert Irsay betrays Baltimore. Sure, both of those cities eventually got new teams. But nothing tops the pain of watching the moving vans pack up your locker room.