By David Schoenfield
Page 2
Have you heard? The NFL draft is this weekend. And while a few of the first-round picks actually might end up living up to their hype, most will be forgotten within a few years -- relegated to backup duty, special teams or driving a UPS truck in their hometown.
However, if we're lucky, one or two will become immortal -- flops, that is. Yes, we take pleasure in knowing there's a good chance that a can't-miss prospect like Matt Leinart, Vince Young or D'Brickashaw Ferguson will become an NFL catastrophe; heck, maybe all three will.
And if they do, maybe they'll join this list of the 100 Worst Draft Picks of All Time. Yes, only Page 2 would attempt such a venture. But while you've been checking mock drafts, we've been checking draft mockery. Enjoy. And be warned: Don't get too excited about your team's pick on Saturday.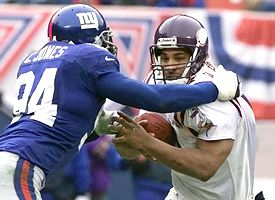 Amy Sancetta/AP Photo
You're looking at one of Cedric Jones' few NFL sacks.
100. Cedric Jones, New York Giants (No. 5 overall pick, 1996)
Unbeknownst to the Giants, Jones was blind in one eye and couldn't play on the left side. On the other hand, it did mean the Giants shifted another young defensive end named Michael Strahan from the right side to the left, so maybe this should be regarded as a great pick in a twisted, fortuitous way. Jones finished with just 15 career sacks.
99. Steve Chilcott, New York Mets (No. 1, 1966)
In the early years of the baseball draft, there was a clear bias against college players. For instance, in 1966 only three college players were taken in the first round. So while the Mets drafted Chilcott, a high school catcher who never reached the majors, they left Arizona State outfielder Reggie Jackson for the A's to take with the second pick.
98. Michael Smith, Boston Celtics (No. 13, 1989)
Career scoring average: 5.0 ppg. Could've had: Tim Hardaway, Shawn Kemp, B.J. Armstrong, Vlade Divac, Clifford Robinson. A few years later, the Celtics tried to correct that mistake by
taking …
97. Eric Montross, Boston Celtics (No. 9, 1994)
Career scoring average: 4.5 ppg. Could've had: Eddie Jones, Jalen Rose, Aaron McKie. And don't even bring up Greg Kite.
96. Todd Blackledge, Kansas City Chiefs (No. 7, 1983)
Ahh, the year that makes NFL draftniks all twitchy and happy -- John Elway, Dan Marino, Jim Kelly, Ken O'Brien, Tony Eason -- and that's just the quarterbacks. (Eric Dickerson, Curt Warner, Bruce Matthews and Darrell Green also went in the first round that year.) But Blackledge was the one first-round QB who didn't pan out: He played 46 career games and finished with more picks (38) than TDs (27).
95. Tim Couch, Cleveland Browns (No. 1, 1999)
It was the first pick for the new Browns, and while Couch wasn't awful in his five seasons with Cleveland, you wonder what would have happened if the Browns had selected the guy who went second, Donovan McNabb. Maybe we would have been spared the whole Rush Limbaugh Affair … and the Dry-Heaving During the Super Bowl Affair … and the T.O. Affair …
You know, let's just get 20 years' worth of quarterbacks out of the way:
94. Joey Harrington, Detroit Lions (No. 3, 2002)
93. Akili Smith, Cincinnati Bengals (No. 3, 1999)
92. Cade McNown, Chicago Bears (No. 12, 1999)
91. Jim Druckenmiller, San Francisco 49ers (No. 26, 1997)
90. Heath Shuler, Washington Redskins (No. 3, 1994)
89. Rick Mirer, Seattle Seahawks (No. 2, 1993)
88. David Klingler, Cincinnati Bengals (No. 6, 1992)
87. Dan McGwire, Seattle Seahawks (No. 16, 1991)
86. Todd Marinovich, Los Angeles Raiders (No. 24, 1991)
85. Andre Ware, Detroit Lions (No. 7, 1990)
84. Kelly Stouffer, St. Louis Cardinals (No. 6, 1987)
83. Chuck Long, Detroit Lions (No. 12, 1986)
Combined Super Bowl titles by those teams after drafting those QBs: Zero. Mamas, don't let your sons become first-round quarterback selections.
82. Matt Anderson, Detroit Tigers (No. 1, 1997)
Anderson threw about 100 mph (105 on the Fox radar gun) at Rice, so the Tigers made the perplexing decision to draft a relief pitcher with the top pick. Like the time they hired Bo Schembechler as team president, this one didn't quite work out.
81. Desmond Howard, Washington Redskins (No. 4, 1992)
The Heisman winner from Michigan was the only wide receiver taken in the first round in '92 -- but maybe the Redskins should have skipped the receivers like everyone else: Howard caught just 66 passes in three seasons before the Redskins gave up on him. He did later resurface as a kick returner and was the Super Bowl MVP for the Packers, but he finished with just seven career TD catches.
The bottom line is, drafting a receiver in the top 10 is like playing poker online: It looks fun and exciting and you envision big-play potential … and then you see the flop.
Of the 13 receivers taken in the top 10 between 1992 and 2002, five (David Terrell, Peter Warrick, Ike Hilliard, J.J. Stokes, Howard) have never had a 1,000-yard season, and two others (Koren Robinson, Michael Westbrook) have had just one. Since 2003, top-10 receivers Charles Rogers and Reggie Williams also look like potential busts.
80. Derek Jeter, New York Yankees (No. 6, 1992)
What, you want to defend this pick? Do you like to steal candy from little kids? Imagine, for a moment, if the Expos had taken Jeter with the No. 3 pick instead of B.J. Wallace: Montreal would now be playing in its fabulous, 21st-century stadium, Jarry Park II, where free agents like Alex Rodriguez and Gary Sheffield take pay cuts just to play in baseball's most luxurious ballpark and high-five Youppi! after hitting game-winning home runs. It's a place where the Expos are going for their sixth straight division title and fans admit, "We don't really care about the hockey playoffs this year" as they flock to see Jeter captain their beloved Expos. True, there would be no baseball in our nation's capital, but that would be a small price to pay to see Jeter plying his trade in Montreal pinstripes.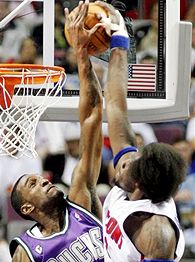 Duane Burleson/AP Photo
Joe Smith's had a decent career -- but certainly hasn't lived up to expectations.
79. Joe Smith, Golden State Warriors (No. 1, 1995)
It's not that Smith is a bad player -- he has a career 12.4 scoring average -- but this pick symbolizes the Warriors' inability to ever make the right choice. They selected the college-groomed Smith over Kevin Garnett. Two years later, they once again took a more polished, lower-ceiling college player in Adonal Foyal over a high school kid named Tracy McGrady. And you wonder why Golden State hasn't made the playoffs since 1994?
78. Kenneth Sims, New England Patriots (No. 1, 1982)
A Lombardi winner at Texas, Sims was a one-man wrecking crew in college; according to collegefootballnews.com, he recorded an incredible 131 tackles as a junior defensive lineman. The consensus top pick in '82, he started for a few years, but never became a star.
77. Kwame Brown, Washington Wizards (No. 1, 2001)
Brown might yet turn into a productive player -- he's only 24 -- but not in Washington. The Wizards passed on Pau Gasol, Jason Richardson, Joe Johnson, Richard Jefferson, Troy Murphy and Tony Parker.
76. and 75. Steve Emtman and Quentin Coryatt, Indianapolis Colts (No. 1 and No. 2, 1992)
We'll cut the Colts a little slack since Emtman, the Outland and Lombardi winner from Washington, suffered knee injures. But Coryatt, a linebacker from Texas A&M, never did much in his six seasons with the Colts other than drop a sure interception that would have sealed the '95 AFC title game.
74. Tito Nanni, Seattle Mariners (No. 6, 1978)
The Mariners drafted the high school outfielder from Pennsylvania over a Michigan State wide receiver who dabbled in baseball named Kirk Gibson -- much to the protestations of a scout named Jerry Krause. Yes, that Jerry Krause.
73. through 56. The first 18 picks of the 1983 baseball draft
It was probably the worst baseball draft ever -- of the first 17 picks, only the No. 1 pick (Tim Belcher, who didn't even sign with the Twins), the No. 2 pick (Kurt Stillwell) and the No. 16 pick (Brian Holman) did anything in the big leagues. But the 19th pick, he turned out OK -- Roger Clemens.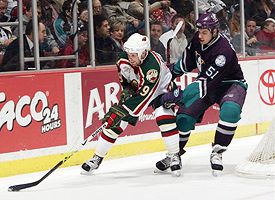 Henry DiRocco/AP Photo
Alexandre Daigle (left) wasn't quite the "next Mario Lemieux."
55. Alexandre Daigle, Ottawa Senators (No. 1, 1993)
Maybe it wasn't his fault that he was billed as the "next Mario Lemieux," but he's drifted among six different teams (not including stints back in the minor leagues) and has never scored more than 51 points in a season. In hockey, the No. 1 overall pick is usually a star -- recent picks have included Sidney Crosby, Alexander Ovechkin, Rick Nash and Ilya Kovalchuk. Would the Senators have won a Stanley Cup by now if they had drafted the No. 2 guy, Chris Pronger?
54. Danny Ferry, Los Angeles Clippers (No. 2, 1989)
Ferry refused to sign with the Clippers -- which actually was the best thing to happen to the Clippers franchise for many years, considering Ferry's ensuing lackluster career.
53. Bill Bene, Los Angeles Dodgers (No. 5, 1988)
No, that's not Billy Beane, the Oakland general manager. This guy was a hard-throwing right-hander who was wilder than Charlie Sheen on vacation in Cancun during spring break. Bene rarely pitched at Cal State Los Angeles, but the Dodgers clocked him at 100 mph and took him over such future big leaguers as Jim Abbott, Robin Ventura, Tino Martinez and Alex Fernandez. At one point, the Dodgers wouldn't let him pitch batting practice to live batters and had him pitch to a department-store mannequin. Career totals in the minors: 18-34, 5.45 ERA, 516 innings, 543 walks, 502 strikeouts.
52. Mike Williams, Buffalo Bills (No. 4, 2002)
Nothing makes NFL scouts drool more than a mountain-sized left tackle with the feet of a ballerina and the arms of Chewbacca. That's what the Bills thought they drafted when they took the 6-6, 360-pound Williams ahead of players like Roy Williams, Dwight Freeney and Jeremy Shockey. Instead, Williams was shifted to right tackle (considered an easier position to play) before his rookie season, later tried at left guard, then benched and finally released after the 2005 season.
51. Andre Wadsworth, Arizona Cardinals (No. 3, 1998)
Nothing makes NFL scouts drool more than a 6-4, 273-pound defensive end with the quickness of a roided-up Ben Johnson and the strength of Magnus Ver Magnusson. Wadsworth was so highly touted coming out of Florida State that Jerry Jones reportedly offered two first-round picks and a second-round pick to Arizona. Wadsworth was decent as a rookie, although hardly equal to his billing -- just five sacks -- and then injuries set in.
50. Stephon Marbury, Milwaukee Bucks (No. 4, 1996)
But he's been a two-time All-Star! I don't want to hear it. This guy has destroyed more franchises than Jeffrey Loria. The facts speak for themselves: Every team he leaves gets better, every team he joins gets worse. He's a disaster with a high scoring average.
49. Bryan Bullington, Pittsburgh Pirates (No. 1, 2002)
Usually, college pitchers are safer bets than high school pitchers. The Pirates were high on the Ball State right-hander, taking him over the consensus top talent, B.J. Upton. While Upton remains a prized prospect, Bullington never showed the velocity he had in college -- and he's often injured. Players the Pirates could have drafted with the top pick included Prince Fielder, Jeremy Hermida, Khalil Greene, Scott Kazmir, Nick Swisher, Jeff Francoeur, Joe Blanton or Matt Cain. And you wonder why the Pirates haven't had a winning season since 1992.
48. Brien Taylor, New York Yankees (No. 1, 1991)
Look, drafting high school pitchers is riskier than hiring Charlie Sheen as a chaperone for the junior prom, but the Yankees get a big slap here for overpaying for Taylor. The previous record bonus for a No. 1 pick had been $575,000. The Yankees gave Taylor a $1.55 million bonus. He showed promise in the low majors before injuring his shoulder in an off-field fight.
47. Aundray Bruce, Atlanta Falcons (No. 1, 1988)
The NFL draft is a science? Hah! Bruce was a speedy outside linebacker from Auburn, but he ended up starting just 42 games in his 11-year career. The Falcons wanted a pass-rusher, but they should have taken the guy who went No. 2 -- Neil Smith (105 sacks) -- or maybe better, one of three wide receivers: Tim Brown, Sterling Sharpe or Michael Irvin.
46. Mark McGwire, Oakland A's (No. 10, 1984)
If only the Cubs had taken McGwire at No. 3, or maybe the Reds at No. 5, or maybe the Giants at No. 9, then McGwire never would have been teammates with Jose Canseco, he never would have been introduced to steroids (you know, if it happened that way), he wouldn't have shattered Maris' record in '98, Barry wouldn't have gotten jealous, Pedro Gomez would get to cover the actual game of baseball, we wouldn't have "Bonds on Bonds" and life as we know it would generally smell more like roses and fresh-baked bread.
45. Mike Mamula, Philadelphia Eagles (No. 7, 1995)
Famous for seeing his draft stock rise after a fabulous workout at the NFL combine, the Boston College defensive end's career wasn't so fabulous: six seasons, 209 total tackles, 31½ sacks. In fact, Mamula's workout and resulting career is so famous there is even a term for it: Mike Mamula Syndrome. It's a good thing NFL teams have learned from their mistakes and no longer pay attention to workout wonders.
44. David Clyde, Texas Rangers (No. 1, 1973)
Clyde was a blazing lefty from a Houston high school when the Rangers took him first overall -- and owner Eddie Short immediately put him in the big leagues to help boost attendance. Sadly, the rush job probably hindered Clyde's development and he never panned out (18-33 career record). Meanwhile, if Short had wanted a ready-made big leaguer, he could have drafted Robin Yount (third to the Brewers) or Dave Winfield (fourth to the Padres).
43. Brian Lawton, Minnesota North Stars (No. 1, 1983)
Lawton remains the only U.S. high school player taken with the top overall selection. The left winger never became the big scorer the North Stars envisioned -- not like the fourth pick in that draft: Steve Yzerman.
42. Frank Oleynick, Seattle Sonics (No. 12, 1976) His nickname: Magic. No, I am not lying. So, really, the other guy stole it from him. He went to Seattle University, which is a good reminder that teams shouldn't let the hometown factor influence their decision. He lasted two years in the NBA, averaging 5 points per game.
41. D.J. Dozier, Minnesota Vikings (No. 14, 1987)
40. Blair Thomas, New York Jets (No. 2, 1990)
39. Ki-Jana Carter, Cincinnati Bengals (No. 1, 1995)
38. Curtis Enis, Chicago Bears (No. 5, 1998)
Is there a curse on Penn State running backs?
While Dozier and Thomas (who was drafted second even though he'd had knee surgery as a junior) were disappointments and Carter blew out his knee during preseason his rookie season, Enis' story was the strangest. After being drafted by the Bears, Enis admitted, according to a Sports Illustrated story, that he was a womanizer and abuser of alcohol, turned to Christian fundamentalism, married his three-months pregnant girlfriend (a former stripper), admonished his siblings for having out-of-wedlock children, fired his agent, ran up $500,000 in debt -- all that before training camp started.
Career combined totals for the four: 5,551 yards, 38 TDs.
37. Any Michigan running back
Come to think of it, stay away from any Michigan running backs, as well: Chris Perry (2004), Tim Biakabutuka (1996), Tyrone Wheatley (1995), Jarrod Bunch (1991) and Butch Woolfolk (1982) were all first-round picks. Totals: No Pro Bowls and only one 1,000-yard season by Wheatley.
36. Michael Olowokandi, Los Angeles Clippers (No. 1, 1988)
It's never a good thing to hear Hubie Brown say "University of the Pacific," "7 feet" and "project" in one sentence when you're making the first overall pick.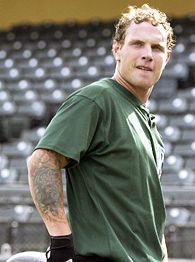 Kevin Kolczynski/AP Photo
Josh Hamilton's personal issues have gotten the best of him.
35. Josh Hamilton, Tampa Bay Devil Rays (No. 1, 1999)
Hamilton threw 97 mph and hit the ball a country mile. The Devil Rays drafted him as an outfielder over players like Josh Beckett, Barry Zito, Ben Sheets and Brett Myers. They raved about his five-tool ability and impeccable mental makeup. "He can run. He can field. He can throw. He can hit. And he can hit with power," said Devil Rays general manager Chuck LaMar at the time. "And if you had to add a sixth tool to it, it would be intangibles. … this young man not only has the God-given talent, but all the intangibles to reach the major leagues."
Umm, about those intangibles … Hamilton showed promise early in his minor league career, but began raising questions with mysterious absences and a fascination with tattoos. He missed 2003 with personal issues and Major League Baseball eventually suspended him for the 2004, 2005 and now 2006 seasons for failing multiple drug tests.
34. Scottie Pippen, Seattle Sonics (No. 5, 1987)
Wait … Scottie Pippen was a great choice! … except the Sonics (who had acquired the pick from the Knicks for Gerald Henderson) had a deal with the Bulls for the No. 8 pick: They would draft Pippen and trade him to Chicago for Olden Polynice. So that's what happened. To make matters worse, the Sonics drafted Derrick McKey at No. 9 while the Bulls drafted Horace Grant at No. 10.
In the next couple of years, the Sonics would draft Gary Payton and Shawn Kemp … hmm, you think a lineup of Payton, Pippen, Kemp and Grant couldn't have won three or four titles in the '90s? It does suck being a Seattle sports fan.
33. Josh Booty, Florida Marlins (No. 5, 1994)
Booty was a heralded prep quarterback/shortstop who turned down LSU to sign with the Marlins for $1.6 million. Moved to third base, he had a cannon of an arm that made old men weep and little girls faint. He could hit the ball a ton … when he made contact. In 589 minor league games he hit .212 and struck out 710 times. He eventually did go play QB at LSU and spent a season as a backup with the Browns.
32. and 31. Bill Wennington and Uwe Blab, Dallas Mavericks (No. 16 and 17, 1985)
The Mavs did take Detlef Schrempf at No. 8 in this draft but blew their other first-rounders on two 7-footers with questionable athletic ability (and that's putting it nicely). The 18th pick? Joe Dumars. A.C. Green and Terry Porter also went later in the first round.
You know, if the Mavs had played it right in the '80s, they could have a dynasty -- they already had two All-Stars in Mark Aguirre and Rolando Blackmon from the 1981 draft, but they selected Wyoming stiff Bill Garnett with the fourth pick in '82. In 1983, they drafted Dale Ellis and Derek Harper. While Harper became a star, they gave up on Ellis after three seasons as a reserve and traded him to Seattle, where he became an All-Star. In 1984, they took Sam Perkins one spot before Charles Barkley and Terence Stansbury one spot before John Stockton. They did take Schrempf in '85, but traded him after a couple years to the Pacers, where he then blossomed.
So, by the mid-'80s, they could have had a roster featuring Aguirre, Blackmon, Harper, Ellis, Barkley, Stockton, Schrempf, Dumars and A.C. Green.
Of course, they would have lacked a 7-footer at center.
30. Nikoloz Tskitishvili, Denver Nuggets (No. 5, 2002)
No, this isn't a rant against the NBA's infatuation with European players; it's a rant against 7-foot stiffs who can't play. Tskits is already on his fourth team with a career scoring average of 2.9. Think the Nuggets would rather have taken Amare Stoudemire?
29. Tony Mandarich, Green Bay Packers (No. 2, 1989)
Imagine a backfield of Brett Favre and Barry Sanders. That could have been the case, but Green Bay bypassed Sanders for the "best offensive line prospect ever" (as Sports Illustrated declared on its cover). Interestingly, at the time Mandarich's 6-6, 315-pound size was considered mammoth. These days, current top draft prospect D'Brickashaw Ferguson, 6-6 and 305 pounds, "lacks ideal bulk" and "needs to get bigger." And steroids in baseball are a problem?
28. Russell Cross, Golden State Warriors (No. 6, 1983)
Cross, a forward from Purdue, lasted just one season in the NBA. Among those still on the board: Thurl Bailey, Antoine Carr, Dale Ellis, Jeff Malone and Clyde Drexler.
27. through 18. Kansas City Royals' first-round picks, 1992-2001
| | | |
| --- | --- | --- |
| Player | Career | Could've had (1st round) |
| 27. Jim Pittsley, RHP (No. 17, 1992) | 7-12, 6.02 | Shannon Stewart (No. 19) |
| 26. Jeff Granger, LHP (No. 5, 1993) | 0-1, 9.09 | Derrek Lee (No. 14) |
| 25. Matt Smith, 1B/LHP (No. 16, 1994) | Never reached majors | Scott Elarton (No. 25) |
| 24. Juan LeBron, OF (No. 19, 1995) | Never reached majors | Michael Barrett (No. 28) |
| 23. Dermal Brown, OF (No. 14, 1996) | .234, 14 HRs | Eric Milton (No. 20) |
| 22. Dan Reichert, RHP (No. 7), 1997 | 21-25, 5.55 | Lance Berkman (No. 16) |
| 21. Jeff Austin, RHP (No. 4, 1998) | 2-3, 6.75 | Brad Lidge (No. 17) |
| 20. Kyle Snyder, RHP (No. 7, 1999 | 2-9, 5.64 | Barry Zito (No. 9) |
| 19. Mike Stodolka, LHP (No. 4, 2000) | Never reached majors | Chase Utley (No. 15) |
| 18. Colt Griffin, RHP (No. 9, 2001) | Never reached majors | Bobby Crosby (No. 25) |
17. LaRue Martin, Portland Trail Blazers (No. 1, 1972)
Maybe things weren't as sophisticated back then. No videotape. No 86 college games a week on television. No ESPN.com draft rankings to steer a team in the right direction. But Martin, a 6-11 center from Loyola of Chicago, remains the most colossal No. 1 flop in NBA draft history, lasting just four seasons with a career 5.3 scoring average.
Then again, maybe it was just the worst draft ever: other top-10 selections included Dwight Davis, Corky Calhoun, Freddie Boyd, Russ Lee, Bud Stallworth, Tom Riker and Bob Nash. Haven't heard of any of them? There's a reason. Only Bob McAdoo (2nd) and Paul Westphal (10th) of the first 10 picks did anything in the NBA.
16. Russell Erxleben, New Orleans Saints (No. 11, 1979)
And you wonder why the Saints never had a winning season from 1967 through 1986? Erxleben was a barefooted kicker/punter who booted eight field goals longer than 57 yards in his college career at Texas, including a 67-yarder. The Saints made him the highest-drafted kicker ever. He booted four field goals in his NFL career (and lasted just four seasons as a punter). Two picks later, the Chargers selected Kellen Winslow. And 21 years later, Erxleben was sentenced to 84 months in prison for securities fraud.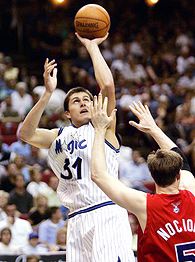 John Raoux/AP Photo
Darko was stuck on Detroit's bench -- but he's getting more PT in Orlando.
15. Darko Milicic, Detroit Pistons (No. 2, 2003)
Yes, it's too early to write off Darko, but Carmelo Anthony, Chris Bosh and Dwyane Wade were taken immediately after him.
14. through 10. The first five picks of the 1978 NBA draft
Back in 1978, players were eligible to be drafted if their original college class was graduating -- so Larry Bird, who had originally attended Indiana (he never played there) before transferring to Indiana State, was eligible after his junior season. The Trail Blazers, Kings, Pacers(!), Knicks and Warriors all passed. Red Auerbach took him; Bird returned to school for his senior year but the Celtics retained his rights. It was worth the wait.
9. Chris Washburn, Golden State Warriors (No. 3, 1986)
The NBA's tragic draft class: Len Bias (No. 2), Washburn, William Bedford (No. 6) and Roy Tarpley (No. 7) all had drug problems that led to death or getting kicked out of the league. While Bias shockingly died the day after the draft, Washburn's demise wasn't necessarily a surprise: He was caught stealing a stereo at NC State and was known for not having a work ethic. The Warriors took him anyway, and he scored just 222 points in his career before getting booted.
8. Kurt Brown, Chicago White Sox (No. 5, 1985)
The baseball draft is much more of a crapshoot than basketball or football, but the first four picks of the '85 draft yielded four college players who had long and productive careers: B.J. Surhoff, Will Clark, Bobby Witt and Barry Larkin.
The White Sox then drafted a high school catcher from California named Kurt Brown; he never reached the majors.
With the sixth pick, the Pirates selected Arizona State outfielder Barry Bonds. From 1986 through 2004, the White Sox finished in second place nine times. How many years would Bonds have been the difference in making the playoffs? Using the ESPN Baseball Encyclopedia, we can compare the numbers of wins Bonds generated over an average left fielder to the White Sox left fielder each season:
| | | | |
| --- | --- | --- | --- |
| Year | Bonds wins | White Sox LF wins | Difference? |
| 1990: 94-68, 9 games back | Bonds: +6.5 | Ivan Calderon: +0.5 | No |
| 1991: 87-75, 8 games back | Bonds: +5.7 | Tim Raines: +0.6 | Probably not |
| 1992: 86-76, 10 games back | Bonds: +8.0 | Tim Raines: +3.2 | No |
| 1993: 94-68, won division | | | |
| 1994: strike year | | | |
| 1995: 68-76, 32 games back | Bonds: +5.6 | Tim Raines: +0.5 | No |
| 1996: 85-77, 14.5 games back | Bonds: +7.8 | Tony Phillips: +1.9 | No |
| 1997: 80-81, 6 games back | Bonds: +6.3 | Albert Belle: +0.9 | Possibly |
| 1998: 80-82, 9 games back | Bonds: +6.8 | Albert Belle: +5.9 | No |
| 1999: 75-86, 21.5 games back | Bonds: +3.0 | Carlos Lee: -1.2 | No |
| 2000: 95-67, won division | | | |
| 2001: 83-79, 6 games back | Bonds: +12.0 | Carlos Lee: -0.5 | Yes |
| 2002: 81-81, 13.5 games back | Bonds: +11.8 | Carlos Lee: +0.7 | Maybe |
| 2003: 86-76, 4 games back | Bonds: +8.5 | Carlos Lee: +2.0 | Yes |
| 2004: 83-79, 9 games back | Bonds: +10.9 | Carlos Lee: +1.5 | Yes |
The White Sox had pretty good left fielders anyway, but if they had drafted Bonds and kept him, they probably would have won three more division titles and possibly five.
7. Charles Rogers, Detroit Lions (No. 2, 2003)
Before the draft, an NFL.com prospect profile wrote of Rogers, "Has a well-proportioned, muscular frame with tight skin, low body fat, good arm length, tight bubble and nicely developed legs and thighs … Has outstanding quickness in and out of his cuts …Stays active with his hands to escape the jam and is very fluid getting into his routes … Has the ability to easily find the open area and the instincts to know where the pursuit is coming from … Uses his superb acceleration to separate, and while known as a deep threat, he is also effective on underneath routes … Will catch with his hands outside his framework and shows excellent concentration going over the middle … Does a fine job of tracking and locating the ball, using his speed well to stretch the defense … Shows good hip swerve, wiggle and juking moves to make the initial tackler miss … Has the long arms and strength needed to hold up vs. press coverage … Shows great depth in his routes and can sneak up on a defender and separate with his vertical speed … Not shy combating for the ball and will work hard to take the pigskin away from the defender … Has above-average body control to adjust when making over-the-shoulder grabs … Very hard to contain after the catch."
Let's see, in three years, he's played 14 games, caught 36 passes and had almost as many violations of the league's substance-abuse policy (three) as touchdown catches (four). Guess that scouting report missed a thing or two.
6. Robert Traylor, Milwaukee Bucks, (No. 6, 1998)
Technically, the Mavericks drafted Traylor but they had a draft-day deal arranged with the Bucks: the rights to Traylor for the rights to No. 9 pick Dirk Nowitzki and No. 19 pick Pat Garrity. Yeah, that one didn't work out so well for the Bucks; Dirk will go to the Hall of Fame one day, while Tractor once scored a career-high 20 points against the Hawks.
5. Art Schlichter, Baltimore Colts (No. 4, 1982)
There was no denying Schlichter's talent -- He had finished fourth, sixth and fifth in the Heisman balloting in three years at Ohio State. Trouble is, he was a compulsive gambler. (Apparently, the NFL didn't check for "character" back then.) While a backup with the Colts, instead of charting plays on a clipboard, he charted scores of games he had bet on. The pick also set off a trickle effect to this day: suspended by the NFL for the 1983 season, the Colts took John Elway with the first pick that year, except Elway wouldn't sign with the Colts, so they had to trade him to Denver, which essentially sent the Colts into a long downward spiral other than a brief resurgence in the "Eric Dickerson Era," culminating with the Peyton Manning pick in '98, which has led to nothing but crushing and painful defeats for Colts fans. It's a cruel world.
4. Lawrence Phillips, St. Louis Rams (No. 6, 1996)
Apparently, character still wasn't an issue by 1996, when the Rams took the troubled Nebraska running back. He finished with just over 1,400 yards in three seasons. Meanwhile, the Oilers grabbed Heisman winner Eddie George with the 13th pick.
3. Joe Barry Carroll, Golden State Warriors (No. 1, 1980)
Joe Barely Cares actually made an All-Star team once, but it's what the Warriors gave up to acquire this pick from the Celtics that makes it such a terrible selection: Robert Parish, who had just averaged 17 points and 10.9 rebounds, and the third pick in the draft, which turned into Kevin McHale. Such are dynasties and disasters born.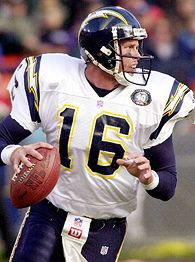 Kevin Higley/AP Photo
When you look up "bust" in the dictionary, Ryan Leaf's name should be there.
2. Ryan Leaf, San Diego Chargers (No. 2, 1998)
It's not just that Leaf was historically inept (14/36 TD/INT ratio), it's that his failure led the team to drafting Drew Brees, which led the team to drafting Philip Rivers, which led to them starting Brees anyway, which led to one playoff year, an injury and a trade, which leads to the team starting all over again with Rivers and hoping he pans out. Meanwhile, the Chargers have essentially wasted the first five years of the great LaDainian Tomlinson's career with just one playoffs year. By the time (if) Rivers matures, it's quite likely L.T. will start declining. Thank you, Ryan Leaf, thank you for destroying a franchise.
1. Sam Bowie, Portland Trail Blazers (No. 2, 1984)
It's not that Bowie was an awful player; it's who was drafted right after him: Michael Jordan (the Rockets took Hakeem Olajuwon first overall).
But the Blazers should have known better: The 7-1 center had missed two full seasons at Kentucky with a stress fracture in his left shinbone; sure enough, his NBA career was sabotaged by injuries and he played just 139 games in five years with Portland before moving to the Nets.
Why Bowie? The Blazers were fixated on drafting a center. According to a UPI story at the time, "The biggest disappointment of the draft, though, came weeks ago when Portland lost the coin flip for the No. 1 choice in the draft. The flip went to the Houston Rockets, who selected University of Houston center Akeem ''The Dream'' Olajuwon. … Before the coin flip, Portland was fined $250,000 for improper contact with Olajuwon and Georgetown center Patrick Ewing.
Did the Bulls know what they were getting in Jordan? Not necessarily. In fact, there are indications they would have preferred Bowie as well. "In the past there has been a lot of trades but we were 98 percent positive on Jordan," Bulls general manager Rod Thorn said on draft day. "I only wish he were 7-1. The fans will enjoy watching him play and we expect we'll have an easier time signing him than we have had in signing other draft choices.
"We would like to sign him as soon as possible. If we had received good offers for a trade we would have made it, but it would have taken an overpowering offer."
So what if the Blazers had drafted Jordan? How many titles would they have won? They already had Clyde Drexler, who is pretty much a clone for the Scottie Pippen role. The rest of the roster was certainly much more talented than what Jordan had in his early days with the Bulls (Portland had won 48 games in the '83-84 season). Jerome Kersey was drafted in the second round in '84 and forwards Kiki Vandeweghe and Mychal Thompson were both big-time scorers. The next year, the Blazers drafted Terry Porter late in the first round.
That's a heck of a nucleus. (In fact, the Drexler-Kersey-Porter nucleus was good enough to make two NBA Finals on its own.) Add Jordan to the mix and the Blazers win eight straight championships starting in 1987. No Lakers repeat. No Bad Boys Pistons. No Bulls dynasty.
Of course … don't the Mavs have Barkley, Stockton, Dumars, Aguirre, Blackmon, Harper and Schrempf?
David Schoenfield is the lead editor of Page 2.