Cardinals 6, Marlins 3. Tigers 5, Mets 4. Rockies 12, White Sox 4. Red Sox 4, Twins 4.
It's baseball season, baby, baseball season.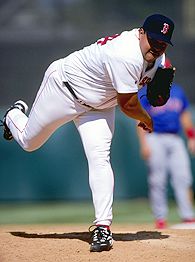 Brian Bahr/Getty Images
Our wallet has more girth than Rich Garces, and we're signing free agents.
The big news of the offseason, other than the devastating information that A-Rod and Derek are no longer best friends, was the big money thrown at free agents -- and we mean Rich Garces-big money here.
At Page 2, however, we don't want to just groan and moan about these contracts. We pursue deeper questions, like: What if we had purchased the Tampa Bay Devil Rays in the offseason, released the whole team, and signed an entire roster of free agents. How good would our team be? Could we knock off the evil Yankees and evil Red Sox and win the division?
(Of course, what we're really asking is: Just how friggin' dumb are baseball general managers? But allow us our little fun here.)
So we constructed a 25-man roster, listed below with actual real-life contract terms. We'll then see how good our team is by running it through the Diamond Mind game simulation.
P.S.: The total value of contracts for our 25-man team is $963.5 million, including a 2007 payroll of $196 million ($2 million higher than the '06 Yankees). I think Garces just ate another doughnut.
Catcher: Bengie Molina, Giants (3 years, $16 million)
Why this was a bad contract: Can you imagine what he'll look like in three years? He's already slower than dirt. By 2009, he'll be another 30 pounds heavier and he'll have to roll himself to first base. Plus, his once-vaunted defense has slipped in recent years, from throwing out 45 percent of would-be base stealers in 2002 to just 18 percent last season.
Why this signing may work out: If the Giants can keep him away from the cream, maybe his body will hold out … ice cream, that is, ice cream. And whipped cream.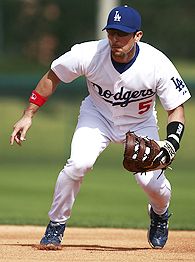 Doug Benc/Getty Images
Nomar Garciaparra gives our team
a leg up in penalty-kick situations.
First base: Nomar Garciaparra, Dodgers (2 years, $18.5 million)
Why this was a bad contract:
This is a great test to see if your GM read "Moneyball" or "The Winner Within." Do you sign the creaky comeback veteran (who still missed 40 games in his "injury-free" season) or play the rookie (James Loney) who tore it up in the bigs after hitting .380 in Triple-A? The difference in your decision: about $9 million per season.
Why this signing may work out: Tie games will be decided by penalty kicks starting in 2008.
Second base: Mark DeRosa, Cubs (3 years, $13 million)
Why this was a bad contract: Umm, let's see, the Cubs are overly right-handed and needed a lefty bat to hit right-handed pitching, so let's sign a guy who … can't hit right-handed pitching. Oh, and he's a 31-year-old utility guy coming off a career year in Texas (a good hitting park). And you wonder why it's been 99 years?
Why this signing may work out: At least the Cubs didn't wildly pay, so maybe they could just put up a couple billboards on the ivy to cover the sunk costs.
Third base: Aramis Ramirez, Cubs (5 years, $75 million)
Why this is a bad contract: Ramirez has obvious power -- 105 home runs the past three seasons -- but because he doesn't walk much his on-base percentage isn't terrific, making him a very good hitter instead of an elite one. Factor in that he's coming off his 26-to-28 years, often the peak seasons for players, and his "old player" skills, and Ramirez is a risky bet to keep performing at this level in 2011.
Why this signing may work out: He's healthier than Mark Prior and Kerry Wood.
Shortstop: Julio Lugo, Red Sox (4 years, $36 million)
Why this is a bad contract: It's Julio Lugo, former star of the Devil Rays! OK, seriously, Lugo is a plus fielder and decent hitter for a shortstop. And maybe that kind of player is now worth $9 million per year. But he'll be 34 in the final year of the deal. The last team to win a World Series with a shortstop that old? The 1980 Phillies with Larry Bowa.
Why this signing may work out: It's Boston! Who gives a crap about 2010!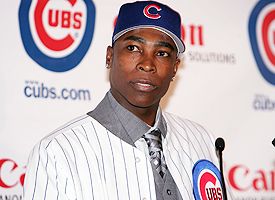 Chris Chambers/Getty Images
We're predicting Alfonso Soriano won't have eight consecutive career years for the Cubs.
Left field: Alfonso Soriano, Cubs (8 years, $136 million)
Why this is a bad contract:
His career OBP is
less
than the league average. He could fail to replicate the career highs he established last year in OBP, home runs and slugging percentage. He may not adjust to center field (where the Cubs plan on playing him). He'll be 38 in the final year of the deal, making $18 million. The Cubs have proven the last 60 years that it's hard to win pennants with .330 OBP guys anchoring the lineup.
Why this signing may work out: Fantasy stats are now included in real standings!
Center field: Juan Pierre, Dodgers (5 years, $44 million)
Why this is a bad contract: Pierre's ranking the last four years in outs made among NL hitters: 1st, 2nd, 2nd, 1st.
Why this signing may work out: Pierre regains his 2004 form. (Hey, always pay for the highest potential a player may produce at, just in case he actually does!)
Right field: J.D. Drew, Red Sox (5 years, $74 million)
Why this is a bad contract: Umm, there's a slight chance he may get hurt or something.
Why this signing may work out: Actually … move away from the cliff, Red Sox fans. Drew gets on base (career .393 OBP), has power (career .512 slugging percentage) and has even played 145 and 146 games two of the past three seasons. He's been on five playoff teams the past seven seasons (with three different franchises). Doesn't that make him a winner? (Just sayin' …) Maybe he'll adjust just fine to the pressure of performing in Boston. And, finally, the Sox negotiated a possible out clause after three seasons anyway. (This message brought to you by Scott Boras.)
Designated hitter: Carlos Lee, Astros (6 years, $100 million)
Why this is a bad contract: Last time we checked, the NL still doesn't employ the DH. Like Ramirez, Lee's glossy RBI totals overstate his actual hitting value. He turns 31 … this year. How good will he be when he's 36?
Why this signing may work out: He's durable. He could post some monster power numbers thanks to that 265-foot wall in left field in Houston. The NL starts using the DH in 2010.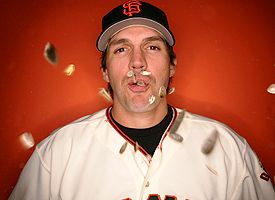 Jed Jacobsohn/Getty Images
Barry Zito can feel free to laugh. He's not signing
the paychecks for these high-priced players.
Starting pitcher: Barry Zito, Giants (7 years, $126 million)
Why this is a bad contract:
He's more No. 2 starter than staff ace. His 1.403 WHIP last season is rather uninspiring. His 151/99 SO/BB ratio was hardly the stuff of Cy Young winners. His ERA over the past three seasons is 4.03. No pitcher has ever signed for this much money. (Well, Mike Hampton came close, and we all know how that turned out.) Rumored new girlfriend: Hilary Duff.
Why this signing may work out: He's left-handed, he never misses a start, he's moving to a good pitcher's park, he's moving to the National League, he's pitched well in the postseason, rumored new girlfriend isn't Lindsay Lohan.
The rest of the team:

C -- Henry Blanco, Cubs (2 years, $5.5 million)
UT -- Rich Aurilia, Giants (2 years, $8 million)
OF -- Gary Matthews Jr., Angels (5 years, $50 million)
OF -- Dave Roberts, Giants (3 years, $18 million)
OF/IF -- Aubrey Huff, Orioles (3 years, $20 million)


SP -- Gil Meche, Royals (5 years, $55 million)
SP -- Andy Pettitte, Yankees (1 year, $16 million)
SP -- Jeff Suppan, Brewers (4 years, $42 million)
SP -- Adam Eaton, Phillies (3 years, $24.5 million)


RP -- Miguel Batista, Mariners (3 years, $25 million)
RP -- Danys Baez, Orioles (3 years, $19 million)
RP -- Chad Bradford, Orioles (3 years, $10.5 million)
RP -- Jamie Walker, Orioles (3 years, $12 million)
RP -- Justin Speier, Angels (4 years, $18 million)
RP -- Mike Stanton, Reds (2 years, $5.5 million)

The results: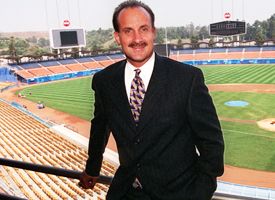 Victoria Aroxho/AP photo
Since Kevin Malone was fired by the Dodgers in 2001, the "new sheriff in town" has worked occasionally for Page 2 as a punchline.
So we placed our team (call them the "Kevin Malone All-Stars" if you wish) in the 2006 AL East, replacing the Devil Rays and using our players' 2006 statistics. We won 86 games in our first simulated season. We did another replay and went 73-89. And then 75-87. And 70-92.
Our team was mediocre. We just spent nearly $1 billion, and we had trouble cracking .500. Our average record over 10 replays? 77-85. We topped out at 88 wins. Our team hit for a decent average and cracked plenty of home runs, but the team on-base percentage hovered around .328 most seasons, so we never scored enough runs to overcome our below-average pitching. A rotation of Zito, Pettitte, Meche, Suppan and Eaton got shellacked regularly (just imagine if we had signed Jason Marquis).
The bottom line here is pretty obvious. The market was completely insane this winter. Major league general managers (and their owners) spent foolishly and unwisely. There is really no way to justify spending $136 million on Alfonso Soriano or $100 million on Carlos Lee or $55 million on Gil Meche. Look, Soriano and Lee are nice players. Baseball Prospectus ranks Soriano 33rd on its list of hitters (adjusted for position and park) for 2006 and Lee 38th. But they are not $100 million ballplayers -- not even close -- especially at their ages. But general managers do funny things when they have spare cash and pennant hopes.
We made the Kevin Malone joke. He was the GM the Dodgers hired in September 1998. He signed Kevin Brown for $105 million that offseason. Two years later he signed Darren Dreifort, a pitcher with a 39-45 career record, for $55 million. The Dodgers got 67 wins out of the two … and Malone was canned early in the 2001 season.
Kevin Malone discovered it wasn't easy to buy a pennant.
And, as the Cubs will surely find out, it still isn't easy.
David Schoenfield is an editor for Page 2. Sound off to Page 2 here.