Congrats, Dirk. Your team may have bombed in the playoffs, following one of the greatest regular seasons ever, but you did capture your first MVP award.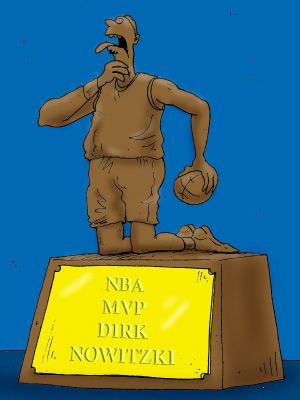 Yes, the voting was conducted before Dallas flamed out against Golden State, and, sure, Nowitzki was the best player on the team that won the most games, but his was hardly a spectacular season: He averaged 24.6 points (only the fourth-best total of his career) and 8.9 rebounds (sixth-best total of his career). Statistically, it was just an average year for him, and that's without mentioning how Steve Nash outplayed him in Phoenix's two wins in the "MVP showdown" games on March 14 and April 1. (Dirk shot a combined 17-for-46 in those two games.)
(It should be noted that Dirk did rate No. 2 in John Hollinger's Player Efficiency Rating (PER), behind only Dwyane Wade, who missed 31 games.)
Still, Dirk as MVP? Sounds pretty lame.
Which got us to thinking of a list -- the lamest MVPs ever.
Justin Morneau, Minnesota Twins, 2006 AL MVP
A first baseman who hits 34 home runs with a .375 OBP and .559 slugging percentage is about as historic as Ricky Williams testing positive for marijuana. The only MVPs since 1990 with lower slugging percentages were two shortstops (Miguel Tejada and Barry Larkin), a Gold Glove leadoff hitter (Ichiro Suzuki) and a Gold Glove third baseman (Terry Pendleton). Pendleton's .517 slugging percentage, however, actually ranked third in the NL -- Morneau's .559 ranked just sixth in the AL. But the lamest thing about Morneau's win is he was only the third-best player on his own team, behind Joe Mauer and Johan Santana.
Steve McNair, Tennessee Titans, 2003 NFL MVP (tied with Peyton Manning)
The Colts and Titans both finished 12-4, and McNair had some nice numbers: 3,215 yards, 24 TDs, only seven picks. But he also missed two games (the Titans won both games anyway). Manning, meanwhile, had more than 4,200 yards passing and a 29-10 TD-INT ratio. Most notable perhaps, however: The Titans lost twice to Manning's Colts.
Juan Gonzalez, Texas Rangers, 1996 AL MVP
Juan Gonzalez … two-time MVP. Double lame. Anyway, Gonzalez was an RBI machine in 1996, with 144 in 134 games. He edged Alex Rodriguez in the vote, 290 points to 287. A-Rod had a line of .358/.414/.631, with 123 RBIs and 141 runs. Gonzalez had a line of .314/.368/.643 with 144 RBIs … but only 89 runs scored. Factor in that one guy could run and played a good shortstop and the other guy was a marginal right fielder, and it's unthinkable the voters failed to reward one of the great shortstop seasons of all time.
NOT AS LAME AS YOU MAY THINK
Steve Nash, 2005 NBA MVP: Sure, his 15.5 points per game is the lowest average for an MVP since Wes Unseld in 1969, but the Suns did jump from 29 wins to 62 wins and runner-up Shaq was hardly an obvious selection.


Rich Gannon, 2002 NFL MVP: The Raiders led the NFL in points and reached the Super Bowl as Gannon led the NFL with 4,689 passing yards.


Karl Malone, 1997 NBA MVP: Cited as another example of the voters bypassing Michael Jordan, Malone actually had the best PER of his career (No. 1 in the NBA) and Utah won 64 games. Of course, MJ got his revenge.


Terry Pendleton, 1991 NL MVP: Pendleton interrupted Barry Bonds' MVP run of 1990, '92-93, but his numbers (.319-22-86) weren't as pedestrian then as they look now. And don't chalk it up as a one-year fluke: He finished second in the MVP voting the following season.


Jeff Burroughs, 1974 AL MVP: Burroughs won in part because Joe Rudi, Sal Bando and Reggie Jackson of the A's finished 2-3-4 in the voting. But the Rangers jumped from 57 to 84 wins and Burroughs was third in the AL in OBP and slugging and first in RBI.
Charles Barkley, Phoenix Suns, 1993 NBA MVP
Hey, we all love Charles, but this was one of those bandwagon things that got out of control. The Suns acquired Barkley in an offseason trade and improved from 53 wins to 62 wins as Barkley averaged 25.6 points, 12.2 rebounds and 5.1 assists. But we all know how the voting really shook down: Voters didn't want to give the award to Jordan every year (he averaged 32.6/6.7/5.5). So while Barkley won with just the fourth-highest PER of his career, MJ put on a clinic for his detractors with a devastating playoff run: He averaged 35.1 points in 19 playoff games as the Bulls beat the Suns in the Finals.
Joe Montana, San Francisco 49ers, 1990 NFL MVP
Sure, the Niners went 14-2, but the defense (second in the NFL in points allowed) had as much to do with that as the offense. Montana had a pedestrian year for him -- 26 TDs, but 16 INTs. A better choice would have been the spectacular Randall Cunningham (30 TDs, 13 INTs, plus 942 yards rushing and a higher QB rating than Montana), who carried a miserable Eagles team into the playoffs, or even Niners teammate Jerry Rice (100 catches, 1,502 yards, 13 TDs).
Andre Dawson, Chicago Cubs, 1987 NL MVP
Dawson led the NL with 49 homers and 137 RBIs -- while playing for a last-place team. That's lame enough, but Dawson really wasn't even one of the top 10 players in the NL that year: His OBP was .328, which was only league average. He was only sixth in slugging, 10th in OPS and not even in the top 10 in batting average or runs. Just a total brain fart by the baseball writers. (The AL selection that year, George Bell over Alan Trammell, wasn't much more inspired.) Cardinals teammates Ozzie Smith and Jack Clark finished second and third in the voting.
Mark Moseley, Washington Redskins, 1982 NFL MVP
You know why nobody cares much about the NFL MVP vote? Because a kicker won it! The hands-down lamest MVP of any sport, any year, and it's not even debatable. Fine, the Redskins went 8-1 and Moseley made 20 of 21 field goals (he missed three extra points). He was second in the NFL in scoring. Still, there had to be, oh, 100 players more valuable than him. Or maybe 200. This is what happens when you give out awards in strike-shortened seasons.
Dave Cowens, Boston Celtics, 1973 NBA MVP
Cowens won the award in a Dirk-like circumstance: The Celtics went 68-14 and Cowens had solid numbers (20.5 ppg, 16.2 rpg). But he did have lots of help (John Havlicek, Jo Jo White, Paul Silas). Only Steve Nash and Bill Walton have averaged fewer points per game among MVP winners since 1970. Kareem (30.2 ppg, 16.1 rpg) was second in the voting and Nate Archibald, who led the league in scoring and assists, was third.
Maury Wills, Los Angeles Dodgers, 1962 NL MVP
Wills did something no player had ever done before: steal 104 bases. Unfortunately, that deluded the voters into thinking he was a better player than Willie Mays. It's kind of like saying Juan Pierre is more valuable than Travis Hafner because he steals more bases; well, minus the fact that Mays was the greatest center fielder ever and Hafner is a slug. Anyway, not only did the Giants win the pennant in a tiebreaker over the Dodgers, but Mays hit .304 with 49 HRs, 141 RBIs, a .384 OBP and a .615 slugging mark while Wills hit .299/.347/.373 with 48 RBIs.
Hank Sauer, Chicago Cubs, 1952 NL MVP
Who? Perhaps the most anonymous MVP ever in the four major sports, Sauer first reached the majors in 1941 but never received a full-time job until 1948 -- when he was 31 years old. He proceeded to hit 35, 31, 32, 30, 37, 19 and 41 home runs the next seven seasons. In 1952, he tied for the NL lead with 37 and led the circuit in RBI -- but he was a slow left fielder on a fifth-place team. The voters oddly passed up Robin Roberts (28 wins, no other pitcher had more than 18) and Jackie Robinson from the pennant-winning Dodgers (he was seventh in the voting, despite finishing in the top five in the league in batting average, runs scored, stolen bases, OBP and OPS).