I received an e-mail Wednesday night from a friend saying his wife has been kidding about her passion for the Orioles all these years.
That'll happen when your team suffers one of the worst losses in history.
Here's one writer's opinion of the top 100 beatdowns: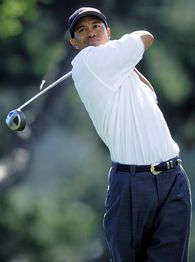 Jamie Squire/Getty Images
Of the many beatdowns Tiger Woods has authored, the 2000 U.S. Open was the most dominant.
1.
Secretariat destroys the field at the 1973 Belmont Stakes by an astonishing 31 lengths to win the Triple Crown ...
"He is moving like a TREMENDOUS machine!"
A performance so dominating spectators were weeping in the stands.
2. Tiger Woods wins the 2000 U.S. Open by a mind-boggling 15 strokes.
3. 1940 NFL championship: Bears 73, Redskins 0. The Bears had 501 yards of offense, intercepted eight passes and officials had to ask Bears coach George Halas to run or pass for the PAT on the team's final two scores because so many balls had been kicked into the stands.
4. Mike Tyson knocks out Michael Spinks, who had never been knocked to the canvas in his career, in 1 minute, 30 seconds.
5. 1996 Fiesta Bowl: Undefeated Nebraska wipes out undefeated Florida 62-24, rolling up 624 total yards, to win the national title.
6. Super Bowl XX: Bears 46, Patriots 10.
7. Tiger Woods shoots 18-under par to win the 1997 Masters by a record 12 strokes.
8. Rangers 30, Orioles 3. Are you kidding?
9. Billie Jean King over Bobby Riggs.
10. Muhammad Ali over Sonny Liston.
11. Lance Armstrong versus all opponents, 2003 Tour de France, Stage 15.
12. The Boston Massacre: Once down by 14½ games in the 1978 pennant race, the Yankees take over first place from the Red Sox with a four-game sweep in early September, outscoring Boston 42-9.
13. The curse ends: The Red Sox pound the Yankees 10-3 in Game 7 of the 2004 ALCS, becoming the first baseball team to rally from a 3-0 series deficit.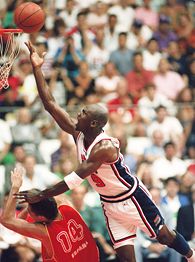 Dimitri Messinis/AFP/Getty Images
Michael Jordan and the Dream Team toyed with their opponents en route to gold at Barcelona in 1992.
14.
Sonny at the tollbooth.
15. The original Dream Team versus the world. Average margin of victory, 43.8 points; closest game: 32 points.
16. The Royals beat the Cardinals 11-0 in Game 7 of the 1985 World Series. Bret Saberhagen tosses the 5-hit shutout.
17. The Cardinals beat the Tigers 11-0 in Game 7 of the 1934 World Series, a game marred when Detroit fans littered the field with bottles, fruit and other garbage.
18. 2005 Orange Bowl: USC wins second straight national title with 55-19 win over No. 2 Oklahoma as Matt Leinart tosses five touchdowns.
19. 1990 NCAA title game: UNLV 103, Duke 73. The Blue Devils would get their revenge the following season.
20. Vince Carter over Frederic Weis.
21. Super Bowl XXIV: 49ers 55, Broncos 10.
22. Super Bowl XXVII: Cowboys 52, Bills 17. Would have been worse if not for Leon Lett's gaffe.
23. Game 1, 1985 NBA Finals: Celtics 148, Lakers 114 ...
24. ... but the Lakers win the series in six games, winning their four games by an average of 13 points.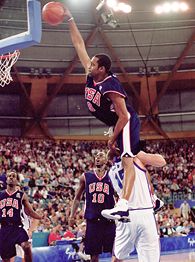 Darren McNamara/Getty Images
Vince Carter used Frederic Weis to make a poster for the ages at the Sydney Games in 2000.
25.
"The Lord of the Rings: The Return of the King": Nominated for 11 Oscars in 2003, it swept all 11 categories. ("Titanic" won 11 of 14 categories in 1997; "Ben Hur" won 11 of 12 in 1959.)
26. 1986 NFC playoffs: Giants 49, 49ers 3 ... Joe Montana gets carted off the field after getting knocked out by Jim Burt.
27. Nolan Ryan over Robin Ventura.
28. Wilt Chamberlain versus the Knicks, March 2, 1962.
29. Mark Spitz, 1972 Olympics.
30. Michael Phelps, 2007 World Championships.
31. 1957 NFL championship: Lions 59, Browns 14.
32. With the most goals in an NHL playoff game, Edmonton pounds Los Angeles 13-3 on April 9, 1987.
33. Road Runner versus Wile E. Coyote.
34. UCLA 101, Houston 69, 1968 national semifinal. Houston, led by Elvin Hayes, had upset the Bruins earlier in the season in front of 52,000 at the Astrodome, but Lew Alcindor got his revenge in the Final Four.
35. Pac-10 versus Big Ten: From 1970 through 1992, the Pac-10 went 19-4 in the Rose Bowl.
36. National League versus American League, 1963-1982: Senior Circuit takes 19 of 20 All-Star Games.
37. American League versus National League, 1997-2007: AL goes 10-0 with one tie.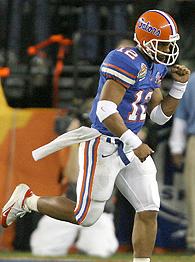 Jason Parkhurst/US PRESSWIRE
Chris Leak and the Gators routed the Buckeyes on the gridiron. Three months later, Florida bounced Ohio State in hoops.
38.
Florida versus Ohio State, 2007.
39. Houston 100, Tulsa 6, 1968. Most points scored against a major college football opponent. Dr. Phil was a linebacker on the Tulsa squad. Coincidence?
40. But Tulsa has the largest margin of victory over a Division I basketball opponent: 141-50 over Prairie View on Dec. 7, 1995.
41. Babe Ruth versus Charlie Root, 1932 World Series.
42. Reggie Jackson versus the Dodgers, Game 6, 1977.
43. Reagan versus Mondale, 1984.
44. The playoffs versus Marty Schottenheimer.
45. Foreman knocks out Frazier. Heavyweight champ "Smokin' Joe" Frazier was a 3-1 favorite over the undefeated George Foreman for their 1973 title bout. Foreman knocked down Frazier six times in less than five minutes, the bout finally stopped at 1:35 of the second round.
46. 1954 NFL championship: Browns 56, Lions 10.
47. John McEnroe beats Jimmy Connors in the 1984 Wimbledon finals, 6-1, 6-1, 6-2 in just 80 minutes.
48. 1989 World Series: The Bay Area series was a dud as the A's swept the Giants, outscoring them 32-14 and winning each game by at least three runs.
49. 1983 NBA Finals: Moses Malone's Sixers don't quite go "Fo', Fo', Fo'," but they do sweep the Lakers by scores of 113-107, 103-93, 111-94, 115-108.
50. Bo Jackson over Brian Bosworth, Monday Night Football, 1987.
51. The Meteor over the dinosaurs.
52. 1997 Sugar Bowl: Florida avenges a loss from earlier in the season by beating Florida State 52-20 to capture its first national title.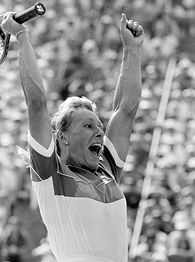 AP Photo
In her prime, no one could touch Martina.
53.
Martina Navratilova versus all comers, 1983: Won 16 of 17 tournaments with a match record of 86-1.
54. Annika Sorenstam versus all comers, 2002: Won 11 tournaments.
55. Richard Petty versus all comers, 1967: Won 27 of 48 races, including 10 in a row.
56. Roger Federer versus all comers, 2006: Goes 92-5, wins 12 tournaments, including three Grand Slam events.
57. LaDainian Tomlinson versus NFL defenses, 2006. Thirty-one touchdowns? Are you kidding?
58. LaDainian Tomlinson versus Texas El-Paso, 1999: NCAA-record 406 yards and six touchdowns.
59. 1990 AFC championship: Bills 51, Raiders 3.
60. 2000 NFC championship: Giants 41, Vikings 0.
61. Minnesota North Stars 15, Winnipeg Jets 2, Nov. 11, 1981.
62. The Indians versus Custer at Little Bighorn, 1876.
63. Eric Heiden versus opposing speed skaters, 1980 Olympics: Heiden sweeps all five races.
64. In the largest margin of victory in an NBA game, Cleveland beat Miami 148-80 on Dec. 17, 1991.
65. Aaron Downey versus Jesse Boulerice: one punch.
66. Before Vince Young became a star, Mack Brown ... lost 63-14 to Oklahoma in 2000 ...
67. ... and 65-13 in 2003.
68. Jerry Rice versus NFL cornerbacks and safeties, 1985-2004.
69. Michigan State 101, Penn 67, 1979 Final Four. The Quakers had made a surprising run to the Final Four but Magic Johnson and company rolled to a 50-17 halftime lead. Magic finished with a 29-10-10 triple-double.
70. Loyola of Chicago 111, Tennessee Tech 42, 1963 NCAA first-round game. Loyola went on to win it all.
71. Kirk Gibson over Dennis Eckersley, Game 1, 1988 World Series.
72. Orel Hershiser over everyone, 1988 playoffs.
73. Super Bowl XXII: Redskins 42, Broncos 10.
74. Jason Bourne versus CIA assassin, "The Bourne Ultimatum."
75. Bill Walton over Memphis, 1973 NCAA championship: Went 21 for 22 to score 44 points.
76. Indians 22, Yankees 0, Aug. 31, 2004: The largest defeat in Yankee history.
77. The NFL versus Ryan Leaf.
78. 1961 NFL championship: Packers 37, Giants 0.
79. Orioles pitchers versus Dodgers hitters, 1966 World Series. Baltimore sweeps as L.A. gets shut out three times and hits .142.
80. Jimmy Connors nearly shuts out Ken Rosewall, 6-1, 6-0, 6-1 to win 1974 U.S. Open.
81. Los Angeles Rams defense versus Seattle Seahawks offense, Nov. 4, 1979: Seattle finishes with -7 yards.
82. Rick Wise versus the Reds, June 2, 1971: No-hits Cincy for the Phillies and hits two home runs.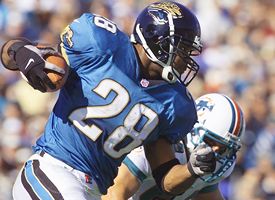 AP Photo
Not the best way for Dan Marino to end his career.
83.
Jacksonville 62, Miami 7, 1999 AFC playoffs. A beatdown so bad it turned out to be the last NFL game for both Dan Marino and Jimmy Johnson.
84. Super Bowl XXIX: 49ers 49, Chargers 26.
85. Angelina Jolie versus Jennifer Aniston.
86. Darren McCarty versus Claude Lemieux.
87. 2001 Fiesta Bowl: The once-pathetic Oregon State Beavers, full of pregame boasts, humiliated Notre Dame 41-9 -- and it could have been worse, as the Beavers were flagged for 18 penalties, many for illegal roughness and cheap shots.
88. Miami 58, Notre Dame 7. In 1985, the Irish suffer the worst defeat in school history in Gerry Faust's final game.
89. Super Bowl XXXV: Ravens 34, Giants 7.
90. The NCAA versus SMU football, 1987.
91. Harry Potter versus Voldemort.
92. Oilers over Islanders, 1984 Stanley Cup Finals: Edmonton ends the Islanders' four-year streak as champs by winning the final three games by scores of 7-2, 7-2 and 5-2.
93. Super Bowl XXXVII: Bucs 48, Raiders 21.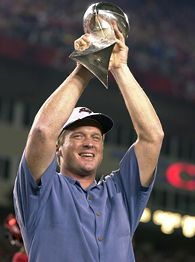 AP Photo
Gruden had the last laugh with the Raiders.
94.
The 1985 Bears had arrived:
44-0 over the Cowboys
.
95. NBA referees versus Sacramento Kings, Game 6, 2002 Western Conference finals: Kings called for 27 fourth-quarter fouls against the Lakers as L.A. pulled out a 106-102 victory.
96. Boston Tea Party, Dec. 16, 1773: American colonists destroy crates of tea, spark revolution.
97. LeBron James versus Detroit Pistons, Game 5, 2007 Eastern Conference finals: scores team's final 25 points in double-overtime victory.
98. 1956 NFL championship: Giants 47, Bears 7.
99. Game 3, 1998 NBA Finals: Bulls 96, Jazz 54.
100. Georgia Tech 222, Cumberland 0. Yes, college football's most prestigious award is named after a coach who once ran up the score on tiny Cumberland College in 1916. There is a background story here: Cumberland had discontinued its football team before the season, but Tech held Cumberland to its scheduling agreement (otherwise Cumberland would have had to pay Tech $3,000), so the tiny school from Lebanon, Tenn., sent a scrub team of 14 players. It wasn't pretty as Cumberland had 15 turnovers. Beatdown? This was more like bad sportsmanship. Shame on you, John Heisman.
David Schoenfield is an editor for Page 2.
Send Page 2 your favorite beatdown story.