Henderson And Rice On Hall Election
Back in July 2005, I wrote an article predicting which current major leaguers would someday be Hall of Famers.
I reported that based on historical precedent, 40 active players at any given time eventually will be enshrined in Cooperstown. (Certainly that precedent could change, especially if voters prove reluctant to vote in players from the so-called steroids era.)
While we've spent recent weeks debating the merits of Rickey Henderson, Jim Rice and Andre Dawson, I thought it would be fun to revisit the list and see how it has changed in the past 3½ years.
No longer eligible due to retirement or collusive banishment from the game: Roger Clemens, Barry Bonds, Sammy Sosa, Mike Piazza, Craig Biggio, Jeff Bagwell, Rafael Palmeiro.
Removed from the list for other reasons:
Miguel Tejada: He's aged since 2005, so we've had to adjust his career path. He's similar to Alan Trammell, who has not received much support -- Trammell's career OPS-plus (OPS adjusted for league and home park) was 110, while Tejada's is at 112 and in decline. Trammell won four Gold Gloves, while Tejada hasn't won any.
Mark Prior: Certainly had Hall of Fame ability.
Roy Oswalt: He's been absolutely superb; he already has five top-five Cy Young finishes and has made 32-plus starts five seasons in a row. Still, my concern is whether he has the build to pitch effectively into his late 30s.
WHAT DO YOU THINK?
Who would you vote to enshrine in the Hall of Fame? We've taken the top 25 players from our list and given you a ballot.
•
Vote: Your HOF picks
Andruw Jones: He has 10 Gold Gloves and 371 career home runs, but his collapse over the past two seasons has all but ruined his candidacy.
Hank Blalock: He was a two-time All-Star by age 23 but never improved and has battled a series of injuries.
Adam Dunn: Mostly a bad call on my part. While he hits home runs and draws walks, .247 career hitters and one-time All-Stars don't make the Hall of Fame.
Johnny Damon: My original contention was that Damon would make it because he was a good bet to clear 3,000 hits and thus earn "automatic" enshrinement. He now is 35 and needs 730 hits. He's averaged 160 hits per season over the past three seasons, so he would need to maintain that pace for another 4½ seasons. But even if he does get there, is he automatic? His career OPS-plus is just 103, which means he's been just above a league-average hitter. Since he's an outfielder without a Gold Glove résumé, I'm not sure that's good enough.
So, here is the new list of 40 (*indicates a new addition from the previous list):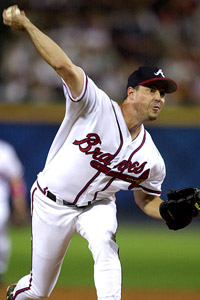 AP Photo/John Bazemore
Maddux won four Cy Young Awards with the Braves, but will he be the first unanimous selection to the Hall of Fame?
1. Greg Maddux
Since he appears to be free of any steroids accusations, there is absolutely no reason Maddux shouldn't be the Hall's first unanimous selection. (Yes, somebody didn't vote for Willie Mays.)
2. Alex Rodriguez
Something to chew on: If A-Rod completes the final nine seasons of his contract and averages a modest 90 RBIs per season (assume some decline and missed playing time as he ages), he'll finish with 2,506 career RBIs. That's 9 percent more than all-time leader Hank Aaron's total of 2,297. A-Rod also should shatter all-time runs scored leader Rickey Henderson's total of 2,295 (A-Rod has 1,606 and has reached 100 runs scored in 13 consecutive seasons).
3. Randy Johnson
Through his age 29 season, Johnson had a career record of 68-56. Since then, he's gone 227-104 and won five Cy Young Awards. He harnessed his control and became the greatest left-handed pitcher of all time.
4. Ken Griffey Jr.
Here's rooting for Junior to get lucky enough to land on a team that makes it to the World Series.
5. Derek Jeter
It's impossible to construct a Hall of Fame argument against Jeter. With 2,535 career hits so far, he'll easily soar past 3,000. He could finish in the top 10 all time in runs scored. He is a nine-time All-Star and was a key player on four championship teams, helping make him perhaps the most famous player in the sport. Sure, his three Gold Gloves from 2004 through 2006 should be viewed as bad jokes, and (through no fault of his own) some of the Brett Favre-like fawning over him by certain national media members over the years has been embarrassing and overstated, but he clearly is one of the top 10 shortstops to ever play.
6. Tom Glavine
The idea that a pitcher needs to win 300 games to ensure Hall of Fame selection -- especially in this era of the five-man rotation -- is, of course, patently absurd. Jim Palmer didn't win 300. Carl Hubbell didn't win 300. Bob Gibson didn't win 300. Whitey Ford didn't win 300. Glavine's career value doesn't change simply because he hung on to win 305 games instead of 298 or 291 or 287. While he has never led his league in ERA, he did win two Cy Youngs, led his league in victories five times and was amazingly durable as a mainstay of the Braves' dynasty.
7. Manny Ramirez
One of the funniest things I've read this offseason was a quote attributed to an anonymous general manager -- he said his team would be reluctant to sign Ramirez due to possible clubhouse problems he creates. Really? A guy who has played on 10 playoff teams is a problem? A guy with a career line of .314 batting average/.411 on-base percentage/.593 slugging percentage is a problem? Ramirez currently has 1,725 career RBIs, 572 behind Aaron. The odds are slim he'll retire as the all-time leader. He'd have to average 114 per season over the next five seasons to tie Aaron. That would take him through his age 41 season, and while Ramirez had a monster 2008, that's a lot of ground to make up. Aaron's last 100-RBI season came at age 37.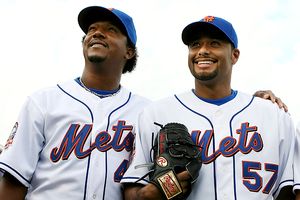 Doug Benc/Getty Images
The Mets would have coasted to the NL East title if they had vintage Pedro in 2008.
8. Pedro Martinez
He has only 214 wins and his career might be just about over, but he's a no-brainer. No pitcher matched his absolute dominance at his 1997-2003 peak, when he went 118-36 with a 2.20 ERA during the height of the steroids era. He struck out 1,761 batters in 1,408 innings. ESPN's Dave Campbell once explained Martinez's dominance this way: Many of the great pitchers have been two-pitch pitchers -- Sandy Koufax was fastball-curveball; Tom Seaver, Steve Carlton and Bob Gibson all were fastball-slider -- but Martinez has three dominant pitches: fastball, changeup and curveball. Against the two-pitch guys, you could try to guess and at least look good striking out; against Martinez, you have no chance. He can embarrass hitters. His career ERA+ (ERA adjusted for league and home park) of 154 is the best of all time among starting pitchers.
9. Mariano Rivera
He has pitched 117.1 innings in the postseason, when he is 8-1 with 34 saves and a 0.77 ERA. He has spent 12 seasons as a Yankees closer and only once (2007) has his ERA crept above 3.00. Eight times, it's been below 2.00 -- that's more sub-2.00 seasons than Dennis Eckersley, Bruce Sutter, Lee Smith and Trevor Hoffman combined.
10. Albert Pujols
In his eight seasons, he's finished fourth, second, second, third, first, second, ninth and first in the MVP balloting -- a cumulative "score" of 24. That's the best eight-year run since MVP voting began in 1931. Others:


Yogi Berra, 1950-57: 28 (14th in 1957 ended top-four run)
Ted Williams, 1939-49: 29 (14th in 1940; top four every other season)
Willie Mays, 1958-65: 31
Barry Bonds, 1990-97: 31 (of course, he later won four MVP awards in a row)
Stan Musial, 1943-51: 33 (three firsts and three seconds, but 20th in 1947)
Stan Musial, 1948-55: 34
Mickey Mantle, 1955-62: 34 (17th in 1959)
Hank Aaron, 1956-63: 38


Joe DiMaggio's best run was interrupted by a 19th-place finish in 1946. Alex Rodriguez has nine top-10 finishes in his career but also has finished 13th, 14th and 15th. Lou Gehrig won a different version of the award in 1927, and when BBWAA voting began in 1931, he finished in the top five seven straight years before sliding to 19th in his final season.
11. Ivan Rodriguez
Still going, if not necessarily still going strong. With more than 2,600 hits and 13 Gold Gloves, solidly ranks in the top 10 catchers of all time.
12. Vladimir Guerrero
A unique, wonderful player. Let's hope his back holds out five more years.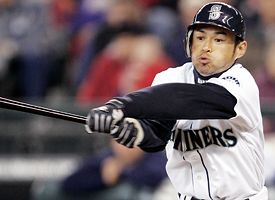 AP Photo/Elaine Thompson
Ichiro came over from Japan at age 27, but may still finish with 3,000 major league hits.
13. Ichiro Suzuki
If he averages 200 hits per season through age 40, he'll finish with 3,005. He's won two Silver Slugger awards, which at the minimum raises the question of what definition of "slugger" is being used.
14. Trevor Hoffman
Yes, the position is overrated, but Hoffman will retire as the all-time saves leader, and his election now seems inevitable.
15. Frank Thomas
The second half of his career has been a series of ups, downs and injuries, but he was absolutely devastating during the '90s. His OPS+ (OPS adjusted for league and home park) of 156 is second among active players, behind only Albert Pujols and just ahead of Manny Ramirez. While his election probably won't be automatic, it should be, thanks to his .419 career on-base percentage. And, yes, his defensive value was about equal to a slug's, but he wasn't called the Big Hurt because of his slick fielding.
16. John Smoltz
Smoltz: 210-147, 3.26 ERA, 127 ERA-plus, 3,395 innings pitched, 154 saves, one Cy Young
Dennis Eckersley: 197-171, 3.50 ERA, 116 ERA-plus, 3,285 innings pitched, 390 saves, one Cy Young, one MVP
Smoltz has barely cleared 200 wins, but he does have value from his three seasons as a premier closer. And while he's won more than 15 games in one season just three times in his career, his justified reputation as a clutch postseason pitcher will help (15-4, 2.65 ERA in 207 career postseason innings).
17. Chipper Jones*
Perhaps no player has done more in the past three seasons to help his Hall of Fame chances than Jones, who has hit .324, .337 and .364 and moved past 400 career home runs. In fact, when I did the original version of these rankings, I had him falling short, as he was coming off a .248 season in 2004 and an injury-marred 2005. Now? With a career line of .310/.408/.548 and more than 1,300 RBIs and runs, it's a very short list of more valuable third basemen: Mike Schmidt, George Brett, Eddie Mathews and maybe Wade Boggs.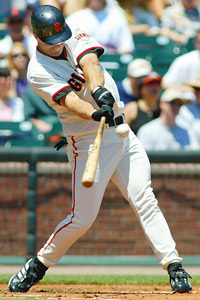 Manbanglo/AFP/Getty Images
Jeff Kent turned into baseball's premier power-hitting second baseman after joining the Giants.
18. Jeff Kent
He's had one of the more remarkable careers of this -- or any -- generation. Through age 28, he had 78 home runs, 583 hits, 318 RBIs and a career average of .278. The odds of a player with that profile becoming a Hall of Famer would have been somewhere well short of 1 percent. Since then, he's driven in 100 runs in one season eight times, becoming one of the great RBI second basemen of all time. He's won an MVP award, increased his career average to .290 and earned more than $80 million. It's a tribute to his work ethic, ability to adjust to age and underrated athleticism. (Joining Barry Bonds helped a bit, too.)
19. Omar Vizquel
He's played more games than anybody at shortstop (2,654), won 11 Gold Gloves and recorded 2,657 hits. While his defensive reputation might be a bit overrated (a Gold Glove at age 39?), it's also secure enough to get him into Cooperstown.
20. Mike Mussina*
Ten reasons Mike Mussina is a Hall of Famer:


1. He won 270 games. Ummm, that's a lot of wins. Only 32 pitchers in the history of baseball have won more.


2. He never won a Cy Young Award (neither did Nolan Ryan, Juan Marichal, Phil Niekro or Don Sutton), but he did finish in the top six in voting nine times.


3. He finished in the top six in his league in ERA 10 times.


4. His career ERA-plus is 123. That's the same as Marichal and better than Bob Feller, Don Drysdale, Rollie Fingers, Warren Spahn, Gaylord Perry, Dennis Eckersley, Fergie Jenkins, Niekro, Jim Bunning, Robin Roberts, Ryan and Catfish Hunter, just to name a few of the more prominent Hall of Fame pitchers.


5. He's the only major leaguer to appear in a documentary about crossword puzzles.


6. Andy Pettitte is regarded as a clutch postseason pitcher; Mussina is not. Pettitte's career postseason ERA is 3.96; Mussina's is 3.42. Just sayin'.


7. He never won a World Series with the Yankees. True. But he wasn't going to win one with the Orioles, either.


8. His career winning percentage (.638) is higher than those of contemporaries like Greg Maddux, Tom Glavine, Curt Schilling, John Smoltz and Pettitte.


9. He graduated from Stanford in three years with a degree in economics. We'll go out on a limb and say he'd be the first Hall of Famer with an economics degree.


10. He never threw Don Zimmer to the ground.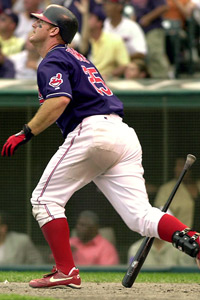 David Maxwell/AFP/Getty Images
Jim Thome has topped 40 home runs six times, including three times when he played for Cleveland.
21. Jim Thome*
Thome's candidacy will come down to three major factors:
1. Will voters hold the big home run totals of the steroids era against him and his contemporaries? (Thome never has been linked to performance-enhancing drugs.) He has 541 big bombs (and 17 more in the postseason), but since voters like round numbers, he might need to swat 59 more.
2. Do voters understand the value of on-base percentage? Thome's .279 batting average might not have you doing backflips, but he has a .406 career OBP (better than Tony Gwynn's) and has topped .400 nine times.
3. Will he get shorted due to lack of support in MVP voting? He has only one top-five finish.
Here's what all those walks mean: Despite being unable to outrun a two-legged mule for most of his career, Thome has scored more runs than Gwynn. He's been an extraordinary player and while I didn't include him on my list in 2005 (he was injured that year, playing 59 game and his future was cloudy), I now think he'll make it.
22. Carlos Delgado*
In many ways, Thome's twin. Thome has a career line of .279/.406/.560, Delgado .280/.383/.546. Like Thome, Delgado spent his best seasons in a market in which he didn't get much publicity. He has 1,489 RBIs, one more than Thome. He is nearly two years younger than Thome and is 31 home runs away from 500.
23. Johan Santana
The best candidate from the under-35 pitching set, Santana has 109 career wins and two Cy Youngs in his trophy case. He turns 30 in March, was handled carefully early in his career and has never had a major arm injury. There is no reason he shouldn't continue as one of the elite pitchers in the majors for many seasons to come.
24. Curt Schilling
A quick comparison of Schilling, Don Drysdale and Catfish Hunter -- Drysdale and Hunter had similar win totals and were voted in by the writers:
Schilling: 216-146, 3.46 ERA, 127 ERA-plus, 3,261 innings pitched, 3,116 strikeouts
Drysdale: 209-166, 2.95 ERA, 121 ERA-plus, 3,432 innings pitched, 2,486 strikeouts
Hunter: 224-166, 3.26 ERA, 104 ERA-plus, 3,449 innings pitched, 2,012 strikeouts
Like Schilling, Drysdale and Hunter were two of the most famous pitchers on the planet while active. Both ended up with short careers. Schilling has pitched until he's 40, but various injuries have limited his innings through the years. Even though his ERA is higher than those of Drysdale and Hunter, when adjusted for the era, he actually rates better.
Of course, Drysdale and Hunter aren't the two best candidates to compare a prospective candidate to, since they are among the weakest members of the Hall. But that element of fame -- one Schilling earned in part with his supreme postseason resume (11-2, 2.23 ERA, three World Series rings) -- is a crucial element in Schilling's favor.
25. Gary Sheffield
Not that anybody asked, but here's my opinion on the whole steroids issue: Who gave the baseball writers the right to be moral arbiters of the Hall of Fame? Are we supposed to pretend Mark McGwire's accomplishments didn't happen? You can't go back and rewrite history; McGwire competed in real games that counted in real standings, and he helped his team win a lot of those games. You can't erase that from the record books. It happened. You might disagree with how he achieved it, but it happened. It's not an issue of morality, and the BBWAA's anti-McGwire stance -- assuming his guilt -- isn't any different a witch hunt.
As for Sheffield, he probably doesn't have a snowball's chance of being elected under the current voting climate. He was linked to Barry Bonds and Victor Conte's cream; he wasn't the easiest guy to like. But he was a devastating hitter and helped his team win a lot of games. And isn't that the point?
26. Miguel Cabrera
According to baseball-reference.com, the hitters most similar to Cabrera through age 25 are Ken Griffey Jr., Hank Aaron, Orlando Cepeda, Frank Robinson, Hal Trosky, Mickey Mantle, Vlad Guerrero and Al Kaline. Six of those eight are in the Hall, and Guerrero likely will be some day as well. Of course, numbers eight and nine on the list are Andruw Jones and Ruben Sierra, so pay attention to Cabrera's doughnut consumption.
27. Mark Teixeira*
I'm not completely sold on Teixeira -- he's more "very good" than "devastating." But he's consistent, durable, an excellent fielder and still in his prime as he heads to a lineup in which he's going to drive in a ton of runs.
28. Francisco Rodriguez
He had 62 saves!
29. David Wright
In four full seasons, he's hit .300 each season, driven in 100-plus runs each season, finished in the top 10 in MVP voting three times and won two Gold Gloves. He'll be a regular on All-Star teams for the next decade, maybe win an MVP trophy or two. Of course, we were saying similar things about Scott Rolen and Eric Chavez at the same age. Wright is a little better than they were, so all he needs to do is repeat 2008 for another 10 seasons to write his ticket to Cooperstown.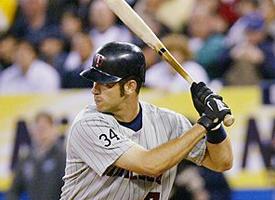 AP Photo/Ann Heisenfelt
Through four full seasons, Joe Mauer owns a .317 career average.
30. Joe Mauer
It would be nice to see him develop a little more power, but there's nothing wrong with a catcher who wins batting titles and gets on base around 40 percent of the time.
31. Hanley Ramirez*
If he played for the Red Sox, they would be writing epic poems about him being the best player in the game.
32. Todd Helton
His injuries have dragged down his power in recent seasons, and after he played just 83 games in 2008, it's unknown how much he has left. He sports a .328 career average, and it's easy to compare him to another sweet-swinging, slick-fielding first baseman with a great peak but a career shortened by a bad back: Don Mattingly. The comparison doesn't quite hold: Mattingly's last season came at age 34 (Helton's age in 2008) and he finished with an OPS-plus of 127 (27 percent better than league average). Helton has a career OPS-plus of 141 (yes, that is adjusted for Coors Field).
33. Evan Longoria*
Could be the best player in the American League in a couple of years.
34. Carlos Beltran*
I was hesitant about including Beltran, as his career .281/.357/.496 line isn't awe-inspring. But: (1) He'll be just 32 in April and already has eight 100-RBI seasons, and the only players with more such seasons eligible for the Hall and not in are Joe Carter and Albert Belle; (2) Those two weren't Gold Glove-winning center fielders; (3) With 275 career steals and just 37 caught stealing, he's the greatest percentage basestealer ever.
35. Roy Halladay*
After a promising rookie season in 1999, Halladay suffered through one of the most horrifying campaigns any major leaguer has suffered: He pitched in 19 games, including 13 starts, and gave up 87 runs in 67.2 innings, an ERA of 10.64, the worst ever for any pitcher who threw at least 60 innings. The next season, he was all the way back in the Class A Florida State League, pitching in relief for Dunedin. He fixed his mechanics, made it back to the majors that season and has been one of the AL's best pitchers ever since. A big positive from 2008 was a big upturn in his strikeout rate, an indication he'll have enough stuff to pitch into his late 30s.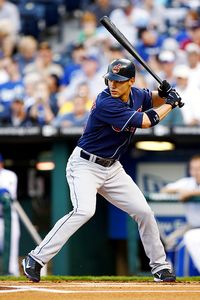 G. Newman Lowrance/Getty Images
Grady Sizemore's all-around game has made him one of the most valuable players in baseball.
36. Grady Sizemore*
Similar to Carlos Beltran in that he excels in all phases of the game. He reached the majors at an early age and has averaged 116 runs his first four seasons. Let's hope it doesn't take him signing a big contract with the Yankees or Red Sox in the future for the entire country to learn of his greatness.
37. Lance Berkman*
The biggest strike against Berkman is his relatively late start for a Hall of Famer -- his first full season didn't come until he was 25. But he's been one of the best hitters in the majors the past eight seasons, a lethal switch-hitter with a .302/.413/.560 career line. He has 288 career home runs and 961 career RBIs, so he'll need to continue to put up some big numbers into his mid-30s to have a shot.
38. CC Sabathia*
On the positive side, he is just 28 and already has 117 career victories. If he stays healthy, he's going to win a lot more with the powerful Yankees lineup behind him. On the negative side, his career ERA of 3.66 doesn't scream Hall of Famer. He's been at 3.22, 3.21 and 2.70 the past three seasons and will need to continue at that level (which, ummm, the Yankees certainly are paying him to do).
39. Brandon Webb*
He's finished first, second and second in the past three NL Cy Young votes, and it's been warranted: He's that good. Would you believe his career ERA-plus of 143 is tied for 10th-best all time among pitchers with 1,000 innings? With some dude named Clemens. He has a lot of work to do with just 87 career wins through age 29.
40. Justin Upton*
Yes, a wild-card pick, but if you're going to make one, take a guy talented enough to reach the majors at 19 years old.
David Schoenfield's odds of making the Hall of Fame remain much lower than Andruw Jones'.
HALL OF FAME 2009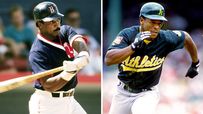 Rickey Henderson and Jim Rice will make up the 2009 Hall of Fame class. Henderson was voted into the Hall in his first time on the ballot and Rice gained admission in his final time:
STORIES
VIDEO
AUDIO
SPORTSNATION
ESPN Top Headlines