ESPN's Mount Rushmore of Sports concludes Tuesday night. John Buccigross recently listed his candidates for the NHL's Mount Rushmore and the NFL bloggers did it for each NFL team, so Page 2 thought we'd tackle the NBA and major league baseball.
Scoop Jackson breaks down the NBA, and here we list the choices for each American League team. Note that we didn't include entire franchise histories for teams that have relocated, so for the Oakland A's, for example, we did not include Philadelphia or Kansas City A's. Also, we considered anyone affiliated with the franchise -- players, managers, owners, announcers and even mascots.
Let the debates begin. (Click here for the National League.)
Baltimore Orioles


Cal Ripken Jr., Brooks Robinson, Jim Palmer, Frank Robinson
Rationale: Frank Robby gets the final nod over Earl Weaver, Brady Anderson's sideburns and the Billy Ripken baseball card.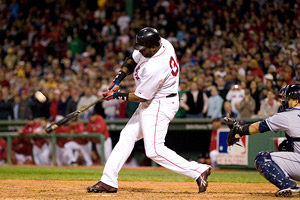 Stew Milne/US Presswire
Big Papi will always remain a legend in Boston for his clutch hits and gregarious personality.
Boston Red Sox


Ted Williams, Carl Yastrzemski, Pedro Martinez, David Ortiz
Rationale: A long roll call of options, including Cy Young, Tris Speaker, Wade Boggs, Nomar Garciaparra (before the fans turned on him) and ... some guy named Clemens. Sorry, Roger, but you're still persona non grata in Beantown.
New York Yankees


Babe Ruth, Joe DiMaggio, Mickey Mantle, Derek Jeter
Rationale: Do you go with Lou Gehrig or Jeter? Gehrig hit .361 with a .731 slugging percentage in 34 World Series games. On the other hand, he never dated Miss Universe. With further apologies to Yogi Berra, Casey Stengel, Don Mattingly and Reggie Jackson's ego. But what about George Steinbrenner? You could easily argue that he's one of the three most famous people in baseball from the past 35 years -- George, Pete Rose and Barry Bonds. Interestingly, all of whom have faced federal investigations.
Tampa Bay Rays


Carl Crawford, Scott Kazmir, Fred McGriff, Joe Maddon
Rationale: Check back in 15 years (and a couple World Series titles) and the list will likely include Evan Longoria, B.J. Upton and maybe David Price.
Toronto Blue Jays


Carlos Delgado, Dave Stieb, Roy Halladay, Pat Gillick
Rationale: Delgado is an easy pick as the franchise leader in home runs (133 more than Joe Carter) and RBIs (318 more than George Bell). Stieb won 175 games and made seven All-Star teams with the Jays. You could argue Carter for one of the final two slots, based on his World Series home run and string of 100-RBI seasons, but the fact is he's probably the most overrated player of the last 25 years and was never the best player on those teams (Roberto Alomar, John Olerud, Paul Molitor, et al).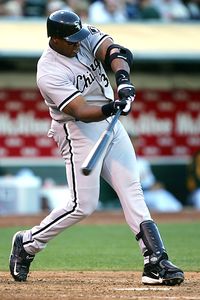 Jed Jacobsohn/Getty Images
Frank Thomas won two MVP awards with the White Sox.
Chicago White Sox


Frank Thomas, Luke Appling, Nellie Fox, Shoeless Joe Jackson
Rationale: Did you know Ron Kittle is ninth on the franchise's all-time home run list? Many candidates for the final spot, including Luis Aparicio, Ted Lyons (260 wins), Bill Veeck, Minnie Minoso, Harold Baines, Billy Pierce and Carlton Fisk. We'll go with Shoeless Joe, the symbol of the most famous episode in franchise history.
Cleveland Indians


Bob Feller, Tris Speaker, Jim Thome, Nap Lajoie
Rationale: Lajoie was so popular when he played for Cleveland from 1903 to 1914 that the team was actually called the Naps for a spell. (Wouldn't you love to see that idea brought back? The New York Jeets, the Boston Big Papis, the Seattle Ichiros ... who doesn't think this would work? Think of all the new merchandise teams could stell.) The Indians have had many great players through the years -- Joe Jackson, Al Rosen, Larry Doby, Rocky Colavito, Manny Ramirez, Albert Belle -- but the four above matched excellence with more longevity with the franchise.
Detroit Tigers


Ty Cobb, Hank Greenberg, Al Kaline, Ernie Harwell
Rationale: If you're so inclined, you can find room for Alan Trammell, but he pretty much has to go in as a matched pair with Lou Whitaker. If you don't know who Ernie Harwell is, shame on you.
Kansas City Royals


George Brett, Hal McRae, Frank White, Dan Quisenberry
Rationale: Do you get the feeling the Royals haven't done much since the 1980s?
Minnesota Twins


Kirby Puckett, Harmon Killebrew, Rod Carew, Kent Hrbek
Rationale: Herbie makes the list, the much-beloved native son who helped the Twins capture two World Series titles. Joe Mauer, another native son, has a chance to someday get his sideburns etched in granite (and, yes, that's the second reference to sideburns in this article).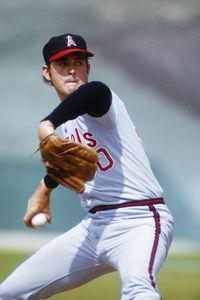 Focus On Sport/Getty Images
Good thing they didn't have pitch counts in 1974: Ryan pitched 332 innings, struck out 367 batters and walked 202.
Los Angeles Angels


Nolan Ryan, Tim Salmon, Garret Anderson, Vladimir Guerrero
Rationale: Chuck Finley deserves consideration as the franchise's all-time leader in wins (165). After just five seasons with the Angels, Guerrero is already sixth on the RBI list and will climb into fourth, behind Anderson, Salmon and Brian Downing, during the 2009 season. And, no, Mo Vaughn did not just miss the cut.
Oakland A's


Reggie Jackson, Mark McGwire, Rickey Henderson, Billy Beane
Rationale: Billy Beane? Over Rollie or Catfish or La Russa or Giambi or Eck? Yes. Since 2000, only two franchises have won more games than the A's -- the Yankees and Red Sox. During that time, the A's have spent $460.6 million in payroll while the Yankees have spent $1.47 billion and the Red Sox $1.05 billion. So, yes, Billy Beane.
Seattle Mariners


Edgar Martinez, Ken Griffey Jr., Ichiro Suzuki, Dave Niehaus
Rationale: Niehaus is the team's beloved announcer since its inaugural season in 1977. During the many lean years, he was often the only thing that kept Mariners fans going. Also considered: Randy Johnson, Jay Buhner, Jamie Moyer and Lou Piniella. Not considered: Alex Rodriguez, Carlos Silva or George Argyros.
Texas Rangers


Nolan Ryan, Ivan Rodriguez, Rafael Palmeiro, Juan Gonzalez
Rationale: The Washington Senators moved to Texas in 1972 and proceeded to hit .217 with a .288 on-base percentage and .290 slugging percentage. A guy named Ted Ford was the only player to reach double digits in home runs (14), and he never hit another in the big leagues. The Rangers have never won a playoff series and have reached 90 wins just three times in 37 seasons. The four greatest players in franchise history (Pudge, Palmeiro, Gonzalez, Alex Rodriguez) have all been linked to steroids or rumors of steroids. In other words, this is kind of like building a Mount Rushmore of Warren Harding, Herbert Hoover, James Buchanan and Andrew Johnson.
David Schoenfield is an editor for Page 2.