AP Photo
ESPN's Mount Rushmore of Sports concludes Tuesday night. John Buccigross recently listed his candidates for the NHL's Mount Rushmore and the NFL bloggers did it for each NFL team, so Page 2 thought we'd tackle the NBA and major league baseball.
Scoop Jackson breaks down the NBA, and here we list the choices for each American League team. Note that we didn't include entire franchise histories for teams that have relocated, so for the Oakland A's, for example, we did not include Philadelphia or Kansas City A's. Also, we considered anyone affiliated with the franchise -- players, managers, owners, announcers and even mascots.
Let the debates begin. (Click here for the American League.)
Atlanta Braves


Hank Aaron, Dale Murphy, John Smoltz, Greg Maddux
Rationale: Picking four Braves for our mountain is more difficult than trying to hit a Maddux fastball on the corner, or a Smoltz splitter, or a Tom Glavine changeup … OK, you get the picture. Aaron and Murphy, probably the most popular Atlanta player of all time (and a two-time MVP) are easy selections, and with apologies to Bobby Cox, Phil Niekro and Chipper Jones, Smoltz and Maddux get our final nods over Glavine. Smoltz went 210-147 during his Braves career, but it's his 15-4, 2.65 postseason mark that most earns our respect. Glavine was 244-147 with two Cy Young Awards with Atlanta, while Maddux was 194-88 with three Cys. Slight edge to Maddux.
Florida Marlins


Jeff Conine, Josh Beckett, Miguel Cabrera, Hanley Ramirez
Rationale: Luis Castillo has actually played the most games in franchise history, and Dontrelle Willis leads in wins, but neither shut out the Yankees to win a World Series clincher.
New York Mets


Tom Seaver, Gil Hodges, Joan Payson, Mike Piazza
Rationale: For a team that has enjoyed many years of success during its almost 50-year history, the Mets have surprisingly weak all-time leaderboards. For example, Ed Kranepool, a marginal first baseman who was platooned much of his career (he only received 500 at-bats once in 18 seasons with the Mets) remains the franchise leader in games played, plate appearances and hits. Only eight Mets have played even 1,000 games with the franchise, only three have won 100 games (Seaver, Dwight Gooden, Jerry Koosman) and only two have hit 200 home runs (Darryl Strawberry, Piazza). Anyway, we defer to Uni Watch columnist and Mets fan Paul Lukas for our four picks. For the uninitiated, Payson was the team's much-loved majority owner from 1961 until her death in 1975; she was responsible for bringing National League baseball back to New York, and the first woman to own a major North American sports franchise. We do suspect that David Wright will appear on the list in due time.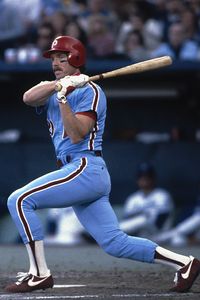 Focus on Sport/Getty Images
Mike Schmidt led the NL eight times in home runs.
Philadelphia Phillies


Mike Schmidt, Steve Carlton, Robin Roberts, Larry Bowa
Rationale: Bowa is beloved in Philly (must be a Philly thing) and edges out Richie Ashburn, broadcaster Harry Kalas, the up-and-coming Chase Utley, Cole Hamels, Ryan Howard, Jimmy Rollins and, of course, the Phanatic, for the final spot.
Washington Nationals


George Washington, Thomas Jefferson, Abraham Lincoln, Teddy Roosevelt Rationale: Or, if you prefer, Ryan Zimmerman, Chad Cordero, Nick Johnson and that one awesome year from Alfonso Soriano.
Chicago Cubs


Ernie Banks, Harry Caray, Ryne Sandberg, Sammy Sosa
Rationale: C'mon, Cubs fans, you loved Sammy when he was doing his thing.
Cincinnati Reds


Pete Rose, Johnny Bench, Joe Morgan, Barry Larkin
Rationale: Tough list to fill out -- we could have gone with Tony Perez or Dave Concepcion from the Big Red Machine days (or manager Sparky Anderson), but they were really just the complementary players to Rose, Bench and Morgan. Larkin played 19 seasons with the Reds, helped the team to the 1990 World Series title, won an MVP award, and is also a Cincinnati native.
Houston Astros


Jeff Bagwell, Craig Biggio, Lance Berkman, Nolan Ryan
Rationale: Crazy that Ryan makes his third Rushmore, even though he's only sixth on the team's all-time win list? Perhaps. But Ryan did become baseball's first player to earn an annual salary of a million dollars when he signed as a free agent with the Astros in 1980. If you're so inclined to include Roy Oswalt (15 wins behind Joe Niekro for No. 1 on the franchise leaderboard) or even Jose Cruz, Larry Dierker or Enos Cabell, we won't argue too much. Well, maybe with Enos Cabell.
Milwaukee Brewers


Robin Yount, Paul Molitor, Cecil Cooper, a bratwurst
Rationale: Quick, name the all-time leader in wins for the Milwaukee Brewers … that's right, it's … Jim Slaton!!!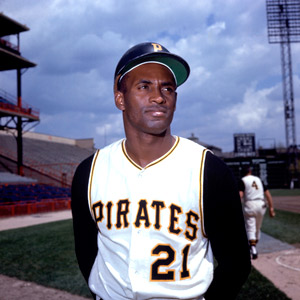 Diamond Images/Getty Images
Roberto Clemente hit .317 and won four batting titles in 18 seasons with the Pirates.
Pittsburgh Pirates


Honus Wagner, Roberto Clemente, Willie Stargell, Bob Prince
Rationale: Hard to conjure up any arguments with these four. Prince called Pirates games from 1948 to 1975, becoming a civic icon in Pittsburgh.
St. Louis Cardinals


Stan Musial, Bob Gibson, Ozzie Smith, Albert Pujols
Rationale: The Cardinals have a long and illustrious history, with World Series championships in six different decades. But picking their Mount Rushmore is quite easy, even when leaving off names like Rogers Hornsby, Lou Brock and Mark McGwire.
Arizona Diamondbacks


Randy Johnson, Luis Gonzalez, Curt Schilling, Brandon Webb
Rationale: Acquired from the Tigers before the 1999 season for Karim Garcia, Gonzalez had topped 20 home runs just once in eight big league seasons and had topped out at 79 RBIs. But he exploded in the desert, reaching 100 RBIs his first five seasons with the Diamondbacks, including his monster 2001, when he hit .325 with 57 bombs, a year that ranks right up there with Brady Anderson's 1996 for all-time fluke power outbursts. Unless you have a special craving for Steve Finley or Jerry Colangelo, the other three guys are pretty self-explanatory.
Colorado Rockies


Todd Helton, Larry Walker, Vinny Castilla, Andres Galarraga
Rationale: Since joining the National League in 1993, the Rockies have had 10 seasons with 40-plus home runs, 11 with 130-plus RBIs, and 11 with a .340-plus batting average. None of those, it should be noted, were compiled by Neifi Perez. Needless to say, the list of great pitching seasons isn't quite as impressive. (Only four Rockies starters have had an ERA under 4.00, with Aaron Cook and Ubaldo Jimenez both accomplishing this feat last season in the friendlier, humidified Coors Field.)
Los Angeles Dodgers


Sandy Koufax, Steve Garvey, Fernando Valenzuela, Tommy Lasorda
Rationale: Some tough calls here: Don Drysdale? Orel Hershiser? Walter Alston? Mike Piazza? Don Sutton (the franchise leader with 233 wins)? Ron Cey? Eric Karros has actually hit more home runs as a Los Angeles Dodger than anyone, with 270. Remember, we didn't consider franchise shifts and Jackie Robinson never played in L.A., otherwise he'd be a no-brainer (along with Duke Snider, who did play briefly on the West Coast but left his best years in Brooklyn).
San Diego Padres


Tony Gwynn, Trevor Hoffman, Jake Peavy, Dave Winfield
Rationale: If Padres fans think they have it bad now, coming off a 99-loss season without much hope for 2009, longtime fans can you remind of 1969 (52-110, .225 team average) or 1971 (61-100, Enzo Hernandez drove in 12 runs in 549 at-bats) or 1993 (61-101, Gary Sheffield and Fred McGriff traded in a fire sale). How sad are the all-time Padres' leaderboards? Winfield is still third on the all-time games played list, although he spent just seven full seasons with the club. Gwynn, Garry Templeton and Winfield are the only Padres with 1,000 hits. Nate Colbert remains the franchise home run leader with 163. Eric Show is the only Padre to win 100 games -- with 100. Anyway, despite the presence of Gwynn and Hoffman, the Padres may have the sorriest leaderboards of any of the non-post-1993 expansion teams. Anyone for the Chicken?
San Francisco Giants


Willie Mays, Barry Bonds, Willie McCovey, Juan Marichal
Rationale: On the outside looking in: Will Clark, Jeff Kent and Dusty Baker's toothpick.
David Schoenfield is an editor for Page 2.