Commentary
27 titles, 27 World Series facts
In tribute to the Yankees' 27th championship, we present 27 opinions, factoids, original commentaries and awesomely researched studies related to the just-completed World Series.
1. Mariano Rivera is the greatest postseason pitcher of all time.
Argument over. End of discussion. Finis. I don't believe what I just saw.
PAGE 2 ON THE WORLD SERIES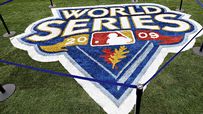 • Schoenfield: Yanks' titles ranked: 1-27
• Gallo: World Series photo captions
• Schoenfield: 27 World Series facts
• Lane: World Series celebrity report
• Schoenfield: Leave A-Rod alone!!!
• Caple: Kate Hudson's WS thoughts
• Lukas: The story behind the bling
• Werley: Yankees-Phillies family conflict
• Lane: Bride of the Yankees
Jim Caple's World Series video reports:
• Sabathia most pinstriped ever?


• Long-suffering Yankees fans


• Frightening welcome to Philly


• Who will be Mr. November?


• Hangin' with the Chinese media


• World Series trivia challenge

Right?
The discussion on Rivera has even moved past greatest postseason pitcher. Many are calling him the greatest performer of all time. (ESPN.com readers and experts made him one of the five inductees into our Hall of Fall VIP room.) We all know his statistics by now: 88 games, 133 1/3 innings, 8-1 record, 0.74 ERA, 39 saves.
Flawless, impeccable numbers.
Or are they?
Since Rivera became the Yankees' closer in 1997, there have been 11 Blown Clinches in postseason play.
What is a Blown Clinch? (No, don't go there.) It's a stat I just invented: A team is leading in the eighth or ninth inning of a game that will clinch a playoff series, but the bullpen blows the lead and loses the game.
So there have been 11 of these games since 1997. In four of those Blown Clinches, the losing team ended up winning the series anyway.
That leaves seven catastrophic Blown Clinches. Now, here's the fun part: Mariano Rivera, greatest postseason pitcher ever, has four of them. Here they are:
• Rivera, Game 4, 1997 ALDS: Sandy Alomar homers in eighth to tie, Cleveland wins in the ninth, wins Game 5.
• Jose Mesa, Indians, Game 7, 1997 WS: Marlins tie it in bottom of ninth, win in 11.
• Rivera, Game 7, 2001 WS: Diamondbacks score twice in bottom of the ninth to win.
• Tim Worrell/Robb Nen, Giants, Game 6, 2002 WS: Blow 5-3 lead in eighth, Angels win Game 7.
• Keith Foulke, A's, Game 4, 2003 ALDS: Blows 4-3 lead in eighth, Boston wins Game 5.
• Rivera, Game 4, 2004 ALCS: Red Sox tie it in the ninth, win in the 12th, take next three games.
• Tom Gordon/Rivera, Game 5, 2004 ALCS: Rivera enters with 4-3 lead and two runners on in eighth, allows tying run to score, Red Sox win in 14th.
Note: The 2003 Cubs and 2003 Red Sox blew eighth-inning leads in clinching games, but those were both by starting pitchers (Mark Prior and Pedro Martinez).
Don't you find this strange? That the invincible Rivera has blown four HUGE games? (OK, sure, pinning that fourth one him is a little rough, but still ... he blew the save.) Four of the seven most absolutely crushing playoff defeats of recent years? Losses that meant the Yankees didn't win the World Series that year? That made Yankees fans cry big, wet tears? This doesn't strike you as odd, that everybody seems to ignore this when they call Rivera the greatest postseason reliever ever?
Yes, I know what you're thinking: He's had more chances, so of course he's going to blow more games. The Yankees have now won 17 postseason series since he became closer, so he's in a lot of clinching games. True. He was the final pitcher in 15 of those games. Here are those scores: 4-0, 9-5, 3-0, 3-0, 4-1, 7-5, 9-7 (after he gave up a two-run double in the eighth), 4-2, 5-3, 12-3, 6-5 (Game 7 of the 2003 ALCS, got the win with three shutout innings), 6-5 (Game 4 of the 2004 ALDS, got the win with two shutout innings), 4-1, 5-2 (entered with 3-2 lead in the eighth) and 7-3 (last night).
Let's put this bluntly: Not a lot of tough saves on that list. On the other hand, he's pitched seven times in potential clinching games with a tie score or a one-run lead. He won two of those games with lights-out performances. He saved one (this year's ALCS against the Angels, although the margin was three runs by the ninth inning). That means he blew the one-run lead the four other times. That's a success ratio of less than 50 percent when there is no margin for error.
Invincible? Off to never-never land?
Just a little something to think about.
2. That said, I'd still take him.
3. Here's another angle to discuss, more to showcase the change in how ace relievers are used: The most innings Rivera has ever pitched in a single postseason series was eight, in the 2003 ALCS. Compare that to Rollie Fingers. In 1973, Fingers pitched 13 2/3 innings in Oakland's seven-game World Series triumph over the Mets. He led the entire A's staff in innings! His game-by-game totals:
Game 1: 3.1 innings
Game 2: 2.2 innings
Game 3: 1 inning
Game 4: did not pitch
Game 5: 2 innings
Game 6: 1.1 innings
Game 7: 3.1 innings
In the 1972 World Series, Fingers pitched 10 1/3 innings in the World Series. In 1974, 9 1/3 innings. He pitched 33 1/3 innings over those three World Series (all Oakland wins) -- oh, and he pitched quite effectively (1.35 ERA).
4. Gets me to thinking: What's the greatest relief performance in World Series history? My vote goes to Bob Turley of the Yankees in Game 7 in 1958. Don Larsen started but was quickly pulled with one out in the third inning with the Yankees leading the Braves 2-1. Turley went the rest of the way and allowed just two hits (including a Del Crandall homer that tied the game in the sixth). The Yankees scored four runs in the eighth to win 6-2.
What made the performance even more remarkable was that Turley had pitched a shutout in Game 5 and saved Game 6. Over the final three games he pitched 16 innings and got two wins and a save.
5. Was Hideki Matsui's game the greatest single-game performance in World Series history? He tied Bobby Richardson's mark with six RBIs (20 players have knocked in five) from 1960, when Richardson went 2-for-5 with a first-inning grand slam and a two-run single in the Yankees' 10-0 Game 3 win over the Pirates.
The only player to get five hits in a World Series game is Paul Molitor, for the '82 Brewers (5-for-6, 2 RBIs, one run). No player has ever scored five runs in a game. Tim Salmon had a monster Game 2 for the Angels in 2002, going 4-for-4 in an 11-10 victory with a walk, two home runs, four RBIs and three runs. Yogi Berra hit two two-run homers in Game 7 in 1956, staking the Yankees to a 4-0 lead in an eventual 9-0 victory. Kirby Puckett had a great Game 6 for the Twins in 1987, going 4-for-4 with four runs, a walk and four RBIs. In Game 6 in 1991 he went 3-for-4 with a triple, sac fly, two runs, three RBIs and the game-winning homer in the bottom of the 11th (and made a fantastic leaping grab against the Metrodome Plexiglas). The Twins won Game 7 both years.
That was some sweet stuff from Kirby, but our top World Series hitting performance still belongs to the man with the nickname:
Reggie Jackson, Yankees, 1977 Game 6: 3-3, 3 HR, 5 RBIs, 3 R, BB ... three swings, three balls deposited into the Yankee Stadium bleachers.
6. Things we needed to see more of in this World Series: Shelley Duncan, hair gel, Ryan Howard actually connecting with the baseball.
7. Things we needed to see less of in this World Series: Quotes saying "Mr. Steinbrenner deserves another championship," close-ups of Mariano Rivera hocking a big loogie, Brett Myers "joking around" with teammates.
8. We need somebody to keep track of the ERA with pitchers who wear the thick rope necklaces compared to those who wear a gold chain compared to those who wear nothing compared those with shaggy, Amish-like beards.
9. OK, new rule: No more stories about the Joba Rules. No, really.
10. Until the Phillies acquired Pedro Martinez they had no surefire Hall of Famers on their roster in 2008 or 2009.
Disagree? Let's go to Hall of Fame arguments, lightning round.
Chase Utley: As great as he's been the past five seasons, he wasn't a full-time player until he was 26 and has (unfairly) never finished higher than seventh in MVP voting. Unless he pulls a Jeff Kent and excels well into his 30s (and remember, Kent won an MVP trophy), the odds are long.
Ryan Howard: He's been a power-hitting RBI machine for four seasons, but he's not young: He turns 30 later this month. Will he age like Mo Vaughn or Jim Thome?
Jimmy Rollins: A lot of positives (an MVP award, a couple Gold Gloves, five 100-run seasons, durability, more than 1,600 hits at age 30) but some negatives (.274 average, .329 on-base percentage, inconsistency).
Jamie Moyer. Amazing career, yes. Cooperstown? No.
Cole Hamels: Check back in 10 years.
Matt Stairs: Canadian Baseball Hall of Fame doesn't count.
11. So the Phillies won the 2008 World Series without a likely Hall of Famer. Is that unusual?
It's definitely rare. Ignoring the unknown future of steroids standards (Manny Ramirez, for example, is an obvious Hall of Famer other than the steroid cloud), the most recent team without a clear candidate is the 2002 Angels (Francisco Rodriguez?). The 2005 White Sox had Frank Thomas, although he was injured for the postseason. The 1997 Marlins' best choice is Gary Sheffield. The 1990 Reds have only one possibility, Barry Larkin, who should make it easily, but will probably take a few years.
Prior to 1990, and without doing an exhaustive study of the old-timers (I went back to 1950), I found only three World Series participants that don't already have a Hall of Famer: the 1989 Giants, 1988 Dodgers and 1981 Dodgers.
The two Dodgers squads both won the World Series. It's possible that Steve Garvey or Orel Hershiser could be a candidate someday for the Veterans Committee (especially Hershiser), but both seem like extreme long shots.
Late note: The 1945 Cubs and 1944 Browns (both lost the World Series) have no Hall of Famers, but come with the caveat of using depleted rosters due to World War II.
12. Speaking of Hall of Fame, how come nobody ever talks about Jorge Posada in that light? His rankings among players who caught at least 1,000 games (Posada has caught 1,490):
Home runs: 10th
RBIs: 12th
Runs: 13th
OBP: 4th
SLG: 7th
OPS: 5th
OPS+: 8th
He's one of the top 10 hitting catchers of all time, he's played in six World Series, he's never played on a losing team.
13. Here's wishing the Phillies had worn their cream uniforms, the best in the sport.
14: I'll be the first to say it: Ramiro Pena, you are a True Yankee!
15. Damaso Marte, following in the long line of surprise Yankees World Series heroes like Brian Doyle, Jim Leyritz, Graeme Lloyd, Jose Vizcaino, Rich Garcia and Timo Perez.
16. Gotta love the storyline that the Yankees won because they all got along in the clubhouse. Yes, the real key to success was CC Sabathia's barbecues, not the $490 million spent signing him, Mark Teixeira and A.J. Burnett.
17. The Yankees led the major leagues in payroll for the 11th consecutive season. Here are their payroll margins over the No. 2 team (in millions):
2009: plus-52 million (Mets)
2008: plus-72 million (Mets)
2007: plus-46 million (Red Sox)
2006: plus-74 million (Red Sox)
2005: plus-85 million (Red Sox)
2004: plus-57 million (Red Sox)
2003: plus-35 million (Mets)
2002: plus-17 million (Red Sox)
2001: plus-3 million (Red Sox)
2000: plus-2 million (Dodgers)
1999: plus-7 million (Rangers)
The last year they didn't lead the majors in payroll was 1998, when the Orioles spent $70 million and the Yankees $63 million. The Yankees finished 35 games ahead of Baltimore that year.
18. The payroll rankings for the World Series champions this decade:
2009 Yankees: 1st
2008 Phillies: 12th
2007 Red Sox: 2nd
2006 Cardinals: 11th
2005 White Sox: 13th
2004 Red Sox: 2nd
2003 Marlins: 25th
2002 Angels: 15th
2001 Diamondbacks: 8th
2000: Yankees: 1st
(Payroll data from USA Today.)
19. Alex, next time spit out Kate's gum before doing the postgame interview.
20. Memo to Pedro Feliz: You don't have to swing at every pitch.
21. Chase Utley had an amazing World Series, tying Reggie Jackson's record with five home runs in a single World Series. (That at-bat against Marte, however: not so good.) Utley finished the postseason with six HRs and 10 RBIs in 15 games. Good, but not even the best this playoffs.
Here are my top five performances since the three-round format began in 1995:
1) David Ortiz, 2004 Red Sox: .400/.515/.764, 5 HRs, 19 RBIs, 13 runs, three walk-off hits;

2) Barry Bonds, 2002 Giants: 17 games, .356/.581/.978, 8 HRs, 16 RBIs, 18 runs, 27 walks (!);

3) Troy Glaus, 2002 Angels: 16 games, .344/.420/.770, 7 HRs, 13 RBIs, 15 runs, World Series MVP;

4) Alex Rodriguez, 2009 Yankees: 15 games, .365/.500/.808, 6 HRs, 18 RBIs, 15 runs;

5) Manny Ramirez, 2007 Red Sox: 14 games, .348/.508/.652, 4 HRs, 16 RBIs, 11 runs, 16 walks.
So, please, next year, when A-Rod goes 0-for-4 in the Yankees' first playoff game, NO MORE STORIES ON WHETHER HE'S CLUTCH WHEN IT COUNTS. Try some new storylines.
(Honorable mention: Carlos Beltran of the 2004 Astros hit an astounding .435/.536/1.022 in 12 games, with 8 HRs, 14 RBIs, 6 SBs and 21 runs (no, that's not a misprint), but Houston lost the NLCS.)
22. Best of the moundsmen:
1) Curt Schilling, 2001 Diamondbacks: 6 starts, 4-0, 1.12 ERA, 48.1 IP, 25 H, 6 BB, 56 SO.
2) John Smoltz, 1996 Braves: 5 starts, 4-1, 0.95 ERA, 38 IP, 22 H, 13 BB, 33 SO, one loss was 1-0 in Game 5 of the World Series.
3) Randy Johnson, 2001 Diamondbacks: 6 games, 5-1, 1.52 ERA, 41.1 IP, 25 H, 8 BB, 47 SO, won three games in the World Series, including Game 7 in relief.
4) Cliff Lee, 2009 Philles: 5 starts, 4-0, 1.56 ERA, 40.1 IP, 27 H, 6 BB, 33 SO.
5) Cole Hamels, 2008 Phillies: 5 starts, 4-0, 1.80 ERA, 35 IP, 23 H, 9 BB, 30 SO.
(Honorable mention: Kenny Rogers won all three of his starts for the 2006 Tigers and didn't allow a run in 23 innings.)
Note: Baseball-reference.com was invaluable for these past two items.
23. Before Joe Girardi and Joe Torre, the last Yankees manager to win a World Series was Bob Lemon in 1978. Here's how the managerial reins changed between Lemon and Torre: Billy Martin, Dick Howser, Gene Michael, Lemon, Michael, Clyde King, Martin, Yogi Berra, Martin, Lou Piniella, Martin, Piniella, Dallas Green, Bucky Dent, Stump Merrill, Buck Showalter.
Man, those were fun times.
24. Derek Jeter, Mariano Rivera, Andy Pettitte and Jorge Posada have finally equaled the five World Series rings of ex-teammate Luis Sojo.
25. The Yankees used just three starting pitchers (you may have heard). The last team to use three starting pitchers in the World Series was the 1998 Padres (Kevin Brown started twice as the Padres were swept). The last team to win a World Series using only three starters was the 1991 Twins, who won in seven games using Jack Morris, Kevin Tapani and Scott Erickson. You know, back when men were men, showered in cold water, carried their own luggage (sometimes), ate raw eggs for breakfast, scraped up elbows and knees by diving on Astroturf fields harder than concrete, had to sit on wooden stools in locker rooms and had to hire personal trainers on an average salary of $891,000.
26. Best moment of the World Series: The MLB marketing guys were out on the field handing out T-shirts before Robinson Cano even completed his throw to Mark Teixeira for the final out. Loved that. Ordered up two already.
27. Since the Yankees' return to prominence in 1996, here is the team's record, run differential and postseason record each year:
1996: 92-70, plus-84 (11-4)
1997: 96-66, plus-203 (2-3)
1998: 114-48, plus-309 (11-2)
1999: 98-64, plus-169 (11-1)
2000: 87-74, plus-57 (11-5)
2001: 95-65, plus-91 (10-7)
2002: 103-58, plus-200 (1-3)
2003: 101-61, plus-161 (9-8)
2004: 101-61, plus-89 (6-5)
2005: 95-67, plus-97 (2-3)
2006: 97-65, plus-163 (1-3)
2007: 94-68, plus-191 (1-3)
2008: 89-73, plus-62 (---)
2009: 103-59, plus-162 (11-4)
Where does this year's team rank? Clearly, the 1998 squad was the best, although keep in mind that was an expansion season that saw a lot of inflated records (the Braves won 106 games, the Astros 102). But this team has a solid claim for No. 2 on the list. The 2002 team led the league in runs and posted a 3.89 ERA, but lost in the first round of the playoffs to the Angels. The worst team was actually the 2000 squad, which snuck into the playoffs despite the fifth-best record in the AL, but beat the A's, Mariners and Mets in the playoffs.
That had been the last Yankees team to win. In the clincher against the Mets, Andy Pettitte started and allowed no earned runs in seven innings, Derek Jeter homered, Jorge Posada walked with two outs in the ninth to start a two-run rally for a 4-2 lead and then Mariano Rivera came on in the bottom of the ninth to close it out.
Nine years ago ... but it almost seems like yesterday.
David Schoenfield is an editor for ESPN.com.
ESPN Senior Writer
Senior writer of SweetSpot baseball blog
Former deputy editor of Page 2
Been with ESPN.com since 1995