Commentary
Cliff Lee: Best playoff pitcher ever?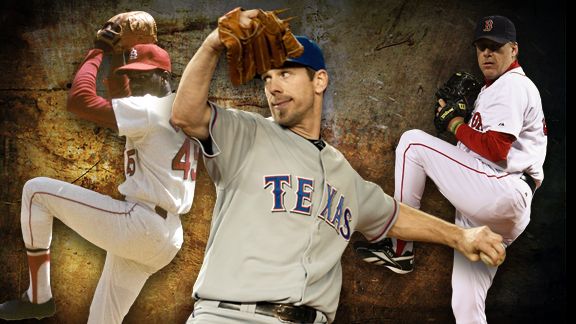 ESPN.com IllustrationHow does Cliff Lee's postseason résumé stack up against the likes of Bob Gibson and Curt Schilling?
Cliff Lee has had a nice career -- 102 wins, a Cy Young Award, freaky control in recent seasons. But he's now getting mentioned alongside all-time greats like Bob Gibson and Sandy Koufax in breathless comparisons of "greatest playoff pitcher ever." That's the power of the postseason: Legacies are established or grown; some are tarnished and diminished. Fair? Maybe not. Small sample size? Perhaps. But these games on the October stage are the ones that matter most, that we remember. It's a reason we watch (well, other than rooting against the Yankees).
But how good has Lee been in his brief postseason career? Can we really compare him to Koufax and others? Hey, lists are a fun … so let's make one: The best postseason starters of all time. (What about Mariano Rivera, you ask? Don't worry, we'll address him below.)
Before we begin, what are the things we desire in a postseason starter? Let's check them off:
• Don't give up runs
• Pitch deep into the game
• Dominate: lots of strikeouts, few hits
• Pitch well in an important/big game
• Win a close, low-scoring pitchers' duel
I came up with a method to rate postseason starters -- i.e., a made-up formula that doesn't really mean anything at all, so don't take it too seriously. I tried to come up with a system that balanced quality and quantity, rewarding guys who pitched a lot in the playoffs (recent pitchers have the advantage here, of course) without screwing the old-timers who pitched before three rounds of playoffs existed.
I started with the pitcher's average game score over all his postseason starts. (Devised by Bill James, game score looks at a pitcher's stat line and comes up with a score, where 50 is about average and 90 is unbelievably awesome.) From there, points were awarded for each start (1 for a Division Series or LCS start; 2 for a World Series start); a game score of 75 or better was considered a "gem" and awarded 5 points (about 12 percent of all postseason starts meet this standard); a game score of 65-74 was considered a "good" game and awarded 3 points. You lost 3 points for "bad" starts (game score of 33-42) or 5 for "dud" starts (32 or less). You received 5 points if the "gem" came in the World Series, Game 5 of the Division Series (or old LCS) or Game 6 or 7 of an LCS. A gem in Game 6 or 7 of the World Series got you 10 more points (thank you, Jack Morris). I looked at the percentage of gem/good games out of total starts and awarded points like this: gem/good percentage x 10 x 3. (For example, Tom Glavine: 12 gem/good games in 34 starts translates to 10 points.) Finally, if you won a tight duel (winning 1-0 is more impressive than winning 6-0), you got 3 points for the Division Series or LCS, 5 points for the World Series. We also knocked off 15 percent of a pitcher's final score if he performed before 1920, owing to the extreme low-scoring run environment of that era.
OK, don't get caught up in the formula. We're just having fun here. To generate a list of pitchers, we looked at any starter who ranked in the top 20 in wins, starts, innings or ERA (minimum 50 innings as a starter) in postseason history. This gave us 43 qualifying pitchers.
43. Charles Nagy (59 points)
Postseason record:
15 G, 14 GS, 3-4, 4.46 ERA, 84.2 IP, 87 H, 30 BB, 55 SO
Qualified for the study because of his large quantity of starts, he was the losing pitcher in relief in Game 7 of the 1997 World Series.
42. CC Sabathia (66 points)
Postseason record:
13 GS, 7-4, 4.66 ERA, 77.1 IP, 83 H, 38 BB, 71 SO
He's won seven games, but he hasn't really been that effective -- just three of 13 starts have lasted at least seven innings (all in 2009).

41. Steve Carlton (88 points)
Postseason record:
16 G, 14 GS, 6-6, 3.26 ERA, 99.1 IP, 96 H, 51 BB, 84 SO
Signature game:
1980 World Series, Game 6. Carlton allowed one run in seven innings to earn the victory as the Phillies won their first World Series title.
Remarkably, Carlton never threw a gem in any of his 14 playoff starts. Of the 43 pitchers we tracked, only two others failed to do so (Charles Nagy and Juan Guzman). While Carlton was rarely bad (he pitched at least five innings in each start), he didn't dominate, and his mediocre performances were a key reason the Phillies lost the 1976 and '77 NLCS. Location appeared to be his main culprit; in his career, Carlton averaged 3.2 walks per nine innings, but that jumped to 4.6 in the postseason.
They Didn't Like The Postseason
Here are six guys who weren't big fans of October baseball:
6. Al Leiter
Leiter holds the "record" for most career postseason starts without a win -- 11. (He did win two games in relief.) Leiter didn't actually pitch that bad: 0-3, 4.36 ERA as a starter, so he was mostly the king of the no-decision.
5. Dwight Gooden
Amazingly, Gooden never won a postseason game -- 0-4, 3.97 in 12 games (nine starts). He had a tough 1-0 loss to Mike Scott in Game 1 of the 1986 NLCS and went 10 innings in Game 5 against Nolan Ryan, but didn't pitch well after that.
4. Vida Blue
While his Oakland teammates were winning three straight World Series titles, Blue was a minimal contributor, going 1-5, 4.79 in 10 career starts.
3. Jaret Wright
Among the 52 pitchers to make at least 10 postseason starts, Wright easily has the worst ERA -- a hefty 7.77 (Tim Wakefield is next-worst at 6.45). Wright started 10 times and pitched a total of 44 innings.
2. Aaron Sele
Meet the man most responsible for the Yankee dynasty! OK, a bit of an exaggeration, but Sele went 0-6 in seven starts (the most losses without a win), and five of those came against New York.
1. Don Newcombe
The old Brooklyn Dodgers ace, Newcombe lost his first World Series start 1-0 on a ninth-inning home run. In his next four, he lasted just 13.1 innings and allowed 20 runs.
40. Eddie Lopat (91 points)
Postseason record:
7 GS, 4-1, 2.60 ERA, 52 IP, 51 H, 12 BB, 19 SO
A member of the Yankee teams that won five straight titles from 1949-53, Lopat was a soft-tossing lefty who threw offspeed stuff from different arm angles. He had two complete-game wins in the 1951 World Series
39. David Cone (92 points)
Postseason record:
21 G, 18 GS, 8-3, 3.80 ERA, 111.1 IP, 93 H, 58 BB, 94 SO
More solid than spectacular, Cone's lone gem came in the 1988 NLCS with the Mets. Poor control (4.7 walks per nine) prevented him from being a true postseason ace.
38. Ken Holtzman (93 points)
Postseason record:
13 G, 12 GS, 6-4, 2.30 ERA, 70.1 IP, 61 H, 18 BB, 39 SO
An underrated member of Oakland's three straight champs, he was the winning pitcher in Game 7 of the 1973 World Series.
37. Juan Guzman (94 points)
Postseason record:
8 GS, 5-1, 2.44 ERA, 51.2 IP, 42 H, 27 BB, 41 SO
He wasn't always pretty (let's call it effectively wild), but he helped the Jays win back-to-back World Series. Allowed just one home run in eight starts.
36. Don Sutton (94 points)
Postseason record:
15 G, 14 GS, 6-4, 3.68 ERA, 100.1 IP, 92 H, 16 BB, 61 SO
Appeared in the postseason with three different teams, he was better in the LCS than the World Series (2-3, 5.26 ERA in eight starts -- the second-worst World Series ERA of the 52 pitchers with at least six starts).
35. Bruce Hurst (99 points)
Postseason record:
7 GS, 3-2, 2.29 ERA, 51 IP, 46 H, 12 BB, 37 SO
Started three times in the 1986 World Series for the Red Sox. Left Game 7 tied 3-3 after six innings.
34. George Mullin (104 points)
Postseason record:
7 G, 6 GS, 3-3, 1.86 ERA, 58 IP, 45 H, 16 BB, 36 SO
Helped the Tigers reach three straight World Series in 1907-09, but Detroit lost all three years.

33. Pedro Martinez
Postseason record:
16 G, 14 GS, 6-4, 3.46, 96.1 IP, 74 H, 30 BB, 96 SO
Signature game:
1999 ALDS, Game 5. Pedro's classic October performance didn't actually count in our system since it came in relief. After his season for the ages (23-4, 2.07 ERA), Martinez had exited the playoff opener after four innings with a strained muscle in his back. Expected to miss the rest of the series, he entered Game 5 in relief and threw six hitless innings as the Red Sox won 12-8.
Of course, Pedro's most memorable playoff outing will always be the Grady Little Game. At his peak, I don't think any pitcher was more exhilarating to watch: Anything was possible in one of his starts. He'd blow guys away, drop in that big curveball or freeze them with that butterfly changeup. The thing is, he really had only one of those Pedro games in the postseason -- the much-anticipated showdown against Roger Clemens in the 1999 ALCS, when he fanned 12 in seven innings. But that was his only double-digit strikeout game, and he pitched into the eighth inning just once (yes, the Grady Little Game).
32. David Wells (106 points)
Postseason record:
27 G, 17 GS, 10-5, 3.17 ERA, 125 IP, 116 H, 25 BB, 83 SO
Went 4-0 in the 1998 playoffs -- starting the first game of the ALDS, ALCS and World Series -- and the Yanks rewarded by trading him for Roger Clemens.

31. Greg Maddux (106 points)
Postseason record:
35 G, 30 GS, 11-14, 3.27 ERA, 198 IP, 195 H, 51 BB, 125 SO
Signature game:
1995 World Series, Game 1: At the height of his powers, Maddux allowed just two hits against a loaded Cleveland lineup in a complete-game 3-2 victory (both runs were unearned).
In an era with bulked-up hitters slugging 450-foot home runs on checked swings, Maddux was the master craftsman. Sports Illustrated ran a cover that read "The Greatest Pitcher You'll Ever See." For some reason, his artistry didn't translate to postseason domination (not that a 3.27 ERA is anything to be ashamed of). He had just one game with no runs allowed and four with one run allowed (by comparison, teammate Tom Glavine had 14 such games). I always felt Maddux was too professorial in his approach to the postseason; and by that, I mean he understood the crapshoot nature of the baseball playoffs. For all the talk of "heart" and "toughness" and "clutch," Maddux knew luck was the true equalizer in a short series. For him, a playoff game just seemed like another game.

30. Jack Morris (110 points)
Postseason record:
13 GS, 7-4, 3.80 ERA, 92.1 IP, 83 H, 32 BB, 64 SO
Signature game:
Game 7, 1991 World Series. Not the most dominating postseason performance of all time, but maybe the most clutch.
Much of Morris' Hall of Fame hopes rest on the value voters place on his playoff performances -- or, specifically, on his one famous 10-inning shutout. And our system did give some extra credit for that gem. He also pitched two complete-game victories for Detroit in the 1984 World Series. On the other hand, Toronto won the 1992 World Series despite Morris' best efforts to give it away: He pitched poorly in his lone ALCS start and lost both World Series starts (10 runs in 10 2/3 innings). Overall, Morris just doesn't have enough quantity or quality to score higher on this list; that's not a knock against him, but a reminder that there have been a lot of great postseason pitchers. And not all of them are Hall of Famers.
29. Vic Raschi (112 points)
Postseason record:
11 G, 8 GS, 5-3, 2.24 ERA, 60.1 IP, 52 H, 25 BB, 43 SO
Hard-throwing right-hander pitched on six World Series champs with the Yankees. Won Game 1 of the 1950 World Series 1-0 on a two-hitter.

28. Randy Johnson (112 points)
Postseason record:
19 G, 16 GS, 7-9, 3.50 ERA, 121 IP, 106 H, 32 BB, 132 SO
Signature game:
2001 World Series, Game 2. Matched his line from the NLCS that season: 9 IP, 3 H, 0 R, 1 BB, 11 SO, good for a game score of 91.
After winning the first two games of his playoff career (including Game 5 of the ALDS in relief), Johnson suffered through his next eight starts, going 0-7. He actually pitched well in most of those games (he had zero or one run of support in five of the starts), but his reputation had been established: postseason choker. This was a predominant storyline entering the 2001 playoffs, especially after he lost his first NLDS start. It seemed to weigh on Johnson, and it was a reason manager Bob Brenly made Curt Schilling that team's No. 1 starter for the postseason. With that pressure off, Johnson excelled, winning his next four starts in dominating fashion, and then topping it off by following his Game 6 win against the Yankees by coming out of the bullpen to win Game 7. That said, other than that four-game stretch, he won just one of his other 12 postseason starts.
27. Catfish Hunter (114 points)
Postseason record:
22 G, 19 GS, 9-6, 3.26 ERA, 132.1 IP, 114 H, 35 BB, 70 SO
Was 7-1 plus a save during Oakland's 1972-74 title run, firmly establishing a reputation as a big-game pitcher that eventually carried him into the Hall of Fame despite borderline credentials otherwise.
26. Carl Mays (115 points)
Postseason record:
8 G, 7 GS, 3-4, 2.35 ERA, 57.1 IP, 47 H, 8 BB, 17 SO
Submariner won two games for the Red Sox in the 1918 World Series.

25. Roger Clemens (116 points)
Postseason record:
35 G, 34 GS, 12-8, 3.75 ERA, 199 IP, 173 H, 70 BB, 173 SO
Signature game:
2000 ALCS, Game 4. Clemens dumped Alex Rodriguez on his behind in the first inning and the Mariners were basically scared of their own shadows after that. Clemens fired a one-hit, 15-strikeout shutout in an absolutely crushing performance.
In his first 10 career postseason starts, the Rocket fizzed: He won just once, didn't finish Game 6 of the 1986 World Series (whether he asked out of the game remains an unsolved riddle, although nobody ever mentions that he had thrown 134 pitches), had that nutty game against Oakland where he got ejected, and then got shelled in the Pedro Martinez duel in the 1999 ALCS. For the most part, he did pitch well after that. The infamous Mike Piazza game? Two hits in eight shutout innings. He was terrific in Game 7 of the 2001 World Series. He did pitch poorly in Game 7 of the 2003 ALCS (lasting only three innings) and gave up four runs in six innings in Game 7 of the 2004 NLCS (Scott Rolen tagged a big home run off him). In the end, Clemens pitched just two gems in 34 postseason starts and had 10 starts classified as bad or duds. Maybe he just got too amped up to perform at his best; maybe, later in his career, he was often worn down by the long season.
Allie Reynolds
Reynolds didn't meet the qualifying standards of our study, but deserves special mention. "Superchief" appeared in six World Series with the Yankees from 1947-53 and the Yanks won them all, with Reynolds going 7-2, 2.79 with four saves as a hybrid starter/reliever. As a starter, he won games 1-0, 2-0 and 2-1 in 10 innings. As a reliever, he saved Game 6 in 1952 and then won Game 7 (after tossing a complete game to win Game 4). He was one of the best.
24. Mike Mussina (118 points)
Postseason record:
23 G, 21 GS, 7-8, 3.42 ERA, 139.2 IP, 121 H, 33 BB, 145 SO
Underrated.
23. Eddie Plank (120 points)
Postseason record:
6 G, 6 GS, 2-5, 1.32 ERA, 54.2 IP, 37 H, 11 BB 32 SO
Hall of Famer won 326 games and was a cornerstone of Connie Mack's powerhouses in the early 20th century.
22. Orlando Hernandez (122 points)
Postseason record:
19 G, 14 GS, 9-3, 2.55 ERA, 106 IP, 77 H, 55 BB, 107 SO
Arguably the key performer as the Yankees won three straight titles from 1998-2000. Won his first eight postseason decisions.

21. Andy Pettitte (122 points)
Postseason record:
42 GS, 19-10, 3.83 ERA, 263 IP, 271 H, 72 BB, 173 SO
Signature game:
1996 World Series, Game 5. With the series tied, Pettitte outdueled John Smoltz 1-0 on a night Smoltz dominated the Yankees with 10 strikeouts. The Yankees scored an unearned run thanks to a fly ball that was dropped by Marquis Grissom, and Pettitte pitched into the ninth, allowing five hits and getting two big double plays.
Pettitte's 19 career postseason victories are easily the most all time (John Smoltz is second with 15) and he's thus developed a reputation as a big-game pitcher, no doubt enhanced by going 5-1 the past two postseasons. However, that reputation is as much a function of his making 42 postseason starts as his ability to rise to the occasion. While it's easy to remember his big games, Pettitte has had many bad ones as well. He's had seven dud starts (in six of them, he didn't get past the fourth inning) and three more labeled as bad starts, meaning he's been just as likely to serve up stinkbomb as a gem. The most notorious of these was Game 6 of the 2001 World Series, when the Diamondbacks shelled him for seven hits and six runs in two innings. There was also Game 5 of the 2000 AL Division Series, when the Yankees staked Pettitte to a 6-0 first-inning lead, but Pettitte gave up 10 hits and five runs in 3 2/3 innings.

20. Fernando Valenzuela (124 points)
Postseason record:
9 G, 8 GS, 5-1, 1.98 ERA, 63.2 IP, 47 H, 31 BB, 44 SO
Signature game:
1981 NLCS, Game 5. Won the clinching game 2-1 when Rick Monday homered in the top of the ninth.
Fernando scores well in our system thanks to the low ERA and high winning percentage, but he made just one career World Series start, the fewest of any pitcher on our list. He did win that game over the Yankees -- throwing 147 pitches in a complete game in which he allowed nine hits, seven walks and four runs.

19. Dave McNally (125 points)
Postseason record:
14 G, 12 GS, 7-4, 2.49 ERA, 90.1 IP, 65 H, 34 BB, 65 SO
Signature game:
1969 ALCS, Game 2. McNally and Minnesota's Dave Boswell locked up in a scoreless duel. Both pitchers were in there in the 11th inning. McNally escaped the top half, but Boswell couldn't escape the bottom half. McNally allowed just three hits and struck out 11.
An underrated and slightly undersized lefty for the Orioles who won 184 career games utilizing a solid fastball and outstanding curve, McNally appeared in six different postseasons and completed six of his 12 starts. His gems included a 1-0 shutout over Don Drysdale in the clinching Game 4 of the 1966 World Series.

18. Dave Stewart (125 points)
Postseason record:
22 G, 18 GS, 10-6, 2.77 ERA, 133 IP, 99 H, 48 BB, 73 SO
Signature game:
1989 World Series, Game 1. Before the quake, Stewart got the A's off on the right foot with a five-hit shutout over the Giants.
One of baseball's great reclamation projects, Stewart's career appeared nearly over in the mid-'80s when he was traded by the Rangers to the Phillies for Rich Surhoff and later released by Philadelphia. The A's signed him and he went on to win 84 games from 1987-90. With his hat pulled low over his eyes and his menacing glare, Steward looked just a tad bit crazy out there. He relied more on toughness and competitiveness than pure stuff, best exemplified by his head-to-head matchups with Roger Clemens. He faced Clemens nine times in his career and went 9-0 -- including two wins in the 1990 ALCS. Stewart was 8-0, 2.03 in the ALCS, and 2-4, 3.32 in the World Series. (He also had two losses as a reliever for the Dodgers in the 1981 NLDS).

17. Chief Bender (128 points)
Postseason record:
10 GS, 6-4, 2.44 ERA, 85 IP, 65 H, 21 BB, 59 SO
Signature game:
1910 World Series, Game 1. Pitched a three-hitter, allowing only an unearned run in the ninth inning, to defeat the Cubs 3-1. The A's would win in five games.
Nicknamed "Chief" because he was an Ojibwa Indian from Minnesota (they weren't too sensitive about nicknames back then), Bender was a mainstay for five of Connie Mack's Philadelphia A's World Series squads. Bender allowed two runs or fewer in six of his 10 World Series starts and five times allowed five or fewer hits. Connie Mack's belief in Bender shows up in that he started the first game for the A's in 1910, '11, '13 and '14 (they didn't make it in 1912). That said, Bender does benefit from the low-scoring era, and two of his three gems are helped by not factoring in unearned runs -- there were a lot more back then, which isn't too surprising since guys played with bare hands and infields were full of pebbles the size of David Eckstein (OK, we kid about the bare hands, they did have gloves).

16. Josh Beckett (132 points)
Postseason record:
14 G, 13 GS, 7-3, 3.07 ERA, 93.2 IP, 67 H, 21 BB, 99 SO
Signature game:
Game 6, 2003 World Series. Wrapped up the World Series with a five-hit, nine-strikeout shutout against the Yankees. In Yankee Stadium. Yes, that was sweet.
Beckett's best game score actually isn't that World Series outing, but Game 5 in the NLCS that season against the Cubs, when he kept the Marlins alive with an 11-strikeout two-hitter. (He would also come on in Game 7 to pitch four innings of one-run relief.) Only four pitchers have thrown as many as three shutouts in postseason history: Christy Mathewson (4), Mordecai Brown, Whitey Ford and Beckett (3). However, Beckett's history is a reminder to be cautious when discussing Cliff Lee's place in history: He's 1-1 in his past four starts with 18 runs allowed in 21 innings.

15. Jim Palmer (132 points)
Postseason record:
17 G, 15 GS, 8-3, 2.61 ERA, 124.1 IP, 101 H, 50 BB, 90 SO
Signature game:
1966 World Series, Game 2. A 20-year-old Palmer burst on the scene by beating Sandy Koufax 6-0 with a four-hitter, still the youngest pitcher to throw a postseason shutout. He'd battle arm problems the next two years (missing all of 1968) but recover to win three Cy Young Awards and post eight 20-win seasons.
The blue-eyed underwear model was one of the most famous players of the 1970s and he lived up to the hype in his postseason career, helping the Orioles win three World Series (and reach three others). Swinging his left leg out wide and high and then dropping his right arm down low behind him, Palmer had an unorthodox delivery, feasting off the high fastball (although famously never allowing a grand slam in his career). Palmer had six complete games among his 15 playoff starts, plus two others in which he pitched nine innings but didn't get the decision.

14. Carl Hubbell (134 points)
Postseason record:
6 GS, 4-2, 1.79 ERA, 50.1 IP, 40 H, 12 BB, 32 SO
Signature game:
1933 World Series, Game 4. Hubbell had already won the opener when the Giants turned to him for the fourth game, leading the series 2-1. Pitching on two days' rest (no off days back then, lollygaggers!), the Meal Ticket pitched all 11 innings as the Giants won 2-1.
King Carl's postseason résumé is limited, with just six starts, but there is no denying the results. Given up on as a prospect by the Tigers (allegedly because then-Detroit manager Ty Cobb didn't like Hubbell fooling around with his screwball, leading to an argument between the two), the Giants purchased Hubbell from Beaumont of the Texas League in 1928 for $25,000. Consider it a sound investment. Hubbell became the pre-eminent National League pitcher in the '30s, winning two MVP awards with his impeccable control of his screwball, fastball and curveball.

13. Red Ruffing (135 points)
Postseason record:
10 GS, 7-2, 2.63 ERA, 85.2 IP, 74 H, 27 BB, 61 SO
Signature game:
Game 1, 1939 World Series. Outdueled Reds ace Paul Derringer 2-1 as the Yankees won in the bottom of the ninth (and went on to sweep the Reds).
There's a reason the Yankees won four straight World Series from 1936-39, and it wasn't all because of sluggers named Gehrig, DiMaggio and Dickey. Ruffing, who had twice led the American League in losses earlier in his career with the Red Sox, won 20 games all four seasons and was the undisputed staff ace. He started Game 1 of a World Series six times, winning five. He averaged 8½ innings per World Series start and never had a bad outing.

12. Orel Hershiser (136 points)
Postseason record:
22 G, 18 GS, 8-3, 2.59 ERA, 132 IP, 103 H, 43 BB, 87 SO
Signature game:
1988 World Series, Game 1. The day
after
Kirk Gibson's home run, Hershiser started pounding the nails in Oakland's coffin with a three-hit shutout. (He tossed another complete game in Game 5.)
Hershiser had a marvelous postseason in 1988, the year he carried his magical scoreless streak into the playoffs (that was snapped in the ninth inning of the opener against the Mets). He blanked the Mets in Game 7 of the NLCS (three days after his last start, two days after getting the save in Game 5), blanked the A's in Game 2 of the World Series (on three days' rest) and then celebrated the title in Game 5. All told, that postseason he pitched 42 2/3 innings in 19 days and allowed seven runs. Now it seems pitchers go 19 days between starts. People often forget about his Cleveland days, but he went 4-1 in the 1995 playoffs, including two wins over a high-powered Seattle team in the ALCS. He did get roughed up in two starts in the 1997 World Series, the biggest mark against his playoff legacy.

11. Waite Hoyt (137 points)
Postseason record:
12 G, 11 GS, 6-4, 1.83 ERA, 83.2 IP, 81 H, 22 BB, 49 SO
Signature game:
1921 World Series, Game 2. Pitched a two-hit shutout to defeat Art Nehf and the Giants 3-0.
The 1921 World Series was Babe Ruth's first with the Yankees and is most remembered (well, if remembered at all) for Ruth's elbow injury that kept him out of the final three games other than one pinch-hitting experience. Forgotton are three memorable duels between Hoyt and Nehf. Hoyt won Game 2 (above) as Nehf allowed just three hits. Hoyt won Game 5, scattering 10 hits in a 3-1 win. Nehf won Game 8 (it was a best-of-nine that year) 1-0, as a first-inning unearned run stood up. Hoyt allowed no earned runs in 27 innings that World Series. He remained a key member of the famous Bronx Bombers of 1927-28 that swept consecutive World Series (he won all three of his starts) and later became the longtime broadcaster for the Cincinnati Reds and made the Hall of Fame in 1969.

10. Art Nehf (149 points)
Postseason record:
12 G, 9 GS, 4-4, 2.16 ERA, 79 IP, 50 H, 32 BB, 28 SO
Signature game:
1921 World Series, Game 8. Pitching on two days' rest, won the championship for the Giants with his 1-0, four-hit shutout over the Yankees. The final two outs were recorded on this odd double play: With Aaron Ward on first, second baseman Johnny Rawlings made a diving stop of Frank Baker's grounder and threw him out at first. Ward tried to make third but was thrown out to complete the 4-3-5 double play. (Let's just say baserunners were a bit more adventurous back then.)
Here's my favorite Art Nehf stat: There have been only 23 1-0 complete-game shutouts in postseason history ... and Art Nehf and Dave McNally are the only pitchers with two of them. Nehf also pitched a 12-inning complete game to defeat the Senators in the 1924 World Series opener and pitched the clinching game in 1922 to again defeat the Giants' crosstown rivals. Nehf isn't remembered now, but he was a solid left-hander who went 184-120 in his career. Plus, his middle name was Neukom (no joke).

9. Tom Glavine (152 points)
Postseason record:
35 GS, 14-16, 3.30 ERA, 218.1 IP, 191 H, 87 BB, 143 SO
Signature game:
1995 World Series, Game 1. Allowed one hit in eight innings as the Braves won their only World Series of the Bobby Cox era with a 1-0 victory over the Indians.
Glavine's name may be a bit surprising this high since he has a career losing record in the playoffs, but he earned his place on merit beyond just making 34 postseason starts (second behind Andy Pettitte's 42). Glavine allowed zero runs in six starts and one run in eight, meaning he allowed one run or fewer in 14 of 34 starts (40 percent). Compare that to Pettitte (12 of 42, 29 percent) or Roger Clemens (10 of 34, 29 percent). In short, those guys have winning postseason records because their teammates scored more runs for them. It's often a fine line in the postseason: Glavine won three of those games 1-0. Glavine did have five disaster starts, including Game 6 in the 1992 NLCS (eight runs in one inning) and Game 6 of the 1997 NLCS (seven runs in 5 2/3 innings).

8. Cliff Lee (155 points)
Postseason record:
8 GS, 7-0, 1.26 ERA, 64.1 IP, 40 H, 7 BB, 67 SO
Signature game:
2010 ALCS, Game 3. With the series tied at a game apiece, Lee dominated the Yankees with 13 strikeouts and two hits allowed over eight innings. That game against Tampa was pretty good also. So was that World Series start last season ...
The only reason Lee doesn't rank higher is the lack of quantity. So far he's on a trek that no postseason pitcher can match: double-digit strikeouts in five of his eight starts; three complete games plus two eight-inning scoreless efforts; that absurd strikeout/walk ratio; just one home run allowed in 64 innings. Considering the Giants lineup doesn't exactly remind anyone of the 1927 Yankees, look for Lee to score some big points this World Series.

7. Sandy Koufax (165 points)
Postseason record:
8 G, 7 GS, 4-3, 0.95 ERA, 57 IP, 36 H, 11 BB, 61 SO
Signature game:
1965 World Series, Game 7. The story goes that Koufax and Don Drysdale both came to the park not knowing who manager Walter Alston would select as his starter. The ball was placed in Koufax's locker; he would start on two days' rest ... and pitch a three-hit, 2-0 shutout with 10 strikeouts.
That game is only tied for the best game score of Koufax's postseason career; his Game 5 start that year (9 IP, 4 H, 0 R, 1 BB, 10 SO) also scores an 88. And both rank higher than his 15-strikeout game from the 1963 opener against the Yankees (he gave up two runs in that game). He also beat the Yankees 2-1 in Game 4. No wonder Willie Stargell once said, "Trying to hit him was like trying to drink coffee with a fork."

6. Whitey Ford (165 points)
Postseason record:
22 GS, 10-8, 2.71 ERA, 146 IP, 132 H, 34 BB, 94 SO
Signature game:
1961 World Series, Game 1. Ford blanked the Reds on a two-hit shutout, his third straight World Series shutout going back to the previous year.
Mariano Rivera
What to do with Mariano Rivera? In his playoff career, he's pitched 94 games and is 8-1 with an 0.71 ERA. He's pitched enough innings -- 139.2 -- to rank in a tie for seventh for most career postseason innings. There is no disputing his brilliance. Since he became the Yankees' closer in 1997, the team has won 18 of 27 playoff series (a .667 winning percentage). They're 81-51 in all playoff games (a .614 winning percentage). Since Rivera is often out there for the final out (he has 42 saves), it's easy to presume the Yankees wouldn't have won all those games (and championships) without him.
Consider, however, that only nine of Rivera's 42 saves were one-run saves (not including runs he allowed, games that ended with the Yankees winning by one run), or 21 percent. How does that compare to the rest of baseball? Since 1997, not including Rivera, there have been 162 saves, including 48 one-run saves (30 percent), so generally speaking, other teams faced more difficult save situations (thank you, Yankee offense).
Rivera's save percentage is 42 of 47, or 89 percent. Non-Yankee teams since 1997 have 54 blown saves in the eighth inning or later (Rivera often enters in the eighth), so everyone else's save percentage is 75 percent (162 for 214). Going back to Rivera's 47 saves, that percentage extrapolates to 35 saves ... making Rivera about seven saves better than a typical playoff reliever/closer. HOWEVER ... keep in mind that Rivera has had larger leads and also that you don't lose every game you blow a save (in those 54 blown saves, the team that blew the lead still won 24 times). So the real advantage of Rivera has been more like three or four wins. (Throw in his 8-1 record and you get a couple more added wins).
Does five or six extra wins make him the greatest postseason pitcher ever? I say no. It's been a remarkable career, but I'd have trouble ranking him above the top five or six guys.
Perhaps the most amazing Whitey Ford factoid is the eight Game 1 World Series starts he made (he won four of those games). Two of his gems came in Game 6s (he never pitched a Game 7) to keep the Yankees alive. Ford was one of those pitchers who was able to elevate his game in the postseason. Despite pitching often against the powerful, right-handed hitting lineups of the Brooklyn Dodgers, he lowered his walk and home run rates while slightly increasing his strikeout rate. He did have a few duds where Casey Stengel yanked him early, but he got ground balls, he pitched deep into games, and he was the pitcher his teammates wanted to see out there in a must-win game.

5. Christy Mathewson (166 points)
Postseason record:
11 GS, 5-5, 0.97 ERA, 101.2 IP, 75 H, 10 BB, 48 SO
Signature game:
Game 5, 1905 World Series. He pitched a five-hit shutout to beat the A's -- his third shutout of the series.
Mathewson spent the rest of his career trying to win another World Series -- and failing. The Giants made it back in 1911, 1912 and 1913, only to fall short each time. No year was more heartbreaking than 1912 against the Red Sox: Game 2 ended in an 11-inning 6-6 tie with all runs off Mathewson unearned as the Giants committed five errors; he lost Game 5, 2-1; and in the winner-take-all Game 8, the Giants took a 2-1 lead in the top of the 10th, only to see the Red Sox score two unearned runs, a rally that began with a dropped fly ball. Mathewson may be a little overrated here: Eleven of the 22 runs he allowed were unearned. Yes, he did pitch in bad luck -- but he was also unable to escape it in the most crucial of moments.

4. John Smoltz (170 points)
Postseason record:
41 G, 27 GS, 15-4, 2.67 ERA, 209 IP, 172 H, 67 BB, 199 SO
Signature game:
1991 NLCS, Game 7. The Braves' dynasty began with Smoltz pitching a six-hit, eight-strikeout shutout against the Pirates to send Atlanta to its first World Series of the decade.
How locked in would Smoltz get in October? With a little more luck, it's possible he could have avoided getting tagged with the loss in any of his 27 postseason starts. Check out the four games he did lose: 1-0 to Andy Pettitte in the 1996 World Series (run was unearned, struck out 10); 4-1 to Roger Clemens in the 1999 World Series (allowed three runs, struck out 11); 2-1 to the Phillies in the 1993 NLCS (both runs were unearned); 5-2 to the Marlins in the 1997 NLCS (the only legitimate loss). In only two of his 27 starts did he allow five runs. Only once did he pitch fewer than 5 2/3 innings (2 1/3 innings, four runs in the 1995 World Series; really the only garbage start of his career). He had six starts where he allowed two runs or fewer and didn't get a decision, including Game 7 of the 1991 World Series, when he matched zeroes with Jack Morris.

3. George Earnshaw (171 points)
Postseason record:
8 GS, 4-3, 1.58 ERA, 62.2 IP, 39 H, 17 BB, 56 SO
Signature game:
1931 World Series, Game 4. Evened the series against the Cardinals with a two-hit, one-walk, eight-strikeout beauty.
George who? Unless you're a student of baseball history, the name is likely to escape you, but Earnshaw, who possessed one of the best fastballs of his time, outperformed Hall of Fame teammate Lefty Grove as the A's made three straight World Series appearances from 1929-31. Earnshaw's 1930 performance ranks as one of the best in World Series history: He won Game 2, 6-1, with a six-hit complete game; he pitched seven shutout innings in Game 5 (the A's would win 2-0); two days later, Connie Mack started him again in Game 6 -- and he clinched with 7-1 complete game. That's three games in seven days, with two runs and 13 hits allowed in 25 innings. No wonder they called him Moose.

2. Curt Schilling (175 points)
Postseason record:
19 GS, 11-2, 2.23 ERA, 133.1 IP, 104 H, 25 BB, 120 SO
Signature game:
2004 ALCS, Game 6. The Bloody Sock Game. (Not his best by game score -- that would be his 1-0 victory over Matt Morris in the first game of the 2001 NLDS -- but sometimes we need to throw the statistics out with the stirrups.)
Vote For The Best
Who do you think is the best postseason pitcher of all time? Rank your best here.
Curt Schilling made 19 postseason starts and allowed two runs or fewer in 15 of them. He loved the limelight, loved the October pressure and desired a prominent place in baseball history. While the four great pitchers of the past two decades -- Roger Clemens, Greg Maddux, Randy Johnson and Pedro Martinez -- all failed to match their regular-season dominance in the playoffs, Schilling thrived, throwing dart after dart after dart on the black, challenging hitters and never wavering in his confidence to get the next out. And he usually did.

1. Bob Gibson (188 points)
Postseason record:
9 GS, 7-2, 1.89 ERA, 81 IP, 55 H, 17 BB, 92 SO
Signature game:
1968 World Series, Game 1. Seventeen strikeouts against the Tigers -- still the all-time postseason record.
I'm looking at photos of Gibson pitching as I type this, beautiful color pictures of the hard-throwing right-hander in action, his delivery looking as powerful as his fastball, concluding with a violent, almost flailing follow-through that leaves him falling off the mound towards the first-base line. Roger Angell wrote: "Everything about him looked mean and loose -- arms, elbows, shoulders, even his legs -- as with a quick little shrug, he launched into his delivery." Bill James once wrote that if Gibson came up today, coaches would try to fix his motion, clean it up and smooth it out. Gibson pitched in three World Series with the Cardinals; all three went seven games and all three years he started three times (he remains the only pitcher to start three Game 7s in the World Series). Gibson wasn't perfect -- he did lose twice, after all, including the finale in 1968 to Mickey Lolich, a game that was 0-0 entering the seventh. There have been 51 games in the World Series in which a pitcher struck out at least 10 hitters; Gibson has five of them by himself. He won Game 7 in 1964 on two days' rest -- following a Game 5 in which he pitched 10 innings and struck out 13.
Yes, when compared to Schilling, Gibson pitched in more of a pitcher's era. Yes, Schilling had more starts.
But do want to tell Bob Gibson he wasn't the best playoff pitcher ever?
David Schoenfield is a senior editor for ESPN.com. Statistics quoted in the article are from the invaluable Baseball-Reference.com site.