ESPN.com illustration
The American League was dying.
In the midst of the greatest sports year ever, the Junior Circuit was careening down a path of irrelevancy that would put it on par with the tiddlywinks world championships, the International Armwrestling Federation and, worst of all, American soccer.
1972 HIGHLIGHTS
Greatest team ever? Nebraska finishes 13-0 after crushing No. 2 Alabama 38-6 in Orange Bowl. … A.J. Foyt wins Daytona 500. … Greatest team ever? Lakers win NBA-record 33 consecutive games and, after seven Finals losses in a row, finally capture NBA title. … Greatest team ever? UCLA finishes 30-0, wins sixth straight championship. … Julius Erving averages 27.3 points in rookie season with ABA Virginia Squires. … Jack Nicklaus wins Masters and U.S. Open, finishes second at British Open. … Bobby Orr, at his dominating peak, leads Bruins over Rangers in Stanley Cup finals. … Billie Jean King wins French, Wimbledon and U.S. Open. … Olympics marred by Munich massacre. … Greatest Olympic feat ever? Mark Spitz wins seven gold medals, all in world-record times. … Soviet Union defeats U.S. in controversial basketball gold-medal game. … Frank Shorter wins marathon. … Match of the Century: Bobby Fischer upsets Boris Spassky at the World Chess Championship. … Most famous goal in hockey history: Paul Henderson's goal with 34 seconds left gives Canada a come-from-behind 6-5 victory in Game 8 of the Summit Series against the Soviets (and a 4-3-1 series win). … Steve Carlton wins 27 games for Phillies; rest of team wins just 32. … A's beat Reds in seven games in World Series, six games decided by one run. … Greatest team ever? USC goes 11-0, including a 45-23 thrashing of 8-1 Notre Dame in which Anthony Davis scores six TDs. … Greatest team ever? Dolphins go 14-0 in regular season (plus two playoff games). … Cowboys score 17 points in fourth quarter to defeat 49ers 30-28 in playoff game. … The Immaculate Reception: Steelers 13, Raiders 7. … Year ends in tragedy when Roberto Clemente dies in plane crash.
Before we explain this, let's remember that no year has seen the combination of greatness, achievement and tragedy like 1972:
• Five teams from that year could put in a legitimate claim as "greatest ever" in their sports. The '71 Nebraska Cornhuskers completed their perfect season on New Year's Day 1972 with a 38-6 thrashing of undefeated Alabama in the Orange Bowl; the UCLA Bruins, led by Bill Walton, finished 30-0; Wilt Chamberlain, Jerry West and Gail Goodrich of the L.A. Lakers reeled off 33 wins in a row and won the NBA title; the USC Trojans were an unstoppable force, outscoring opponents 425-117 in going 11-0; and the Miami Dolphins went 14-0 on their road to perfection.
• Individual achievements included Mark Spitz's famous seven gold medals, Steve Carlton's winning 27 games for a last-place team, Bobby Fischer's becoming the first American to win the World Chess Championship and Bobby Orr's dominating the NHL as a high-scoring defenseman.
• Tragedy struck the Olympics with the Munich massacre; it struck again on New Year's Eve when Roberto Clemente died in a plane crash while delivering relief supplies to earthquake victims in Nicaragua. Jackie Robinson died at just 53 years old, a victim of diabetes and heart disease. Earlier in the year, his Brooklyn Dodgers teammate Gil Hodges, manager of the Mets, died of a heart attack during an off day in spring training. He was just 48.
In a sense, there was a definite feeling that football was the new king; the advent of the Super Bowl a few years prior and the debut of "Monday Night Football" in 1970 had pushed the NFL's popularity to new heights. College football was as popular as ever. The NBA and college hoops were continuing to grow into major sports.
But baseball … baseball was struggling. Especially the American League.
Only three of the 12 AL teams drew more than a million fans (compared to nine of 12 teams in the National League); five AL teams averaged less than 10,000 per game. The Mets drew 2.1 million fans; the Yankees, playing in a crumbling Yankee Stadium, drew 966,000. The Senators moved to Texas and averaged just 8,600 fans per game.
A culprit for the attendance problems was that offense had plummeted to 3.47 runs per game, compared with 3.91 in the NL. Wilbur Wood, a chunky knuckleball pitcher, started 49 games for the White Sox and pitched 376 2/3 innings. Cleveland's Gaylord Perry completed 29 games and threw 344 innings with a 1.92 ERA. Six other starters had ERAs below 2.30. Nolan Ryan threw nine shutouts. Only two players hit more than 26 home runs. Boog Powell drove in 81 runs -- and finished fifth in the league. Only four hitters slugged better than .500.
How bad was the American League? Tigers shortstop Ed Brinkman finished ninth in the MVP voting -- after hitting .203 with six home runs and 49 RBIs (he was known for his defense).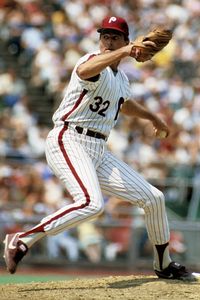 Edwin Mahan/WireImage/Getty Images
Steve Carlton was a National League star who had an incredible season in 1972.
Meanwhile, the National League was sexier, more glamorous. The game's biggest names and stars -- Johnny Bench, Pete Rose, Tom Seaver, Carlton, Bob Gibson, Willie Stargell, Joe Morgan, Clemente, Hank Aaron -- were almost all National Leaguers. Pittsburgh, Philadelphia and Cincinnati were playing in shiny, modern all-purpose stadiums. (Hey, they were new and cool in '72.) The NL won the All-Star Game nearly every year. Even though the A's would go on to win the first of three straight World Series, the AL had a bit of an inferiority complex.
And so it was that when the A's played the Tigers in the final game of the '72 ALCS, Blue Moon Odom and Woodie Fryman were the last two AL pitchers written into the batting order in an American League game. Owners would vote to institute the designated hitter for 1973.
And sports' biggest debate of the past 40 years was born.
The American League never turned back. Attendance increased by nearly 2 million fans in 1973. Scoring increased to 4.28 runs per game. A new Yankee Stadium eventually would be built. New stars would emerge.
In the greatest sports year ever -- the year of Spitz and Carlton, the Lakers and the Dolphins, the Bruins and the Trojans -- the biggest story may have been the American League's figuring out a way to stave off death.
Long live the designated hitter.
Page 2's Most Memorable Sports Years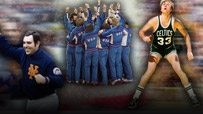 With 2008 already full of amazing moments, Page 2 is looking back at the greatest years in sports history.
THE YEARS
•
Jonah Keri on 1961: The year of the dynasty
•
Jim Caple on 1968: A year of unrest
•
Jim Baker on 1969: New York, New York
•
David Schoenfield on 1972: AL in trouble
•
Eric Neel on 1978: Greatest duel ever
•
Mary Buckheit on 1980: A miracle
•
Mike Philbrick on 1984: Bridging the gap
•
Paul Lukas on 1986: Three great weeks
•
DJ Gallo on 1994: The good old days
•
Scoop Jackson on 1998: Still resonates
•
Kieran Darcy on 2001: Darkness, and light
•
Patrick Hruby on 2004: End of exuberance
VOTE
•
PollCenter: Best year ever -- '80, '86, '98, '01 or '08?
ESPN Top Headlines