By Kevin Jackson and Skip Bayless
ESPN.com
Editor's Note: The Seattle Seahawks will play in their first Super Bowl on Sunday. This fact thrills ESPN.com executive editor Kevin Jackson, a lifelong Seattle fan, and irks Page 2 columnist Skip Bayless, who feels Seattle is one of the biggest frauds to ever reach the Super stage. We asked them to sort out their differences here.
Kevin Jackson: Just a little respect, please!
As Shaun Alexander walked into the end zone to give the Seahawks a 34-7 lead with six minutes left in the NFC Championship Game, the drunk guy behind me in Sect. 137 at Qwest Field screamed out, "Take that, Skip Bayless." At that moment, three things occurred to me: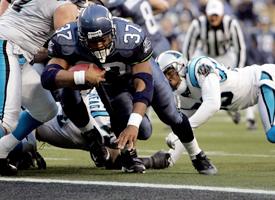 Jonathan Ferrey/Getty Images
As Shaun Alexander put Seattle in the Super Bowl, Seahawk fans turned their focus to ... Skip Bayless?
(1) Seattleites are a sensitive lot. I mean, as their team is clinching the franchise's first Super Bowl berth in dominating fashion, they're still concerned with what someone wrote on Page 2. (As a longtime Northwesterner before relocating to Bristol, Conn., I'm allowed to point out such things.)
(2) Skip would have been in serious danger if he'd ventured west of Missoula, Mont., last weekend. I received 21 e-mails threatening his well-being on Friday alone, including one with fairly detailed instructions on what I should do to him -- on behalf of all Seahawks fans -- in an alley near Pike Place Market. (3) It was mandatory that I engage Bayless in an online debate before Super Bowl XL, so I could (A) get him to finally admit that the Seahawks are a worthy Super Bowl team … or (B) make sure that he had accurate directions to Pike Place Market. So, with that purpose in mind, Skip, here we are. You've seen the Seahawks throttle your flavor-of-the-month Panthers by 20 points … in a game Seattle probably could have won by 30 or 40. You've seen Seattle win 13 of its last 14 games, losing only when it chose to rest its star players in the meaningless season finale. And you should probably read KC Joyner's Insider piece this Friday, which will say that the numbers indicate the Seahawks are a better team than the Steelers. If the name across the jerseys said "Giants" or "Bears" or "Redskins," you'd be all over this Seahawks team. Instead, you see the bird on the side of the helmet and assume a CFL team has crashed the NFL's big party. Well, Skip, are you finally ready to admit that you were wrong about Seattle? Can you confirm that East Coast bias
does
really exist? And did you know that the state of Washington is actually attached to the other 47 contiguous states, and not on an island, as I'm sure you and many of our ESPN colleagues believe? You can start typing your mea culpa right here …
Skip Bayless: Seattle is Philly with mountains!
Kevin, I take everything back I've said about your beloved hometown. I've always considered Seattle a scenic and peaceful city. Now I realize it's nothing but Philadelphia with mountains.
AP
Perhaps Seahawks fans should send a thank-you card to Jay Feely.
I, too, have received many e-mails saying I should be gutted like the fish at Pike Place Market. Sadly, it has come clear to me that the Seahawks fans I've long admired basically have the brains of salmon. Rocky Balboa is alive and well and screaming for the Hawks at Qwest.
I don't include you in that group, Kevin. But it's still early in Super Bowl week. For now, I forgive you for losing all perspective after your beloved Seahawks won (fittingly) a trip to Detroit. Obviously, my "flavor-of-the-month" Panthers -- the team I picked to go to the Super Bowl in August -- would have beaten your Seahawks if (A) DeShaun Foster and Julius Peppers had been healthy and (B) the game had been played on a neutral field. But yes, by default, your Seahawks backed into home-field advantage because so many NFC teams fell apart while Seattle was playing -- statistically -- the NFL's easiest schedule. Fair is fair, and all those psycho screamers who want to do bodily harm to me gave your Seahawks the NFL's loudest home edge. You should be proud of them, Kevin. You should also be proud of your beloved franchise for ripping off Texas A&M's sacred 12th Man tradition, which the Aggies began in the 1920s. Texas A&M trademarked the name and probably would sue if it could prove your beloved franchise was marketing 12th Man merchandise. Counterfeit team, counterfeit tradition. Savor it, Kevin. Your team has turned this Super Bowl week into the most lifeless one I can remember. I keep hearing from other reporters here that the problem is "the Seahawks factor." This isn't East Coast bias. It's the everywhere-but-Seattle truth. Do I ever miss the Giants, Bears and Redskins. Biggest Seahawks news so far: A van carrying several of their "stars" had a wreck in the parking garage. You can dress 'em up, but you can't take 'em out of Seattle.
Kevin Jackson: Learn a little, Skip
All right, Skip. I'm actually starting to empathize with Woody Paige here -- something I never thought was possible. Let me make sure I have your arguments straight. The fact that the Seahawks beat the Panthers by 20 points in the NFC championship … is all due to home field and Carolina's injuries.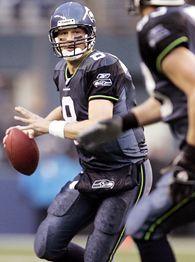 AP Photo/Elaine Thompson
Matt Hasselbeck piloted the NFL's highest-scoring offense.
The fact that Seattle has lost only one game since Oct. 2 … is because its schedule was slightly easier (.430) than say Carolina (.449), Indy (.457) or Chicago (.457).
The fact that the media would be more excited about seeing the Giants, Bears or Skins in the Super Bowl … is because … well, I'm not sure I even understand your point there. (If you'd rather see the Washington or Chicago offenses play Super Sunday, and you feel Eli Manning is ready for the big stage … then I really want to know how you spend your Sundays in the fall. Shopping at Home Depot perhaps?) I'm not going to throw a bunch of stats at you to explain why Seattle is a legit Super Bowl team. I'm just going to say this: Journalists are lazy. Most of them here in Detroit don't know anything about the Seahawks. The players aren't household names and their games aren't carried much on the East Coast, so they'd rather not be forced to learn anything during Super Bowl week or cover anything new. (Hell, people were debriefing
me
at media day to find out something about the Seahawks.) Give them Brady vs. Favre and a late-afternoon tee time (except for these damn cold-weather Super Bowls), and they're a happy bunch. But go back and look at what people were writing about Tom Brady before Super Bowl XXXVI: "Lucky to be there because of the Tuck Rule … Perhaps Drew Bledsoe should be starting instead … Worst AFC representative in a while … About to get blown out by the defending champion Rams." Go back and read what the national media thought of Green Bay in the early 1990s. Makes Seattle look like the middle of Times Square. Go back to the last Super Bowl played in Michigan, and you'll find people were bemoaning the lack of star power for the 49ers and Bengals. That game affirmed the greatness of a kid named Joe Montana … but nobody knew him as Joe Cool in January 1982. They only knew he'd thrown three INTs in the NFC title game before Dwight Clark made "The Catch." It's all gotta start some time, Skip, and this could be Seattle's time. After all, if the Hawks win Sunday, you'll be complaining in 2009 about how Super Bowl XLIII lacks marquee names like Alexander, Hasselbeck and Tatupu.
Skip Bayless: Pass the Lofa
Who's Tatupu? That's a joke, Kevin. So is this incessant theme I keep hearing from you and your Sea-who's -- that the media outside Seattle knows nothing about this team because nobody ever watches its games and it's stuck way up there in the remote wilderness of South Alaska. I even heard your quarterback -- what's his name, Hasleback? -- answer a question about what the media needs to know about the Seahawks with: "To start with, our names."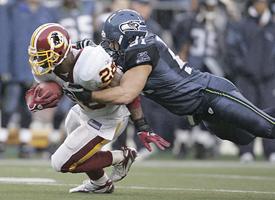 Greg Trott/WireImage.com
We run this photo so Skip will be able to recognize Lofa Tatupu if he bumps into him.
Hey, if it takes playing this flimsy Rodney Dangerfield card for your guys to get pumped up to play in the Super Bowl, be my guest. But I'm insulted by it.
My problem is that I know
too
much about your team -- and I live in New York. I actually watched every play of the Falcons-at-South-Alaska game, when your Seahawks were lucky Michael Vick got banged up in the fourth quarter. I watched every play of the Cowboys-at-South-Alaska game, when Drew "What Are You Thinking?" Bledsoe threw the dumbest late interception I've ever witnessed, allowing your kicker -- Josh Green? -- to win the game with a 50-yarder through the rain at the gun. I watched the end of your game against the vaunted 49ers in San Francisco, when your guys nearly suffered a classic Seahawks collapse. And I watched every play of the Giants-at-South-Alaska game that New York kicker Jay Feely blew three times. I know all about Hasselbeck's history, and I keep waiting for him to turn back into Jake Plummer. He was trying to in the playoff game against the Redskins, when he heaved three passes with his eyes closed that should have resulted in game-changing interceptions. But I'll give you this: Hasselbeck played sensationally against Carolina. He set the ear-splitting tone with his arm. Which brings me to your MVP -- what's his name, Alexander Shaun? For five years, various NFL coaches and players have told me they don't consider your MVP mentally tough. They've wondered if he can get the key yards against physical defenses. Against the knock-your-block-off Redskins, it sure looked as if he wanted no part of returning to the game after receiving that little tap on the head. He piled up most of those 132 yards against Carolina after Hasselbeck had done the early damage. Yes, your MVP can front-run. But can he pound the Steelers into first-quarter submission? Don't blame
my
ignorance for my opinion of your team, Kevin. Credit my knowledge.
Kevin Jackson: I don't get the Skip Bayless Network
Wow Skip, you apparently have some weird new TV network that shows only the Seahawks' losses and close calls. Let me guess: You turned on the Atlanta game only after Seattle had taken a 21-0 halftime lead. You missed the "other" San Francisco game, the one Seattle won 41-3. And you don't have replays on the Anti-Seahawk Network, so you don't know that neither of the Giants' second-half TDs should have actually counted. But this network apparently can see into the future, so you know
for certain
that Dallas would've won in OT without that awful Bledsoe pick.
Kevin's pick
20-17
Bottom line: In the NFL, a 13-3 team that outscores its opponents by 181 points is a good team. A worthy Super Bowl team. Those numbers can't be explained away by scheduling or some wacky home-field advantage gained by playing in an Anchorage suburb. And why we're talking numbers: Go back and look at the last six Super Bowl winners and find the one statistic that they all have most in common. I'll save you the time: It's red-zone defense. All six ranked in the NFL's top four. Seattle was No. 2 in the NFL in red-zone defense. Pittsburgh was No. 10. Advantage: South Alaska! Seahawks 20, Steelers 17
Skip Bayless: No defense for your argument
At least you didn't pick your Seahawks 81-3. At least you've preserved a Seattle raindrop's worth of perspective and you're saying -- or praying -- your No. 1 seed will barely beat the AFC's bottom seed. So in closing, I will return your respect. I really want to like your guys. From your coach to your quarterback, your team has a strong spiritual core. I just don't think your team is Super Bowl worthy. Especially your defense. You can give me all that red-zone hocus pocus you want, but your line is undersized and extremely average. Yes, I know it led the NFL in sacks, but obviously that was a product of inferior competition. Your sack leaders, Bryce Fisher and Rocky Bernard, could just as easily be sacking groceries. Without a rush, your corners are torchable.
Skip's pick
24-14
Yes, Tatupu is emerging as a player, but this is the Super Bowl and he's a rookie. I repeat, Kevin, THE SUPER BOWL. Just before kickoff, Hasselbeck will think: "Toto, I've a feeling we're not in Seattle anymore." Your fairy-tale Sea-frauds will wake up and realize that they no longer have all you Qwest fans screaming so loudly that you create a magic carpet of noise and emotion beneath them. It will soon hit your guys like a ton of Pittsburgh bricks that they're up against a much more physical football team. But you get one last break: These aren't the 1979 Steelers. They're the bottom seed. And they'll still beat you. Steelers 24, Seahawks 14.
Skip Bayless can be seen Monday through Friday on "Cold Pizza," ESPN2's morning show, and at 4 p.m. ET on ESPN's "1st & 10." His column appears twice a week on Page 2. You can e-mail Skip here.
Kevin Jackson is an Executive Editor for ESPN.com and one of the founding editors for Page 2. E-mail him at kevin.jackson@espn3.com. Sound off to Page 2 here.