With their Harry Potter spectacles, floppy black mops of hair and bookish personas, they look exactly like a younger version of me. The similarities are eerie.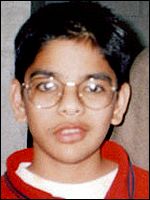 Amar Shah Photo
The author, at 14, was unable to achieve spelling greatness.
Nitish Lakhanpal, Sameer Mishra, Nilesh K. Raval, Arjun R. Modi, Krunal Shaval, Aravind Arun, Saptarshi Chaudhuri, Midhat Patel and Nikhil B. Koganti are probably my adolescent doppelgangers, except they can spell "tintinnabulary," and I can merely look it up in a dictionary. The nine who resemble me joined 264 other participants in the 78th annual Scripps Howard Spelling Bee in Washington on Wednesday and Thursday. But the group is also part of a niche demographic that has dominated the event over the past seven years. Indian-Americans are the New England Patriots of spelling bees, having won five of the last seven competitions, including newly crowned 2005 champion Anurag Kashyap of San Diego.
Although representing less than 1 percent of the U.S. population, Indian-Americans made up around 15 percent of last year's participants. This year's spelling bee continued the trend, as 31 competitors of Indian origin (according to rediff.com, an Indian news portal) vied for the coveted title of the nation's best speller. Seven of the 17 contestants from Texas were Indian-American, and Puerto Rico's lone representative was none other than Arun.
Around the globe, the Indian spelling acumen is spreading. Across the pond, Gayathri Kumar, 13, beat out 100,000 competitors to win the BBC's Hard Spell competition, England's version of the spelling bee. Indeed, it's a global affair. As a kid, I learned all the stereotypes about my culture. We were the studious, intellectual sorts, who excelled in math and science. (A lot of good that did me. My mathematical exploits ended after I failed pre-calculus three times.) We owned convenience stores and motels, and populated medical schools with future Dr. Patels. Some truth exists in the last generalization. My dad earned a living as the Godfather of Gas, the hospitality industry is run by an Indian motel cartel, and the lady who delivered me was named Dr. Patel.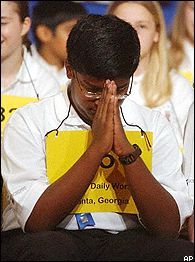 AP Photo/Linda Spillers
Biplab Panda is a study in concentration during the 2004 bee.
Now a slice of original Americana, the spelling bee, is our domain of excellence, but I wonder why? I participated in my first and last spelling bee in second grade, when my teacher, Sister Noreen, asked me to spell "knowledge." I stammered and missed the word on the first letter. I started my attempt with an "n," and my future as a spelling master ended. I retired … at age 7. Later, I learned the value of the silent "K," but my ambition to be a splendid speller gradually dissipated with my youthful dreams of a Knicks championship and a fantasy Natalie Portman wedding. The best way for me to rest my alphabetical demons and to understand the cultural quirk of Indians in the spelling bee was to track down an individual who had experienced the grueling, crazy world of bee season and conquered it. Nupur Lala won the 1999 national spelling bee when she correctly spelled "logorrhea." She is, also, the quietly driven starlet of "Spellbound," the delightful Oscar-nominated documentary that pushed the bizarre, whimsical world of spellers into the mainstream of pop culture.
She was in class the day I called her home in Arkansas, just a few days before the 2005 spelling bee would begin. Her dad answered and took a message. Nupur called me back in 15 minutes. I sent her a small list of questions by e-mail, and the next morning I received a college thesis in my in-box. Although she claims to use only 5 percent of the words she studied, I know she's being modest. Anyone who uses words like "inculcate" and "serendipitously" in everyday life, automatically draws envy.
Page 2 Bee Fantasy League Results: S-H-A-N-O-F-F!
Using the top overall draft pick Samir Patel (Bee runner-up) as a springboard, Dan Shanoff blew away the Page 2 field to win the first Page 2 Spelling Bee Fantasy League.



Shanoff drafted THREE of the top five finishers (Patel, 4th place Marshall Winchester and 5th place Rajiv Tarigopula), and picked up 43rd place finisher Heather van Stolk for good measure.



"No one was more disappointed than I was when he missed 'roscian'. S-C, not double-S, Samir!" Shanoff said. "But he's only 11 -- that's TWO years of eligibility remaining! Wait: This IS a keeper league, right?"



Kurt Snibbe finished in second, with 10th place finisher (and fourth-round draft pick) Saryn Hooks and 22nd place finisher (and fifth-round draft pick) Yiping Wang.



Darren Rovell (14th, 24th, 48th), Michael Knisley (26th, 36th) and John Marvel (31st, 34th) rounded out the Top 5.



Kieran Darcy, Eric Neel, Kevin Jackson and Jeff Merron all failed to place a single draft pick in the second-day pool of 71 finalists.
The first question I posed was why are there so many Indian-American contestants in the spelling bee.
"The tradition of education in Indian households is a very strong one, and children are encouraged to test their academic boundaries and to strive to fulfill their potential from when they are very young," Nupur wrote back. "A distinct advantage ceded to Indian children is that the first wave of Indian immigrants who came to this country went to schools where the primary language of instruction was English. Most Indian spellers are children of these parents, and it helps to have a coach at home who can read words to you at any time." Parental help is one thing. Parental pressure is another. Neil Kadakia, the other Indian kid portrayed in "Spellbound," had a father whom A.O. Scott from the New York Times described as the "closest thing in the movie to a classic stage parent, pushing his son through a regimen of tutors, drills and meditation." Neil spelled 7,000 to 8,000 words a day as his father drilled him like some Vince Lombardi drunk on the dictionary. Neil also had the burden of a relative who paid 1,000 people in India to chant his name. Also, his dad pledged to provide 5,000 hungry people a free meal if Neil won. He didn't. Last year, Akshay Baddiga collapsed while spelling "alopecoid." He got up and recovered to spell the word correctly. His brother Pratyush won the competition in 2002, and Akshay finished as runner-up in 2004. Talk about pressure.
I asked Nupur's mom, Meena, about the way she handled Nupur's spelling career. "Most parents were not as pushy as the Kadakias – maybe one or two," Meena said in a phone interview. "Most were happy for just getting to the nationals." Nupur said her parents encouraged her to read by filling the house with books. "My parents were always supportive of my spelling bee endeavors," Nupur wrote. "My parents did always remind me though that my schoolwork was first priority and then spelling bees. I clearly recall being close to tears after missing 80 percent of a word list, and my mother reminding me, 'Nupur, there's more to life than spelling bees. Don't sweat it so much.' My dad didn't even want me to compete again, thinking that I should perhaps try something new or that the pressure was too much." Nupur says athletics are not given a high priority in Indian culture, making it unlikely Indian parents would teach their children the mid-range jumper or how to hit a curveball. They hit the books, not the weights.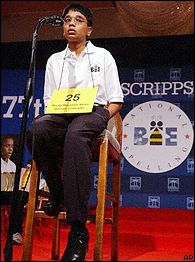 AP Photo/Linda Spillers
Akshay Buddiga collapsed during the 2004 bee, then took a seat to continue the competition.
"Indian parents see this as a prime opportunity for their children to learn the benefits of competition in an arena where it's not necessarily the fastest or biggest kid who will be the winner and where nothing but sheer hard work will bring you success," Nupur said. Three-time Spelling Bee participant and this year's runner-up, 11-year-old Samir Patel feels the same way. "I used to want to play football," said the 4-foot-8 Patel in a Knight-Ridder interview. "But look at me. I am way too short to play in the pros." It has been 20 years since the first Indian-American, Balu Natarajan, won the national spelling bee. Natarajan is now the team physician for the Chicago Fire of the MLS. Nupur Lala is an incoming junior at the University of Michigan. At 20, she doesn't know what path she wants to take. She's torn between economics and microbiology. But she left me with this bit of wisdom: "When one delves into the English language, there are so many repeating patterns and a few derivations that underlie so many of the same words. Many spellers have inculcated in them a strong love of reading and language, and this is a trait that crosses all boundaries of ethnicity and nationality at the National Bee." Nupur and her mom planned to watch this year's competition. And after Marshall Winchester went down on the word "sarang" in the 11th round, the National Spelling Bee became an all-Indian Final Four, featuring Rajiv Tarigopula, Aliya Deri, Anurag Kashyap, who also wore glasses, and Samir Patel. The four contestants spelled again and again until the 14th round when Rajiv stumbled on "odyllic." And then there were three, the first time ever that three contestants went past the 15th round. The next rounds were a battle of word supremacy, and Samir Patel enjoyed the revelry of competition. He brimmed with confidence and seemed to play with the judges when they asked him to spell "onychophagy.' He knew the meaning before they did, asking the judges with almost a coy wink. The word meant the habit of nailbiting. In the 18th round Aliya Deri, who loved Indian dance, misspelled "trouvaille." The crowd applauded her efforts with a standing ovation. The exuberant Samir was given the word "Roscian," and in stunning upset missed it when he used an extra "s" instead of "c." It was Anurag's turn, and the bespectacled, braced word wonder from San Diego, spelled 'appoggiatura', which meant a tone to support an essential note of a melody. It was the harmonious word of victory.
Amar Shah works as a production assistant for ESPN's SportsCenter.