Commentary
Least important 2011 NBA free agents
Originally Published:
March 17, 2011
By
Bethlehem Shoals
| Special to Page 2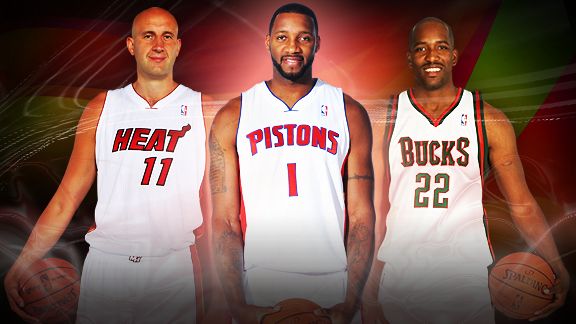 ESPN.com Illustration
Each July, dozens of contracts expire in the NBA. A handful of those free agents can alter the course of a franchise. If you were alive last summer, your eyes and mind were singed by the End of Days-like anticipation surrounding LeBron James, Dwyane Wade, Chris Bosh and the rest. Less conspicuously, others can provide valuable missing pieces to contenders. Matt Barnes and Chuck Hayes, you are the little guys who make this league go round. Then, there are the rest: no-brainers, cannon fodder, lost causes and, most importantly, athletes wondering where their next paycheck is coming from. In the name of these scoundrels, wastrels and casualties of the business, Page 2 presents The Least Important Free Agents of 2011.
• Click here to see ESPN.com's list of 2011-12 NBA free agents
• Click here to see Chad Ford's list of the top 30 free agents

Marcus Banks, New Orleans Hornets

John Cheever's short story "Torch Song" tells of a sickly, but nice lady whose friends have a peculiar way of dying when she's been around them too long. It's not her fault; she's just like those cats in old folks homes who gravitate toward the rooms of patients about to pass away. Marcus Banks, thou art similarly bad news. Signed by the Phoenix Suns in 2006, and paid a handsome sum to back up Steve Nash, he instead failed miserably and helped hasten that franchise's great decline. These days, he's warming the bench in New Orleans, seemingly sucking the lifeforce out of Chris Paul just by being around. Nobody picks Dracula for the company softball game, so expect Banks to be launched into outer space as a condition of the new collective bargaining agreement.
Daequan Cook, Oklahoma City Thunder

Especially after Wednesday night's win over the Miami Heat, no team's rise is as eagerly anticipated as that of the young, fresh, and oh-so-chummy Oklahoma City Thunder. With all due respect to Cook, who once won the 3-point contest (which could be considered more of a career-killer than a badge of honor), he might be left by the side of the road. Russell Westbrook deserves an extension; Kendrick Perkins needs to be worked into the team. Serge Ibaka and James Harden are growing up fast. General manager Sam Presti must hoard more talent. We hope Cook knows that self-worth begins within, and no one can take that from him.
Tim Duncan, San Antonio Spurs

Tim Duncan is an amazing basketball player. He's neck and neck with Kobe Bryant in the ongoing, and amicable, race to see who will be the NBA's king of the early 21st century. Most athletes gracefully dissolve, at best; Duncan has managed decline like few before or since. The astronomical success of the 2010-11 Spurs only speaks to Duncan's continued relevance to his team, and this game. But guess what? Dude ain't going nowhere. He is beginning to look like the Alamo, for lard's sake.
T.J. Ford, Indiana Pacers

Ford hasn't had an easy career, but he hasn't had a tough road to hoe, either. There was that terrifying spinal cord injury that might well have cost the former Texas speedster his livelihood -- if not his life. Instead, he came back fresh as ever, to a league that had embraced the point guard like never before, jumper or no jumper. Yet somehow, as nearly every youngster with a "PG" next to his name now flourishes and takes advantage of officiating that protects and enables them like foxy NFL quarterbacks, Ford has been unable to capitalize on these shifts in the wind. It's almost as though he feels guilty over how easy the league should be now. Whatever, basketball isn't for neurotics.
Josh Howard, Washington Wizards

Josh Howard was once slated for stardom with the Dallas Mavericks. Now, no one knows his name. In between, he announced his disgust for America and endured a bunch of nagging injuries. Howard has arguably been blackballed and thus ironically landed in the nation's capital. The 2006-07 Josh Howard would have thrived on the break with John Wall. Today, he's equal parts John Garfield, Craig Hodges and Pizza Hut manager. The fates have not blown Howard's way, and a brighter future awaits him across the pond. They are all socialists over there.
Zydrunas Ilgauskas and Jamaal Magloire, Miami Heat


Two mighty veteran centers, giant lusty redwoods who have worn the All-Star Game jersey for their native Eastern Conference. Their flight to South Beach, while blameless in a way LeBron's never could be, still mapped out the Heat-bashing narrative: They get everything they want. They will destroy us all. Look at this depth at center, a position they struggled to account for. Guess what? Doesn't make a difference; neither dude plays, and it looks like karma is alive and well after all. For the little -- er, very tall and washed-up -- gents, at least. LeBron probably keeps the keys to fate itself in his man-purse.
Tracy McGrady, Detroit Pistons; Jason Williams, Memphis Grizzlies


In 2001, T-Mac was the league's newest it player, a dynamic, nearly surreal, scoring machine who some felt might soon be celebrated at the level of Kobe Bryant. Meantime, Williams was the starting point guard for the up-tempo, engaging, Sacramento Kings, who pushed the tempo and moved the ball with a ferocity not seen in years. "White Chocolate" was the Kings' most unpredictable and, in many ways, their most creative player. Now, McGrady is barely starting for the Pistons, and Williams' attempted comeback with the Grizzlies failed. It's time for these two faded phenoms to retire, putting themselves, and those of us who worshipped them, out of our misery.
Shaquille O'Neal, Boston Celtics

O'Neal, who has a player option for next season, can choose to become a free agent at season's end. Don't be surprised if, at some point, the clown prince of the NBA reveals he's trying to make a title run with every single team in the league. Where will he go next? It doesn't matter. He will hit them all eventually, turning late career aimlessness into the most purely motivated exercise of his basketball career.
Sasha Pavlovic, Boston Celtics

Making jokes about Sasha Pavlovic is idyllic, easy and joyous, like some folks assume swimming with dolphins must be. Sasha's now pushing 30, which for international perimeter guys means it's time for him to pasture. Lockout or no lockout, there's a good chance he returns to Europe, bringing his career full circle and allowing us to forget about him forever. Sasha, we have know thee all too well.
Vladimir Radmanovic, Golden State Warriors

Should stick around, actually, just so he can be randomly included in every transaction that takes place between now and 2014.
Michael Redd, Milwaukee Bucks; Peja Stojakovic, Dallas Mavericks


They are living proof that long-range shooters can, like anyone else, fall from grace when injury calls. With any luck this will result in a movie deal, and a chance to tell their cautionary tales to schoolchildren the world over.
Rodney Stuckey, Detroit Pistons

It figures that perhaps the least relevant team in the league would be represented multiple times on a list of free agents no one cares about. Stuckey was the sleeper of the 2007 draft, emerging as a prolific scorer, stud guard and quite possibly the Pistons' playmaker of the future. But like so many things about this franchise, Stuckey became a gamble that didn't quite pay off, and now one that the Pistons are stuck giving a damn about while no one else does. Stuckey is a restricted free agent, meaning someone else could make a run at him. But, sad as it is, he's the closest thing the Pistons have to a future. If only they could find a way to have him swap Social Security cards and contracts with Ben Gordon.
Brandan Wright, New Jersey Nets

Should probably be hidden away and expunged from the record, lest he ruin John Henson's NBA career by example.
Bethlehem Shoals is a founding member of FreeDarko.com, and a co-author of "The Undisputed Guide to Pro Basketball History." He has contributed to GQ, The Awl, The Nation and Slate.