By Bill Simmons
Page 2
Editor's Note: This article originally ran on May 9, 2001.
You're probably tired of reading those "Where did these guys come from?" stories about the Seattle Mariners, who valiantly clawed their way to baseball's best record earlier this season, despite losing Randy Johnson, Ken Griffey Jr. and Alex Rodriguez over the past three years.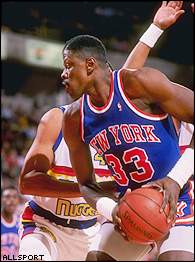 Despite Patrick Ewing's superstar numbers, the Knicks often fared better when their big man was injured or in foul trouble.
For most baseball fans, Seattle's spring surge was more inexplicable than Colby voting off Keith over Tina on "Survivor" last week. How can a franchise prosper after losing three of the biggest stars in baseball? How does this make sense?
I have a three-word explanation for you: "The Ewing Theory." It's bigger than the "SI Jinx." It makes the "Curse of the Bambino" look like child's play. It's creepier than the "Curse of the 'Spinal Tap' Drummers" and the "Curse on the Careers of Everyone Who Leaves 'NYPD Blue' " combined. Quite simply, it's the most life-altering sports phenomenon of this lifetime. Here's everything you need to know about the Ewing Theory, in the form of a Q & A:
What's the Ewing Theory? Where did it come from?
The theory was created in the mid-'90s by Dave Cirilli, a friend of mine who was convinced that
Patrick Ewing
's teams (both at Georgetown and with New York) inexplicably played better when Ewing was either injured or missing extended stretches because of foul trouble. Curious to see if this phenomenon applied to other stars/teams, Dave noticed people were pencilling in the '94-'95 UConn Huskies for a .500 season because "superstar"
Donyell Marshall
had departed for the NBA. Dave knew better; a lifelong UConn fan, he thought the Huskies relied too much on Marshall the previous season and could survive without him. Like Ali predicting the first Liston knockout, Dave told friends the Huskies would thrive in Marshall's absence -- and that's exactly what happened. By midseason, UConn was ranked No. 1 in the country for the first time in school history; the Ewing Theory had been hatched. Dave introduced me to the Ewing Theory three years ago, and we've been tinkering with it like Voltaire and Thoreau ever since. Eventually, we decided that two crucial elements needed to be in place for any situation to qualify for "Ewing" status:
A star athlete receives an inordinate amount of media attention and fan interest, and yet his teams never win anything substantial with him (other than maybe some early-round playoff series).
That same athlete leaves his team (either by injury, trade, graduation, free agency or retirement) -- and both the media and fans immediately write off the team for the following season.
When those elements collide, you have the Ewing Theory.
What's the best example of the Ewing Theory?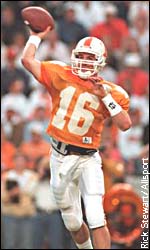 The Tennessee Volunteers won the national title the first season after Peyton Manning left Knoxville.
That's easy. During the '99 NBA Playoffs, Ewing tore an Achilles tendon during the second game of the Eastern finals against Indiana. With Ewing finished for the playoffs and nobody else on the Knicks who could handle Rik Smits, the series seemed like a foregone conclusion. As an added bonus, since Ewing himself was involved, that made this the ultimate test of the Ewing Theory; in fact, I e-mailed Dave that week to say, "This is the greatest test yet."
Dave's return e-mail oozed with confidence, as he told me in no uncertain terms, "Ewing's injury is the best thing that ever could have happened to the Knicks -- they're definitely making the Finals now." So what happened? The Knicks won three of the next four and advanced to the NBA Finals for only the second time in 26 years. Had Jeff Van Gundy's crew shocked the Spurs in the Finals without Ewing, Dave might have his own line of "How-To" videos out right now (a Knicks upset was simply too tall of a task against Duncan and Robinson, Ewing Theory or no Ewing Theory).
What are other examples of the Ewing Theory in action?
Some classics from the past three years, in no particular order:
1. Utah Utes, 1998:
Keith Van Horn
's ballyhooed college career ends without Utah ever making a Final Four. Nine months later, the Utes shock everyone by making the NCAA title game.
2. Tennessee Volunteers, 1998:
Even more ballyhooed than Van Horn during his college career,
Peyton Manning
leaves UT without either winning a national title or beating Florida -- and the Vols win the national title nine months later.
3. Seattle Mariners, 2000:
After allegedly "giving up on the season" by dealing their marquee player (Junior Griffey) eight months after dealing their marquee pitcher (the Big Unit), the Mariners cruise to an AL wild-card berth and shock the White Sox in the first round.
4. Boston Red Sox, 1999:
After
Mo Vaughn
signs with the Angels for $80 million, nobody believes that the Sox have enough hitting to finish above .500. Wrong. They roll off 94 victories, capture the wild-card berth and win their first playoff series in 13 years (beating Cleveland in five games).
5. Miami Dolphins, 2000:
Dan Marino retires and everyone prepares for a rebuilding year in Miami; the Fins end up advancing to the second round of the playoffs with
Jay Fiedler
.
Jay Fiedler
!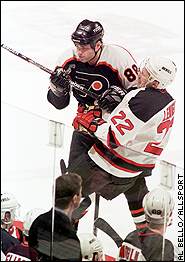 The Flyers proved the Ewing Theory in action last year when they thrived without Eric Lindros -- and then lost when he returned.
6. Philadelphia Flyers, 2000: After losing superstar Eric Lindros to a serious concussion in mid-March, the Flyers hold on for first place in the conference and defeat Buffalo and Pittsburgh in the playoffs. In the conference semis, the Flyers take a 3-1 lead when rumors swirl about a Lindros return. Stunned, the Flyers drop Game 5 at home, as Dave and I send frantic e-mails back and forth. Lindros finally returns in Game 6, and the Flyers squander that one, too; now people are blaming Lindros for killing Philly's momentum. In the climactic Game 7, the Flyers get expunged as Lindros gets knocked out with another concussion midway through the game. Season over.
7. Boston Red Sox & Seattle Mariners, 2001 (ongoing):
Written off after
Nomar Garciaparra
's wrist injury and
Alex Rodriguez
's departure, both teams cruise to the top of their respective divisions during the first five weeks of the season.
8. University of Kentucky, 1998:
One year after the departures of Rick Pitino,
Derek Anderson
and
Ron Mercer
, the Wildcats never miss a beat with new coach Tubby Smith and went on to beat Utah to win another NCAA title.
9. St. Louis Rams, 1999:
Starting QB
Trent Green
tears an ACL during the preseason. Given up for dead, the Rams rally behind former Arena League football star
Kurt Warner
and win the Super Bowl, which might be the most unbelievable thing that ever happened..
10. Detroit Lions, 1999:
Stunned by Barry Sanders' retirement in August, everyone gives up on the Lions for the '99 season. The Lions respond by sneaking into the NFC playoffs.
What are some famous examples from the last few decades?
In no particular order:
1. The LA Lakers, 1972:
NBA legend Elgin Baylor retires before the season without ever playing for a championship Lakers team. Of course, the '71-72 Lakers end up running off a record 33-game winning streak en route to their first-ever NBA title in L.A. Seriously, you couldn't make this stuff up.
2. Virginia Cavaliers, 1984:
Three-time Naismith Award winner Ralph Sampson graduates without ever leading Virginia to a national championship. Amazingly, the Cavs regroup the following season behind Othell Wilson and Rick Carlisle, going just as far as Sampson ever took them by sneaking into the Final Four. A Hall of Fame Ewing Theory example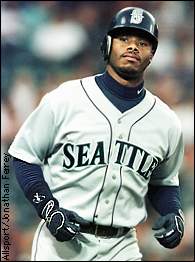 After dealing away Ken Griffey Jr. in the winter, the 2000 Mariners reached the ALCS.
3. N.Y. Yankees, 1996: Yankees icon Don Mattingly retires without ever playing in a World Series game. The Yanks replace him with Tino Martinez and immediately roll off four of the next five World Series titles, as Mattingly joins a weekly support group with Buck Showalter.
4. Cleveland Indians, 1997:
Superstar slugger
Albert Belle
signs with the White Sox as a free agent. Eschewed as a threat to win the World Series without Belle, the Indians respond by making it all the way to the seventh game of the '97 World Series.
5. World Wrestling Federation, 1997:
Then-WWF champ Bret "Hitman" Hart signs a contract with Ted Turner's WCW federation (No. 1 in the TV ratings battle at the time). Aided by publicity from a real-life, backstage fight between Hart and WWF owner Vince McMahon after Hart's final match, the WWF rebounds in the Post-Hart Era and regains its No. 1 status within a year. Ironically, Hart's departure is considered the crucial turning point, because it gave birth to McMahon's new "bad guy" status and paved the way for the WWF to promote fresh stars like "Stone Cold" Steve Austin and Shawn Michaels. Even in fake sports, the Ewing Theory is indomitable.
Currently, who are some possible Ewing Theory candidates?
All right, I'll bite. Remember, we're targeting stars on teams that haven't won anything, as well as teams that would probably be written off without the stars we're about to mention:
Drew Bledsoe: Every Patriots fan is nodding right now.
Michael Vick: Textbook case. Everybody's already writing off Virginia Tech for next season, despite the fact that they never won anything with Vick. They might post a 12-0 next season.
Chris Webber: Don't laugh. What happens if C-Webb leaves the Kings this summer, and they use the extra cap space to sign two second-tier free agents?
Vince Carter: Watch the Raptors in two years, after Vince joins MJ in DC (and you know it's happening).
Griffey: The baseball version of Ewing.
Kobe Bryant: After they split him up from Shaq and he gets his own team.
Pete Sampras: This one makes sense, if you think about it. Taking Sampras out of the men's tennis equation could make Wimbledon more interesting and allow younger, more charismatic players to rise to the forefront.
Barry Bonds: It's unfair, but he fits the formula.
Manning: You can feel the "Manning goes down and the Colts rally behind James & Harrison" moment coming in the next few years, can't you? Can the Ewing Theory apply to romance?
You betcha. Everyone has one friend who got dumped by their girlfriend/boyfriend, sending them into a tailspin. You worried about them and their well-being, you logged major phone time with them, you wondered if they would ever bounce back... and then, boom! Your friend started working out, dropping 15 pounds and suddenly looking better than ever. They also started going out three times a week, rekindling all their old friendships; within time, they had completely regained their mojo. And inevitably, when they finally started dating again, their new flame put the old one to shame. That's the Ewing Theory in a nutshell. Can the Ewing Theory be applied to the entertainment world?
That's a little bit tougher, because people don't write off bands, TV shows and movies the same way we write off sports teams. With that said, there have been a number of Ewing Theory moments when an impending loss seemed devastating and ended up becoming a blessing in disguise. For instance: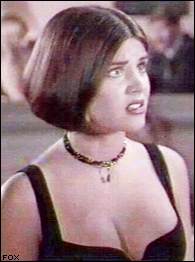 When Tiffani Amber-Thiessen replaced Shannen Doherty, "Beverly Hills 90210" thrived.

1. "Beverly Hills 90210," 1994: After petulant star Shannen Doherty leaves the show, the producers import Tiffani Amber-Theissen as the resident vixen during the watershed "Dylan's drinking again" season -- maybe the greatest upgrade in TV history.

2. Van Halen, 1986: After David Lee Roth's sudden departure, everyone writes off the band when cheesy '80s singer Sammy Hagar is brought aboard. They end up releasing two successful albums ("5150" and "0U812") and not totally embarrassing themselves. 3. "Cheers," 1986: Shelley Long leaves the series to pursue a film career, the producers replace her with Kirstie Alley and the show eventually reaches No. 1. 4. "NYPD Blue," 1995: David Caruso leaves the show in the second season, presumably to star in movies with Shelley Long. The producers replace him with Jimmy Smits, revolve the show around Smits and Dennis Franz, and ratings actually improve. 5. The Corleones, late-40's: After Sonny's tragic death and the near-assassination of Don Vito, the family's youngest son (Michael) emerges from exile in Italy and turns the Corleone family around, defying heavy odds and the skepticism of just about everyone (even his brother, Fredo). (One TV classic that was immune to the powers of the Ewing Theory: "Three's Company." They never adequately replaced the Ropers or Crissy Snow. But that's a story for another time ...) Who were the prime "Shoulda-Been" candidates who somehow escaped the Ewing Theory's wrath over the years?
We'll make this list as cryptic as possible; you figure it out: Mike Schmidt; Walter Payton; Roy Hobbs; Wilt Chamberlain; Robin Quivers; Phil Esposito; Roger Clemens; Henry Kissinger; Bob Cousy; Julius Erving (with the Sixers); George Clooney; Dick Butkus; Cosmo Kramer; Ted Williams; Bo and Luke Duke; Dirk Diggler; Ernie Banks; John F. Kennedy; Andre the Giant; Greg Maddux; Warren Coolidge; Ray Bourque; Frank Deford; Paul Shaffer. Finally, what would be the greatest triumph for the Ewing Theory?
The Mariners somehow winning the 2001 World Series -- nothing would top that one on the Ewing Scale. One last note: if you believe in omens, remember that A-Rod, Junior and the Big Unit might have all departed from Seattle over the past three years, but another marquee athlete was traded to Seattle last fall. His name? Patrick Ewing. Hmmmmmm ...

Bill Simmons is a columnist for Page 2 and ESPN The Magazine. His Sports Guy's World site is updated every day Monday through Friday.