By Bill Simmons
Page 2 columnist
Remember when I went on the record about the 2001 NFL season back in September? I gazed into my crystal ball and forecasted how Tennessee, Indy, Denver and Minnesota would capture their divisions, Pittsburgh would finish 7-9, Chicago would bring up the rear of the NFC Central at 4-12, Detroit would finish 8-8, and Denver would cruise to the Super Bowl. Clearly, I deserve to be taken seriously.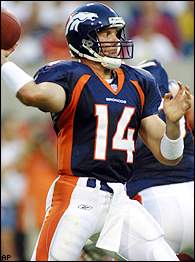 It has been an "eventful" offseason for Broncos quarterback Brian Griese.
But that's the great thing about sportswriting ... you're only as good as your last prediction! That's why I'm taking a mulligan and giving the NFL one more whirl (with a giant asterisk, considering it's Week 14 and all). Just for fun, let's delve into the AFC in detail and gloss over the NFC, relegating that conference to one measly sidebar box near the end of this column.
Why skim over the NFC and concentrate mainly on the AFC, you ask? For one thing, I watch mostly AFC games because my favorite team (the Patriots, a k a "America's Team" -- more on them in a second) resides there, so on Sundays, I'm either watching their games or scouting their competition. Also, NFC fans always held that "We're better than you" superiority complex over AFC fans in the '80s and '90s, which I always found rankling (any chance to pay them back makes me feel all gooey inside). If that's not enough, the fact that three 6-7 teams and two 5-8 teams still have a chance at the sixth NFC playoff sport says it all (what is this, hockey?). Besides, the Rams are winning the NFC and we all know it. Right? Right. (Translation: Screw the NFC teams. Who needs them?) One more note: When appropriate, I'm going to list the remaining games for certain teams by using abbreviations plus the "Home games in all caps, road games in lower case" routine, just to keep things moving. Please don't try this at home. On to the AFC Playoff Picture...
On the outside looking in
10. Cleveland Browns (6-7)
Coming off three consecutive losses, headed for three games on the road (gb, tenn, pitt) ... in the words of *NSync, "Bye bye bye BYE-BYE!" ... strange season: they toppled Baltimore twice and couldn't beat anyone else with a winning record ... probably a year away ... please don't throw anything at me ... on the bright side, Sunday's bottle-throwing debacle brought back memories of Sam Wyche's famous speech at Riverfront Stadium years ago, when he urged Bengals fans to stop throwing things on the field and finished with, "YOU DON'T LIVE IN CLEVELAND, YOU LIVE IN CINCINNATI!" ... now
that
was comedy.
Prediction:
7-9, out.
---
9. Denver Broncos (7-7)
Barring a miracle, they're done (two tough games left: OAK, indy) ... the McCaffrey injury destroyed their season, didn't it? They were never the same after that ... and you wonder if Brian Griese was exposed as one of those "Good if the system is good" QBs who isn't quite good enough to carry an offense by himself (much like a certain AFC East QB with the initials "D.B.") ... just wasn't their year ... that's what you get for demolishing Mile High Stadium.
Prediction:
8-8, out.
---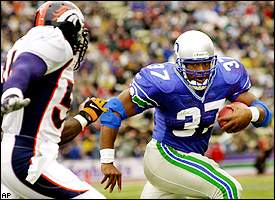 Shaun Alexander's Seahawks have been too inconsistent to make a playoff run.
8. Seattle Seahawks (7-6)
Win one, lose two, win two, lose two, win two, lose one, win one, lose one, win one... hey, at least they're consistent!
Prediction:
8-8, out.
---
7. Tennessee Titans (6-7)
Every time you think they're done, they bounce back ... there's a slim chance they could run the slate here (oak, CLE, CIN), especially with Skip Hicks taking over for the suddenly decrepit Eddie George (who broke down in stunning, "Earl Campbell on the Saints" fashion this season) ... you know they won't quit with Jeff Fisher around, but they need a "W" in Oakland and some major help ... probably not happening. (Random observation from reader Keaton Durham: "Have you ever noticed that Jeff Fisher's mullet seems to grow or shrink depending on his level of anger? It's like a separate living entity. The other day I was watching Fisher give an interview at halftime when his mullet suddenly covered his mouth and screamed at the interviewer, 'This interview is over!'")
Prediction:
8-8, out.
Playoff teams
6. New York Jets (8-5)
Survived a tough schedule so far (eight games against 2002 playoff teams, indy, BUFF and oak remaining) ... seem primed for that "sixth seed in the playoffs that can't score and loses a tight game in the first round" slot ... might luck out in Week 17 if Oakland rests its starters (ruining more than a few fantasy weekends) ... I'm not saying Vinny is running on fumes at this point, but I think the yellow light on his dashboard just came on (Good God! Th-that's Chad Pennington's music!) ... don't you get the feeling that it's coming down to "New York at New England: Belichick's Final Revenge" in Round One? Speaking of Vinny, on his radio show two weeks ago, Bill Parcells predicted that the Patriots would defeat the Jets in New York if they could keep it close for three quarters, because Vinny would give the game away in crunch time. And that's exactly what happened. Vinny missed a wide-open receiver for the go-ahead TD with four minutes left, then he tossed the game-ending INT at the two-minute mark. Uncanny. (Hey, Jets fans, please remember that Parcells coached Vinny for three seasons. Now get the gasoline and the matches ready.)
Prediction:
10-6, sixth seed
---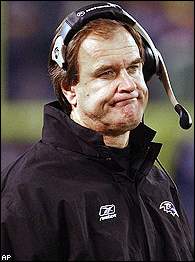 Brian Billick might have angered the Karma Gods by agreeing to do HBO's "Hard Knocks."
5. Baltimore Ravens (8-5)
Typical "Year-After" season: Bad karma, devastating injuries, lack of hunger, getting surprised by bad teams, the whole shebang ... you wonder if Brian "I'll be reading Rick Pitino's new book in my hammock" Billick angered the Karma Gods by agreeing to HBO's "Hard Knocks" idea ... the Ravens never totally bounced back from Jamal Lewis pulling a Shea Ralph, especially because the offense suddenly revolved around Elvis Grbac (yikes!) ... and let's face it: The vaunted Ravens D hasn't been there ... Pittsburgh grabbed the AFC torch from them in a "Pistons over the Celtics in '88" kinda way last Sunday ... might have one more big "W" in them and that's about it. (Random question: Does anyone find themselves rooting for Ray Lewis after his performance in "Hard Knocks"? Didn't he come off as a good guy or am I crazy? He's my favorite athlete who has ever been acquitted of conspiracy to obstruct a murder investigation.)
Prediction:
10-6, fifth seed
---
4. Miami Dolphins (9-4)
Classic Miami: Good defense, no offense, lots of luck ... I hate them ... has any fantasy football stalwart dropped off the face of the earth faster than Lamar Smith? ... and does anyone straddle the Good/Bad Tightrope quite like Jay Fielder? ... one weird thing about them: they've gotten their butts kicked in their four losses this season (108-27), which can't be a promising sign ... if they somehow escape New England with a "W" next Saturday (not likely since they just trekked to San Fran and always struggle in cold weather), they probably win the AFC East (ATL, BUF remaining) ... won't happen though.
Prediction:
11-5, fourth seed
---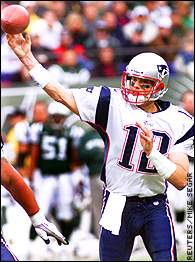 Don't be surprised if Tom Brady and the Patriots end up winning the AFC East.
3. New England Patriots (9-5)
America's Team! ... Hosting Miami in the final regular-season game ever played at Foxboro Stadium (feel the emotion!) ... then they have a bye week, followed by a trip to Carolina against the limpid Panthers to end the season! ... Tom Brady! ... Bill Belichick! ... I can't stop using exclamation points! ... the Pats might win the AFC East! ... and the Celts are six games over .500! ... I think I feel a seizure coming on! (Eeeeeeeeeeee-yaaaaaaahhhhhhhhhhhh!) (Heeeeeeeeeee-yahhhhhhhhhhhhhhh!!!!!!!!!) (Errrrrrrghhhhhh-ahhhhhhhhhh YEAHHHHHHHHHH!!!!!!) (HEEEEEEEEEEE-YAHHHHHHHHHHHHHH!!!!!!)
Prediction:
11-5, third seed
---
2. Oakland Raiders (10-3)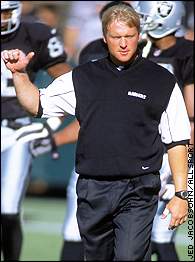 Jon Gruden's language on the sideline sets a poor example for today's youth.
Nice team, well-coached, capable veterans, thoroughly beatable (teams with good backs have been driving on them like Miss Daisy) ... cream puff schedule this season (only three opponents with winning records) ... they're headed for a first-round bye and second-round home game (and they're the best home team over the past five years).
With all of that said, they don't have a snowball's chance in hell of beating the Steelers in Pittsburgh. It just ain't happening. On the bright side, "Cowher vs. Gruden, AFC Championship" could rate a perfect 10.0 on the Unintentional Comedy Scale -- we might see a cheekbone explode or an eyeball shoot from somebody's head. Maybe they could have Marty Morninweg handle the ceremonial coin flip before the game.
Prediction:
12-4 , second seed
---
1. Pittsburgh Steelers (11-2)
Answered any and all doubts with that surreal performance in Baltimore ... absolutely, positively
dominating
... they have the best defense (144 points allowed all season???), the most diverse running game, terrific special teams, one of the best coaches and a serious home-field advantage, not to mention a star-crossed QB who finally (and improbably) made The Leap.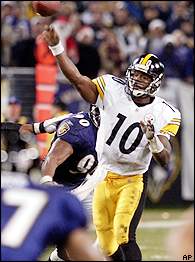 The rejuvenation of Kordell Stewart might be the most surprising development of 2001.
Seriously, was anything more startling this season than Kordell Stewart re-emerging as a bonafide force? Take it from someone who (foolishly) wagered on the Ravens last Sunday: Kordell has evolved into the most terrifying player in the AFC, which would have been the most stunning development of 2001 if Marc-Paul Gosselaar wasn't carrying "NYPD Blue" right now. Can you believe this? Marc-Paul and Kordell hooking themselves up to the Juvenation Machine in the same four-month span? There might be hope for Corey Haim yet.
One more thing: Much like the 2000 Ravens, nobody took the 2001 Steelers seriously because they played such a cake schedule for the first few weeks, gradually making believers out of everyone (and if you're not a believer, go find some smelling salts). But you know what's scary? If Kris Brown didn't singlehandedly botch the Baltimore game in Week 8, Team Cowher could be working a 12-game winning streak right now. Good God almighty.
Prediction:
14-2, 1st seed.
Playoff Crystal Ball
First round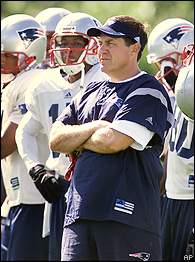 Bill Belichick would like nothing better than to beat the Jets in a playoff game.
America's Team roundly spanks Vah-vah-vah Vinny and the Jets in The Last Game Ever Played At Foxboro Stadium (no, really, it's the last one!), followed by Bill Belichick pulling his pants down and mooning the New York owner's box after the game. Meanwhile, in an electrifying wild-card game in Miami, the Ravens prevail 35-28 as Jay Fielder's five interception TD's prove too much for Elvis Grbac's four interception TD's.
Divisional playoffs
After an enjoyable week of trash-talking galvanizes the nation, the Steelers throttle the Ravens at home in an old-fashioned butt-whupping. Meanwhile, America's Team -- 60-to-1 odds to win the Super Bowl as recently as Nov. 10, as well as eight-point underdogs in Oakland for a second-round game-- pulls off a mammoth upset over the Raiders, prompting enraged Raiders fans to shower the field with their electronic tracking bracelets. By the way, if you're not buying the concept of "The Pats in the AFC Championship Game," lemme remind you of three things: A) The Ewing Theory; B) Oakland's good, but they aren't
that
good; and C) Sometimes things are just meant to be. And as everything that happened with the Patriots this season proved -- Team Belichick nailing its free-agent signings (a handful of "character" veterans with something to prove); a draft that yielded two prominent starters (left tackle Matt Light and destructive d-lineman Richard Seymour); a fortuitous injury to shake things up (let's face it, the Bledsoe Era had gotten stale); the emergence of Brady and Antowain Smith; and a barrage of lucky breaks (Vinny botching the go-ahead TD in Week 12, Patten's head touching out of bounds after he fumbled in Buffalo, San Diego's coaching staff botching a 10-point lead in Week 5, etc.) -- sometimes things are just meant to be. So be it.
AFC Championship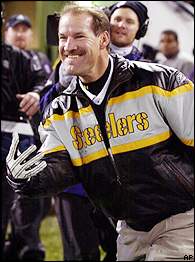 Bill Cowher's Steelers look strong enough to win the AFC, but could they handle the Rams?
Here's where the Pats' offensive weaknesses finally catch up to them: A mediocre offensive line, no tight ends, an inexperienced QB and little depth at receiver (unless Terry Glenn miraculously makes an impact over these next few weeks -- don't hold your breath). Against more accomplished defenses, the Pats relied on gimmicks to relieve the constant pressure on Brady -- quick three-step drops, misdirection plays, WR screens, trick plays, etc. -- but the Steelers D will swallow that stuff whole.
Of course, there's one wrinkle that might throw everything out of synch, and you know it's coming into play at some point. Yup ... it's the inevitable "Brady gets injured, meaning that Bledsoe has to save the day" scenario! Has to happen, right? I mean, it
has
to happen. Right? It could/should happen at any point during the next six weeks, but Pittsburgh seems like an ideal opponent; the Steelers have haunted Bledsoe over the years (even harkening back to his rookie season, when he fumbled against them on the goal line, costing the Pats a "W"). When you think about it, Bledsoe's career in New England can't just
end
after this season, not with him relegated to headphone duty, not without one last chapter. That's just not the way these things work. But whether Drew makes one last dramatic cameo or not, the Patriots still couldn't prevail against a team like Pittsburgh, not on the road, not in January and certainly not with a Super Bowl trip in the line. The Steelers are hungry. You can sense it.
Prediction:
Pittsburgh 26, New England 10
THE SCOOP ON THE NFC
Why these teams won't win the NFC title: 'Skins: Too much Tony Banks Giants: Too much Kerry Collins Bucs: Overrated D, mediocre O Falcons: Please Saints and Eagles: Streaky QBs, consistently sloppy on both sides of the ball -- I can't figure out either team for the life of me 49ers: The Rams proved you can shut them down with a competent defense (mainly because Owens is their only WR) Bears: Kind of a poor man's version of the 2000 Ravens -- very good defense, trouble scoring points, tough at home -- but that won't work in January unless they can somehow steal homefield advantage away from the Rams Packers: Too much Favre, not enough help.

---

Playoff picks:
Round One: Philly (No. 3 seed) beats the Bucs (No. 5) as the Bledsoe/Parcells Watch in Tampa officially kicks off; San Fran (No. 4) outlasts Green Bay (No. 5) in a classic QB shootout. Round Two: The Rams (No. 1) blow San Francisco out of the water; Chicago (No. 2) wins its token home playoff game (an old-fashioned, Facenda-esque 13-10 brawl with Philly). Round Three: St. Louis demolishes the Bears at home. Yawn.
Super Bowl XXXVI
There's an old axiom about the Super Bowl -- when in doubt, go with the team that either A) has the best player, and/or B) does one thing better than anyone else. For instance, the Ravens won the title last season because they played defense better than anyone did anything else. Same with the Rams offense in '99. And Denver's running game (plus Terrell Davis) in '98 and '97. And Green Bay unleashing Favre and its offense in '96. The list goes on.
Sure, I just made up that axiom about five minutes ago, but you get the point. If you can figure out which team offers "The Best" -- whatever it is -- that team usually ends up winning the championship. And the Steelers knocked my socks off Sunday night. They really did. Throw in Kordell having his "Travolta in 'Pulp Fiction' " moment, and there's just a lot to like about them. With that said, I'm not sure they offer that "The Best" feature; maybe Kordell keeps chugging along and makes a full-fledged leap to greatness, and maybe that defense continues to perform a reasonable impersonation of the 2000 Ravens ... but I'm not totally sold on either thing happening. Very good, yes. Great? I'm not sure yet. But I am sure of one thing: The St. Louis Rams have a
great
offense. During the Rams' victory at New Orleans on Monday night, there was one sequence when Warner & Company started a drive under these conditions: Tie game, first half, less than 2 minutes remaining, own 21-yard line, no timeouts left. And they ripped down the field in seven plays for a touchdown. Seven plays! Watching them cruise along reminded me of that "Two-Minute Drill" feature in the "Madden 2002" video game, when you try to score as many touchdowns as possible in two minutes. That was the Rams. It was a freaking video game. And as long as they're playing offense like that, the road to the championship goes through them.
Super Bowl Prediction:
Rams 31, Steelers 27
Bill Simmons writes three columns a week for Page 2.