By Bill Simmons
Page 2 columnist
"We've come too far to stop now. For Granny ... for Nate
... (long pause) ... for Caretaker ... let's do it."
-- Paul Crewe
Can you feel it? The tension? The excitement? For gamblers everywhere, it's gut-check time. In the words of Jim Fassel, you better push your chips to the middle of the table. In the words of Jim Mora, this month means a little more than just diddly-poo. In the words of Bill Cowher, $%#@& #$#%@ $%#@$!!!!!!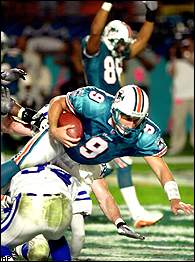 If you bet on a quarterback like Jay Fiedler, you never know what you're going to get.
That's right ... the NFL playoffs have arrived!
Ten years ago, my buddy Geoff and I created The System, a series of playoff gambling rules carefully crafted over a two-year period of severe gambling losses in the early-1990s (when we were worried that somebody would pull a Kathy Bates on us, break our legs and turn us into James Caan from "Misery"). Fortunately for us, we nailed a few "makeup" bets and escaped relatively unscathed. My mother never even batted an eyelash when I asked her for an extra $500 during the second semester of my junior year because I wanted to "join a gym." Ah, those were the days ... Put it this way: You learn the most about yourself when your back is pressed against the wall -- or in this case, when somebody's holding you upside down by your legs over a seventh-floor hotel balcony. Yes, Geoff and I have been to hell and back in the NFL playoffs. There's no doubt about it. As Boomer Esiason once said, "The best adjective that describes these guys is ... is ...
resiliency
." It took a few years, but we finally worked out the kinks. Last January was our finest month ever, as we went 6-1 during the first three rounds, then nailed all three of our Super Bowl bets: The Ravens straight-up, a parlay (Ravens + the over), and even a random "Who will score the first TD?" bet (on "the field," thanks to Brandon Stokely). It capped off one of those rare months when everything went our way and we could finally understand how people end up in Gamblers Anonymous. Now we're ready to spread our good fortune to aspiring young bettors everywhere. Without further ado, here's our Playoff Manifesto (13 gambling rules for the NFL postseason):
RULE NO. 1: Never, ever, EVER back a lousy QB on the road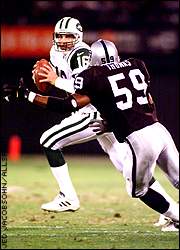 Jets fans cross their fingers when Vinny Testaverde puts it up.
This might be more important than the rest of the rules on this list combined. Lousy QBs always play worse in the playoffs, and for one reason: Anything shaky about them gets magnified against a quality defense, especially if that defense is being charged up by a rowdy playoff crowd.
If you need further evidence, harken back to the archives for every one of Scott Mitchell's playoff performances in the mid-'90s, which will be released next month with deleted scenes and director's commentary from Mitchell, Wayne Fontes and Rusty Hilger. More recent examples from the past two seasons: Jay Fiedler in Oakland, '00; Jon Kitna against Miami, '99; Shawn King in Philly, '00. This year's playoffs crop includes ...
Vinny Testaverde: Who's more terrified of Vinny right now: Jets fans, Jets players or Jets coaches? It's a three-way tossup.
Brad Johnson: He's fine when the Bucs are playing ball control at home, but can you imagine taking the Bucs in Philly this week, then watching them fall behind by 10 in the second half ... and Johnson has to pass them back into the game? Yikes.
Rich Gannon: His two-year contract with the Devil ended on Dec. 1.
Tom Brady: I don't trust first-year starting QBs on the road in January ... even when they play for my favorite team. Hope he proves me wrong.
Jay Fiedler: The Jekyll & Hyde of QBs, a proverbial roll of the dice.
Elvis Grbac: Maybe the MVP of this list. Look out! It's a deer! Turn the wheel! I mean, have you watched Elvis this season? How many uncatchable passes has he thrown? Have you ever seen a more eclectic barrage of bounced passes, tipped balls and overthrows? And some people actually believe the Ravens can sneak into the Super Bowl??? RULE NO. 2: When in doubt, seek out the popular opinion and go the other way
Elvis Grbac has thrown way too many wayward passes for the Ravens.

If the general public was dead-on picking games, bookies wouldn't be driving Lexuses around town with giant wreaths on them. One of our greatest gambling moments ("our" meaning "me and Geoff") happened during the '90 playoffs, when we were babes in the woods and grabbed the underdog Redskins in Philly. Everyone loved the Eagles to win it all that season (and if Randall Cunningham was as good in real life as he was in Tecmo Bowl, it would have happened). Undaunted, we jumped on the 'Skins ... and they cruised to a 20-6 upset. I still remember the score.

Remember what happened nine years later (January '00), when Tennessee stunned the Colts, Tampa hung tough in St. Louis and nearly pulled off the upset, or Miami lost to Jacksonville by something like 50 points? Remember what happened last year in Round 1, when the Saints shocked St. Louis, Philly surprised Tampa and Miami outlasted Indy? In every one of those cases, the "consensus picks" ended up smoking the general public. Happens every year. RULE NO. 3: Before you select a team, make sure Marty Schottenheimer or Jim Mora isn't coaching them Neither of them are coaching a playoff team this season, but it never hurts to scan every roster, just to be safe. (Note: I ignored this rule last January and backed Indy against Miami in Round 1. My only wagering loss of the entire playoffs. And I deserved it.) RULE NO. 4: Don't bet heavily against Brett Favre under any circumstances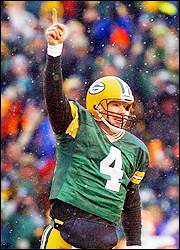 Never bet against the magical Brett Favre ... under any circumstances.

Think of it this way: Brett Favre is pure evil. Never, ever, ever load up against the Packers because of him. Just stay away. He's the one player who can singlehandedly turn the tables on any team, much like Barry Sanders, John Elway and Dan Marino in their primes. As Scatman Crothers said to Danny Torrance in "The Shining," "You stay away from Room 237 (and Brett Favre)! You hear me? Stay away!"

RULE NO. 5: Ignore final records and concentrate on how the team finished the last five or six games of the season Three teams have red flags this season: Baltimore (looked terrible over the past few games, even in a must-win game at home against Spergeon "Would anyone like an INT?" Wynn and the Vikings on Monday night); Oakland (2-4 over the final six weeks, included three straight losses at home); and the Jets (stumbled down the stretch before winning a gift game in Oakland -- the Raiders could have put that thing away 27 different times in three hours). On the flip side, four teams finished the season especially strong: New England (6-0); Chicago (7-1); Green Bay (6-1); and St. Louis (won its final six games by a combined tally of 207-103). Why is this important? Because this isn't the NBA -- where you "turn it on" for the playoffs -- and how you perform in November and December usually determines your performance in January. Just last season, the Giants and Ravens were two of the hottest teams heading into the playoffs, and both of them ended up in the Super Bowl. This isn't rocket science. RULE NO. 6: When in doubt, check out the coaching matchups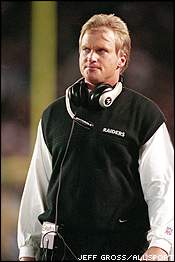 Jon Gruden's Raiders limped into the playoffs with a three-game losing streak.

Here's an easy rule of thumb: Before you make a selection, imagine you're watching the game after wagering on one of the two teams. For instance, three years ago, I took Miami over Buffalo simply because I didn't want to see a spilt-screen shot of both coaches and know that I gambled on the doofus (Wade Phillips) over the guy who looked like a real coach (Jimmy Johnson). Sounds stupid? It worked. Buffalo doubled Miami's yardage and dominated the time of possession ... yet they still blew the game with four turnovers. Go figure.

This year's playoff crop doesn't feature anyone as shaky as Wade Phillips, although I have my doubts about three guys:
Dave Wannstedt: His teams have a tendency to get trounced, don't they?
Tony Dungy: You never hear an announcer say, "This game's a chess match!" when Dungy's involved.
Herm Edwards: The Jets always seem to make decisions with a "degree of difficulty" attached to them. Plus, he looks a little too much like Billy Bob Thornton. RULE NO. 7: When in doubt, research special teams and turnovers Sounds dumb? Just wait until Baltimore's Kyle Richardson shanks his first punt in Miami this weekend, or New England's Troy Brown breaks open a close game in Round 2 with a key return, or the Rams keep an opponent hanging around because their punt returner du'jour has botched another kick, or Pittsburgh's Kris Brown puts a Dirk Diggler-level hook on his third missed field goal of the day. Special teams can kill a team in the playoffs. Remember the Tennessee-Baltimore game last season?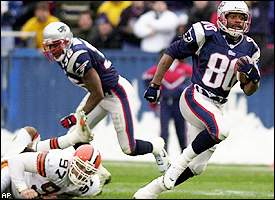 Special teams players like Troy Brown can turn a playoff game around in a hurry.

As for turnovers, the Jets (39 takeaways, just 18 giveaways), Bears, Eagles and Patriots had a knack for getting key fumbles, blocks and interceptions when they needed them; the Rams (a startling 41 giveaways in 2001), Dolphins and Ravens had the worst luck. You'd be amazed how many playoff games are decided by turnovers and special teams. Hell, the Pats made the Super Bowl in '85 solely because of those two things.

RULE NO. 8: Beware of the Road Favorite Road favorites went 0-3 in Round 1 last season and 0-4 overall. The lesson, as always: If you're wagering on a Road Favorite in the playoffs, you better have a really good reason ... and I mean, a really good reason, like "The Rams are heading into Philly for Round 2, Donovan McNabb just came down with the ebola virus, and Koy Detmer is getting the start." (Hey, that reminds me ...)
Bank on Bailey
He had a better winning percentage than more experienced NFL prognosticators, such as Bill Simmons, The Swami and Norman Chad, but Bailey The Sports Dog isn't one to gloat. He's just thrilled that his 39-27-2 record this season has earned him more Beggin Strips and Snausages.

Bailey

Here are Bailey's predictions for the wild-card games.

New York Jets plus 4½ points over Oakland: Raiders 24, Jets 20 (New York covers) Tampa Bay plus 3½ over Philadelphia:
Buccaneers 18, Eagles 16 Green Bay minus 3½ points over San Francisco: Packers 27, 49ers 21 Baltimore plus 2½ over Miami: Dolphins 21, Ravens 20 (Baltimore covers)
RULE NO. 9: Find out: Are Scott Mitchell, Cade McNown, Kelly Holcombe, Bubby Brister, Danny Kanell, Gus Frerotte, Mark Rypien, Spergeon Wynn, Stoney Case, the Huard brothers, the Detmer brothers, or anyone named "Billy Joe" involved in a "One hard hit to the starting QB, and they're quickly warming up on the sidelines" capacity? Take one last glance at the playoff rosters and prepare yourself for every worst-case scenario ... like betting the house on Philly, seeing McNabb stumble out of the game, then seeing Koy Detmer quickly strapping on his chin strap to loosen up. People have lost control over their bowels under less-frightening circumstances. RULE NO. 10: In the first two rounds of the playoffs, usually two of the games are close and at least one underdog pulls off an upset. During Championship Weekend, at least one underdog will cover and there will be at least one blowout. Over the past seven years, home teams went 18-8-2 ATS (against the spread) in Round 1, while the favorites are just 15-11-2. In the second round, home teams went 16-10-2, while the favorites went 17-9-2. And every one of those first two weekends featured at least two blowouts and one close game, although the old days of "One Blowout/One Close Game" per day have gone by the wayside, thanks to parity. The important thing to remember: At least one, and possibly two, underdogs will cover every weekend. Find those underdogs and the rest is gravy. As for Championship Weekend, the favorites have gone 7-7 ATS over the past seven years, and there hasn't been one weekend when both games were close. The last time both favorites covered on the same day? In 1996, when Green Bay blew out Carolina and the Pats covered a seven-point spread against the Jags (in a game when Jacksonville drove for the tying TD in the final five minutes). During last year's Championship Weekend, both underdogs covered (Baltimore and New York) and neither game was close.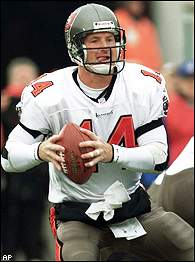 You should definitely consider the circumstances if you're going to wager on a QB like Brad Johnson.

RULE NO. 11: Never bet against a playoff team that has a coach and an owner whose last names both end in a vowel

A friend of a friend named Oaksie created this one three years ago, after San Fran pulled off two bizarre covers against Green Bay and Atlanta in the first two rounds (two games that smelled worse than Vlade Divac). Doesn't apply this season. RULE NO. 12: Never bet on or against your own team Especially in the playoffs. If they lose, it's doubly excruciating and the collective devastation almost feels like a quadruple loss -- like losing squared. And if they win, but you lost your bet because you bet against them, you end up feeling like Benedict Arnold. (Remember, gambling is supposed to be fun ... well, unless you're Art Schlichter.) RULE NO. 13: Before you make your decisions, take one last look at the quarterbacks again Imagine taking the Ravens on Sunday night: They're down by four points, there's 11 minutes left in the game, Baltimore's at its own 12-yard-line, the Miami fans are going crazy ... and Elvis Grbac is bending over the center. He's 9-for-26 on the day, for 121 yards and three INTs, including one that Brock Marion brought back for a TD. You're PRAYING for Elvis to hand off every down. And yet he's dropping back to pass again, and he's looking for Sharpe over the middle, but he has to rush the throw ... Does that sound like a nightmare or what? On to the Round 1 picks ... Tampa Bay Buccaneers at Philadelphia Eagles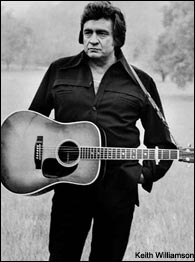 The Cooler honors one of the coolest: The Man in Black.

The Bucs (3½-point underdogs) couldn't handle the Eagles in Philly last season, even though the Eagles were much less polished offensively (nobody got more mileage out of the delayed QB draw than the '00 Eagles). To beat Philly, the Bucs would have to jump out to an early lead, control the clock with their running game and keep McNabb in check. Seems like a stretch. You can run on the Bucs and you can force them into making mistakes, especially on the road and especially when they fall behind.

Throw in a raucous Veterans Stadium crowd and the whole "Tampa never wins in cold weather" streak and Philly seems pretty sound. I worry about the Eagles' tendency to keep opponents hanging around, and they look like an obvious pick ... but there's no way I'm getting roped into Tampa. The Pick: Eagles 24, Tampa 10
---
New York Jets at Oakland Raiders Strange game. All kinds of rules being broken on both sides: Oakland (4½-point favorites) didn't finish the season well; New York has Vinny on the road; the Jets are much better in the turnovers/special teams department; Oakland has a significant coaching edge; the Jets can run the ball on Oakland; the Jets also had to fly cross-country twice in the past week; Oakland would have won last week if one of about 25 different things had unfolded in its favor. Know what that means? It's a toss-up. And whenever there's a toss-up, you take the points ... even when Vinny's involved. And since every opening round features at least one upset, this might as well be the one, right? Besides, doesn't "Jets at Patriots, AFC Championship" have a certain ring to it? (Good God ... I'm going with Vinny on the road ... somebody stop me ... I'm serious, stop me from typing the next paragraph ... zap me with a stun gun or something ... please ... I'm begging you ...) The Pick: Jets 27, Raiders 24
---
San Francisco 49ers at Green Bay Packers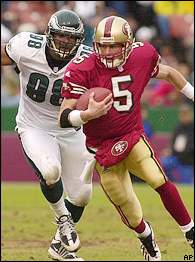 Jeff Garcia saved his job with his play down the stretch.

I enjoyed everything that happened with San Fran (3½-point underdogs) this season, and Garcia-to-Owens is legitimately scary ... but the Niners just seem like the "Good Bad Team" in the NFC this season. Think about it. They beat every team they should have beaten (soundly, too). Every time they played a team better than them, they lost. Good defenses should shut them down since they only have one good wideout (the mercurial Terrell Owens, who has a tendency to disappear at the wrong time). They're a West Coast team playing in cold weather, always a red flag.

And if that's not enough, Favre's involved. And Lambeau. This one will be easier than you think ... and no, I'm not scared of the haunting possibility of the Packers winning by three. The Pick: Packers 26, Niners 7
---
Miami Dolphins at Baltimore Ravens The Ravens defense might have been tremendous during the 2000 season ... but that was last year. Times change. Remember, U2 followed up "The Joshua Tree" with "Rattle & Hum." It happens that fast. Not only has their defense has been above-average at best, their O-line can't block anybody and Elvis ain't nothin' but a hound dog. They just aren't a very good football team. Even last Monday night against a Vikings team that didn't even want to be there, Minnesota tossed two goal-line stands against them. That's inexcusable. Hey, maybe the Dolphins aren't very good, either, but they make two or three big plays per game, their defense gets frisky from time to time, they don't make very many mistakes, and they're playing at home. When Elvis Grbac is involved, that's enough for me. The Pick: Dolphins 16, Ravens 9 Bill Simmons writes three columns a week for Page 2.