By Bill Simmons
Page 2 columnist
Now here's a sentence I rarely get to type: New England has been seized by Super Bowl fever. What's more exciting, the fact our beloved Patriots are playing host to an AFC divisional playoff game against the evil Raiders on Saturday night, or the fact we're two victories away from the Big Game? Frankly, it's a toss-up.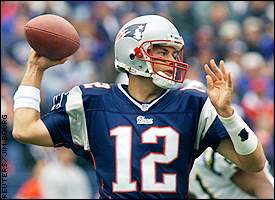 Tom Brady and the Pats have come out of nowhere to enliven New England this winter.
(I mean, the Super Bowl? The Super Bowl? Sweet Jesus!)
You have to understand, the Patriots have always been the Fredo Corleone of the sports scene in Boston -- a k a, the black sheep, the member of the family who was always a little "different," the lovable screw-up, the one for whom we always made excuses. With a franchise like the Celtics, we have fond memories such as, "Hey, remember that time Bird stole the ball from Isiah?" or "Remember when Havlicek nailed the bank shot to give us the lead in the Triple-OT game?" With the Patriots, the memories are more along the lines of, "Remember that time when Irving Fryar missed the 1986 AFC championship game after he was cut with a knife in an incident involving his wife." So during those rare occasions when everything comes together and the Patriots emerge as a Super Bowl contender -- which has only happened three other times in my lifetime as a Pats fan -- people around here basically flip out.
Look at the Pats! Holy mackerel! Here come the Pats! Can you believe this?
That's what happens when expectations are whittled down over the years, when a franchise becomes so consistently inept that you can't even hold a grudge against them anymore. Is there a rarer dynamic in sports these days than unconditional love?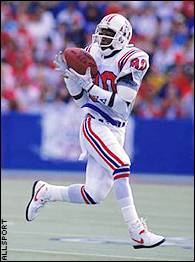 The missed potential of receiver Irving Fryar is a symbol of the Pats' misfortunes.
It isn't like they made it easy on us. For the past 30 years, the Patriots have played in Foxboro, a hole-in-the-wall town about 45 minutes from Boston. The actual stadium (shrewdly named "Foxboro Stadium") looks like a concrete warehouse and has all the charm of a nuclear power plant; the seminal Foxboro highlight probably happened on opening day in 1970, when the bathroom plumbing wasn't finished in time for the first game, so fans were encouraged to relieve themselves in the unfinished bathrooms. Good times ... good times.
During the glory years (did we even have any glory years?), the team was owned by the Sullivan family, who started the franchise during the AFL's inception in 1960, then held onto it through the mid-'80s ... when they were submarined by the Jackson Five. I'm not making this up. The Sullivan Family had decided to fund the Jackson Brothers' "Victory Tour," which made "Manimal" look like a raging success. Needless to say, they went bankrupt and had to sell the team, and the Pats were passed around for a few years like an unwanted stepchild, nearly moving to St. Louis in 1993 before local paper magnate Robert Kraft stepped in and saved the team. By that time, barely anyone even cared.
| | |
| --- | --- |
| | Sports Guy's playoff picks |
| | For whatever reason, the favorites usually cover three of the four games in the second round; rarely will more than one underdog pull off an upset. My underdog pick is the Eagles (3-point dogs in Chicago) -- I just like the way they're playing now, and I've never been totally sold on the Bears, who have been just as lucky as they've been good. Donovan McNabb will be the difference. Eagles 16, Bears 13. As for the other picks, Pittsburgh (minus-5½) should swallow up the Ravens. You can pull that conservative "We're not gonna let our QB kill us" crap against Miami, but that won't work against a hungry Steelers defense. Elvis Grbac will have to make plays on the road for Baltimore to have any chance... and you know how that will work. Don't get swayed by how good the Ravens looked last week against a banged-up Dolphins team (I still think Chris Chambers would have been worth 10 points last week). Steelers 24, Ravens 10. I like the Pats (minus-3) to hold off the Raiders, for all the typical reasons: Home-field advantage, warm-weather team struggling in cold weather, Bill Belichick having two weeks to prepare for Jon Gruden, good matchup for the Pats defense, Pats should be able to pound the ball with Antowain Smith, a raucous Saturday night crowd. This will be easier than you think. Pats 26, Raiders 17. As for the Rams-Packers game, Vegas is begging you to take Brett Favre and the Packers (10½-point underdogs)... but I just can't shake the fact that 1. the Niners came within an underthrown Jeff Garcia pass of taking the lead in the final five minutes at Lambeau last week, 2. Mike Sherman makes me nervous as hell, and 3. the Packers haven't played the Warner era Rams yet, and the Rams have a tendency to jump all over uninitiated teams early. Just remember, you can pick against Favre, but don't bet against him. Rams 41, Packers 25. |
Not me. I cared. I fell for the Patriots as a 4-year-old tyke in the mid-'70s, partly because they were the hometown team, partly because I liked the red uniforms, and partly because I took a sudden liking to star wideout Randy Vataha (who was fast, white and little, just like me). There were other Patriots fans my age, but not as many as you would think; because of the legacy of losing, many New England kids adopted the Steelers, Dolphins or Cowboys to be associated with a winner. The bastards. Things changed in '75, when the upstart Pats rolled off a slew of wins and headed to Oakland for a rare playoff game. And they were winning the damn thing, at least until referee Ben Dreith called a ridiculous roughing-the-passer penalty on Sugar Bear Hamilton -- on third-and-17, with the Pats leading by three in the final minutes, no less -- to give the Raiders a second life. Oakland drove down the field and scored a late touchdown for the victory, eventually beating a banged-up Steelers squad in the AFC championship game and an inferior Vikings team in the Super Bowl. I still remember the tears running down my face. We were better that year. Tragically, the Pats became the "Best Team That Couldn't Win a Super Bowl," preceding the Eagles in the late-'80s and the Bills in the early-'90s. Every year, magazines and experts tabbed them as a Super Bowl favorite. Every year, something submarined them. In '76, they played a monster schedule and couldn't sneak into the playoffs. During the '77 season, a contract holdout by All-Pro linemen John Hannah and Leon Gray sent them into a tailspin. Coach Chuck Fairbanks bolted for a college job hours before the final game of the '78 regular season -- a Monday night game, no less -- and a reeling Patriots team was shellacked in the playoffs by Earl Campbell's Oilers. Suddenly, the window was closing. Things turned irrevocably during the exhibition season in '79, when a vicious tackle by Oakland safety Jack Tatum paralyzed star receiver Darryl Stingley (one of the three or four worst moments of my life as a sports fan). Understandably, the team sleepwalked through the season; within two years, the Pats were 2-14. So that's how I was weaned on the Patriots. Since then, my life as a Patriots fan can be separated into six different eras:
The Lovable Losers (1981-86)
That aforementioned 2-14 season set the tone, as we unearthed new ways to squander close games every week. There was one heartbreaker in Buffalo when Joe Ferguson completed a winning Hail Mary touchdown pass to Roland Hooks. A winning Hail Mary pass! When does that ever happen? We ended up with the first pick of the draft during a down year for college talent, when the obvious choice was someone named Ken Sims. Other teams would get Tony Dorsett or John Elway with the No. 1 pick. We got Ken Sims. That season was followed by a series of "Close but no cigar" seasons, which always seemed to end cruelly in Miami, always in December, always with a playoff berth on the line. Uwe Von Schamann. Bob Griese. Delvin Williams. Nat Moore. Always someone different finding a way to beat us, year after year.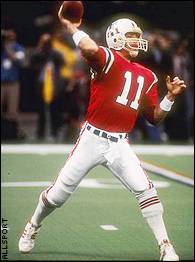 Tony Eason led the Cinderella 1985 Pats to the Super Bowl -- but he was never the same after that loss to the Bears.
Then something weird happened. The Pats made another playoff run in '85, only this time, the momentum kept building, and cagey veteran Steve Grogan came off the bench to carry the team, and the wins kept coming, and -- good God! -- they captured an AFC wild-card spot, and then they were winning games in New York, Miami and Oakland to reach their first-ever Super Bowl. Still feels surreal, even now. Nobody thought they could win in Miami. I mean, nobody. Imagine the most improbable sports moment of your life, then magnify it by 10. That's what a Patriots' Super Bowl appearance felt like. It was like turning the world upside down.
I just remember sitting in front of the tube before Super Bowl XX and enduring the mammoth pregame show, surrounded by 15 magazines and a variety of nachos, potato chips, sodas and pretzels, ready to pass out from anticipation ... little did I know I would endure the most agonizing three hours of my sports life. The "Super Bowl Shuffle." Eason and Grogan getting sacked roughly 334 times. The freaking Fridge scoring a touchdown. Just agonizing. By the fourth quarter, I was trying to stab myself to death with a pretzel rod. Two days later, as Patriots fans were still coming to grips with the grisly end to the season, the Boston Globe revealed that a handful of Patriots were using drugs during the season and that some players threw a cocaine party during Super Bowl week, giving birth to a legitimate drug scandal that tainted every fond memory from that season. And then Larry and the '86 Celts won the title, and the Sox made the Series a few months later ... and that Pats season just kind of faded away.
Same old, same old (1987-1992)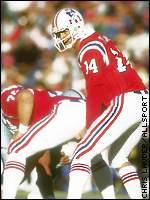 Steve Grogan battled so many injuries late in his career he once played a game in a neck roll.
If this were an episode of "E! True Hollywood Story," the announcer would be saying, "Coming up next, Irving Fryar's life continues to unravel into the hazy netherworld of drugs and domestic violence, as the 'E! True Hollywood Story: New England Patriots' continues."
Anyway, this was the time when the Patriots made that leap from "local also-ran" to "full-fledged black sheep." First, a talented '86 team fell apart in Denver during the playoffs. Scarred from Super Bowl XX, Eason lost his confidence and started taking shotgun snaps from the fetal position, just to save everyone some time. Hannah retired, and we weren't sure what was more depressing -- the fact Hannah had retired, or the fact the greatest Patriot of all-time was an offensive guard. Seriously, can any other franchise make that claim? There was more. Raymond Berry resigned as head coach in '88, prompting confusion because some of us believed the Pats had been propping up his corpse on the sideline. Local icon
Doug Flutie
crossed the picket line and became a scab QB during the '88 strike, then he hung around and stunk the joint up the following season before fleeing to Canada. Grogan refused to retire, enduring a barrage of injuries and becoming the first QB ever to start a game while wearing a neck roll (swear to God). Two All-Pros (Craig James and Don Blackmon) had their careers cut short because of injury. Before the '89 season, the Pats lost three key starters in the final exhibition game to season-ending injuries. It was like someone had thrown a black cat into the clubhouse.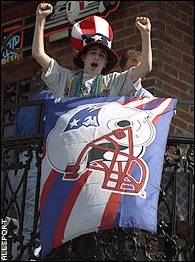 Patriots fans know to try to enjoy their team's success while it lasts.
The guy who represented that era better than anyone was Fryar, the No. 1 overall pick in the '84 draft and an electric wide receiver ... when they could keep him on the field. His drug problem didn't help. Neither did that squabble with his wife, or the time he left a game at halftime with an injury and subsequently drove into a telephone pole, or the time he and teammate Hart Lee Dykes were beaten up at a Providence night club. In classic Patriots fashion, Fryar found God and turned his career around ... but it happened in Miami, not New England.
During the late-'80s and early-'90s, when they couldn't win a game, crowds dwindled and the Pats officially became "The Troubled New England Patriots." You might remember when Boston Herald reporter Lisa Olsen was sexually harassed by some Patriots players in the locker room during the '90 season, igniting a yearlong scandal. Just a dreadful time. I remember wincing in college whenever someone asked if I were a Patriots fan. Have you ever had that feeling, when you actually wanted to hide the fact that you rooted for a particular team? By this point, four things were really killing me about the Pats:
1.
In the late-'80s, Nintendo and "Tecmo Bowl" had taken video-game football to the next level ... and the Patriots were always terrible. When EA Sports started making the "Madden" games in the early-'90s, same thing. You could always count on the Video Pats to suck.
2.
We always had the second-rate announcers. They should have just changed the guy on the helmets in the late-'80s from Pat Patriot to Beasley Reece. I don't think Dick Enberg and Merlin Olsen ever even set foot in Foxboro.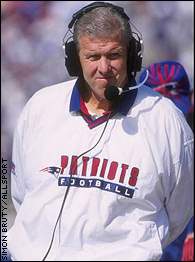 Bill Parcells helped resurrect the moribund Pats in the early 1990s.
3. Just a parade of forgettable coaches over the years. Ron Erhardt, the Pete Carroll of his generation. Ron Meyer, who came from the college ranks and pulled a Pitino. The post-Super Bowl Ray Berry, who made flipping a two-headed coin seem unpredictable. Rod Rust, who might or might not have been embalmed. Dick McPherson, a nice guy and a glorified cheerleader. None of them ever went on to coach another NFL team.
4.
Nothing was worse than draft days, when you were praying the Pats wouldn't screw things up. And they usually did. They traded down from No. 16 in '84 ... and San Fran used that first-round pick to select
Jerry Rice
. They tabbed Hart Lee Dykes over Andre Rison and Reggie Dupard over Neil Anderson. They passed up
Junior Seau
and Cortez Kennedy, traded down, and picked Chris Singleton and Ray Agnew. My favorite year was '92, when they traded down because the draft was rich in offensive lineman ... only some of them were snapped up early, so they traded back
up
to pick Eugene Chung -- who they could have had originally -- and somehow ended up with fewer picks than they started with. Downright astounding. Here's a story that sums everything up: During the final week of the '92 season, WEEI's Eddie Andelman, Kevin Mannix and Ron Hobson were trying to pick an MVP for the Pats' season on their radio show .... a season in which the Pats had finished 1-15. They finally decided on tight end Marv Cook, just because he submitted the most consistent season out of anyone. Marv Cook! They were dead-serious. Around that same time, the franchise nearly moved to St. Louis, before a chain of fortunate events kept them in New England (too complicated to describe here). And then something weird happened ...
Rejuvenation (1993-1996)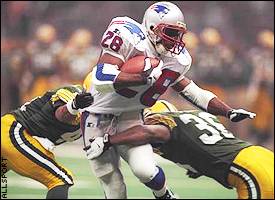 Curtis Martin helped carry the Patriots to a Super Bowl ... before he followed Parcells off to New York.
Bill Parcells inexplicably decided to coach the team.
Why? Why would he come here? Nobody knew. We were perplexed. Terrible franchise, snakebitten, unstable, devoid of talent, no history, meager support ... and yet Parcells wasn't fazed in the least. We were like a high school nerd who can't figure out what to say when the class bombshell comes over to ask, "Wanna go to a movie with me tonight?" Season-ticket sales started climbing. The team dumped its trademark red jerseys and went with a generic silver/blue look, a ceremonial cutting of the ties to the sordid past. Parcells drafted
Drew Bledsoe
over
Rick Mirer
with the first pick of the 1993 draft (finally a blue-chipper!). We found ourselves falling for our new coach, the way he carried himself, his professionalism, his goofy press conferences, those "OK? All right?" nuances, his Auerbach-ian aura of greatness. This was new territory for us. Of course, the team stumbled to a 1-11 start before winning its last four games, including a Bird-like comeback by Bledsoe in the final home game against Miami. They won their last seven games to make the '94 playoffs, an invigorating run that ended cruelly in Cleveland. With the Celtics, Bruins and Sox all stumbling, with Parcells emerging as our most mesmerizing sports figure, with Bledsoe poised to fill that Russell/Bird/Orr void, the Pats had finally shed their "black sheep" status. Boston sports radio station turned into Pats Central. There was actually a waiting list for season tickets. And everyone felt like we had stepped into an alternate universe. After an off season in '95, they snuck into the Super Bowl the following year, giving Green Bay a legitimate scare before fading in the final quarter (you forget,
Desmond Howard
's kickoff return broke open a close game in the second half, and the fact they
kicked off to him in the first place
is a story for another time). It was another one of those "How the hell did this happen?" moments; we had a good team that season, but not quite a Super Bowl team, and everyone knew it. But the '97 season, that was the one marked on our calendar all along -- the fifth year of the Parcells-Bledsoe era, the one with a number of stars entering their primes, the one that had always been looming as The Year.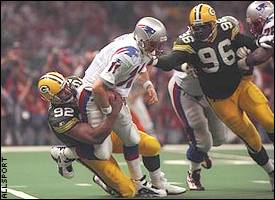 Drew Bledsoe has never fully realized the potential that he showed in his Super Bowl season.
Never happened.
Angry over a War Room snub during the '96 draft -- when Kraft overruled him and demanded the team take Terry Glenn in the first round -- an aggrieved Parcells contemplated a move to the Jets during the late stages of the '96 season, even leaking his problems with Kraft to a newspaper during Super Bowl week (a definite distraction). Within a few weeks, Parcells was headed to New York, Kraft was demanding draft picks, Patriots fans were devastated, and the ensuing circus overshadowed one simple fact: The Patriots came within one or two plays of winning a Super Bowl. That's another Patriots tradition: We never get time to savor the moment.
Same old, same old (1997-99)
Sports Dog's picks
He had a better winning percentage than more experienced NFL prognosticators, such as Bill Simmons, The Swami and Norman Chad, but Bailey The Sports Dog isn't one to gloat. After a 39-27-2 regular season, Bailey began the playoffs by going 2-2 during wild-card weekend.

Bailey

Here are Bailey's predictions for the divisional playoff games.

Philadelphia plus 3 over Chicago: Eagles 17, Bears 14 New England minus 3 over Oakland:
Patriots 23, Raiders 18 St. Louis minus 10½ over Green Bay: Rams 35, Packers 24 Pittsburgh minus 5½ over Baltimore: Steelers 19, Ravens 6
And the wheels came off. Kraft hired good-natured, upbeat San Fran assistant Pete Carroll as head coach, the classic case of a "Player's coach" replacing a "Disciplinarian." Within months, players were diving into mosh pits, missing practices, and getting into car accidents and fistfights. Even though they were a consensus Super Bowl contender, the Pats kept making mistakes in big moments, and Carroll's goofy "I'm jacked and pumped!" routine was bordering on "Saturday Night Live sketch" territory. One of my readers at the time joked, "The Pete Carroll era finally answers the question of why Fredo was never given control of the Corleone family."
Once again, the window was closing. Blessed with the most talent in the AFC, the '97 season ended ignominiously in Pittsburgh (a 7-6 playoff loss marred by injuries and bad luck). Parcells stole
Curtis Martin
away as a restricted free agent that spring, giving New England an extra first-round pick. In classic Patriots fashion, the Pats left
Vonnie Holliday
and
Randy Moss
on the board and somehow ended up with
Tebucky Jones
and Robert Edwards. (In fact, Kraft's handpicked front office botched a staggering amount of blue-chip picks from '97 to '99 -- 13 in the top three rounds, including five No. 1s -- and only center
Damien Woody
and Jones contributed significantly to this year's playoff team.) Things kept snowballing. The '98 team got bounced in the first round of the playoffs; meanwhile, the Jets beat us twice
and
made the AFC championship game. Are you kidding me? Undaunted, Kraft brought Carroll back for a third season ... which ended up being even worse than the previous year. We blamed Kraft for bungling a potential dynasty. We blamed Parcells for bailing ship. We blamed Bledsoe for never living up to his considerable potential. We blamed Bobby Grier and the front office for screwing up those draft picks. We were bitter, disgusted and hostile. We were Patriots fans again.
Signs of life (2000-01)
Give Kraft credit ... he learned from his mistakes. After finally firing Carroll and Grier, he landed Bill Belichick as coach and gave him say in personnel decisions (along with right-hand man Scott Pioli). And it took a full season, but this year's Patriots team ended up sneaking up on us just like the '85 team. Nobody even saw them coming.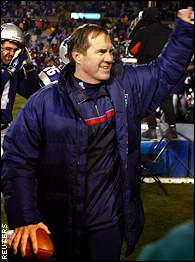 Bill Belichick has led another surprising Pats' resurgence in 2001.
And that's where we stand today, a suddenly rejuvenated franchise with a new quarterback, hungry veterans, young players with something to prove, and a bright coach who gives us a fighting chance every week. The rebirth of the Patriots is symbolized by CMGI Field, a state-of-the-art facility being built right next door to Foxboro Stadium -- loads of luxury boxes, club seats, every seat faces the 50-yard-line, chairs on every seat, you name it.
Unless Baltimore beats Pittsburgh, Saturday's game doubles as the final Patriots game ever played at Foxboro Stadium, an endearing dump with absolutely no historical significance whatsoever. I have two memories of the place. One happened in the mid-'90s, when my buddy Geoff and I sat in our seats for a Broncos-Pats game; within two plays, the kid sitting next to Geoff started puking all over the place. We had to sit with our feet stuck in the kid's vomit for the rest of the game. For some reason, that always jumps to mind for me. The other memory happened during the 10-year anniversary tribute to the '86 Super Bowl team, a halftime ceremony in which 1. Tony Eason was lustily booed by a sellout crowd one final time, and 2. a commemorative "1985 AFC Champs" flag was raised, only it got stuck halfway up the flagpole, where it flapped limply for the rest of the game. That's Foxboro Stadium. That's Patriots football. Those are my memories. So think about me when you're watching the Pats on Saturday. Maybe you root for the Bengals, Seahawks, Lions, Jets, Falcons, Cardinals or Titans (the old Oilers), so you can totally sympathize. Maybe you're just a casual fan. Maybe you don't care at all. But the fact remains, my black-sheep football team is three wins away from winning the Super Bowl. And if you don't mind, I thought I would savor the moment. Who knows? I might not be here again for awhile.
Bill Simmons writes three columns a week for Page 2.