By Bill Simmons
Page 2 columnist
NEW ORLEANS -- I'm tapped. I'm spent. Put a fork in me, I'm done. I just rode a 240-minute roller-coaster ride and lived to tell about it.
I just tried to write 10 different leads for this column, and none of them were even coherent. My heart won't stop pounding, my clothes reek of second-hand smoke and my phone won't stop ringing. I can't even express myself in anything other than block-letter thoughts, so let's just try this:
PATS WIN
SUPER BOWL
NEW ORLEANS
I'M ALREADY HERE
Repeat: I'm already here. Just waiting for my team to arrive. When my editors told me they were sending me to New Orleans back in December, I immediately started having Those Thoughts and quickly fought them off.
Nahhh ... don't even think about it ... too improbable ... hell, they won't even win their division, so they would have to win two games on the road, at least ... and besides, they aren't good enough, anyway ...
Deep down, I was hoping. As Joaquin Andjuar once said, "Youneverknow." The Dolphins and Jets sputtered. The Pats kept winning. The Jets pulled off a miraculous victory in Oakland on the final Sunday of the regular season, clinching the No. 2 seed (and a first-round bye) for New England. The Pats held off the Raiders in a snowstorm last weekend, thanks to Tom Brady's bizarre non-fumble/fumble/pass incompletion that somehow kept them alive. They marched into Pittsburgh as 10-point underdogs, battling the Steelers for four memorable quarters, somehow holding off a furious rally in the second half and making every crucial play. Yup, for the second time in two weeks, the Pats pulled off a "We
never
win this game" game ... and now they'll be joining me in New Orleans. Utterly, completely dumbfounding. I watched the Pats game from the lounge of my New Orleans hotel (hey, have I mentioned that I'm in New Orleans right now?), spending much of the game chewing my fingernails, hopping out of my chair, jotting notes down on cocktail napkins, yelling and whooping, pounding my hands together, making cell-phone calls and probably annoying everyone in my vicinity. I didn't care. Too much at stake.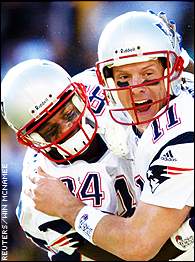 Drew Bledsoe had folks all over New England smiling Sunday.
The lounge dynamic was pretty funny. A bunch of randoms scattered at various round tables around a 40-inch Zenith pseudo-big screen, including a table filled with Rams fans (one older guy was wearing an authentic Faulk jersey tucked into a pair of Dockers, three or four tables of Pats supporters -- not die-hards -- and a guy wearing a Steelers sweatshirt and matching Steelers hat who looked a little like Kurt Warner. As soon as the game started, the Steelers fan and I engaged in our own private duel -- bar psychological warfare.
You know how it goes. Two guys rooting for different teams, both secretly trying to annoy one another. In the right hands, it's good-natured fun. In the wrong hands, somebody ends up pulling a broken beer bottle out of their aorta. I never take things personally, but in this case, the Steelers fan was an Over-Clapper. I mean, is there anything worse than an Over-Clapper, the guy who feels the inexplicable need to applaud after every play? (In case you're scoring at home, I'd rate the most annoying people in a sports bar or lounge this way, in order: The Over-Clapper; the Inconsiderate Chain-Smoker; the "Guy Who Sits Down Right In Front of You And Blocks Your View" Guy; the Guy Who Keeps Taking Cell Phone Calls; the Over-Excited Guy; the "Guy Who Gives Running Commentary and Thinks He's Phil Simms" Guy; the Drunken Idiot; the Guy Who Gets A Little Too Angry; The Guy Wearing Too Much Team Paraphrenalia; and the "Guy Who Won't Sit Down and Watch the Game But Keeps Popping In Every Five Minutes To Ask About the Score" Guy.) So for the entire first half, I engaged in psychological warfare with the Over-Clapper. He overreacted to every meaningless Steelers play; I emitted occasional whoops and made caustic, inflammatory, under-my-breath comments like "Take a seat, Bus" and "Looks like the same old Kordell to me." And this one-upmanship went on for much of the first half -- I scored the biggest blows with a "Jump up and run around the lounge with my arms up" routine during the Troy Brown punt return TD, plus some exaggerrated antics during Drew Bledsoe's impersonation of Lazarus in the second quarter. I clearly had the upper hand by halftime. Then something weird happened: The Over-Clapper walked over at halftime to discuss the game with me, in a friendly way, no less. I wasn't sure what to do. Was this just a ploy? He seemed pretty genuine. Suddenly, I was feeling remorse ... which is exactly what he wanted. Or did he? Head games. Then something even weirder happened: When the Pats returned a blocked field goal for a TD in the third quarter (21-3, Pats), the Over-Clapper suddenly waved his Terrible Towel in the air, offered me a handshake, gathered his things and limped off. I actually felt bad for him ... for about two seconds. (The lesson, as always: Strange things happen when you watch a football game with a bunch of strangers.)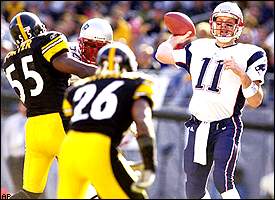 Bledsoe came off the bench to lead the Pats to the Super Bowl -- just as the Sports Guy predicted back in December.
As for Drew Bledsoe's positively heroic role in the Pats' victory ... just a remarkable turn of events, made even more bizarre by the fact that I predicted the exact scenario in a "Playoff Preview" column back in mid-December (right down to it happening in Pittsburgh). All along, I've had a gut feeling about "The Return of Drew." Can't explain it. I refused to believe that, after everything that happened with Bledsoe and the Patriots over the years, he wasn't making one last appearence before everything was said and done.
What a story. Like many Patriots fans, I believed that 1.) this particular team had a better chance to succeed with Brady, and 2.) Bledsoe was probably better off getting a fresh start somewhere else. But you couldn't help but get caught up in the inherent drama of The Bledsoe Redemption, even if a Super Bowl berth was at stake. I found myself pulling for Drew even more than I was pulling for the rest of the team. Nobody needed a win more than him. Doesn't mean it was fun. For two-plus quarters, Drew Bledsoe scared the living hell out of me, right until the final snap. And it wasn't entirely his fault. Four-month layoff, sudden entrance, gangly body, lightning-fast Steelers D ... it had all the makings of "Grbac, The Sequel." Even when he tossed three ropes (including a well-placed TD pass to David Patten) to extend the Pats' lead to 14-3, I wasn't entirely convinced. Every incompletion, every sack and every near-interception triggered some sort of negative flashback. So much about sports is a subjective experience, and in my case, I just don't fully trust Bledsoe anymore as the quarterback of my favorite team, for whatever reason. Too much has happened over the years. That's why the Bledsoe-Brady debate has been decided for good, at least for me. (Here's an actual excerpt from my notes in the second half:
Old doubts resurfacing about Drew. Wrong QB for this offense. Herky-jerky, not fluid, no touch on short passes. Nerve-wracking to watch. Nerve-wracking. Due for a bad pass.
And when that bad pass came -- fourth quarter, seven minutes remaining, Pats protecting a seven-point lead, Bledsoe throwing to his left and not seeing the linebacker ... classic Drew ... Pittsburgh's Joey Porter dropped the interception. Hit him right in the numbers, too. Go figure. Another bullet dodged by the Pats.) On the flip side, Drew submitted a splendid effort for somebody who hadn't played in four months. They wouldn't be going to the Super Bowl without him, and the greatest thing about this particular team is that you could say that phrase -- "They wouldn't be going to the Super Bowl without him" -- about any number of guys. I'm happy for him, I'm happy for me, I'm happy for everybody. My team just won improbable back-to-back playoff games, the type of games they haven't won since ... well,
ever
. And now they're going to New Orleans. And I'm already here.
PATS WIN
SUPER BOWL
NEW ORLEANS
I'M ALREADY HERE
(Pinching myself.)
A few Ramblings
A few quick thoughts before I head out onto the town to celebrate: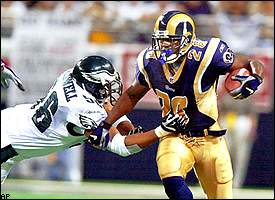 Once Mike Martz remembered that Marshall Faulk was on the team, the Rams roared to their second Super Bowl in three years.
I'm still not totally sold on this Mike Martz guy. Forget about the fact that he looks like the guy from "CSI" for a second ... it seems like he's the last person on the planet to realize that MARSHALL FAULK IS ON HIS TEAM. If Martz coached the Bulls in the early-'90s, he would have spent the first three quarters of every playoff game trying to feed Stacey King and Will Perdue on the low post, at least until MJ grabbed the clipboard from him and slammed it over his head.
Not only did two underdogs cover Sunday, not only was the "One close game/one blowout" rule submarined ... but the Eagles were only the fifth underdog since 1970 to cover the spread on Championship Weekend without winning the game. I finished 1-1, but I'm kicking myself because the Eagles looked tasty all week, and I couldn't pull the trigger on them with Troy Vincent injured. Oh, well.
The Pats-Steelers game would have been much more fun if Dick Enberg or Pat Summerall were doing play-by-play, if only for the Troy Brown/Troy Edwards dynamic.
Speaking of Summerall, I actually felt a little sad listening to him and Madden call the second half of the Rams-Eagles game (I missed the first half because I was busy calling people and hyperventilating). They had a great run. They might have hung on too long ... but it was a great run. Not sure who replaces them on top. (I'm not willing to anoint the Simms-Gumbel team as The New Best Announcing Team in Football, only because of Gumbel -- he doesn't get nearly excited enough on big plays for my liking. I'm not saying he needs to go Kevin Harlan on us, but at least he could raise his voice from time to time. His call of Vinatieri's game-tying field goal in the Oakland game made it sound like the Pats were kicking an extra point or something.)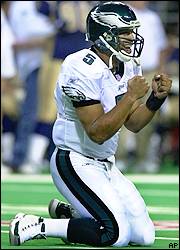 Donovan McNabb and the Eagles gave the Rams all they could handle.
Last November, I happened to be in Vegas when the Rams played New England (you can read all the Vegas stories in my archives). At the time, the Patsies were 70-to-1 to win the Super Bowl and 35-to-1 to win the AFC ... I meant to place an AFC wager on them (even mentioning that desire in a column), but I was so sick all weekend that I plum forgot. Ouch. I also forgot to bet on the Nets at 75-1. Double ouch. As Mad Dog Russo would say, "That's a bad job by me."
Armen Keteyian made a good point when he said the key to Troy Brown was his "persistency and consistency." Somewhere Don King was nodding.
It's not bad enough that you need a PHD to understand those new IBM ads with Detlef Schrempf, Bill Laimbeer and a chunky Xavier McDaniel, but seeing those guys makes me feel like I'm 75 years old. Extremely disorienting.
Speaking of commercials, "Zoom, zoom, zoom ... yeah, I got the zoom." (Get that song out of my head, please. Or kill me.)
The funniest part about rooting for a team that makes the Super Bowl: Those waves of congratulatory phone calls and e-mails from your buddies. And you'll always hear from at least one person that you haven't talked with in months. Good times ... good times.
Three quick arguments: 1.) Nobody owns the Coach's Challenge quite like Bill Belichick; 2.) If Donovan McNabb played like the Donovan McNabb of last week, the Pats are playing the Eagles on Sunday; 3.) the best Bledsoe moment was the touch pass to Troy Brown to keep the final time-killing drive alive with six minutes left (a moonball -- what a throw).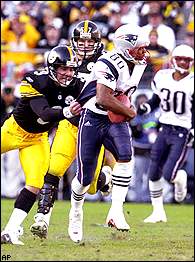 Troy Brown and the Pats' special teams took the AFC crown away from Kris Brown and the Steelers.
Isn't it strange how the Kris Brown Factor reared its ugly head to the tune of seven points ... and the Patriots won by seven points? Sports can be astoundingly predictable sometimes.
Speaking of points, the early spread has the Rams favored by two touchdowns for Super Bowl XXXVI. Outrageous. I can't even discuss this rationally.
I haven't seen any celebrities yet in New Orleans. I'm sure they'll be arriving in full-force tonight and tomorrow ... I'm excited for those meaningless celebrity sightings of the Patrick Swayze/Kevin Sorbo caliber. Those always put a hop in my step.
When it comes right down to it, even Tony Montana didn't self-destruct as fast as Kordell Stewart fell apart in the fourth quarter of the Pats game. Can we finally declare a moritorium on every "Kordell Stewart has finally put it together" feature and story? Please? When it matters, Kordell just isn't accurate. Period. End of story. And while we're here, has there ever been a more overrated running back than Jerome Bettis? I mean, ever? Has he ever played well in a meaningful game? As a Patriots fan, I was 10 times more terrified of Amos Zerouoe. (I worked up a healthy hatred of the Steelers last week. It was a combination of those towels, those Steelers fans who seem to care about the team a little too much, the slight hint of condescension in the air coming from the Pittsburgh locker room, the ludicrous 10-point spread and all those annoying interviews with Bettis and Stewart last week. Scoreboard ... scoreboard ...)
Hey, have I mentioned I'm in New Orleans? We'll save those thoughts on the French Quarter Experience for Tuesday's column. I just hope I'm still alive to write it. Bill Simmons writes three columns a week for Page 2. He'll be filing "Postcards from New Orleans" Monday through Friday during Super Bowl week.