By Bill Simmons
Page 2 columnist
NEW ORLEANS (Tuesday, 6:30 p.m. CT) -- You knew this one was coming. That's right ... it's the "Media Day is crazy" column!
I'm not saying this entire day was in my wheelhouse, but for five consecutive hours, I felt like Barry Bonds if Tim Robbins were throwing him fastballs. There was almost too much comedy ... I almost passed out at least three or four times. I wish I could have cloned myself and been in five places at once.
Anyway, I kept a running diary ... here's what transpired:
10 a.m. -- After a half-hour wait in the Superdome underground garage -- where every media member had their bags checked and went through metal detectors (they did everything but cavity-search us) -- we race down to the floor of the dome, where assorted Patriots are milling around with the journalists who were smart enough to arrive early.
Here's how Media Day works: Anyone with a press credential gets to spend a full hour with all of the Patriots (including coach Bill Belichick). It's like an all-you-can-eat buffet. The most notable Patriots (Drew Bledsoe, Tom Brady, Troy Brown, Lawyer Milloy, etc) get stuck on little mini-stages (where they hold mini-press conferences -- the whole thing is very Verne Troyer-esque); the semi-notable Patriots (David Patten, Adam Vinatieri, etc.) are set up in the stands, where they hold court for 10 to 12 reporters at a time. And the rest of the Patriots (role players, offensive lineman, scrubs, etc.) basically stand around and wait for people to come up to them.
Me? I'm going nuts. Where to start? Who should I approach on my favorite team?
"Where's Tom Brady?" I ask ESPN.com colleague Peter Lawrence-Riddell. "I want to go over there and bear-hug him."
(Poor Peter looks a little startled. Couldn't ESPN have hired a four-person posse for me to laugh at my jokes? I'm demanding that in my next contract.)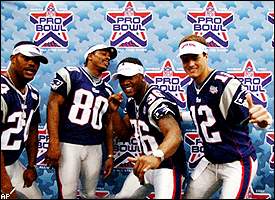 Patriots, from left, Ty Law, Troy Brown, Lawyer Milloy and Tom Brady get ready for the swarm.
10:09 -- Just spent the last few minutes surveying the scene. Bledsoe, Brady and Belichick have the most people surrounding them. Joe Andruzzi has a surprising amount of people around him (the whole "his brothers were New York City firefighters" thing). Center Damien Woody has the least (that has to be an ego killer).
For some reason, I'm drawn to Bledsoe, who seems much more bubbly after his "Bledsoe Redemption" game Sunday against the Steelers; he doesn't have that beaten-down look of a guy in a hostage video anymore ("The Patriots are treating me very well ... I eat twice a day ... I look forward to coming home and seeing my family ...").
Now he's speaking happily and seems like he has totally recovered his mojo. I feel like pulling a Morgan Freeman in "Shawshank" right now and saying in a deep, narrator's voice, "Drew Bledsoe crawled through 500 yards of s--t-smelling foulness, the likes of which I can't imagine. Maybe it's because I don't want to."
(Would anyone get it? Somebody pull me away please.)
10:13 -- Pats rookie Richard Seymour seems like a very smooth guy -- polished, articulate and totally aware of everything that's going on. We talk for a couple of minutes about the whole "Last year, I was in college, this year I'm in the Super Bowl!" thing. Then a Spanish announcer comes over and asks Seymour a question in broken English, kind of sounding like this: "Dfdfdhsh fjfkdlslkshs fdhdgdgfdg."
Seymour smartly responds, "Um, I couldn't understand a word you just said."
Somehow this guy keeps right on talking. I wish this were the WWF so we could throw this guy through the Spanish announcer's table.
10:16 -- I'm sure my "This is my favorite Patriot I've met!" feeling will change every five minutes for the next hour, but right now, I love Roman Phifer -- the underrated linebacker who filled the "Guy trapped on a crappy team for his entire career and suddenly ends up on a Super Bowl team and he's happy as hell" role this season. He seems totally overwhelmed and beyond fired up. "It's a great feeling," he keeps saying. "Just a great feeling." I feel like hugging him.
10:18 -- I'm still playing star-struck Patriots fan. Now Patrick Pass and I are discussing the Snow Game, the victory over the Raiders in which poor Pass had to return kicks in a blinding snowstorm. "It was like ice skating," he says. "Like running on ice. Even Jesus Christ himself couldn't have made a cut on that field." (OK, I made up that last line.)
Pass describes trying to catch the kickoffs and looking into the howling snow and the stadium lights, as snowflakes pounded his eyeballs and even went into his mouth and down his windpipe. It's positively captivating. I feel like I'm Steve Sabol right now.
10:20 -- D'Marco Farr (one of the guys from Fox's "Best Damn Sports Show Period" -- insert joke here) is asking Mike Compton dopey questions and trying to pull the "wacky media guy who's turning the tables on Media Day" routine. Some of the questions include: "Who do you think will start for the Rams, Kurt Warner or Jamie Martin?" and "Ginger or Mary Ann?" It's going over like a fart in church. Let's just say you won't see Fox releasing these segments on DVD any time soon.
10:23 -- Superdome medical personnel race over to revive those reporters who keep losing consciousness during Bill Belichick's press conference. Everyone seems OK.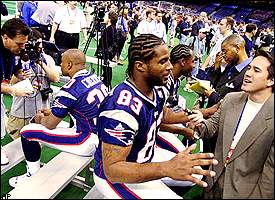 Patriots, from left, Je'Rod Cherry, Rod Rutledge and Terrance Shaw get a little love from the media.
10:24 -- Willie McGinest talks about Super Bowl Week in 1997 compared with Super Bowl Week in 2K2. He's doing the "Last week went by so fast, and we were so excited ... this time feels like more of a business trip -- we have a job to do" routine. Seems genuine. Someone asks him about being back in the Superdome again and McGinest says, "The last thing I remember is the glitter coming down from the ceiling and (Mike) Holmgren getting carried off on his players' shoulders. One of the worst feelings of my career." Not good times. Bad times.
10:29 -- Well, I have a new favorite Patriot ... Fred Coleman, who was waived by the Bears in October, sat home waiting for a team to call him for a month, got picked up by the Patriots, made a couple of big plays, and now he's their fourth receiver. There is nobody -- repeat, nobody -- happier to be in New Orleans right now than Fred Coleman. "I'm just soakin' everything in," he says, smiling. "I might never be back here, so I'm gonna enjoy every minute of it."
(Note to self: Replace authentic Tony Simmons with authentic Fred Coleman jersey. Priority: HIGH.)
10:31 -- There's a German TV guy standing in front of Mike Paxton and Bobby Hamilton, who are flanking an attractive black woman (identity: unknown). The German guy is making them stand there and smile while he does goofy German things. He's the German version of D'Marco Farr. Now he's saying, "All smile, everyone smile" to the players, then barking at his camera in German. Absolutely the weirdest thing I have ever seen. This is indescribable -- it looks like one of those things they show on HBO's "Shock Video" show. Get me away from this.
10:34 -- Cleveland-area reporters flank Marc Edwards (a former Brown) and try to get him to say bad things about A) the Browns (he left there as a free agent last summer, and B) the Belichick era in Cleveland. Reporters are so slimy sometimes, aren't they? Poor Edwards. He's innocently answering some questions; Wednesday the headlines will say, "Edwards questions Browns' direction" or some crap like that. I hate being in this business sometimes.
10:36 -- Two Patriots with "B. Williams" and "M. Williams" on their jerseys are walking around with no reporters within 10 feet of them. I'm a die-hard Patriots fan and even I don't know who these guys are. When I considered writing a Media Day column, I always thought I would talk to the players who were lowest on the food chain ... but in person, it just makes you feel terrible. Must be a long hour for them. They should bring in strippers to give them lap dances.
10:40 -- Bryan Cox is surrounded by 50-plus media people and doing his "The NFL is racist!" spiel, as the crew from BET practically has a collective stroke getting their cameras in place so they can get some of the footage. High comedy. "I just want to be a minority that can make a difference in this league," Cox says. "If I'm smart enough to play your game, then I'm smart enough to coach your game or pick a team for you."
Reporters are literally frothing at the mouth writing this stuff down. Cox is doing everything short of showing off doctored photos of Paul Tagliabue wearing a white hood. Nobody knows how to play the media better than Bryan Cox.
10:44 -- It's tough to choose the most loathesome person with a press credential in this group -- which is numbering about 1,200-strong at this point -- but I'd have to go with the two correspondents from the Rosie O'Donnell show, who are wearing Patriots jerseys and making a general mockery of themselves. As an added kicker, these are the two guys who were on that reality-TV show "The Amazing Race," which unfortunately didn't end with them careening off a cliff. I'm getting grouchy.
10:48 -- My buddy Geoff, who had a star-crossed, injury-plagued career at Hamilton College -- he was the Fred Taylor of Division III -- had one request for me: Stand next to (Pats middle linebacker) Tedy Bruschi and find out how big he is. Geoff was convinced he was bigger than Bruschi during that one season at Hamilton when he was lifting for six hours a day and we were all worried about him. He's obsessed with this for some reason.
Well, Geoff was right. ... Bruschi can't weigh more than 220 pounds soaking wet. There's just no way. Could somebody buy him some biceps on eBay please?
10:50 -- For some reason, I'm still hanging around Bruschi. There's just a good vibe about him. Seems like a great guy. He's talking about last week's Pittsburgh game, when Bledsoe came off the bench and everyone was pulling for him. "If you looked at our bench, not one defensive guy was sitting when (Drew came in) ... I just can't say enough about the guy."
(I'm getting goosebumps. I'm so easy.)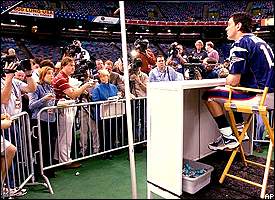 They needed fences, cattle prods and mace to keep the pack away from Drew Bledsoe.
10:51 -- Just realized ... there must be 15 male media members for every female media member -- it's like the worst party in college you ever attended, with the added kicker that there aren't any kegs.
10:53 -- Uh-oh ... the BET crew has incited a crowd of Patriots players into doing some sort of semi-rehearsed rap song. Let's just say there aren't a lot of white players involved in this one. After they finish, BET host Joe Clair introduces lead singer J.R. Redmond by looking into the camera and saying this:
"Hip-hop and sports go hand in hand. My man? He got flow."
I can't convey in print how funny that was. It's impossible. If there were a Barbara Walters-type show with Clair, I would watch it religiously, Meanwhile, Redmond just told Clair with a straight face, "If I wasn't playing football, I'd be rapping." I need to get away from these guys before I pee my pants.
10:56 -- Just watched Brady handling the press like an experienced veteran. This guy is smoother than the other side of the pillow, or cooler, or whatever. A Spanish reporter just asked a question in broken English and Brady answered, "Si." He's got the crowd in the palm of his hand. You can see why his teammates love playing with him. Just seems like a good guy.
10:58 -- Joe Theismann and Bobby Hamilton hug for some reason.
10:58 -- My colleague Darren Rovell (ESPN.com's sports business columnist) jogs over, practically out of breath he's so excited. He stumbled across a pretty big scoop about NFL Properties policing the clothing habits of the players during the game -- you can read it by clicking here. Now he has his column for Tuesday. He's pumping his fist and everything. I feel like we're Woodward and Bernstein in "All the President's Men."
11 -- Whoa, it's 11! The Patriots are leaving! I didn't even get a chance to talk to Redmond about where he ranks among Jay-Z, Outkast and Snoop. That's disappointing. On the bright side, I just exchanged pleasantries with Wanda Sykes and the guy who played Pootie Tang. Good times ... good times.
Time to break for lunch.
12:50 -- I'm back. You haven't lived until you've seen 1,500-plus media members scarf down an all-you-can-eat buffet lunch. I think I saw one guy go up for 12ths. Now we're all sitting in the loge section of the Superdome, waiting for the Rams players to start coming out. You can feel the tension in the air. We're like a herd of coyotes right now.
1 -- PA Announcer: "The St. Louis Rams Media Day is now open." Let the stampede begin! This feels like The Who concert in Cincinnati.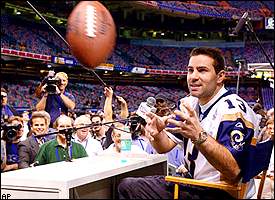 Kurt Warner takes a break from answering another Chunky Soup question.
1:02 -- More than a hundred people surround Warner's booth. Given that he's playing against my beloved Pats, I fight off the urge to pull a Stuttering John and ask him annoying questions like "How come they hired an actress to play your Mom in the Chunky Soup commercials?" or "How do you get your beard to look like that? Do you use one of those Miami Vice razors?" or even, "Mike Martz just said that you're the weak link in the Rams offense ... any comments?"
1:05 -- Somebody just asked Marshall Faulk (surrounded by 75-plus people) about his days working as a fry cook and a dishwasher. Everybody's making the "What a moron" face. Nothing's funnier than a group of sportswriters acting ticked-off and condescending. Puts a hop in my step every time.
1:08 -- More from the comedic genius of D'Marco Farr, this time to Robert Holcombe: "The Rams are favored by 14 points ... is that because the Patriots have so many white guys?"
Stop it, D'Marco ... you're killing me. My stomach hurts. This is like seeing Richard Pryor in his prime.
1:10 -- The "Evil Pats fan" side of me keeps fighting off the urge to trip Az-Hazir Hakim. Hey, it was an accident ... I didn't see him! Will his knee be OK for the game?
1:12 -- As I'm waiting patiently to ask Rams punter John Baker a question, somebody beats me to the "Is being a punter for the Rams the easiest job in the world?" angle. "If I had a dollar for every time I've been asked that," says Baker, "it would be more than what my salary was." Translation: You guys are idiots.
1:15 -- I'm contemplating asking Tommy Polley if "Tommy Polley" is a stage name. Nahhh ....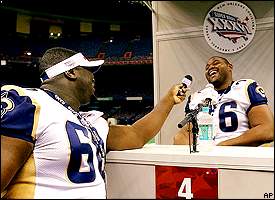 St. Louis' Rod Jones, left, asks Orlando Pace how his Sports Guy "Madden 2002" season went.
1:18 -- Now I'm contemplating thanking Rod Jones for helping out my Video Patriots during my current "Madden 2002" season (I picked up Video Rod Jones as a free agent, and he's helping the Video Pats to an undefeated season at the All-Pro level). Should I bring this up? Probably not.
By the way, there's an actual "Madden 2002" tournament Thursday night in New Orleans, in which NFL players (Daunte Culpepper, Michael Vick, Shannon Sharpe, Aaron Brooks and at least 16 other name guys) compete to see who's the Madden 2002 champion (Jacquez Green won it last year. Needless to say, the EA higher-ups are afraid to put me in the tournament because I would kick everybody's butt. Wussies.
(I might have to pull a Clubber Lang after the title game on Thursday and demand a title match, then fly off the handle when they don't give it to me: "Don't give this man no trophy, give him guts!" That would be fun.)
1:23 -- The guys from the Rosie O'Donnell show are now wearing Rams jerseys and wreaking havoc. I think I'm officially tired of Media Day.
1:26 -- Just talked to Miami Herald columnist Dan LeBatard (he works for us, too) for a few minutes. He's covered in bad cologne and wearing a smoking jacket with an "I was one of People magazine's 50 Most Eligible Bachelors in 2001" T-shirt underneath it. Actually, I just made that up. He really was in that People magazine issue though. Can you put that on a résumé? I sure would.
1:30 -- While talking to Hakim, he suddenly says, "You know what? I need to sit down ... my ankle's hurting me." Huh? We follow him to the seats in the lower section of the stadium as Hakim claims that nothing's wrong with his ankle, he "just twisted it a little." Hmmmmmm. Would the ankle feel better if I kicked it, Az?
(Go Pats! Yeah, baby!)
1:35 -- Some guy from CNNSI tells O.J. Brigance, "We're doing a piece that compares this day to a nature documentary" and proceeds to give Brigance instructions to play the straight man. Brigance looks at him like he has three heads.
1:37 -- Ernie Conwell's eyes practically glaze over as he's talking about Kurt Warner ... he loves the guy. I'm officially bored. Get me out of here.
1:40 -- 'Dre Bly and I have this exchange:
-- Me: "Is Dre short for Andre?"
-- Dre: "Yeah."
-- Me: "You're the only 'Dre with an apostrophe though, right?"
-- Dre: "Yeah, I think so."
-- Me: "I mean, the only other Dre I know is Dr. Dre, but he doesn't have the apostrophe."
-- Dre: "Yeah."
1:43 -- Pam Oliver ... I mean, wow. Good golly. Sweet Jesus. Holy schmoly. Mother of God.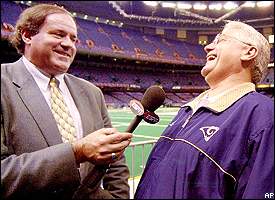 Chris Berman shows Mike Martz that status has its privileges at Media Day.
1:45 -- The token goofy MTV guys on hand are giving off a "Brett Favre plays for the Rams, right?" vibe. The level of creative incompetence in this arena right now is simply staggering. Why couldn't somebody like Triumph The Insult Dog be here? Now there is a comedic genius.
1:48 -- Aeneas Williams just mentioned his brother ... Achilles Williams. Achilles Williams???? I'm legitimately speechless. It's time to go. Nothing can top that one.
1:50 -- The guys from Rosie ask Warner if he has a favorite Chunky Soup. Definitely time to go. I need to find the BET guy one more time for one final fix.
1:51 -- Rovell resurfaces and tells me that TV Azteca has as many people here (12) as ESPN.com. We're both reeling from this. He asks if I have checked out some of the press credentials, telling me, "It's kind of fun to see where some of these people are from."
Needless to say, in the words of Double Down Trent, it is on. We spend the next 10 minutes walking around and trying to look at people's press passes (which dangle around everyone's neck) without them knowing, which is roughly akin to sneaking a peek at someone in a urinal (and with the same disastrous, embarrassing results if they catch you).
Some of the media institutions I jotted down in just 10 minutes:
Imagen Telecommunications ... Biloxi Sun Herald ... The Hotel Channel ... Alexandria (LA) Town Talk ... Sarasota Herald-Tribune ... Reyes & Reyes Broadcast Promotions ... SAT 1/Premiere World ... Passports.com ... Orf ... Belleville News-Democrat ... Natchez (NZ) Democrat ... Meridiano Television ... Horvitz Productions ... Arlington Heights Daily-Herald ... Santa Rosa Press-Democrat.
(This was the most fun game of all-time, not just for the actual payoff but the fun of sneaking a peek at people's press passes without them knowing. Thank God Rovell didn't introduce me to this sooner -- there wouldn't have been any material for this column today. I couldn't have enjoyed that any more than I did. It's not possible.)
2 p.m. -- Just as the PA announcer says "Media Day is now closed," I finally find BET's Clair! Woo-hoo! He's cutting the intros for his already-done interviews from the day, and sure, it took him five takes, but I think his opening remarks summed everything up:
"Man, Media Day is like a wild circus, for real, for real."
For real.
Bill Simmons writes three columns a week for Page 2. He'll be filing "Postcards from New Orleans" every day during Super Bowl week.