By Bill Simmons
Page 2 columnist
If you skipped Sunday's NBA All-Star Game, you really didn't miss that much. Being one of the last 20 NBA fans on the planet, I subject myself to the game every February, even though it defies just about everything I love about about basketball. Nothing worse than a bunch of stars who don't feel comfortable playing with one another, especially when they're lollygagging on defense, hoisting up bad 3s and doing crummy Magic Johnson imitations.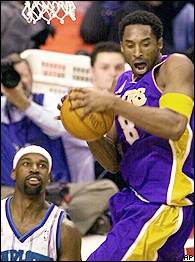 Kobe Bryant makes the mistake of trying hard and being a member of the NBA champs.
Hey, there's another botched three-on-one! Hey, there's another alley-oop sailing into the third row! Hey, there's another 25-footer with nobody standing underneath!
And yet, without fail, four or five things happen that make it worth watching. Tracy McGrady bringing the house down by passing the basketball off the backboard -- in traffic, no less -- and jamming home the rebound with a near-reverse, or a variety of alley-oops that actually worked. Doctor J trying to pretend he was pleased that Allen Iverson was wearing his No. 6 (yeah, right). Ray Allen hoisting roughly 50 shots during extended garbage time in the second half. The best player in the league (Kobe Bryant) dominating the game on both ends of the floor, simply because he was working harder than everyone else.
You usually have one goofy wrinkle as well -- once last night's game slipped away from the East, Philly's fans took out their frustrations on poor Kobe, the hometown kid who made the mistake of starring for last year's NBA champions (the same team that vanquished the Sixers in the Finals). And in a heartwarming interview with Jim Gray, Kobe admitted that, yes, his feelings were hurt by the whole thing. It was strangely gripping.
Of course, the All-Star Game wasn't half as absorbing as All-Star Saturday, a surreal night loaded with failed gimmicks, embarrassing situations, cheesy performances, inexplicable cameos, mind-boggling moments and the priceless comedic value of Charles Barkley with a microphone. Since this was the last catastrophic All-Star Saturday before Team Stern junks everything, adopts my HORSE idea and returns the night to prominence -- and don't think that isn't happening -- I wasted my Saturday night keeping a running diary.
Here's what transpired ...
7:02 -- Time for the raucous TNT pregame show featuring the Good Guys (Ernie Johnson, Kenny Smith and Charles Barkley) and a number of guests. Remember my old joke about how Larry Bird's "Basketball Jesus" DVD should have three language options -- English, Spanish and Moses Malone? Well, right now there's an actual five-minute cameo from Moses himself! Can you put a price on this kind of comedy? I think he just called Chuck "Pumpkinhead." I think.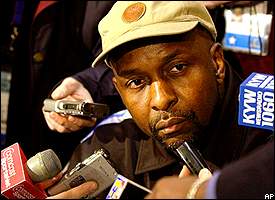 Moses Malone speaks to the press in a cross between English, Esperanto and Mush Mouth.
7:05 -- Just cued up my closed-captioning to see if the guy typing Moses' words would write, "I GIVE UP -- I QUIT." Didn't happen.
7:11 -- Moses departs; Bill Russell takes his place. I've said it before, I'll say it again: The Pentagon needs to bottle Russell's laugh and use it as chemical warfare against our enemies in Afghanistan. Just blare a repeated loop of him cackling for 24 hours a day ... the Taliban would be crawling out of those caves and begging for mercy within two weeks.
7:15 -- Time for another poignant, piano-in-the-background NBA monologue from Jim Huber. The best part of these is when he throws it back to Ernie, as Kenny and Chuck try to keep a straight face. Always kills me. I'm really enjoying myself right now.
7:19 -- You know, I'm a huge Celts fan, I love Bill Russell ... and even I'm tired of hearing him discuss those 11 Boston championships at this point. Barkley loosens things up by challenging Russell to a golf match, then warning him, "I play ghetto golf -- I talk the whole time." I don't even have a joke here.
7:26 -- While Jamie Foxx and Barkley discuss Justin Timberlake's hoop credentials, we have this exchange:
-- Foxx (derisively): "I like the geri-curls though, that's nice."
-- Charles: "Hey, white people call that a perm ... that's a geri-curl in the hood."
-- Ernie: (Making the terrified, "Should I throw this to commercial?" face).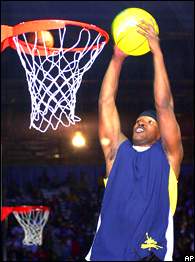 Jamie Foxx didn't do this during the Hoop-It-Up Challenge.
7:33 -- Ernie announces that Karl Malone will miss Sunday's game because Malone's Mom is sick. Damn ... how can they stage an All-Star Game without the electric presence of Karl Malone? Should we even have the game now? Is it too late to cancel the thing?
7:36 -- What are the odds that Barkley and MJ are heading to Atlantic City after tonight's festivities? Would bookies even lay odds on this?
7:39 -- Speaking of MJ, Craig Sager interviews Jordan as a jealous Ahmad Rashad circles them for a few minutes.
7:42 -- Within a 15-minute span, Barkley makes fun of Ernie's forehead, teases the 15-year-old chosen to represent the NBA.com voting for the Slam Dunk Contest, and claims Kenny looks like George Jefferson. He's on fire right now.
7:47 -- Chuck and Ernie narrate highlights from the always-entertaining Rookie-Sophomore Game. This year's game was especially lively, mainly because the Rookie Team had quality point guards (Jamaal Tinsley and Tony Parker) and scorers (Jason Richardson, Pau Gasol), while the Sophomores had better all-around players (Kenyon Martin, Quentin Richardson, Mike Miller and the electric Darius Miles, who tossed an alley-oop to himself off the backboard at one point). Just a high-caliber pickup game, like "Above the Rim" on 10-foot backboards. Too bad it was buried on Saturday afternoon.
7:51 -- Barkley, unedited: "Today is Jimmy Hatter's birthday -- he's the gay guy we got workin' behind the scenes, y'all. We hire them all at TNT. We do not discriminate. We hired the pimp last year, Craig Sager, and now we got Jimmy Hatter. We got all the ethnic groups covered."
7:51 -- Lets just say Ernie threw it to a commercial really quickly.
7:53 -- Random tangent: Is anything dumber than the fact the Canadian anthem is performed before every All-Star Game and any road game involving the Raptors? Has that ever made sense? How many Canadians are in the league, three? No inane sports tradition bothers me more than this one.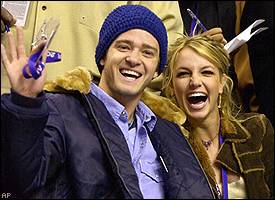 Justin Timberlake's got a little game ... and her.
8:10 -- Time for the 989 Sports All-Star Hoop It Up Challenge ... say that nine times fast. Pretty intriguing event: Four teams, four players per team (one current NBA player, one old-timer, one WNBA player and one celeb), eight-minute games, three-on-three, 16-second shot clock. I'm not totally against this idea. Yet. Although I think the Hooters Topless WNBA All-Star Game would have been much more riveting.
8:19 -- Houston (Cuttino Mobley, Tina Thompson, Kenny Smith and Jamie Foxx) takes on Philly (Eric Snow, Dawn Staley, Moses Malone and Justin Timberlake) in the semifinals. Why couldn't a TV camera have been there when Malone and Justin Timberlake were introduced? That scenario kills me, for some reason.
8:30 -- Final score: Philly 16, Houston 8 ... pretty much unwatchable -- lots of ugly threes ... Malone ate up Thompson ... Timberlake looked like he had game (like a Bobby Sura type) ... two airballs from Foxx ... Mobley played with "I'm getting paid for this, right?" vigor ... I'm not quite ready to light myself on fire yet, but I'm getting close.
8:32 -- OK, I'm there. We just had this exchange:
-- Craig Sager: "Justin, this Philly team was in synch."
-- Justin (searching for an answer): "Hey, man ... yeah."
8:36 -- Los Angeles (Magic Johnson, Derek Fisher, Lisa Leslie, Brian McKnight) takes on Sacramento (Hidayet Turkoglu, Sarunas Marciulonis, Ticha Penicheiro, Tom Cavanagh) in the other semifinals. Did you see the names on Sacramento? Couldn't we call Tom Cavanagh "That Guy From Ed" instead of "Tom Cavanagh"? Couldn't L.A. have come up with a better celeb than Brian McKnight? And does this game count in the record books as yet another Magic Johnson comeback?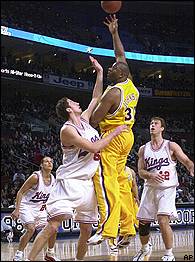 Magic Johnson comes back to take on, from left, Ticha Penicheiro, Hidayet Turkoglu and Sarunas Marciulonis.
(Speaking of Magic, I mean ... put it this way ... you would never, ever, ever see Larry Bird playing in a game like this. Show some pride, Magic. For God's sake.)
8:48 -- Final score: Sacramento 25, L.A. 13 ... a little more watchable than the other game ... Sacramento played well together ... That Guy From "Ed" was trying just a little too hard (setting back picks, playing in-your-face D and so on -- he's one of those guys who probably ruins every pickup hoops game) ... Magic has to be edging toward Three Bills -- he looked like Derrick Coleman (it was uncomfortable watching him -- even Barkley avoided making fun of him) ... by the way, the crowd has collectively passed out.
8:53 -- Holy schmoly, fresh off the heels of their transfixing "Behind the Music" special this month ... it's Hall & Oates performing live! And they look about 150 years old combined! And they're singing the song from the greatest "NBA ... it's FANNNNN-tastic" commercial of all-time -- that "One on One" song where James Worthy did the 360-layup in slow motion. Remember that one? (Everyone over age 22 is nodding right now. Good times. Even if Hall can't hit those high notes anymore.) By the way, Oates looks like a cross between Bababooey and Juan Epstein.
9:45 -- Since my boy Paul Pierce stunk it up, let's just skip over the AT&T 3-Point Shootout, a necessary event that ceased to be interesting about 10 years ago. Can you name the last 10 winners? Of course not. We'll make this quick:
Highlights: Wesley Person nailing nine in a row ... Pierce wearing neon-green shoes ... Barkley on Steve Nash: "How much time did he spend on his hair, five seconds or 10?" ... Barkley on being recognized on his last trip to South Dakota: "It was easy, because I was the only black person there. It was like, 'There he is again!'" ... Cheryl Miller calling Ernie Johnson "Eeeg" for some reason ... Peja cleaning the final rack in Round Two (five straight for six points, 19 total) ... Cheryl Miller struggling to interview Peja (TNT won't be expanding that combo into an hourlong interview special any time soon) ... Wesley Person gagging on the final Money Ball, which would have given him the title ... Peja beating Person in OT, 9-5 ... yawnnnnnnnn.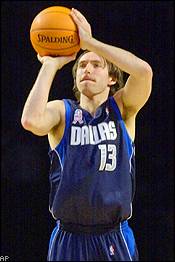 AP
Steve Nash spent time on his shooting, not his hair, Sir Charles pointed out.
10 -- My lamest celebrity sighting so far: Matthew Modine. Couldn't TNT send Craig Sager over to badger him with "Vision Quest" questions? Did you ever have a rematch against Chute? Do you keep in touch with Carla? Lunatic Fringe ... do you know if it's out there?
10:05 -- The Three-on-Three Game final: Sacramento 12, Philly 9, thanks to an OT three from Turkoglu. But the MVP of the game? That Guy from "Ed," who Team Ernie openly called "Ed" instead of saying his real name. High comedy. Plus, "Ed" went so overboard during the game (trying way too hard) that Barkley called him "annoying" and said, "If you go out with a girl and they say she has a great personality, she's ugly. If they tell you a guy works hard, he can't play a lick. Same thing."
(For all you high school seniors out there, feel free to use that as a yearbook quote.)
By the way, "Ed" was D-ing up Timberlake so ferociously that it looked like they might get into a shoving match at one point -- would that have been the funniest moment in All-Star weekend history, bar none? -- prompting Barkley to quip, "If 'Ed' and Justin Timberlake get in a fight, there won't be no blows." The entire sequence of events was TREEEEEE-mendous, with the added bonus that Moses looked like he might have a heart attack during OT. Now I'm hoping this event comes back next year.
10:03 -- Time for another Philly-related musical act ... it's McFadden & Whitehead! You know, the guys who sang that "Ain't No Stopping Us Now (We're On The Move)" song? All-Star Saturday night is big-time. No expense is spared, folks. We have McFadden and Whitehead.
10:09 -- Time for the showcase event of the evening, the Slam Dunk Contest, which is in its "ER after Dr. Benton, Dr. Ross and Nurse Hathaway left" stage, being stripped down to a startling four competitors, two rounds and just one name player (Stevie Francis). They even added a lame gimmick -- an actual game-show-type wheel that features selected dunks from the '80s and '90s, as well as MJ, 'Nique, the Doctor and others. Apparently you spin the wheel and recreate a dunk. Or something.
(You know a TV-driven concept has jumped the shark when they incorporate some sort of wheel to jazz things up; you might as well go the whole nine yards and hire Ted McGinley. Remember when the "Match Game" tried a wheel in the early-'80s? Gene Rayburn was retiring his skinny mike within a year. A true tragedy. And yet I digress ...)
10:17 -- Hey, it's Dr. J! He's a judge. Between Dr. J's white hair, Hall & Oates stumbling through "Maneater," George Gervin looking like he's 60, and Magic looking like a 300-pound-plus has-been, I feel like I'm 45 years old right now. Doesn't it suck to get old? I'm filled with hatred and self-loathing right now.
(The NBA ... it's FANNNNN-tastic! I love this game!)
10:43 -- Round One recaps: Jason Richardson over Desmond Mason, Gerald Wallace over Stevie Francis: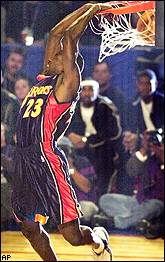 AP
Even if he had to jump off two legs, Jason Richardson's final dunk still had the flu.
Richardson advanced because of two nice dunks -- a legit 360 and an impressive recreation of a Dominique windmill jam ... Wallace advanced because Francis crapped the bed ... the Wheel killed everyone but Richardson -- Mason botched a Dr. J cuff-dunk, Francis was saddled with Terence Stansbury's "Statue of Liberty" dunk when he can't even palm the ball, and Wallace barely pulled off Dr. J's switch hands-reverse ... the "involving the teammates for an alley-oop pass" has to go ... so does the wheel... so does this contest ... and yet it's like a car crash -- you can't turn away ... maybe the highlight was when Barkley said about Mason, "You can't emma-late Doctor J."
(Note to TNT: Get rid of the between-dunk interviews -- they're always awkward, always clunky and rarely interesting. Dump them. Please.)
10:51 -- For their first dunk in the finals (chosen by the hideous wheel), Wallace pulls off a poor man's version of the Dr. J "jump from the foul line" dunk, while Richardson doesn't even come close to pulling it off. Neither guy gets high scores. "They're killin' me," Wallace says about the judges, sounding disturbingly like Andre the Giant.
10:52 -- Barkley on Richardson's two feeble attempts at the Dr. J dunk: "He is not comfortable jumping off one leg ... he likes jumping off two legs ... he can't jump off one leg, he's not comfortable ... he is not comfortable jumping off one leg ... he's just not comfortable jumping off one leg ... he's just not comfortable jumping off one leg ... in the preliminary rounds, every dunk was off two feet ... he doesn't like to jump off one leg."
(The lesson here: Richardson likes jumping off two legs.)
10:55 -- Oh, boy ... Wallace just botched the Vince Carter "Dunk and put your elbow through the rim" dunk for a 36. This is a disaster. Wallace actually almost started crying during the interview with Saigs. I'm not kidding. They had to cut away. Is anyone else dying inside right now?
(Whoops ... did I just call Craig Sager "Saigs"? Time to wrap this up.)
10:58 -- Hey, a good dunk! After about 19 attempts, Richardson finally pulls off a "Throw it up, let it bounce, jump, catch it and reverse-slam without looking" dunk to win the contest. "That dunk had the flu!" Kenny screams. "That dunk was sick!"
Still, a pretty feeble contest. Four competitors, 16 total dunks ... and only the last one was truly memorable. I also felt awkward about 27 different times, making it a grand total of 110 since this show started.
So what happens next year? I'm guessing the Long Distance Shootout and the Three-on-Three Game come back. I can't imagine any scenario in which the Dunk Contest returns, especially with my HORSE idea lurking in the background and waiting for the OK from Team Stern. Heck, they don't even have to call it HORSE -- they can cut it down to four letters, find a corporate sponsor and call it SONY or something like that. Biggest no-brainer of all-time. Just make sure Barkley, Kenny and Ernie are involved.
(My final grade for All-Star Saturday: C-plus. Time to start doing some serious tinkering, boys.)
Bill Simmons writes three columns a week for Page 2.