By Bill Simmons
Page 2 columnist
The NBA trading deadline arrives Thursday ... and you know what that means. Fake trades! Trade rumors that people make up! Trades that will never happen! Yee-hah! Does it get any better than this?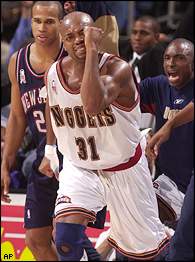 Nick Van Exel will fight for the right to get out of Denver.
Right now, Peter Vescey is sitting in a Manhattan apartment, wearing a smoking jacket, puffing on a pipe and making up a 10-player mega-deal involving Nick Van Exel, Marcus Camby, Damon Stoudamire, Pat Garrity, Lou Diamond Phillips, Bill Laimbeer, Cynthia Cooper, Magic Johnson, Jenna Jameson and Connie Hawkins.
I can't let Vescey have all the fun. For the past two days, I spent my time making up mock trades that could work under the salary cap. To be honest, I have the Admiral Stockdale Face going right now.
Where am I? How did I get here? What year is this?
There's an inherent danger in going overboard with this stuff ... you can cross a line and become legitimately loopy. For instance, while watching the Warriors-Celts game Wednesday night, fake trades and salary-cap numbers were rattling in my brain for four quarters ("Hey, there's
Danny Fortson
-- seven years, $38 million!"). The lesson here: Don't spend too much time making up fake trades. And yet there's something strangely appealing about the whole process. My father and I have played the "Would you make this deal?" game (a distant relative of the "Would you rather ...?" game from college) for years -- it's just fun to play GM. Hell, if Elgin Baylor can do it, anyone can do it. All you need is a list of salaries (courtesy of
USA Today
) and the help of our buddies at www.realgm.com. All right ... enough with the intro. Here are 10 trades that need to be made before the deadline -- and yes, they all work under the cap. If you're not an NBA junkie, stop reading now or forever hold your peace:
1.
L.A. Clippers get Baron Davis ($3.2 million per season, expires in 2003) and Jerome Moiso (cap fodder); Charlotte gets Lamar Odom ($2.8m/2003), Corey Maggette ($1.4m/2004) and Jeff McInnis ($0.6m/2002).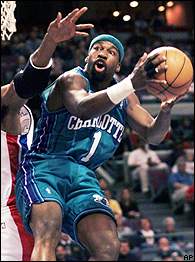 AP
Hornets guard Baron Davis laments an ancient TV question during his "Weakest Link" appearance.
On paper, it seems like L.A. gives up too much here, but there's no way Charlotte would deal Davis unless you bowled them over with an offer. And since L.A. has too many young guys who need minutes, why not overpay for one of the best young guards in the league? You'd rather overpay for quality, right?
Lots to like about this one: Davis returns home to L.A. ... Charlotte immediately becomes one of the deepest teams in the league (Wesley, Odom, Mashburn, Campbell and Brown as starters, with McInnis, Nailon, Maggette and Lynch off the bench) ... the mere thought of Odom playing in New Orleans next season (the comedy potential is off the charts there) ... the Clippers featuring a potent starting five of Olowokandi, Brand, Miles, Richardson and Davis, as well as a bonafide crunch-time guy in Davis (they don't have one right now) ... and Davis already feels comfortable playing with a headband.
2.
Toronto gets Rashard Lewis ($4.4m/2003); Seattle gets Keon Clark ($1.9m/2002), Mo Peterson (0.97m/2004) and Dell Curry (cap fodder to make the trade work).
Seattle replaces Lewis with Mo-Pete and
Desmond Mason
(a downgrade, but not an overwhelming one); more importantly, Clark gives them a much-needed frontcourt boost. There isn't a more underrated player in the league right now than Keon Clark. I'm not kidding. I keep writing this and nobody listens to me -- if he played 40 minutes a game, he'd be a 20/10 guy, night after night. Mark my words. And it's all done on two toothpick legs. Does anyone on the planet have skinnier legs than Keon Clark? Anyway, the Sonics need to shoot 50 percent or higher to beat anyone good, because they can't crash the offensive boards or grab a big rebound when it matters. Clark would change that.
AP
Keon Clark is just the type of inside presence that the Sonics could use.
As for the Raptors, Clark is expendable because a.) they still have Hakeem, Antonio Davis and Jerome Williams, and b.) he's a free agent after the season (and they're already over the $53 million mark, with Vince's contract kicking in next July). More importantly, they need another scorer who can take pressure off Vince (the Raptors play too many games where Vince scores 35 and the next highest guy has 11). Lewis isn't aggressive enough and hates going inside; on Toronto, he could hang outside and feast on those open 3s that Vince creates. Perfect team for him. I'm a genius.
3.
New York gets Alonzo Mourning ($18.8m/2003), Chris Gatling ($2.5m/2004) and a 2002 No. 1 pick; Miami gets Marcus Camby ($6.25m/2005), Latrell Sprewell ($11.3m/2005) and Travis Knight ($3.6m/2005).
Why not? The league's two most loathsome, TV-unfriendly teams join forces and play mix-and-match -- Miami upgrades its roster and becomes a viable threat to make the playoffs, while the Knicks shake things up, roll the dice with Mourning's health problems and weasel out of two mammoth contracts that don't expire until 2005. I tossed in Gatling only because he hasn't played for the Knicks yet, and it's a little-known league rule that he needs to change teams twice per season. If you want to get really crazy, you could even bring in Indiana (a Rose/Croshere/Bender package) and Portland (a Wallace/Anderson/Kerr package) and turn this into a four-way deal ... but that nearly made my head explode trying to figure out the dynamics. Let's just move on.
4.
Boston gets Charles Oakley ($7.5m/2002); Chicago gets Walter McCarty ($3.1m/2002), Randy Brown ($2.48m/2003), Joe Forte ($0.9m/2005).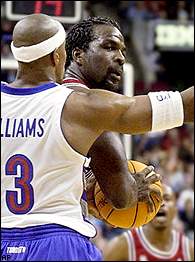 A veteran rebounder like Charles Oakley needs to be dealt to a contender.
Can you believe McCarty cracked the $3 million barrier this season? Amazing. They should create an expansion team filled with all the mediocre to crappy players that Rick Pitino made rich during his disastrous stint in Boston (either by signing them or bumping up their market value by courting them) -- McCarty, Travis Knight, Vitaly Potapenko, Chris Mills, Popeye Jones, Austin Croshere, Tariq Abdul-Wahad, Michael Stewart, Ron Mercer, Tony Battie ... the list is endless. Un-beeeeeee-leeeeeevable. Was there a worse judge of talent in the history of the league? I mean, ever?
Anyway, my token Celtics trade (you knew it was coming) basically amounts to Oakley for Forte, since McCarty's contract expires after the season and Brown is headed for retirement (he has one of those Fred Taylor groins). Oakley doesn't belong on the Bulls; he belongs in the playoff race, playing 20 minutes a game, banging bodies and protecting young guys like Pierce and Antoine. Come on, Chicago, it's Joe Forte! How can you turn down the chance to acquire former UNC star Joe Forte! The guy was money in college! A former All-American! He's a budding star! (How's my selling job to Jerry Krause? Is it working? Somebody throw a donut at him to distract him from this paragraph.)
5.
Nine-team deal: Atlanta gets Tom Gugliotta ($10.1m/2004); Phoenix gets Greg Ostertag ($6.9m/2004) and Chris Crawford ($2.5/2006); Houston gets Ty Hill ($6.6m/2003); Golden State gets Alan Henderson ($6.5m/2006) and Voshon Lenard ($4.2m/2002); Utah gets Erick Dampier ($6.2m/2006); Memphis gets Kelvin Cato ($6.04m/2006); Cleveland gets Chris Mills ($5.4m/2003) and Cal Cheaney ($2.4m/2002); Denver gets Nick Anderson ($5.4m/2003) and Charlie Ward ($5.1m/2004); New York gets Tariq Abdul-Wahad ($5.06/2007).
Hey, it's time for the
Chris Dudley
Memorial game of "Musical Chairs" -- a k a, the mega-deal of guys nobody wants! Three scary things about this one: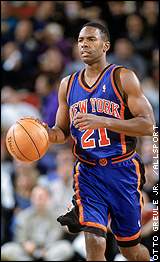 Charlie Ward owns one of the many contracts that the Knicks would love to unload.
The mega-trade makes sense for everyone involved except New York -- and the Knicks have made it clear that they're more than willing to get suckered into a bad trade. This is the same team that traded for a washed-up Glen Rice, then parlayed him into Shandon Anderson and Howard Eisley. Can I get fries with that? God, they're dumb.
Every team involved is either upgrading with a better player (and taking on additional contract years) or downgrading to cut salary (by taking on a player with fewer years left on their contract). It's well-constructed, and actually works under the cap. Admit it, I'm a genius. Admit it, dammit!
Just for the record, the above salary information is correct: Chris Crawford is in the middle of a contract that pays him $18 million over seven years. I will now light myself on fire. 6. Minnesota gets Lamond Murray ($3.75m/2006) and Wesley Person ($6.3m/2004); Cleveland gets Dean Garrett ($3.24m/2002); Tom Hammonds ($1.8m/2002); Anthony Peeler ($2.98m/2002); William Avery ($1.3m/2002). Classic "Talent for cap space" trade. Cleveland lops $10 million off its payroll this summer, positions itself for another lottery appearance, carves out PT for Jumaine Jones, and put itself in prime position to court a free-agent swingman this summer (Ron Artest, Larry Hughes or Bonzi Wells). The Cavs will need lots of cap space because the words "How would you like to come and play in Cleveland?" haven't exactly been a free-agent aphrodisiac over the years. Meanwhile, the T-Wolves upgrade from Peeler to Murray -- they desperately need another reliable shooter for their playoff run. Just a no-brainer all around. 7. Indiana gets Brad Miller ($4.4m/2003), Ron Artest ($1.2m/2003) and Charles Oakley ($7.5m/2002); Chicago gets Jalen Rose ($10.8m/2007) and Travis Best ($3.34m/2002).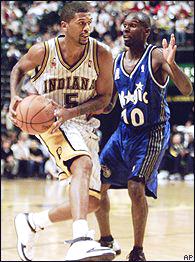 AP

The hot rumor right now has Jalen Rose heading to Chicago.

OK, I cheated ... this is the hot rumor around the league right now. And it makes a ton of sense for both teams. Indy acquires a legitimately decent big body (Miller) and an up-and-coming swingman (free agent-to-be Artest, rented for this season to replace Al Harrington). Chicago lands a recognizable star -- Rose, one of the 20 most talented guys in the league, as well as a head case who clearly needs to be The Man on his own team (so why not Chicago?). Best and Oakley are irrelevant.

Let's face it: Indy needs to dump Jalen, partly because he's a head case, partly because he and Reggie Miller have an ongoing Alpha Dog battle at crunch-time that doesn't seem to be getting resolved, and partly because they need to clear some cap space for Bender and O'Neal after next season. And I really think Rose would thrive on a crappy team like Chicago, if he was launching 25 shots a game and running the show. Perfect trade. I wish I had made it up. 8. Milwaukee gets Danny Fortson ($4.4m/2007), Marc Jackson ($3.25m/2007) and Larry Hughes ($1.31m/2002); Golden State gets Glenn "I stole Antoine Carr's nickname" Robinson (9.0m/2005), Joel Przybilla ($1.7m/2004) and a 2002 No. 1 pick. The Bucks need to do something -- they're too small, they have some chemistry problems and they're either a first-round loss waiting to happen or a George Karl "Leaving the court at halftime and never coming back" incident waiting to happen, whichever comes first. These guys don't enjoy playing with one another anymore. They can easily replace Robinson with Tim Thomas; plus, Robinson has market value because he's a guaranteed 22-25 a night and can score on anybody. This trade makes the Bucks bigger and deeper. I can't imagine why they wouldn't do it. As for the Warriors, Jackson needs to go, for obvious reasons. Hughes becomes a free agent after the season and probably won't return (they don't need him now that they have Jason Richardson, and Hughes hasn't grasped the point guard position -- geez, there's a shocker). And they need to move Fortson, because he and Antawn Jamison don't play well together (Jamison hates playing the 3-spot, and has an attitude about it to boot). By subbing Robinson for Fortson, a happy Jamison moves to the 4-spot and they suddenly trot out two legitimate 30-point threats every night. Plus, they could follow that deal up with this move ... 8a. Golden State gets Nick Van Exel ($9.1m/2004); Denver gets Mookie Blaylock ($5.4m/2002); Cedric Henderson ($3.0m/2002), Troy Murphy ($2.3m/2005) and Milwaukee's No.1 pick.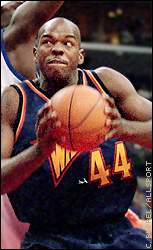 Is no secret that Golden State is trying to deal Marc Jackson.

Is your head spinning? Now the Warriors have a crunch-time lineup of Van Exel, Richardson, Robinson, Jamison and a Foyle/Dampier/Pryzbilla "We've got 18 fouls" center tandem. Would you want to play these guys? Me neither. Here's the point: the Warriors have the depth and the contract fodder (almost $10 million in players whose contracts expire after the season) to upgrade a classic "too many players/too few minutes" team.

As for the Nuggets, they need to revamp, dump some salary and rebuild around Antonio McDyess and tons of cap space. And they shouldn't stop with this move. What about ... 8b. Denver gets Bryon Russell ($5.1m/2002), John Starks ($2.46m/2002) and a 2003 No. 1 pick; Utah gets Raef LaFrentz ($3.75m/2002) and Tariq Abdul-Wahad ($5.06m/2007). More salary-dumping for the Nuggets. Right now they're at $53.6 million; if they made these two trades, by the end of the season, they will have lopped off $15 million in salary (including Wahad's brutal contract), plus they would lose another $13.7 million when Scott Williams, Cheaney, Lenard and George McCloud finish their contracts in April. That gives them $14-15 million to play with this summer. Now they just need to file a restraining order against Dan Issel to prevent him from giving any input.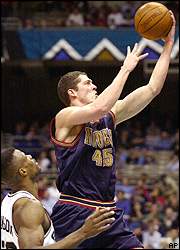 AP

Raef LaFrentz would be a good start for Utah's rebuilding plan.

As for the Jazz, they can throw the farm at LaFrentz and get him signed to an extension, even if it means absorbing Wahad's deal in the process. And if they really feel like revamping the roster, maybe they should just clean house entirely ...

8c. Clippers get John Stockton ($8m/2003); Utah gets Jeff McInnis ($0.6m/2002) and Quentin Richardson ($1.1m/2004). Yeah, I know, I know ... Utah probably isn't trading John Stockton. But I can dream about him playing for the Clips, if only because it would be the strangest thing that ever happened. Wouldn't you love to be in the locker room when he's introduced to his new teammates Darius Miles and Lamar Odom, or when they give him some demeaning nickname like "Gramps," or when they try to get him to wear a red headband during games, or when they coerce him into playing in their weekly "NBA Live 2002" tournament? As if ESPN's new "Sidelines" documentary about the Clips isn't already absorbing enough (Sundays, 10 p.m., just trust me). This is actually a pretty good trade for both teams ... imagine a Clips team with Stockton, Odom, Brand, Miles and Olowokandi at crunch-time? Would you want to face those guys? Plus, Utah could follow that move up with this one ... 8d. Dallas gets Karl Malone ($17.5m/2003) and John Amaeche ($2.18m/2005); Utah gets Shawn Bradley ($4.15m/2008); Michael Finley ($10.6m/2006); Danny Manning ($1.5m/2003); Evan Eschmeyer ($3.08m/2007).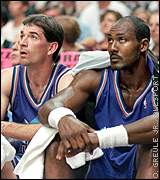 The Jazz are going nowhere, so they might consider trading both John Stockton and Karl Malone.

Before you blanch at the thought of Dallas trading Finley, just remember, he's a little overrated (nobody takes more bad shots during games than him), he's wildly overpaid and the Mavs played just as well without him this season (he isn't best-suited for "third banana" status). And wouldn't a crunch-time lineup of Malone, Nowitzki, Howard, Nash and Hardaway seem pretty formidable, especially with Nash running the pick-and-roll with the Mailman, as Nowitzki sets up behind the 3-point line? Yikes.

As for the Jazz, we just completely revamped a team that wasn't going anywhere, anyway. Finley, McInnis, Richardson, LaFrentz, Donyell Marshall, Andrei Kirilenko, DeShawn Stevenson and a startling three-man rotation of white centers (hometown boy Bradley, Ostertag and Eschmeyer, a k a "Vanilla Thunder"). Not too shabby. And don't forget, the Jazz can't lure any major free agents, so they have to trade for high-priced talent and beat the system that way (I mean, if you were an NBA player, would you want to play in Utah?). 9. Washington gets The Completely Insane Rasheed Wallace ($14.4m/2004); Portland gets Christian Laettner ($4.5m/2005); Kwame Brown ($3.7m/2005); Ty Nesby ($3.2m/2002) and Courtney Alexander ($1.4m/2004).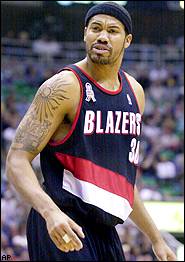 AP

Maybe Rasheed Wallace would shape up if he was playing alongside Michael Jordan.

This one simply needs to happen, and not just because Rasheed has needed a fresh start for about two years now. If I'm a Blazers fan, I would rather see my team make this trade, re-sign Bonzi Wells and gear the franchise around Bonzi, Kwame, Stoudamire and Derek Anderson over the next few years. Just seems to make sense. Their window to win a championship passed when they choked away Game 7 in L.A. two springs ago (maybe the most underrated gag job in recent sports history).

As for the Wizards, the Eastern Conference Window is wide-open ... so why not make a run? You know they'll get every whistle in April and May ... why not roll the dice with Rasheed (a UNC guy) and hope MJ's influence turns him into the Only Partially Insane Rasheed Wallace? With Rasheed, MJ and Rip Hamilton, isn't that enough to at least make you say "Hmmmmmmm" when they playoffs roll around? Hey, it works for me. For my money, Rasheed is the most intriguing Obtainable Player on the market right now, a proven big-game guy who gives you Duncan/KG numbers when he's motivated and you can keep him on the court. And other than Duncan, he's the best defensive player at his position in the entire league. You couldn't draw up anyone on paper who would be a more perfect fit for this Wizards team. And if that's not enough ... the MJ-Rasheed soap opera would be mildly riveting, wouldn't it? Pull the trigger, MJ. 10. Houston gets Joe Johnson ($1.6m/2005) and Roshown McLeod ($1.5, 2005); Boston gets Moochie Norris ($3.6m/2007). My main man Moochie playing for the C's ... I can dream, can't I? Bill Simmons writes three columns a week for Page 2.