By Bill Simmons
Page 2 columnist
Before we begin, a quick introduction: In March of 1999, reader SB1902 (from my old "Boston Sports Guy" website) pointed out how the Boston newspapers regurgitated the same stories every spring training. That gave birth to something of a Sports Guy tradition ... before every spring training kicks off, I examine the Red Sox roster du jour and determine which players fit each "generic angle" category, as a public service for Sox fans (so they won't have to waste time reading any stories before the season).
The best part about this? Even if you're not a Red Sox fan, you can plug in players from your favorite team and have the generic angles work just as well for them (we're using the Sox only because I know more about then any other team).
Read on for this year's angles and click here for examples from the Red Sox's past.
THE NEW GUY (Johnny Damon)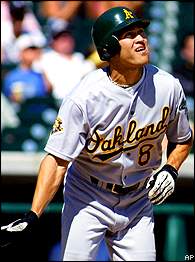 Johnny Damon doesn't reach base with the same frequency.
The ultimate spring training staple, a barrage of stories involving the latest blockbuster acquisition and everything he brings to the table. You can usually count on one lone profile -- always complimentary and always interesting -- as well as a handful of "He's fitting in nicely with everyone" features. Pictures of The Acquisition either A) wearing his Red Sox hat, B) wearing his new uniform or C) laughing it up with his new teammates always work well. And don't forget the "Projected Opening Day Lineup" with the new guy prominently involved. We just want to see the New Guy. All is good now that we have the New Guy. Give us the new guy!
THE WASHED-UP GUY (Carlos Baerga)
Another spring tradition ... usually we're subjected to at least one sappy "Can this guy turn it around?" story ... before he bombs miserably. These stories might become more interesting if teams took these guys behind the practice field and shot them in the back of the head, execution-style (like lame horses).
THE SLEEPERS (Dustin Hermanson, Tony Clark, John Burkett)
We were so excited about The Acquisition this winter that ... hey, we forgot about The Sleepers, those underrated new faces who will inevitably figure into the World Series puzzle this season. Bonus points here, because every Sleeper is usually a little suspect -- after all, another team was willing to give him up -- yet after weeks of subtle hype, you're expecting nothing less than a .350 batting average, 35 homers, 20 wins or 40 saves from each Sleeper by the end of March.
(Note: Clark might be the best example yet, an injury-prone underachiever, who was released by Detroit last winter -- not traded, released -- and yet Sox fans were quickly seduced by his switch-hitting ability, power numbers and gaudy stats against lefties over the past four seasons. We already have Clark penciled in for 40 dingers and a .900 OPS in the 5-spot behind Nomar and Manny. That's a Murderers' Row, baby!)
THE UNHAPPY GUY (Tim Wakefield)
He's still around, he's making big money, he's not playing every day or starting in the rotation ... and yet the team can't/won't trade him. Welcome to the depressing world of The Unhappy Guy! Get ready for quotes like, "Well, baseball is a business" and "You have to learn to go with stuff -- it's part of the game," and "All I can do is get ready to play every day and hope to come through if these guys ever need me," and even "Obviously, I'd love to be out there, but I'm not the one calling the shots."
THE POSITION CHANGE (Derek Lowe)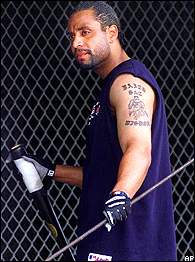 Despite his power numbers, Tony Clark is a Sleeper bordering on being an enigma.
Usually, these stories are more fun when a position player is involved, especially when they mention that the player in question went out and bought a new glove. You know it's serious when a new glove is involved.
The Lowe saga provides a different twist -- "The reliever who loses his confidence, then decides he's more comfortable sucking every five games as a starter rather than three to four times a week from the bullpen" wrinkle. Of course, since Lowe pitched OK in a few meaningless, pressure-free starts near the end of the season, everyone here already has him penciled in as the No. 2 starter this season. You have to love spring training. Can you imagine going into a playoff series at Yankee Stadium next October with Derek Lowe as your No. 2 starter? I think I just threw up in my mouth.
THE FINAL STRAW (Michael Coleman)
This former hot prospect showed tons of promise but never made The Leap; suddenly he's reached his mid-to-late-20s and everyone's tired of watching him fall short of expectations. Can he put it together before it's too late? Usually in Boston, the answer is "no"; only Mo Vaughn turned things around after reaching the "Final Straw" point of his career.
THE RECLAMATION PROJECT (Darren Oliver)
Always a pitcher coming off arm surgery/slump/waivers/trade, who could really help this team ... if he could just recapture the way he pitched in (fill in the year). Nobody loves these guys more than Dan Duquette, but even he stretched the limits this spring with Oliver, the embattled southpaw who was the booby prize in Boston's "Will Somebody Take Carl Everett Off Our Hands Please?" Sweepstakes.
(As an added bonus, Oliver doubles this year as "The Pitcher Who Just Needed His Mechanics Tweaked," maybe the dumbest of the spring training angles. Telling someone like Oliver to "change his mechanics" is like telling Chris Klein to "put a little more life into it.")
My Favorite Phenom
Quick tangent about my favorite Phenom of all-time:

Thirteen years ago, I visited my buddy Gus in Florida during my spring break from college, the very same month that Big Sam Horn (a charismatic, power-hitting first baseman) had started making spring training noise for the BoSox. We headed down to Orlando to catch a Twins-Sox game; after seven innings, Gus wanted to leave because we were meeting friends for dinner. I voiced my objections because Big Sam was coming up in the top of the ninth, but since Gus was driving, he was calling the shots.

"If Big Sam goes deep in the ninth, I will never forgive you," I warned him.

Well, not only did Big Sam go deep in the ninth, he creamed the longest home run in the history of Tinker Field -- a moon shot that actually landed inside a football stadium (the Citrus Bowl) located about 100 feet behind the right field wall. And I missed it. Thirteen years later, I still remind Gus about it. In fact, he could be lying on his deathbed and I'd probably bring it up one last time.

So what happened to Big Sam? I immediately jumped into the front seat of the Big Sam Bandwagon after that game ... and it took nearly three years to recover from my injuries after the bandwagon crashed into a Wendy's Drive-Thru in Pawtucket in 1992. Horn had one decent season, and that was it. The lesson, as always: Never trust a Phenom.
THE GUY WITH NO ANGLE (Brian Daubach, Rolando Arrojo)
The toughest story for any beat writer to pull off ... it's The Guy With No Angle! How can you drag 75 lines out of these guys? Where's the hook? Did you get married over the winter? Are you happy with your contract? Do you have any dying relatives? Have you ever battled a life-threatening illness? Ever spent time in a Turkish prison? Do you like gladiator movies?
THE NEW COACH WITH THE MAGIC WAND (Mike Stanley)
Always more fun when a new guy joins the staff and starts messing with everyone's swing/delivery ... usually with mixed results. For every "Mike Easler changing Mo Vaughn's approach and turning him into an All-Star" situation, there's always a "Walt Hrniak changing Rich Gedman's swing and eventually landing him in a semi-pro beer league" debacle.
Some classic "Magic wand" angles involving coaches: "The athlete learning to drive down on the ball, so he can hit grounders and use his speed" ... "The guy shortening his swing to make more contact" ... "The guy learning how to hide his pitches, so teams can't figure out what's coming next (because tipping pitches is the only possible reason why he had a 7.90 ERA last year)" ... "The starter shortening his delivery, so runners can't steal on him ... "The athlete working on his jump, so he can become an effective base stealer" ... "The catcher working on improving his throws to second base."
(Note: Stanley doesn't fit into any of those roles -- he's playing the "Former teammate who still commands respect in the locker room and could bridge the gap between the manager and the 25 players who despise him" role, as well as the "Potential manager in waiting in case the team struggles early" role. Good times.)
THE INJURED-BUT-HOPEFUL PITCHER (Rod Beck)
Three possible themes here:
1. Even though the Injured Pitcher had major arm/elbow/shoulder surgery this winter and was supposed to miss the season, he's been progressing much better than everyone thought. In fact, he might be available for the stretch run ... if he doesn't have any major setbacks!
2. Even though he doesn't have to necessarily work out with the team, the Injured Pitcher is in camp anyway. What a guy!
3. The team isn't counting on the him, but it would be a huge bonus if he could return for the last two months. Remember, they're not counting on him. We need to understand this. They are not counting on him. But if he does make it back ... boy, that would really be a boost, wouldn't it?
THE GUY LOOKING TO MAKE AMENDS
Regrets? He has a few. Maybe he didn't know she was under 18. Maybe he shouldn't have flipped out like that. Maybe he shouldn't have done those two lines the day before the drug test. Maybe he shouldn't have been at that club at 4 a.m. in the first place. Maybe he shouldn't have loaned money to that convicted felon. Maybe he shouldn't have slapped her. Maybe he should have made that child support payment. Maybe he shouldn't have stormed out of the clubhouse like that. Maybe he shouldn't have spit on that guy. Maybe he shouldn't have head-butted that umpire.
He was wrong. He might not even admit it in so many words ... but he was wrong. But can the team move past it? Will the fans accept him again? Can he make amends for everything that happened last year? Can he put the past behind him? Do you believe he changed at all? And aren't you exhausted by the whole thing?
(Note: Carl Everett's absence left a gaping hole in this spot for the Sox. We shoved Ugueth Urbina in here because of an incident last September -- when he wouldn't turn down his boom box on a team flight and nearly brawled with some teammates -- but it was definitely a stretch. Can't they bring Wil Cordero back?)
THE GUILLOTINE GUY (Frank Castillo)
A sibling of The Injured (But Hopeful) Pitcher. In this case, the player hasn't gotten injured yet ... but you can feel it coming. I mean, you know it's coming. Any article/feature about The Guillotine Guy will contain the following sentence: "If (Pitcher X) can stay healthy, he could have an enormous impact on the Sox rotation."
(Note: The Guillotine Guy is an absolute staple of the Dan Duquette Regime. He's stockpiled more question marks than Frank Gorshin.)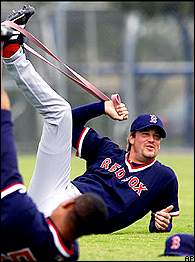 It might be a stretch to have Derek Lowe as a No. 2 starter.
THE DEPARTED, BITTER STAR (Everett)
The Boston Globe always eats this one up: About two weeks into spring training, they'll send a backup beat writer to interview that season's former BoSox star who moved on during the winter; not only does that player express a digusting level of happiness with his new team, but he doesn't mind taking a series of veiled potshots at his old team. Maybe my favorite spring training angle, especially during the Duquette Era, which featured so many petty comments and veiled potshots that the entire experience should have been narrated by Joan and Melissa Rivers.
THE CLUBHOUSE LEADER (Trot Nixon)
He's the grizzled vet ... the guy in charge of the Kangaroo Court ... the guy who's "been there" ... the guy who leads by example ... the guy who gives the team character and presence ... the guy who "does things that don't show up in the box scores." Always worth a story or 10 in spring training.
THE JOURNEYMAN PITCHER WHO FINDS A HOME (Willie Banks)
These guys are usually middle relievers or lefty relievers (with the rare exception of Tim Wakefield in 1995). Why will they put it together with Boston when they've enjoyed limited success on other teams? Nobody knows. But they always seem to warrant a roll of the dice. And if the guy does make it in Boston, the local papers can always be counted on to produce a sappy, feel-good feature when he pitches against the team that originally gave up on him.
THE QUIRKY VETERAN (Rickey Henderson)
Until this spring, Rod Beck was my favorite Quirky Veteran in Sox history. Does it get any better than a reliever with a fu manchu and a frightening mullet, someone who enters games to Foreigner songs and looks like a character from "Major League 6," someone who looks like he probably lets them fly in the bullpen and cups the soiled air with his glove into people's faces? Of course not.
Anyway, the Quirky Veteran unfolds in one of five ways:
1. Gives great interviews ... gives people hotfoots in the dugout ... beloved by the media ... wears rally caps ... always caught by the dugout camera giggling or telling jokes during a game.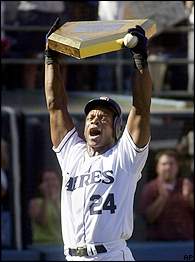 Quirky Veteran Rickey Henderson guarantees plenty of fun this season.
2. Refuses to talk to the press ... hates everyone and everything.
3. An absolute loose cannon ... liable to say anything about anyone at any time.
4. Weighs 300 pounds ... built like The Penguin from "Batman" ... refers to himself in the third person as "El Guapo" ... inexplicably effective coming out of the bullpen ... loved by fans everywhere.
5. Refers to himself in the third person ... has played for roughly 50 years ... once played poker in the Mets clubhouse with Bobby Bonilla during a crucial playoff game, which won the 1999 ESPY for "Funniest Moment of The Season" ... along with Corey Haim, one of two celebrities to rate a perfect 100 out of 100 on the Unintentional Comedy Scale ... goes by the name "Rickey."

(I mean, did you every think you would see the day when somebody usurped Quirky Veteran status in Boston from Rich Garces? Bill Simmons is as shocked as anyone about this. Bill Simmons can't believe he's typing these words. Nobody is more blown away than Bill Simmons. Viva Rickey!)

THE GUY WHO ALWAYS WANTED TO PLAY HERE (Gary DiSarcina)
Not to be confused with "Bob Tewksbury, The Guy Who Always Wanted to Play Here But Never Did." These guys actually make it back to the Red Sox. They might have family ties in New England, they might just want to settle in the Boston area, they might be longtime Sox fans who know they're washed-up and just wanted to wear a Boston uniform once before they hang it up ... whatever the case, they're always happy to be here. At least until things start going badly.

THE FOURTH OUTFIELDER WHO COULD START ON MANY OTHER TEAMS (?????)
A distant third cousin of "The NFL Assistant Coach Who Needs To Get His Chance." Every baseball team has one of these guys -- the spare outfielder who isn't quite good enough to play every day, yet that simple fact doesn't stop people from writing that, "Hey, this guy could start for many other teams!" Strangely, for the first time in decades, Boston didn't bring one of these guys into camp ... maybe they're grooming Coleman for the role.

THE RETURN ENGAGEMENT (Buford, Coleman)
This guy used to play here and things didn't work out ... now he's inexplicably back! Did you miss him?

THE STAR NOBODY CAN FIGURE OUT (Manny Ramirez)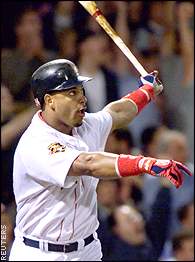 Reuters/Jim Bourg
Will the real Manny Ramirez please show up?
The rarest of spring training angles, someone who only comes along once a decade. This guy passed through Quirkyville, had a cup of coffee in Unpredictable City and spent a few years in Enigmatown ... now he's playing for your favorite team. And he's good. And he makes a ton of money. And he's a nice enough guy.
But all these little picadilloes ... well, sometimes they make you wonder about him. Can you rely on this guy? Will he come through in thick or thin? Will he break your heart in the end? And will anybody ever figure this guy out?
THE LAST STAND (?????)
This guy has been battling injuries/age and struggling for at least one season; everyone slowly came to the conclusion that his career is probably over. Yet he's still on the team, still battling, a shadow of what he once was. Every big leaguer needs that last horrible spring training before he realizes it's over.
(Note: Bill Simmons didn't have the heart to make Rickey Henderson this year's set-in-stone example ... frankly, there's too much comedy at stake here. I'm still hoping he has a few more gallons left in the gas tank, at least enough to get him through June on the major league roster. Could Rickey Henderson do that for Bill Simmons? Bill Simmons just wants two months of Rickey in Boston ... is Bill Simmons asking for too much?)
THE PHENOM (hasn't emerged yet)
Spring just isn't complete unless one rookie in camp is A) described as having "loads of potential" by players and coaches, B) deemed "untouchable" by the Sox front office and C) officially baptized by Peter Gammons in his Sunday column. Strangely, even after that initial "Here I am!" spring training, phenoms are more prone to fail over the long run, especially pitchers.
(Which reminds me ... would anyone like to purchase 10 Kevin Morton rookie cards? I mean, anyone?)
THE NIGHTMARE PITCHER FROM HELL (Lowe, Part 2)
This pitcher drives everyone crazy and takes the most abuse on sports radio every spring ... early in spring training, both newspapers write features about him that are filled with "He could turn it around this year!" quotes ... everyone seems to be giving this guy the benefit of the doubt except the fans (the fans always know when a guy sucks) ...
Then the season starts. Uh-oh.
After a few seven-run innings and too many gopher balls, Gammons writes the following on ESPN.com: "The Red Sox are finally ready to give up on ('The Nightmare Pitcher From Hell') after another slow start ... they've been shopping him for (fill-in-the-blank), but they'll definitely take (fill-in-another-crappy-guy) ... either way, it's clear ('The Nightmare Pitcher From Hell") needs a fresh start with a new team."
(Special kudos go here to Bob "The Steamer" Stanley, who was so dreadful in the mid-'80's that the Sox couldn't even unload him straight-up for Lyman Bostock.)
THE GUY WITH SOMETHING TO PROVE (Offerman)
Terrible year. Tons of problems. A nightmare that wouldn't end. It couldn't get any worse than it did last year. The bad breaks just kept piling up.
And now? He's looking to put last year behind him. He's never looked better. He's in the best shape of his career. He's still a professional hitter/pitcher. He's searching for the keys to the Juvenation Machine. It's comeback time. Don't count him out. And in an amazing coincidence, this guy always seems to be in his Contract Year!
(That reminds me, please don't confuse this guy with "The Star Who Came To Camp In the Best Shape of His Career," as played by Pedro and El Guapo this spring.)
THE LOVABLE BENCH GUY (Merloni)
It's the lovable bench guy! He'll play anywhere you want. He's spunky and gritty. The manager loves him to death. The press eats up his jokes. His teammates love to play pranks on him. He usually has a cool nickname or a name that ends with "y" or "ie." Everyone loves him. And if you spot-start him, he might even provide a little pop for 7-10 day spurts!
THE "KEEP AN EYE OUT FOR THIS GUY" GUY (hasn't emerged yet)
The distant cousin of "The Guy Who Came Out of Nowhere." In this scenario, writers seize upon someone we already know and build him up -- "He's hitting the hell out of the ball this year" or "He's been almost unhittable" or even "How are the Red Sox gonna keep him off the 25-man team if he keeps playing like this?" Usually, this guy ends up sneaking onto the team and summarily being sent down three weeks later. Thanks for the memories.
THE VISA PROBLEM (hasn't emerged yet)
My favorite generic spring training story every season: Usually, it's easier to smuggle 250 pounds of heroin into the country than it is to smuggle a Latin American player into Florida before spring training. Why? Who knows?
It's the same reason we don't know the answer to other questions in baseball ... you know, like "How come they never know how old Cuban baseball players are?", or "How come they run the bases counter-clockwise instead of clockwise?", or "What do first base coaches do?", or even "Why do pitchers lose all semblance of athletic coordination as soon as they become baserunners?" Sometimes, you're just better off not knowing the answers to certain things.
Bill Simmons writes three columns a week for Page 2.