By Bill Simmons
Page 2 columnist
Remember that unbearable "Saturday Night Live" season from the mid-1990s, when Janeane Garofalo and Chris Elliott were on the cast and the wheels came flying off? Cast members openly jumped ship during the season. Some sketches were so excruciating that you actually felt sorry for the audience whenever the "APPLAUSE" sign came on. They even botched their treatment of the O.J. trial, which was only the greatest running vehicle for comedy fodder in the history of the show. Why would Comedy Channel even show reruns from that season? I can never figure that one out.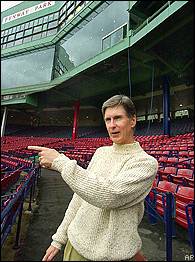 He could use some pigment, but John Henry's off to a good start.
I'm bringing this up because the 2001 Boston Red Sox reminded me of that '95 "SNL" cast: Just an unredeeming, colossal disaster in every way. I hated last season. I mean, I hated last season. Fortunately for Sox fans -- much like Lorne Michaels did with "SNL" that summer -- the Red Sox cleaned house (all right, they demolished it). Now we have new owners, a revamped front office, a new manager, new coaches and a handful of new players. Whether these are good developments remains to be seen.
Here's one man's scorecard heading into Opening Day:
THUMBS UP ... for the new owners. Here in Boston, we grew accustomed to an ownership group (the Yawkey Trust, led by John Harrington) that stayed out of the limelight, ignored the fans, shafted the media and avoided accountability at all costs. And this went on for, like 20 years. I'm not kidding. The Headless Horsemen were leading the team.
We never understood how bizarre this was until the new owners assumed control this spring. Suddenly, John Henry, Tom Werner and right-hand man Larry Lucchino were appearing on radio shows, having catches in the outfield with Sox players and figuring out ways to maximize revenue for the ballclub (we might even see advertising on The Wall!). The changes were sudden and jarring, and not because lead owner Henry had everyone captivated. Over the past few weeks, I received e-mails comparing him to Edward Scissorhands, the guy from "Hollow Man," the guy from "Powder," and a dressed-up Invisible Man. Have you seen him? It looks like he should be working as a butler in a haunted house.
But you know what? At least Henry possesses a definable personality (it's a little creepy, but it's a personality nonetheless). At least he's accountable. At least he's excited to own the team and become part of the community. Four months ago, I was prepared to move out west if Henry's group purchased the team, but they've made all the right moves so far -- including the jettisoning of GM Dan Duquette and manager Joe Kerrigan, as well as the hiring of Lucchino as team consigliere -- and might even be smart enough to dump wretched Fenway Park sooner rather than later.
At the very least, they aren't condescending and unapproachable, and they don't give off those "Hey, you're lucky you even get to root for this franchise, pal!" vibes. Have you ever been in a bad relationship, you finally break up and start dating someone else, and it's only then that you realize you were in such a debilitating, senseless relationship? That's how Red Sox fans have felt this spring. Seeing the new management team making an effort, seeing them break a sweat, you couldn't help but think, "Why couldn't it have always been this way?"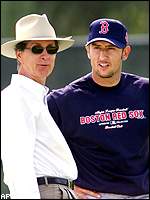 Red Sox owner John Henry chats with Nomar Garciaparra, right, because he can.
(And the whole Henry dynamic has just been phenomenal -- he's like a poor man's Mark Cuban, but on heavy medication. Just a sports columnist's dream. Last Thursday's Boston Herald actually had a back page picture of Henry jogging around the bases of an empty Fenway Park with a "Wheeeeeee!!!!!" look on his face. If he starts dressing up in a Sox uniform during home games, nobody would be surprised. Henry seems like the kind of guy who goes home at night and says to his wife, "Hey, I shook hands with Nomar again today! That's three times this week!")
THUMBS DOWN ... for the team the new owners inherited. You mean we have a nine-figure payroll and a barren farm system? Why, thank you, Dan Duquette! You know how every team comes out of spring training with those "Spring Training Ifs" -- If this happens, if this happens, and if this happens, we might be pretty good? The 2002 Red Sox have at least eight to 10 legitimate "Ifs" (pinning a "predicted wins" number on these guys is downright impossible). And they lack flexibility during the season to make any major moves (inflated payroll, no prospects). Besides that, things look pretty good.
THUMBS UP ... for free agent CF Johnny Damon. Gold Glove defense, speed on the basepaths and a reasonable impression of Fred Lynn's swing in Fenway. And he's a good guy. And he actually pushed for his agent to deal with Boston so he could play here. And he signed for reasonable money (four years, $32 million). And he's entering his prime. What's not to like? I'm still waiting for the other shoe to drop here.
(The only thing that worries me: Every time the Sox sign a speedy guy, they inexplicably lose their wheels when they move to Boston. It never fails. Jose Offerman stole 63 bases in the two seasons before he arrived in Boston in '99 ... within two years, he was plowing around the bases like a drunk guy at a company softball game. If this happens to Damon, somebody needs to investigate the Fenway water supply and see if it contains too much lead. I'm serious.)
THUMBS DOWN ... for the two other major moves last winter, new starters Dustin Hermanson and John Burkett. Eeeeckhh. The Sox hope one of them replaces Hideo Nomo, who wanted wayyyyyyy too much money for a guy with a 4.50 ERA last season. Of course, most of the money they're paying Burkett and Hermanson this season ($11 million) easily could have gone to Nomo, who's more reliable than either of them. Does any of this make sense? Of course not.
Hermanson went 55-60 over the past five years, was left off St. Louis' 2001 playoff roster, turns 30 in December and doesn't strike out nearly enough guys to survive in the American League (362 K's in 606.1 innings over the past three years, pitching in the NL, no less). If that's not enough, some experts wonder if Hermanson has the right "personality" for Boston. Translation: He gets a little wound up. In case you were wondering, the last three pitchers who people "worried about in Boston" were Calvin Schiraldi, Matt Young and Aaron Sele (who was terrible until he fled Boston) ... so you can draw your own conclusions here. Let's just say I'm not running out to purchase a Hermanson jersey.
As for Burkett, the 37-year-old hooked himself up to the Juvenation Machine in Atlanta last season, breaking the 200-inning barrier for the first time since '97, winning 12 games for the first time since '95, and submitting an ERA under four (3.04) for the first time since '94. In a related story -- you guessed it! -- it was a contract year. Jeez, I can't believe it. That never happens. Given that Duquette's favorite winter tradition was signing free agent starters with age/injury/durability issues, he eagerly pounced on Burkett for two years, $11 million and three complimentary arthroscopic surgery consultations (the season hasn't even started yet and he's already on the DL).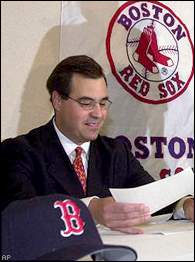 Former Red Sox GM Dan Duquette was known for not returning calls.
THUMBS DOWN ... because it has never been adequately explained why Duquette was making moves all winter when everyone knew he was getting canned after the sale. Blame John Harrington for this one. He lollygagged on the sale for almost an entire year before finally pushing things through this winter -- by the time everything had been signed and approved, it was February 2002, which meant the Duke was in charge for the crucial "winter moves" period. Inexcusable.
Here's what kills me: The entire process took so long because the Sox wanted to check out every bidder's financial history, which somehow dragged through the spring, summer and fall ... and then when it came time to actually find a buyer in November, they ruled out every approved bidder except the Henry-Werner group (allegedly the only group that would be passed by Major League Baseball). So why go through the charade of the screening process in the first place? Why string all these prospective buyers along? I still can't believe more Sox fans weren't outraged by this. Even the Smackdown/RAW fantasy draft last week wasn't as rigged as the Red Sox sale.
THUMBS UP ... for the vastly improved "up the middle" defense. Jason Varitek, Nomar and Rey Sanchez, and Damon. Pretty nice, huh? Do you realize that the Red Sox haven't turned a clean, crisp double play since the Reagan administration? What do crisp double plays even look like? I wouldn't know.
While we're at it, thumbs up for the first balanced everyday lineup this team has featured since the late-'70s: Damon and Rickey Henderson at the top (SPEED!), followed by Nomar, Manny Ramirez, Tony Clark and Trot Nixon in the middle (POWER!). And even Varitek and Shea Hillenbrand (a legitimate fantasy sleeper) should make things happen near the bottom of the order. They should score runs. No question about it.
Other than Nomar's wr- ... (I can't even say it), the key to everything is Clark, a switch-hitting first baseman and resident good guy that Duquette snagged off waivers for free. Nobody knows what to expect from Clark; there's no ceiling and there's no basement. If he slammed 40 homers, I wouldn't be shocked. If he played in 24 games, I wouldn't be shocked. He's a crapshoot. Just one of at least a dozen reasons why this team is so tough to gauge.
THUMBS DOWN ... for the "Derek Lowe could win 16 games as a starter!" fantasy bandwagon, which seems to be gaining steam. SHHHHHHHHHH!!!!! Just stop it. Remember, the Derek Lowe Face launched the running gag of "Sports Faces" in this column. Why raise expectations before the season starts? Shouldn't we wait until Lowe wins a few games before we anoint him the right-handed Bruce Hurst? Shouldn't we wait to make sure the Derek Lowe Face has been destroyed for good?
People around the team swear that Lowe is a different guy this season (even Sox broadcaster Jerry Remy, who knows more than anyone and should probably be running the team, claims Lowe might thrive as a starter). Personally, I keep getting flashbacks to the time Kimberly came back from the dead on "Melrose Place," and Dr. Michael Mancini thought she was fine, and she moved back into the beach house ... and a few episodes later, she pulled back her red wig to reveal a giant pulsating alien scar on her scalp. That's Derek Lowe. I'm just waiting for the game when he pulls back his red wig. Hopefully I'm wrong.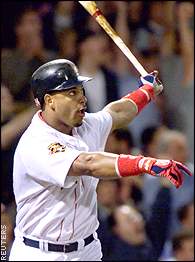 Reuters/Jim Bourg
Check Manny Ramirez's mood ring to see how the Red Sox will play on a given day.
THUMBS UP ... for Manny. He looked like a Hall of Famer for two months last season, at least until everyone started quarrelling, the clubhouse shrank and he started to get that "I wish I was back in Cleveland" look on his face. Coincidentally enough, he started swinging at every first pitch and playing like someone who just wanted the season to end or his manager (Joe Kerrigan) to accidentally get hit in the head by a fungo bat, whichever came first.
Now? Kerrigan's gone, all the shaky veterans are gone, they're the Goodship Lollypop Sox again ... and Manny should thrive hitting between Nomar, Clark and Nixon.
At least that's what I keep telling myself.
THUMBS DOWN ... for Manny's contract. $160 million and eight years for someone who blatantly tanked it down the stretch during his first season. Not good times. Just for the record, Sox fans can't even discuss Manny's contract, a humongous shadow looming over everything. And nobody will acknowledge it, mainly because we were so fired up when he signed in December 2000, ignoring the warnings from Cleveland fans ("He's a head case ... he's a baby ... he doesn't come through when it matters") and choosing to believe that Manny would be fine in Boston.
Year One didn't go so well. Seven years remain. The shadow looms. Just don't mention it under any circumstances. In fact, the last two paragraphs never happened.
THUMBS UP ... for Henderson, the first Red Sox player to rate a perfect 100 out of 100 on the Unintentional Comedy Scale. Bill Simmons loves Rickey Henderson. That reminds me, Bill Simmons read some classic quotes from Rickey this week, including Rickey's memories of playing with Don Mattingly: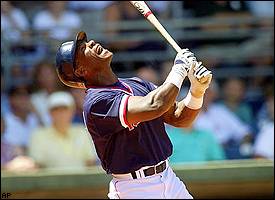 Boston needed Rickey Henderson's speed and comic relief.
"One year, he drove me in 79 times. Did you hear what I said? Seventy-nine times. He would do anything to get me in. You'd have to throw the ball over Mattingly's head for him not to get Rickey in. Dave Winfield used to get mad at him. He'd say, `Now, you ain't the only one who can drive Rickey in.' "
Wait, there's more! Here's Rickey on playing in Boston: "Oh, the city is fine. I'm a seafood guy myself, so I like it. The fans have been good. They've got some baseball knowledge. I'll have a good time in the city. It closes down at 1 a.m., but that's OK: Rickey doesn't spend too much time in the streets."
(Bill Simmons loves this stuff! Bookies wouldn't even lay odds right now on Bill Simmons heading over to Fenway to write a piece about Rickey Henderson. Red Auerbach and Rickey Henderson in the same year! Somebody pinch me.)
THUMBS UP ... for the team in general. Exit Dan Duquette. Exit Carl Everett. Exit every "washed-up veteran making too much money who wants to play every day" (well, except for Offerman). From what I can gather, this team only has one wild card (Oogie Urbina), one head case (Manny), one loose cannon (Pedro), and that's it. New additions Clark, Burkett and Damon are considered genuine Good Guys, and Varitek, Nixon, Nomar and Hillenbrand are four classic throwback players. If anything, this team resembles the '99 team, a good bunch of guys that brought the best out of one another. And that team nearly toppled the Yankees.
(One interesting note: Thirteen veterans departed Boston after last season -- John Valentin, Bret Saberhagen, David Cone, Rod Beck, Mike Lansing, Troy O'Leary, Dante Bichette, Darren Lewis, Everett, Chris Stynes, Scott Hatteberg, Nomo, Hippie Pichardo -- and only Nomo, Hatteberg and Everett feature prominently in another team's plans this season. Throwing in the injuries to Nomar, Pedro and Varitek, it's amazing last year's team even finished around .500, much less remained in the playoff race until late-August. Just a limited, snakebitten team.)
THUMBS DOWN ... for the bullpen. Urbina, Rich Garces, Rolando Arrojo, Tim Wakefield, Casey Fossum. None of them are bad; none of them are good. Urbina and Garces could probably be classified as "above-average," although neither of them have been durable. Fossum shined in spring training (this year's token rookie that excited everybody), but he hadn't pitched as a reliever before this year. Arrojo pitches much better as a starter than a reliever. And Wakefield eats up innings, whatever that means.
As far as contenders go, it's an adequate bullpen with serious potential to become below-average during the season. And this is a team that doesn't have a single starter whom you could definitely pencil in for 200-plus innings -- even Hermanson, who averaged 31 starts over the past five years and somehow cracked 200 innings only once. And we haven't even mentioned Pedro yet. In fact, let's not.
(As an aside, is there anything worse than having a baseball team with a shaky bullpen? I mean, anything? It's even worse than a shaky goalie, an offensive line that can't block, a point guard who can't shoot, a running back with fumble-itis, and a center with bad hands. Shaky bullpens just kill me. Six straight months of that "Oh, God, here we go again" feeling.)
THUMBS UP ... for Hillenbrand. The 2002 edition of the Baseball Prospectus included this hatchet job on the second-year third baseman: "He's also a butcher at third base and in three years has made no progress with his plate discipline. Hillenbrand plays hard but is a total waste of the Red Sox' time." Well, they were wrong. Shea wowed everyone with his work ethic, plate discipline and improved defense this spring. Maybe the Prospectus needs to recalculate his EqA, PDQ and DKNY.
THUMBS DOWN ... to the Red Sox, for not yet introducing plans for a Rich Garces bobblehead doll. I'm not asking for it, I'm demanding it. The Houston Rockets graciously sent me a Moochie Norris bobblehead doll last week; now I need an El Guapo doll and a retro Paul Mokeski bobblehead doll from the Bucks and my collection will be complete. Moochie, El Guapo and Mokeski. No desk could top that threesome. It's impossible.
THUMBS UP ... for Trot Nixon, Roto Secret. Sneaking a ".280, 27 HR, 88 RBI, .881 OPS" campaign by everyone last season (did you even notice?). Entering his fourth full season (and you know fantasy guys always explode in Year Three or Year Four). Batting sixth behind Nomar, Manny and Clark. I'll let you figure out the rest.
THUMBS DOWN ... to Varitek's comeback from a fractured elbow. Sure, he's starting at catcher again, but when you watch him throw to second base (it looks like was coached by Tim Robbins) and hear quotes from him like"It's still not 100 percent, but I can play with it" ... well, that's not fun. The team ERA was 3.00 with him, 4.65 without him. 'Nuff said.
THUMBS UP ... for the Sox's schedule. Tons of games against the Blue Jays, Orioles and Devil Rays, plus 15 games against the NL West (including the Rockies coming to Boston) and a manageable number of games against the stacked AL West. And they finish September with a 24-game stretch that includes Toronto, Cleveland, Chicago, Baltimore (two series), Tampa Bay (two series), the Holy Cross JV squad and Geena Davis' team from "A League of Their Own."
THUMBS DOWN ... for the nine-game stretch when they play in San Diego, Arizona and Los Angeles. Just too strange. I can't even imagine flipping channels in June and saying, "Hey, we're playing the Dodgers tonight at 10:30!" Is anything sacred anymore?
(Couldn't they adjust interleague play just so every franchise played the same two teams every year, and that's it? This way you could maintain the genuine interleague rivalries, make some money and everyone's happy. Like the Sox could play the Mets and Braves every year ... that's it. The A's could play the Padres and Giants every year ... that's it. And so on. Makes too much sense, doesn't it?)
THUMBS UP ... for new manager Grady Little, one of those friendly, good-vibe Southerners who gets along with everyone and (hopefully) inspires players to play hard for him. Isn't that what managing is all about, the old "steering the ship" mentality (as described in my Joe Torre columns last fall), which was something Joe Kerrigan never seemed to grasp? Stay out of the way, keep a low profile, cater to your stars, squash any controversies before they take on a life of their own in the press, make everyone like you (but not too much) ... and you're golden. Harder than it seems.
As for Kerrigan, he was thrown into an admittedly impossible situation last season, but two of the biggest stars on the team (Manny and Pedro) didn't respect him; once you lose the big guns, you might as well start packing. And everything that happened during the final six weeks of the season happened on his watch. Sometimes teams just need a fresh start. This was one of those times.
(And forget the obvious "Sanford and Son" ramifications here ... Grady Little talks just like Forrest Gump. Same exact accent and everything. You really have to hear him -- it's uncanny. You keep waiting for him to say things like "Stupid is as stupid does" after games. And yes, I think we're all hoping that this is where the comparisons start and end with Grady Little and Forrest Gump.)
THUMBS DOWN ... for Little's strange insistence on referring to himself in the third person, like he did last week ("Offy knows what Grady Little and the Red Sox think of him"). Bill Simmons likes when Rickey Henderson does the third person thing ... he doesn't like when Grady Little does it. Makes him uncomfortable, actually.
THUMBS UP ... for No-mahhhhh. Playing the season without him last year was like having a cheeseburger without ketchup. Now he's back! And he's healthy! And the wrist feels fine! And he's spraying line drives all over the place again! No-mah! No-mahhhh (.382 in spring training)!
No, seriously ... NO-MAHHHHHHHHHHHHHH!
THUMBS DOWN ... because this team, as presently constituted, still doesn't measure up with the Yankees. Maybe the everyday lineups are a wash, but the pitching staffs aren't even close; the Yanks have six legitimate starters, two Cy Young candidates, two quality set-up men and a Hall of Fame closer. And given that the Yanks look better on paper than the 2001 Yanks (Giambi over Tino, Karsay in the bullpen, Johnson and Lilly stepping in, Soriano a year older, Mussina officially acclimated, Wells as an X-factor), only the most optimistic of Sox fans believe they have a chance to prevail in the A.L. East.
Well, unless ...
THUMBS HAVING A SPASM ... to Pedro. On the one hand, he's Pedro. On the other hand, he broke down in each of the past three seasons -- just 74 starts and 547 innings over that stretch -- and his shoulder problems haven't gone away. For most of spring training, he pitched like a guy who was afraid to injure his shoulder, throwing from some weird over-the-top angle that didn't resemble him at all. In his final start against the Reds, he aired out a few fastballs, dropped to the ¾ sidearm angle and looked like the Pedro of old. Was he operating on cruise control all spring? Who knows?
And that's what makes a Red Sox preview so impossible this season: Pedro could finish the season with these numbers:
230 innings, 34 starts, 23-4, 2.10 ERA, 290 K's, 35 BB's
... or these numbers:
93 innings, 12 starts, 8-2, 3.03 ERA, 110K's, 14 BB's.
... or he could finish anywhere in between. There is absolutely no way in hell of knowing.
So when predicting total wins for the 2002 Sox, I keep arriving at the figure of "87."
You figure Pedro is responsible for a 14-win swing, right? With a healthy Pedro humming bee-bees every five days, taking pressure off Boston's bullpen, turning every Fenway start into a genuine event and basically making the summer cruise by at warp speed, that number rises to "94." With a struggling Pedro spending most of his time getting MRI's, making rehab starts in Pawtucket, and causing everyone in New England to start popping Prozac, that number drops to "80."
Regardless of how it turns out, at least we'll be associating phrases like "fun to watch" and "likable group of guys" with the Red Sox again. And if Pedro falls apart and the Sox quickly follow suit this summer, well ... that's why the "New England Patriots: Super Bowl Champions" DVD was invented.
FINAL PREDICTION FOR THE SOX: 87 wins, 2nd place, no wildcard.
Bill Simmons writes three columns a week for Page 2.