By Bill Simmons
Page 2 columnist
"Pedro expressed his disapproval by standing defiantly on the mound, his hands pressed against his hips, looking like a little kid who wouldn't play unless he got a do-over. Then he got angry. As we stood and pounded our hands together, Pedro reared back and fired another pea past Branyan ... swingandamiss ... strike three!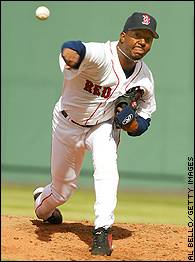 In his much-awaited 2002 debut, Pedro Martinez had one of the worst outings of his career.
"And we went crazy. Really, we went crazy. Standing and hollering near the visiting on-deck circle in Section 24, carrying on like everyone else, I could actually feel a lump welling in my throat. Sometimes Pedro lifts me to a higher place, the same way Bird and MJ did. Every time you count Pedro out, he responds. Every time he gets challenged, he roars back. Every time you think he's extraordinary, he does something that makes you think he's just a little bit greater. And honestly, I don't know what else to say. I love the guy. I've never even met him, but I love the guy."
I wrote that about Pedro Martinez 18 months ago, after a memorable effort against the Indians at Fenway Park. Meant every word, too. You really needed to live in New England from 1998 to 2001 to appreciate the Pedro Experience, to understand what he meant to Sox fans, to fully comprehend the thrill of watching him pitch every five days. Looking back, he was like a shooting star. That's the only way I can describe it. The man was a shooting star.
And maybe it's over. After Monday's Opening Day shellacking against the Blue Jays, Pedro seemed human for the first time in years. Another trip to the disabled list seems inevitable. Once untradeable, once beyond reproach, you would be hard-pressed to count Pedro among the best 10 pitchers in the league right now. The Red Sox simply can't keep him healthy. He isn't reliable anymore.
Is this a baseball eulogy? Who knows. Even if Pedro never throws another fastball, I can't imagine there's a Red Sox fan on the planet who would feel gypped. He gave us 3½ seasons that simply defied imagination.
It isn't even about numbers anymore. Other than Koufax, no pitcher over the past 70 years slapped together a more dominant stretch than Pedro did in Boston. And statistics can only cover so much. They don't describe the buzz at Fenway before every Pedro start, the collective swagger in our step, the electricity in the air, the giddy feeling that something special could happen. You would sit there in your seats, hoping for a perfect game, hoping for a no-hitter, hoping for 20 strikeouts, hoping for something dramatic, just hoping. Anything was possible. This man did not have limits.
Usually during home games, fans head for the concession stands when the opposing team comes to the plate. Not when Pedro was pitching. Nobody wanted to miss anything; we were hanging on every pitch. We were clapping on every two-strike count, standing and clapping for every two-strike count in the later innings. I remember leaving Fenway some nights, looking at my hands and noticing that they were actually swollen. Pedro always left his mark, on everybody.
And when he was cruising along in one of those infamous Pedro grooves, you actually planned your nights around him. Let's go down to the sports bar -- Pedro's pitching tonight. That kind of stuff. Usually he delivered. During that surreal stretch from 1999 to 2001 -- 48-13, 2.02 ERA, 547 innings, 372 hits, 94 walks, 760 strikeouts (that's right, 760) -- there were maybe a dozen Pedro starts in which he simply destroyed the other team, broke them down, broke their will, left them for dead. Seventeen Ks, one hit, one run at Yankee Stadium (September '99). Fifteen Ks, two hits, no walks against Chicago (July 2000). Fifteen Ks, two hits, no walks against Baltimore (May 2000, with the Orioles fans cheering him on in the late innings). The list goes on. And on.
Watching him work his magic every five days, we learned to appreciate the way he set up batters, the way he changed speeds and pitches depending on the situation, the way he always seemed to find that extra gear when it mattered. Usually he stayed in the 93-95 mph range with his fastball, relying heavily on his pinpoint control, incorporating his complementary pitches (slider, curve and a devastating change-up) and doing his "picking the wings off a butterfly" routine. When he needed a strikeout, he reached back for his Uber-Fastball (in the 97-98 mph range) and slammed the door. It was like watching a video game.
Two Pedro games stand out. The first one happened in Tampa Bay, back in August 2000, when Pedro pegged leadoff batter Gerald Williams with a fastball, Williams charged the mound, the two teams brawled, there was a 25-minute delay... and then Pedro proceeded to retire the next 24 Devil Rays in order. He was pissed. The Uber-Fastball came off the shelf for eight straight innings in that one. It was like he was saying, "You dare to charge the mound against me? Have some of this!" If I could show one Pedro game to my grandkids some day, it would be this game.
The other moment happened in Cleveland, back in Game 5 of the '99 playoffs, when a hurting Pedro slammed the door on the Indians -- six no-hit innings in relief against a team that had scored 32 runs in the previous 32 innings of the series. When Pedro jogged out of the bullpen, you could feel the air leave Jacobs Field. They knew. It was positively Eastwood-esque. And even though he didn't have the Uber-Fastball at his disposal, he managed to keep the Indians off-balance for the rest of the game. His teammates ended up carrying Pedro off the field, and they should have. He saved the day.
And that might have been the definitive Pedro moment, since it involved every aspect of the Pedro Experience -- the talent, the charisma, the sense of The Moment, and the physical limitations that threatened to derail him with every pitch. I remember watching that game with my father and dying with every fastball, wondering if this would be the pitch that caused Pedro to double over in pain as the trainer sprinted in from the dugout. You never knew when the whole thing would suddenly end.
There was a fragility about Pedro from Day One, you see. We never took him for granted the way we took Larry Bird and Bobby Orr for granted; when the careers of Orr and Bird were derailed by injuries, some fans seemed genuinely wistful that they hadn't appreciated those players more in their primes. Not Pedro. We savored every start. Just one glimpse of that wispy frame -- skinny legs, skinny arms, no ass -- made us wonder how long he might last. For God's sake, he was built like a batboy. We were seriously supposed to expect 240 innings per season from this man?
As it turned out, we rode him for 3½ years, two Cy Youngs and a boatful of memories before his body finally started breaking down. There were warning signs every season -- stints on the disabled list in '99 and 2000, the final breakdown in 2001 -- and we learned to identify them even as they were happening. When Pedro is on his game, he barely ever steps off the rubber. Jason Varitek throws him the ball, Pedro peers in, Pedro hums another BB. Rinse, lather, repeat. That's the beautiful thing about watching him in person, the breakneck pace, the utter command he holds over everyone and everything.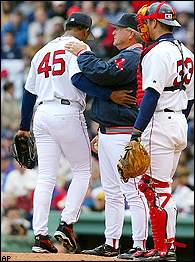 Martinez hadn't figured on this early a meeting with new skipper Grady Little.
So when he isn't feeling it and he isn't healthy, the diehards can tell. He wears a resigned look on his face, like a fat guy laboring on the treadmill and realizing he still has 20 minutes to go. There's no pace to his pitching. He keeps stepping off the mound to loosen his back or stretch his right arm over his head. His control seems off, just a tad, but enough. Batters aren't swinging through his high fastball anymore, so he's relying on way too many change-ups. Instead of hitting the mid-90s on the Fenway radar screen, he's hovering between 90 and 93. And you just know something is wrong.
But at least when Pedro struggled in the past, he exuded enough confidence that it always seemed like some sort of unexpected aberration. On those rare occasions when Pedro was getting kicked around at Fenway, the crowd always made a strange sound with every hit -- a muffled, incredulous hush, as if something absolutely unthinkable was happening. I haven't heard that specific sound at a sporting event before or since. That's just the way he was. You could bring someone who didn't know anything about baseball to Fenway, and within 15 minutes, they would be totally drawn to Pedro. Some people are just larger than life.
Monday's debacle against the Blue Jays was different. For one thing, Pedro hadn't seemed confident all spring -- he looked like a guy who was afraid to let loose because he didn't want to injure his shoulder again. And you could see it. He looked tormented. Rattled. Even scared. His mojo had completely vanished in an Austin Powers kind of way. There was an inevitability about Monday's beating from the Blue Jays -- four innings, eight runs, nine hits, two hit batsmen, only four Ks -- because we could feel it coming for five weeks. Deep down, we knew. The fans always know.
Still ... it was painful to watch. One of my readers compared it to the scene in "Superman II" after Clark Kent gives up his super-powers to marry Lois, when Clark gets beaten up by the truck drivers and you keep thinking to yourself, "Wait a second, this is Superman! This can't be happening! It's Superman!" And that's one of the worst things about sports, those "Superman II" moments when the invincible hero finally passes his prime and gets knocked down to size. Every superstar experiences it at some point; Pedro's turn came up Monday. Whether he lives to fight another day remains to be seen.
As for me, I feel like I'm writing a eulogy. The great Pedro Martinez had his butt handed to him on Opening Day. At Fenway Park. In front of everybody. His ERA is currently 21.00. And for the first time in four years, I'm not looking forward to watching him pitch in five days.
Maybe this isn't the end of an era ... but it sure feels like it.
Pedro Martinez's statistics for Boston
Year
W-L
IP
H
K
BB
ERA
1998
19-7
233.2
188
251
67
2.89
1999
23-4
213.1
160
313
37
2.07
2000
18-6
217.0
128
284
32
1.74
2001
7-3
116.2
84
163
25
2.39
Bill Simmons writes three columns a week for Page 2.