By Bill Simmons
Page 2 columnist
On the same day that the most famous player in Patriots history was exiled to Buffalo, every other Boston-area pro team won: Paul Pierce and the C's trampled the Sixers in Game 1 of their series; the Red Sox swept a doubleheader in Kansas City; and the Bruins held off the visiting Canadiens in Game 2 of their playoff series. Four wins, no losses. The entire day felt like a collective acid flashback; only our beloved Boston Garden was missing.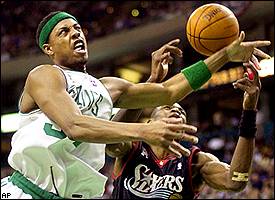 Word of the trade spread while Paul Pierce and the Celtics were dismantling the Sixers.
Growing up in Boston during the '80s, you always imagined days like this, when you were finally old enough to drink, when the winter teams were still winning, when the beers were flowing, the Garden balconies were swaying and everything was right with the world. Unfortunately, fate intervened -- the C's and B's swooned in the mid-'90s, they demolished the Garden, and Boston fans were sentenced to Winter Sports Hell -- until both franchises hooked themselves to the Juvenation Machine this year. Now it feels like spring again. We're back, baby. The Boston sports scene is officially back.
Like many other fortunates, I attended both playoff games Sunday, killing the four-hour break with some extended bar-hopping on Canal Street (along with thousands of other fans). By the end of the night, my hands were swollen, my throat scratchy, my eyes bleary ... I didn't have an emotion left in my body.
And yet, years from now, I'll remember hearing about the Drew Bledsoe trade over everything else.
The news filtered through the Fleet Center stands during the Celtics game. There was a suddenness to it, a finality, a coldness. We were like kids in high school who just found out somebody had been expelled. You hear about Bledsoe? And the word spread, and it spread, and by the end of the game, probably everyone knew. Bledsoe was gone. He even lost first-name status; nobody referred to him as "Drew" anymore, the way we referred to "Nomar" and "Larry" and "Bobby." He was simply "Bledsoe," the guy who used to play quarterback for us, the guy who was headed out the door. Yesterday's news.
The final few weeks were painful. Knowing Bledsoe would leave this spring, nobody imagined the Patriots would have such difficulty dealing him. When they dangled him on the trading block in February, after the Super Bowl win, we expected at least two first rounders in return. Then the Peter Kings and Chris Mortensens started reporting that other NFL teams were lukewarm on Bledsoe. Well ... how could that be? Wasn't Bledsoe still in his prime? Wasn't he a three-time Pro Bowler? Maybe he wasn't a franchise guy, but wasn't he better than most of the starting QBs in the league? Wasn't he still on pace to throw for more yards than anyone other than Brett Favre?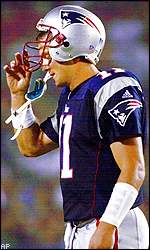 Drew Bledsoe was pushed out of New England like yesterday's news.
And they couldn't trade him? They couldn't trade him??? How could that be?
So we made excuses for him, like we always did. It couldn't be that Bledsoe slipped over the past few years, that he was an above-average QB at best, that he was making wayyyyyyyyyy too much money, that he was coming off a life-threatening injury, that maybe, just maybe, we had overrated him all along. Nope. The other teams were playing possum. That was it. We just needed to be patient.
Over the next few weeks, we watched in horror as potential suitors dropped out of the bidding, one by one. Chicago signed Jim Miller to an extension, effectively saying, "No thanks" to Bledsoe. Cincinnati showed some interest, backed off and spent their excess cap room on free agents. Washington, Dallas, Carolina and Houston weren't remotely intrigued, and none of them even had a quarterback. Suddenly, only Buffalo remained ... and they were offering a second-round pick. For Drew Bledsoe. The greatest quarterback in Patriots history. We hadn't just overrated him over the past few years, we were living in an alternate universe.
The trade finally happened on Sunday -- Bledsoe straight-up for Buffalo's 2003 first-rounder -- and only after the Patriots resigned themselves to the fact they weren't getting anyone in return who could help this season (other than some valuable cap space). Star players rarely get dealt within their own division, in any sport, unless they aren't considered a threat anymore. And yet the Patriots and Bills share the same division and meet twice a year, which indirectly means the Patriots don't believe their former QB can haunt them down the road.
Out of everything that happened to Bledsoe over the past 12 months, that probably stings him the most.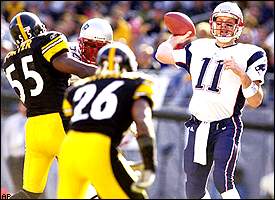 At least Bledsoe got in one final heroic performance in last season's playoffs.
It stings New England fans, too. Every city has an athlete who never quite realized expectations -- Randall Cunningham in Philly, Chris Webber in Washington, Penny Hardaway in Orlando, and so on -- and it always hurts a little when you reach that, "All right, this guy needs a fresh start somewhere else" portion of the relationship. Somewhere along the line, we reached that point with Bledsoe, and then fate intervened -- in the form of a vicious Mo Lewis hit -- sending the Patriots on an improbable Super Bowl run, pushing Tom Brady to the forefront, and eventually pushing Drew Bledsoe out of town.
Bledsoe was always a likable person and a class act, which complicated matters. For instance, when they honored the all-time Patriots team at halftime of the final Foxboro Stadium game last December, well after the whole Brady-Bledsoe saga had been decided and Bledsoe had been banished to the bench, Drew elicited the loudest response from the crowd, a bone-chilling "Dreeeeeeeeeeeeewwwwwwwww!!!!!!!!" Even after everything that happened, even though the team was better off without him starting, we still loved the guy. That's what made it so rewarding when Bledsoe came off the bench, Hollywood-style, to save the Pittsburgh game in last season's playoffs. Nobody deserved it more than him. Quite simply, you want to root for guys like this.
Maybe that was part of the problem. As Bledsoe's career devolved from "No. 1 Pick & Franchise Player" (1993) to "Hall of Famer In-Training" (1994) to "Pro Bowler Who Can't Quite Make The Leap" (1995-98) to "Above-Average QB And Borderline Disappointment" (1999-2001), New England fans never really devolved with him. We were living in denial, grasping onto positives, ignoring negatives, making up excuses. His offensive line stinks. His offensive coordinator is an idiot. If Curtis Martin was still there, his life would be a lot easier. He misses Ben Coates. If Terry Glenn wasn't such a screw-up, Drew would be lighting it up.
It was always something. As the losses mounted, we took solace in Bledsoe's career numbers, noting he was probably headed to the Hall of Fame. Nearly 30,000 yards passing, more than 2,500 completions, nearly 175 touchdowns ... and he wasn't even 30 years old. It didn't matter that his numbers compared favorably to Jim Everett at the same stage of their careers. Or that franchise QBs usually peak around their fifth or sixth season. Or that most QBs start to break down once they reach the 4,000-5,000 mark in "passes attempted" and near double figures in the "seasons played" department, just like pitchers in baseball and guards in basketball.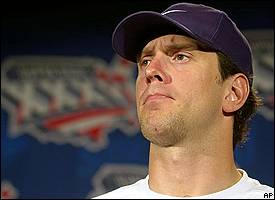 Being dealt for a draft pick is one thing, but being dealt to a team in the same division sends another humiliating signal.
We kept waiting for him to recapture the magic from the first four years of his career. And in the process, we ignored some basic, fundamental problems with the Bledsoe era. First of all, Bledsoe was a dinosaur. Turn the clock back 20 years and Drew would have thrived -- 6-foot-5, cannon arm, touch on the intermediate routes, intelligent and competitive -- but football changed drastically over the past 15 years. You wonder if even a Dan Marino could succeed these days, much less Bledsoe.
Think about it. Defensive ends weigh 290 pounds and sprint 40 yards in 4.6 seconds. Outside linebackers rank among the most agile, explosive athletes in any sport. Unless quarterbacks have luxuries on their side -- superior offensive linemen, receivers who draw double coverage, backs who force the defense to respect the run -- they have to scramble to survive. And they rarely have time to drop back, bide their time and throw BBs, Drew's specialty back in the day.
If that wasn't enough, franchise QB's always possess one trait that separates them from the masses. The athletic ability of Donovan McNabb and Steve Young. The accuracy of Kurt Warner and Marino. The competitiveness and killer instincts of Favre and John Elway.
But nothing jumped out with Drew. His inability to take advantage of his cannon arm was the most frustrating subplot of the Bledsoe era in New England (for every receiver he would hit in stride, he'd miss three). His failures in crucial moments have been well-documented over the years; he isn't exactly a choke artist, but NFL Films isn't working on a "Drew Bledsoe's Greatest Moments" DVD, either. And he never seemed to make it through a game without making one or two dumb plays.
During his formative years, Bledsoe excelled when the Patriots were trailing and he just started flinging passes around like a gunslinger, but those days slowly faded away. His final years in New England were highlighted by his remarkable ability to absorb an obscene amount of punishment, yet somehow protect the football -- as epitomized by the 2000 season, in which he was sacked roughly 430 times and fumbled just six times. No small feat. But it also doesn't make you a superstar.
Of course, the crucial difference between good athletes and great athletes is the "Oh My God!" factor, those occasional moments when an athlete comes up with something so astounding that we can only scream, "Oh my God!" Remember Dr. J going under the basket for that reverse against the Lakers, or Elway's lob pass to Vance Johnson in Cleveland? Oh my God.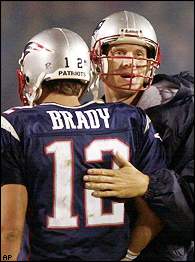 Had the enthusiastic Tom Brady not taken over, it's doubtful Bledsoe would have led the Pats as far.
Michael Jordan is the all-time "Oh My God!" captain. Barry Sanders and Gale Sayers are charter members. Julius Erving, Magic, Dominique Wilkins and Larry Bird are all there. Elway, Marino and Joe Montana. And Favre. Jaromir Jagr, Mario Lemeiux and Wayne Gretzky. John McEnroe and Tiger Woods. Pedro, Randy Johnson and Doc Gooden. There's a special locker for Bo Jackson. Kobe Bryant is damn close. Randy Moss and Michael Vick might make The Leap soon. And we keep room on the list for anyone else capable of making plays that inspire teammates, bring fans out of their chairs, break an opponent's collective back and make you believe.
Poor Bledsoe came up short in this department ... repeatedly. Rarely would he salvage broken plays and turn them into something special. Rarely would he make those "How the heck did he squeeze that in there?" throws that Marino made in his prime and Warner makes now. These are the plays that quantify the difference between a great quarterback and a good quarterback the way no statistic ever could ... and after his first two seasons, Drew Bledsoe just stopped making them.
Over the past few seasons, Bledsoe became almost a star-crossed figure -- the Token Good QB On A Bad Team, the brave soul who gets the stuffing beaten out of him and keeps coming back for more, the Archie Manning of his generation -- which contributed to him losing his mojo at the end of games. During the '99 and 2000 seasons, almost every time the Patriots needed him to deliver in crunch time, it didn't happen. Unlike Favre or Elway, he wasn't talented enough to carry a below-average team. When Brady finally stepped in and staged some last-quarter heroics, the most common refrain was "Bledsoe wouldn't have made that play" or "If Bledsoe was in there, we wouldn't have won that game."
It was unfortunate that Brady's success -- and the success of the team, to a larger extent -- reflected negatively on Bledsoe (Patriots fans pointing out that they wouldn't have won with Bledsoe), and in turn, somehow reflected negatively on Brady (Bledsoe backers claiming that they would have prevailed with either guy). Nonsense. Brady's offense revolved around misdirections, play-actions, short timing passes and everything else that Bledsoe never executed well. Not only would Bledsoe have done a much poorer job, but this team couldn't have excelled any other way; they simply didn't have the personnel to pull it off.
Comparing the two, I always thought intangibles were the smoking gun. When Brady took charge last season, his enthusiasm and fearlessness was infectious. There's a great scene on the Super Bowl DVD -- during the Snow Game against Oakland in the playoffs, right after an extended TD drive pulled the Pats within three -- when Brady is pacing around on the sidelines, slamming people's shoulder pads and screaming to nobody in particular, "That's a great drive! That's a great drive."
Watching it on tape, you can't help but get fired up. These were the things that Bledsoe just didn't do anymore -- give us that same hope, infect us with that same enthusiasm, make us believe that anything was possible, that anything could happen. Isn't that what being a quarterback is all about?
Look at this recent quote from Lawyer Milloy (in a Sports Illustrated article about Brady from three weeks ago): "I'm a big fan of Drew's, but it was obvious that the team needed something different, and Tom brought that youthful energy. What we have in him is a personable quarterback. Guys on the team don't feel he's untouchable."
It was obvious that the team needed something different.
Couldn't have said it better myself.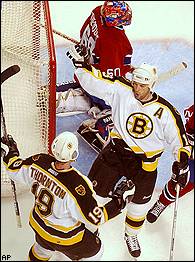 Joe Thornton, left, and Bill Guerin of the Bruins lead a revived Beantown sports scene.
Whether Bledsoe rejuvenates his career remains to be seen. Nobody expects him to transform the Bills from a four-win team to a 12-win team overnight, but he could certainly become a major piece of the rebuilding puzzle. Maybe Bledsoe needs something different, too. Fresh start. New group of fans. New uniforms. New offense. New mission.
So he's moving on, and Boston fans are moving on. We have the Super Bowl champs, as well as a revived sports scene headlined by four high-caliber teams and a number of genuine stars (Nomar Garciaparra, Pierce, Milloy, Manny Ramirez, Joe Thornton, Billy Guerin, Pedro Martinez, Antoine Walker and Brady), as personified by Sunday's winning trifecta. In a weird way, it seemed fitting that Bledsoe took part in the day's proceedings, even indirectly. Out with the old, in with the new.
Hey, it's never fun to admit something didn't work out exactly the way you thought it would. This happens in life all the time. People hold on to jobs for too long, or lovers, or dreams, or even memories ... and they don't realize they should cut the cord until it's too late. Sometimes you just have to suck it up and move on. And on Sunday, we did.
One last thing: One of my buddies called me up last night to discuss the trade, finally asking me for my final grade on the Bledsoe era. I mulled it over, finally saying, "Very good, excellent at times, but never great."
"Sounds like a B-plus," my buddy said.
"Pretty much," I agreed. "B-plus."
"Hey, there's nothing wrong with a B-plus," my buddy offered.
Nope. I guess not.
Bill Simmons writes three columns a week for Page 2.