By Bill Simmons
Page 2 columnist
Editor's Note: This is Part 1 of The Sports Guy's two-part visit to the set of TNT's "Inside the NBA." Click here to check out Part 2.
ATLANTA (7:45 p.m., last Wednesday) -- With Game 2 of the Celtics-Pistons series looming, Ernie Johnson Jr. stands in his office, proudly showing off his prized possessions -- two keepsakes that would have eBay addicts drooling and Basketball Hall of Fame officials clearing out cabinet space in Springfield. Hanging on the wall behind Johnson's desk, two long-sleeved T-shirts are smothered in autographs from every single "Inside The NBA" studio guest since 1991. Reggie Miller, Derrick Coleman, Gary Payton, Earl Monroe, Isiah Thomas, Magic Johnson ... everywhere you look, another name jumps out. Side by side, it's just a staggering array of personalized signatures, dozens and dozens of relevant NBA names from the past three decades. "And Doctor J's coming in tonight," Ernie says, his eyes lighting up. You don't realize how long Johnson has been plugging away on TNT's NBA coverage until you glimpse these shirts. You might remember him in the early-'90s, resembling a pharmacist with his coke-bottle glasses. You might remember him in the mid-'90s, when TNT and TBS showed four first-round playoff games per night and Johnson seamlessly pulled off seven-hour shifts. Now you know him as the guy who hosts the greatest TV studio show I've seen. And that's why I visited Turner's NBA studio in Atlanta last week. Nobody knows how long Ernie, Kenny "The Jet" Smith and Charles Barkley will remain together on TNT's "Inside The NBA" show. With Barkley's contract expiring after the season, with NBA teams knocking on Kenny's door for potential coaching or front-office jobs, with the NBA's TV package getting divvied up among ABC, Turner, ESPN and AOL next season ... well, you never know. So somebody had to document what's happening here. A postgame show that occasionally
improves
on the ratings from the actual game? How rare is that? "I remember the first show we did together (two years ago)," Ernie says. "Everything went so well ... I was walking out of the studio thinking to myself, 'You know what? This is gonna be great.' " It's not like the old show was bad. Kenny and Ernie worked well together for two years, but Turner couldn't pass up the chance to add Barkley before the 2000-2001 season. Ernie believes the way Kenny handled things -- playing off Charles instead of attempting to outshine him, accepting a Pippen-like role to Barkley's MJ, maintaining a high level of energy -- triggered everything that happened over the past two years. Now it's the perfect mix, almost like a good basketball team. Coach Ernie keeps the show on track, Kenny plays the selfless point guard, and Charles puts up the big numbers. As for Ernie, his task is much tougher than it seems. The TNT producers (Mike Pearl, Tim Kiely and Greg Pike) make a concerted effort to "under-rehearse" the show -- pre-production meetings last only 10-15 minutes, none of the dialogue is rehearsed, and none of the extended bits and segues are planned out -- feeling that too much preparation hurts the spontaneity of the show. Basically, it's controlled chaos.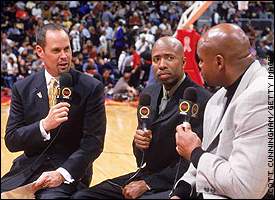 Allsport
Ernie Johnson, left, is the ringmaster, while Kenny Smith and Charles Barkley provide the circus.
"I have no idea what's gonna happen next," Ernie says. "At the same time, I have to know where we are on the road map. I know I have to get us from Point A to Point B to Point C, but that's about it. And that's the way we want it to be."
Since such a show could flounder without a capable host, everything falls on Ernie -- reeling in Barkley when he meanders on tangents, giving Barkley leeway to meander on those tangents, setting up Kenny and Charles for one of their classic trash-talking arguments, knowing when a bit has run its course, injecting the proper tone of seriousness in the right spots, and running the nitty-gritty aspects of the show (highlights, breaks, updates) at the same time. There's a reason he finally captured a "Best Studio Host" Emmy this year -- after more than a decade at this, nobody runs a better studio show than Ernie Johnson. "I used to do this show by myself," Ernie says, sitting behind his desk now. "It's a little more fun now, to say the least." Suddenly there's a knock on Ernie's door. It's Julius Erving, the Doctor, one of the 10 greatest basketball players of all-time. And he's smiling. He likes Ernie, you can tell. Ernie and the Doc shake hands and make small talk, then Ernie introduces me to the Doc. "Wassup, young fella?" the Doc says, shaking my hand. His hands are so big that I'm not even sure where my right hand just went. I can't even speak. It's Doctor J, for God's sake. Acting just like a studio host, Ernie steps in to save the day: "Bill writes for ESPN.com." The Doc nods, a knowing smile. "OK, ESPN.com," he repeats. I mumble something to the Doctor about being a longtime fan, even though I'm a Celtics fan. Or something. I'm totally incoherent. It's Doctor J, for God's sake. Fortunately, he and Ernie start discussing tonight's show. I'm off the hook. "Be ready for anything tonight," Ernie tells Doc. "Be ready for anything."
8:40 p.m.
We're sitting in the viewing room, where three rows of desks and 20-plus chairs face a Dr. Evil-esque wall of televisions (17 in all). Much of the show's material originates in the first row, where Kenny and Charles join the studio host du' jour for the "Guys sitting on the couch, watching a game and making comments" routine (Ernie usually watches games from his office). Right now, Kenny and Doc are sitting in the front row, and maybe 10 other TNT employees are scattered along the last two rows. Suddenly we hear this: "Hey, y'all." It's Charles. Seventy-six and a half inches, 300-plus pounds, bald head, big smile on his face. He doesn't seem as tall or as large in person; he's like your stocky friend from high school who played nose guard and put on some weight after college, only he's a little bit taller and infinitely funnier. Right now, he's grinning happily. "The Doctor!" Barkley exclaims.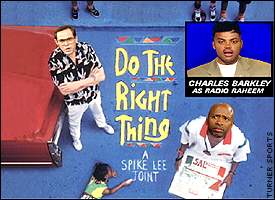 Turner Sports
When it comes to making the audience laugh, the TNT crew usually does the right thing.
"Wassup, young fella?" his former mentor in Philly responds, rising out of his chair so they can attempt one of those handshake-hug combos. They immediately start discussing Thursday morning's planned golf match, as Doc confesses that he has been experiencing problems with his right hand lately. He holds out the hand and squeezes it open and shut, seeming confused by the whole thing. He can definitely play tomorrow morning, he tells Charles, but he's a little concerned about the hand.
"Look at you, already makin' excuses!" Barkley giggles. They settle into their seats and Barkley's cell phone immediately rings. He starts jabbering back and forth with a buddy, loudly enough so everyone can hear -- when Barkley's in a room, everyone knows at all times -- before finally wishing the person good luck and hanging up. "That was Tiger," he tells Doc. "He's playin' tomorrow. First tournament in a couple weeks. He's in his hotel room, putting." Chuck delves into his catered dinner -- chicken, biscuits and gouda cheese grits -- while carrying on a conversation with Doc about their successor in Philly. "Allen Iverson isn't doin' anything he didn't do last year," Barkley yelps, his voice rising. "They just got beat. They weren't complainin' about this stuff when they made the Finals. Funny how things change when you're losin'." He's just getting started. Seeing the infamous pipe bomber on CNN Headline News sends him into a tizzy: "What do white people have to be upset about? Y'all already own the world. What more do you want? This guy's white, he's in a band, he has a girlfriend, he's 21 years old, he has his own website ... so why the (bleep) are you unhappy? What the (bleep) do you have to complain about? I don't get it, I really don't." Senior producer Tim Kiely strolls in just as Charles is finishing his pipe bomber rant, so Charles starts over for Kiely's benefit, getting even more carried away this time. When Kiely can't come up with an adequate response, Barkley turns the tables on him. "Poor T.K.," Barkley jokes. "Between you being white and you being Catholic, it's been a tough couple of months for you, hasn't it?" Barkley carries on like this for the next 20 minutes, riffing on everyone and everything, playing off everyone else in the room, having a grand old time, pretty much ignoring the second quarter of the Pistons-Celtics game. Remember when Ricky Williams announced that he was suffering from a "social anxiety disorder"? Barkley suffers from an "anti-social anxiety disorder." He just loves people. He loves an audience. He loves to be heard. You can almost imagine him sitting in the back of his third-grade class in Alabama, cracking jokes until the teacher finally sent him scurrying out into the hall. Now Kiely gives them the word: Time to head out for the halftime show. Barkley slaps his hands together and rises out of his chair. "All right, let's have some fun tonight," he says, practically singing.
9:05 p.m.
We're on the set, which has so much going on that it can't even really be described. Giant televisions, plasma screens, ladders, windows, multi-colored lights ... now
this
is what a TV studio should look like. It's like a McDonald's playground gone insane. Barkley slides into his customary seat on Ernie's far left. Kenny sits between them. Doc sits in the "Guest Host" seat on Ernie's right. They kick off with some vintage Doctor J footage, as Kenny pulls his euphoric "Doctor J in the house!" routine. Then they dissect the Pistons-Celtics game, Kenny pegs the key points, and Barkley makes his usual number of "He didn't just say that, did he?" comments. Everything wraps up neatly within 12 minutes, as Chuck ends a mammoth segue (don't ask) with the classic quote, "I told y'all, I'm not gonna be like Robert Blake -- I ain't gonna leave no evidence!" Now here's where the fun starts. Kiely and the behind-the-scenes gang at Turner
live
to pull pranks on Barkley. When Magic Johnson appeared on the show last month, they built an entrance to a mock nightclub called "The Champion's Club," located behind the actual set. During a live halftime spot, cameras showed Magic and Ernie arriving first, greeted by a bouncer who looked up Magic's name on a list, then allowed both of them in. Kenny lured an unassuming Barkley back there about 15 seconds later, as the cameras caught Charles glancing up, noticing the sign, seeing the bouncer, watching Kenny say, "I'm on the list" and strolling through the door ... finally Barkley's shoulders sagged, and his face broke out into a defeated smile. "Awwwww, I see," Barkley said. "Y'all playin' a joke on the Chuckster." Of course, Kenny took it a step further, entering the Club while poor Barkley stood outside by himself -- yet another chapter of the "You never won a ring, Charles" jokes that Kenny perfected over the past two years. Then Kenny, Magic and Ernie opened the door and yelled out things like "Fennis Dembo says hello!" and "Mike Penberthy says hi." Good comedy.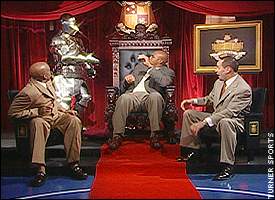 Allsport
The studio crew will go to any length to play a practical joke on Sir Charles.
Tonight's prank is almost as good. After the halftime show ends, everyone shifts to the "Thursday Night Theater" set, where Kenny, Ernie and Charles introduce Thursday night TNT movies and film short segments related to the movies. To spruce things up, Turner built a goofy, makeshift set that included a throne-type chair for Charles and a suit of armor. For the final show, being filmed tonight, there's somebody actually standing in the suit of armor -- holding a red pillow, completely still -- unbeknownst to Kenny and Charles.
Now various Turner employees huddle behind the cameras, a little giddy, like little kids patiently awaiting a prank on Dad. So Ernie performs his intro, they start gabbing about the movie ... and suddenly the suit of armor drops the red pillow and reaches out to Charles, who does a quadruple-take and looks like might lose control of his bowels. Everyone breaks up laughing, including Charles. It works so well that, once the segment ends, the crew cues up the prank and watches it from five different camera angles, laughing hysterically at each take. For once, Charles Barkley is speechless. They got him again. "Y'all played another joke on the Chuckster," he says, shaking his head.
9:45 p.m.
Back in the viewing room, Barkley and I are finally going one-on-one. We're discussing his book project with Michael Wilbon -- yet another autobiography for Charles, his fourth in all -- which focuses more on non-sports issues. "I'm beyond sports now," Barkley says matter-of-factly. Lately, Barkley has increased his social presence, for lack of a better word, most notably in a recent Sports Illustrated cover story (which depicted him breaking out of chains on its cover) and serious appearances on Bob Costas' HBO show and SportsCenter's "Sunday Conversation" ... and, to be honest, I'm not really that interested in that stuff. If Barkley wants to fancy himself as a social philosopher and a harbinger for change, God bless him. I'm more interested in his show. "What about the halftime show you just did?" I ask him. "How did you watch, like, three plays of the first half, then somehow know Boston's key strategy of the first half?" Barkley does a double take. When he wants to send a message, his face freezes, he tilts his head curiously, and his mouth curves into an incredulous half-smile. "Ain't nothin' that's gonna happen in a basketball game that I don't know about," he finally says, almost upbraiding me. "You think I need to watch every minute of a game to know what's going on?" As for his show, Barkley believes that everything runs smoothly for one reason: "I don't look at it like it's TV. It's just guys sittin' in a room talkin' sports. Of course it's gonna work." He remains somewhat mum about his career options, at least tonight. Everyone has been calling and offering different things; Barkley seems determined to pick the job that offers him the most money and the most free time. He lists the potential suitors, sounding like a high school senior who can't decide on a college. The whole process cracks him up. He's getting paid big money just to be himself. Only in America. "What about the WNBA?" I deadpan. "That might work. You could start this summer."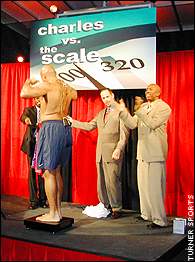 Turner Sports
No subject is taboo for the studio gang -- especially Barkley's notorious battle with the bulge.
Barkley's face freezes. He tilts his head. Uh-oh.
"The WNBA? The WNBA? Now why would I want to broadcast women?" He knows I was kidding; he's just busting my chops. Barkley feels reporters out, remaining friendly and intimidating at the same time, if that makes sense. If you aren't intimidated, he eventually warms up to you. Eventually. I'm looking forward to the "warming up" part at this point.
10:30 p.m.
On the heels of a convincing Celtics victory, I find myself heading toward the "Inside The NBA" set with Doctor J. For two-plus hours, I couldn't muster the nerve to saunter over and ask Doc about those great Sixers-Celtics games in the early-'80s, as well as the fact that he was robbed of an Oscar in the "Fish That Saved Pittsburgh." How can you make small-talk with Doctor J? He's the closest thing the NBA has to offer to real-life royalty, isn't he? But now I can't help myself. We end up discussing the near-scuffle between Antoine Walker and Cliff Robinson, which leads to me asking how Antoine's act would have gone over in the Doc's day. "Not well at all," Doc chuckles. "Back in my day, we would have brought out The Enforcer ... that would have been the end of the wiggle." The Doctor isn't nearly as candid on the postgame show. Inside the viewing room and around TNT employees, Erving is much more comfortable than I've ever seen him on TV -- decidedly more urban, more at ease, willing to say just about anything. But once the TV lights come on, he stiffens up just a little. Maybe he's afraid to let himself go, maybe he isn't comfortable on TV, maybe he's afraid to jeopardize that "Articulate & Classy Athlete" shield ... maybe it's a combination of all three things. In this respect, he's the complete opposite of Kenny and Charles, who act exactly the same whether they're in the viewing room or in front of the cameras, save for a few swear words. That's one of the reasons "Inside the NBA" works so well. As it turns out, Barkley and Kenny don't need Doctor J's help. They carry the show with a variety of gags and one-liners, including Barkley's proclamation that "Antoine couldn't fight his way out of a bag of potato chips." When Kenny anoints Paul Pierce as a Top-Five player, Barkley predictably rebels, Julius admits Pierce is "right there" with Kobe and T-Mac, and Ernie ends the discussion by deadpanning, "Once again, our Top-Five list includes 15 guys." And Barkley throws his predictable curveball by ending one discussion with the quote, "You can't get away with murder unless you're Robert Blake or O.J.," which sends a reeling Ernie into a quick break. The show's a winner. And given that everything went so smoothly, and given that it's only 11 p.m. ... well ...
12:45 a.m.
I'm living a Coors commercial.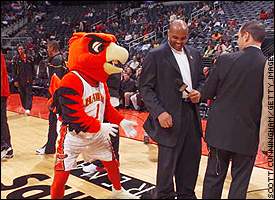 Allsport
Everybody flocks to Sir Charles -- even the Atlanta Hawks mascot.
We're standing next to the bar in a Buckhead martini joint -- Barkley, two of his friends from Turner Sports, and me -- one of those meat markets where men smoke cigars and women prance around trying to sniff money. Most athletes prefer dance clubs or strip joints, not crowded bars where anyone can bother them. Not Barkley. He likes being around people. As if you didn't know that already.
As strange as this sounds, Barkley actually blends in. He isn't quite tall enough to tower over everyone else in the bar, so unless you're standing near him and notice the light glistening off his bald head, you wouldn't know he was there. Barkley always stands near the bar because he likes buying his own drinks -- likes seeing them made, likes paying for them, hates the thought of anyone else buying him anything (do not -- repeat, do
not
-- buy Charles Barkley a drink). He alternates between dirty martinis and Absolut & cranberries, depending on the mood. He's prone to tequila shots. He likes smoking cigars (a tiny Macanudo tonight). And he'll talk to anyone and everyone. The people come up to him in waves, like Scud missiles, one every 60-90 seconds.
Hi, Charles, I watched you at Auburn, just wanted to say hello ... hi, Charles, I grew up in Philly ... hi, Charles, I've been a big fan of yours for years ... hi, Charles, I love you on TV.
Everyone seems to have a reason. Some of them are courteous enough to wait until there's a break in his conversation; some of them barrel right into the middle of things; some simply stand a few feet away, sizing him up, almost like they're waiting for him to make eye contact and wave them over. To his infinite credit, Barkley shows a remarkable range of patience and humor, almost like a politician -- always shakes their hand, always asks their name, always comes up with a dumb joke to make them feel more comfortable. Eventually, Barkley slides into a corner near the bar, where he's guarded by two walls and friends on each side of him, almost like an armada. And he can monitor everything that's happening in the bar. Right now, he's taken with the events on a comfy sofa to our left, where an older couple is absolutely mauling each other. "Y'all better get a room!" Barkley yells, summing up everyone's feelings. When things calm down for a few minutes, I pick his brain about being a celebrity -- what it's like to deal with this stuff every night, if he ever gets tired of it, and so on. Barkley explains that he has been dealing with it for 20 years. He's used to it by now. Hell, he's even grown to like it. More importantly, he's warming up to me, especially after I made a "Who turned you on to Absolut & cranberry drinks, Reggie Theus?" joke that nearly made him laugh out loud (very difficult to do). We discuss Antoine's pugilistic skills, Boston's playoff chances, whether a guy would feel masculine if he's drinking an apple martini (I'll let you guess Chuck's take on that one), cigars, career options and a few other quick items. When he hears that I'm returning to the TNT set Thursday night, Barkley seems more than receptive. "I'll take care of you tomorrow, little fella," he says. "Whatever you want to talk about, we can talk about. I trust you now." Apparently, I'm in. More people come over. More introductions, more kudos, more handshakes, more attention. It never ends. Women want to seduce him; men want to befriend him. Can you imagine any other famous athlete drinking in a bar like this -- graciously greeting his fans, buying drinks for everyone, cracking jokes, engaging in arguments with total strangers -- without surrounding himself with at least one or two entourage members, or a bodyguard, or anybody? Can you imagine if every athlete was like this? Would there be a more fun person to have at your Vegas bachelor party than Charles Barkley? Doesn't this deserve its own "SportsCentury" episode? When you think about it, everyone has different gears for social situations, almost like a car: There's first gear (making small talk with the counterperson at Dunkin' Donuts); second gear (talking on the phone to a loved one); third gear (conversations with people at work); fourth gear (important meetings or presentations); and fifth gear (any social event which requires you to be "on"). Fifth gear doesn't happen too often. It's like a 98-mph fastball ... you only bring the high heat when you need it. And yet, there's Charles, perennially stuck in fifth gear. He isn't just a future Hall of Famer and one-third of the greatest studio show of all-time, he might be the modern-day Pied Piper. Maybe we just don't fully realize it yet. When I finally leave the bar around 2 a.m., Barkley remains in the same corner, sipping drinks and gabbing with everybody, no end in sight, a tee time with Doctor J looming in six hours. Carpe Diem.
Bill Simmons writes three columns a week for Page 2. Part 2 of this piece will run Tuesday.