By Bill Simmons
Page 2 columnist
Editor's Note: This is Part 2 of The Sports Guy's two-part visit to the set of TNT's "Inside the NBA." Click here to check out Part 1.
ATLANTA (7:40 p.m., Thursday) -- "Yo, Ernie, we have a bone to pick with you." When Charles Barkley looks at you and says those words, you stiffen ... and right now, Ernie Johnson Jr. is stiffer than Shawn Bradley. During the first game of TNT's doubleheader (Hornets-Nets, followed by Mavs-Kings), Ernie wandered into the viewing room to greet everybody, only to be confronted by Barkley and Kenny Smith (his "Inside The NBA" cohorts). Now they're playing a little game with him. He doesn't know it yet. Or maybe he does. "Ernie, what's up with you telling USA Today that Kenny and me have big egos?" Barkley asks, drawing his words out in that exaggerated, Ali-like drawl. "Yeah, wassup with that?" Kenny chimes in. "Oh, come on," Ernie says, hoping that they're joking. "I never said that. The headline writer wrote that." "Yeah, but they musta gotten the idea from somewhere," Barkley says menacingly, trying to keep a straight face. "Could somebody get me a copy of that story? I want to see what it says, exactly." "I can tell you what it said," Kenny said, throwing gasoline on the fire. "Ernie said that we had big egos." Poor Ernie is hemming and hawing. They're referring to a feature about Johnson in Thursday's USA Today, in which writer Jill Lieber wrote flattering prose about Ernie but took some veiled shots at Kenny and Charles, saying they "babble on endlessly" in one section. The feature even carried a sub-headline about Ernie that read, "He is a rare person who can banter with big egos and still keep the show on track." And now Barkley and Kenny have twisted things around at Ernie's expense. Lost in all the joshing was the story itself, a wonderful account of Ernie and his family. Johnson and his wife had two children of their own, then adopted two more children -- one each from Romania and Paraguay, including an abandoned, handicapped boy who suffers from muscular dystrophy and a number of other medical problems -- one of those stories that you read and feel guilty about your own life, knowing that somebody else has been acting so selflessly. But none of this matters now. Chuck and Kenny have ammo on Ernie. And he knows it. Poor Ernie looks like a college freshman whose roommates took unflattering, drunken pictures of him and are threatening to post them on the Internet. "Aw, come on, guys," Ernie says, helplessly.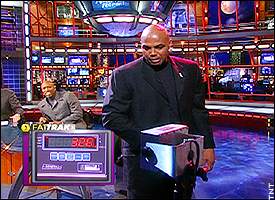 Allsport
You never know what the unpredictable Charles Barkley is going to bring to the table.
"I think we need to discuss this on the air tonight," Kenny says (gunning for an Oscar at this point).
"Can I get a copy of this?" Chuck asks, turning around to the Turner crew again. "Could y'all get me a copy of Ernie's column, please?"
7:55 p.m.
You can't spend 20 seconds in the same room with Charles Barkley without being reminded that you're in the same room as Charles Barkley. Now his cell phone rings. It's a media friend from Philly who wants to talk about the Allen Iverson saga. "I'll call you back from a land line," Barkley tells him. His cell phone minutes are off the charts, because he hates making calls from his posh hotel ("It costs like $20 for a two-dollar call," he complains, shaking his head). Anyway, Barkley quickly dials up his buddy on Turner's phone. After the conversation kicks off, Barkley grows more animated by the minute, blaming the media, the Sixers and Iverson for creating needless drama. It's the media's fault. No, it's Philly's fault. They battle back and forth. We only hear Barkley's side, a good-natured, lively argument that seems to be gaining steam. Finally, Barkley tells his friend, "Hey, Howard, you ever heard what it sounds like when someone slams the phone down on you? Here's what it sounds like." And he slams the phone down.
8:10 p.m.
Ernie always tells studio guests, "Be ready for anything." Bulls guard Jalen Rose is finding out the hard way. During halftime of the Hornets-Nets series, the "Inside The NBA" gang plays a joke on their special studio guest, showing a video clip of Rose singing "Take Me Out To The Ballgame" at Wrigley Field last month. It's painful to watch. Poor Jalen can't hit a note. And in classic "Inside The NBA" fashion, they're airing the whole thing. Midway through the song, Charles starts howling like a stray dog, and Kenny quickly joins him -- "Owwwwww-oooooooooohhhhh! Owwwwww-oooooooohhhhh!" -- as members of the crew openly start cackling. Jalen becomes completely flustered, finally whining, "I'm not trying to sell any records ... why did y'all play the whole song?" Just one of those funny, spontaneous, "Guys busting on one another" moments that separates "Inside The NBA" from everyone else.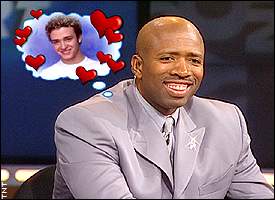 Allsport
Kenny Smith always displays plenty of energy -- even when discussing *N Sync's Justin Timberlake.
No show plays Studio Guest Host Roulette better. When the guest brings something to the table (like Jalen, Gary Payton or Chris Mullin), it feels like a real NBA locker room: Three players busting on one another, only without the swear words. And if the guest falls flat or suffers from Deer-In-The-Headlitis, the gimmick still works, because the Unintentional Comedy Rating shoots through the roof. Some players actually duck the show, because they're afraid they might look bad, or that Barkley might tease them on the show and they won't muster strong comebacks ... but Jalen eats this stuff up. He's always prepared, he likes being on TV, and he's always ready for anything. He would hang out here for two straight months, if they allowed him.
Right now, J-Ro is taking part in an especially lively halftime show, which features about 750 different angles of Jason Kidd and David Wesley colliding heads in Game 3 of the Nets-Hornets series. Once the show wraps up, Barkley greets a family who had been watching the proceedings -- two parents, two little girls and a little boy. Barkley shakes hands with all of them, paying special attention to the kids, asking them for their names, their ages and making a little joke for each one. When he greets the little boy, Chuck asks, "Are these your little sisters?" The little boy nods. "You have to take care of them, you hear me? Always take care of your sisters." The little boy nods again. He looks like he might pass out. "Good, good," Barkley says. "Y'all have a nice night. It was nice meeting you."
9 p.m.
While Charlotte polishes off the Nets, I'm sitting in the front row of the viewing room between Charles (on my left) and Kenny and Jalen (on my right), turning my head back and forth like I'm watching a tennis match. They're arguing about the MVP voting. Before this debate, Jalen, Chuck and Kenny argued about the career options of a certain free agent guard. Jalen believes this player could start for half the teams in the league; Barkley and Kenny consider him a backup ... at best. Jalen ended up getting an NBA Guide and going through every team, just to prove a point.
He could start for Atlanta ... Chicago ... Detroit ...
That one was never really resolved. As for the MVP debate, Barkley believes that Jason Kidd was the MVP of the league, without any question. Kenny thinks Kidd deserved to win, but doesn't have a problem with Duncan winning. That drives Barkley crazy. "Jason Kidd was the best player in the league," Barkley keeps saying, like it isn't even up for debate. One of the Turner people prints out a list of the actual votes, which sends everyone into a frenzy. Barkley hadn't realized that Mike Bibby and Peja Stojakovic each received fifth-place votes; he's almost apoplectic. "Somebody voted for Mike Bibby for fifth place?" he keeps saying. "Fifth place? Fifth (expletive) place?" Kenny tries to defend the vote, noting the Kings finished with the league's best record and played just as well without Chris Webber as they did with him, so maybe it was a Sacramento writer who wanted to reward someone on the Kings other than Webber. "I don't care what the reason is," Barkley interrupts him. "Writers are just plain dummmmb. And what about Paul Pierce being 11th. Eleventh?" They spend the next 15 minutes analyzing the votes and trying to figure out the biggest MVP injustice in history (Barkley predictably votes for the 1990 MVP, when he was edged out by Magic Johnson in the closest vote of all-time). Then we shift gears and discuss the playoff chances of next year's Bulls, prodded mostly by Barkley's teasing of Jalen (who believes the Bulls could make the playoffs if they nail their first-round pick and sign a quality big man). Kenny and Charles think he's clinically insane. "You're dreamin'," Barkley keeps saying.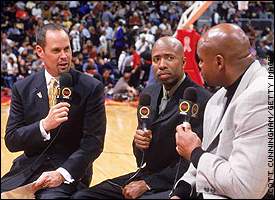 Allsport
You'll never get Ernie Johnson, left, to admit that he said Smith and Barkley have big egos.
Jalen looks like the little brother who's trying to prove a point to his two big brothers. "But what if ..." he keeps saying.
"J-Ro, you're dreamin'," Chuck says. "You know I like you, but your team stinks."
9:15 p.m.
Time to go one-on-one with Kenny, who isn't much different in person than the guy you see on TV. Other than his energy and intelligence, the one thing that jumps out about Kenny is the way he uses his hands; he's like a cross between Arsenio Hall and Richard Lewis, gesturing, pointing, slapping legs to get his point across. You don't drift off when Kenny Smith is talking to you. Kenny believes that Charles' job was to bring viewers, and it's up to him and Ernie to keep them there, adding, "The same way we are in here (in the viewing room), it just continues out there. You already saw a little of that tonight. That's just the way we are. When we eat dinner on the plane, when we're watching a game, when we're in front of the cameras, whatever, it's the exact same thing. No difference. We're talking shop. And that's why it works." If he hadn't played in the NBA, Kenny imagines he would have been involved in basketball in some other capacity -- running summer leagues, coaching high school ball, anything that would have kept him around the game. He feels incredibly fortunate about how his playing career turned out, as well as the events of the past two years. "I've worked at other networks and stuff, and it's just not the same," Kenny says. "We got the right three people here, we caught it together at the right time. Maybe Charles could be good on another show, but he wouldn't be
as
good. Same goes for me, same goes for Ernie ... when you're talking about basketball, if you don't have that passion about it, if it doesn't come through the television, than the viewers aren't gonna respond to you. And we have that. You can't mimic it. There's nothing about basketball that (me and Charles) haven't seen, heard or done." He doesn't say it in so many words, but the implication is clear:
We bring the best out of each other.
And that's a crucial point. On the nights Barkley takes off during the season, "Inside The NBA" isn't nearly as entertaining with Kenny and Ernie carrying the load. At the same time, how would Charles have fared on NBC's studio show, sitting between a female anchor and a middle-aged ex-coach, discussing hoops on a network that would have cringed every time he threatened to cross The Line? I mean, didn't this work out for the best? Isn't this "catching lightning in a bottle" material? Couldn't this unique chemistry transfer to non-basketball projects? "The three of us together, we could talk about anything," Kenny says confidently. "I really believe that." They might not have the chance. Kenny seems clearly intrigued by the NBA -- either a coaching job, a GM job, or both -- mentioning that "The door has definitely been knocking." He loves basketball too much to pass up running his own NBA team, whether it happens this summer, next summer or whenever. Hearing about Kenny's interest in the NBA almost makes me feel sad, like hearing the news that a good friend might be moving out of town some day. "Hey, Kenny," Chuck says, interrupting us. "Your Dad's on TV."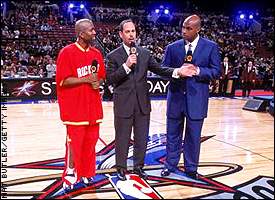 Allsport
Smith, left, says there's nothing about basketball that he and Barkley "haven't seen, heard or done."
Trying to keep a straight face, Barkley points to one of the smaller TVs, where a 250-pound black comic performs on BET. Wearing a multi-colored jacket, the guy looks like he just fell out of a Vanilla Ice video. Kenny glances up, sees him and winces.
"Aw, man, that's cold," Kenny says. "That's cold."
10:20 p.m.
For some reason, I haven't been kicked out of the front row yet. Barkley and I are discussing the events of last night, how fans kept coming up to him at the martini bar and he never seemed to mind. He seems unfazed by the whole thing. "Goes with the job," he says, adding how it bothers him that more athletes don't feel that way. "Dealing with fans is part of life when you're a famous person, and that's it. Nothin' you can do about it. So you might as well enjoy it." He's in rare form tonight, venting about the 1990 MVP balloting ("I had more first place votes than Magic, and somehow I lost"), "The Bachelor" ("I can't believe they have that (expletive) on television -- if an athlete was dating 25 women at the same time, they'd call him a whore"), the press ("I get mad at the press sometimes -- it's their job to judge the facts, and that's it") and a number of other topics that, unfortunately, can't be printed here. Put it this way: If Turner Sports ever showed a live feed of the viewing room during NBA games, that would be the greatest show in TV history. With the Nets-Hornets game winding down, Jalen, Kenny, Ernie and everyone else moves into the studio. Not Charles. He's busy explaining some political views to a fellow Turner employee, an African-American woman who loves turning the tables on him and forcing him to explain some of his more outrageous ideas. "You're still not making sense," she tells him. "I still don't understand your point." "Come on, Chuck," a Turner stagehand says, tugging on his arm. "We're going live in less than a minute." "Wait a second, somebody needs to help me with my tie," Barkley says. He can never straighten his tie correctly; he always asks one of the employees on hand to assist him. And while they're helping him, he's still talking politics. Meanwhile, full-scale panic spreads on the set.
Where's Charles? Does he know we're going on? Is he coming out?
With 15 seconds to spare, Barkley comes jogging into the room, trying not to slide across the floor in his loafers. "Sorry y'all," he tells Ernie and the gang. He nestles into his chair. Within eight seconds, more than five million people are looking at his bald mug.
11:15 p.m.
With Game 3 of the Mavs-Kings game still in the embryonic stages, everyone's attention in the viewing room shifts to BET, where embattled rap singer R. Kelly is "explaining" himself in a two-part, Barbara Walters-type interview about his sexual foibles and mounting legal problems. For once, the room is hushed ... even Barkley. It's like watching a car wreck. R. Kelly is going down in flames. You know things are bad when even Barkley won't poke fun at him. Eventually Chuck's attention shifts back to Turner's caterer, with whom he was discussing the problems of the poor classes in America (before R. Kelly intervened). According to Barkley, everything can be blamed on education: Poor whites, Hispanics and African-Americans will never have a fair chance until the educational system improves in this country. "Look at me," he says. "Ain't nobody made it out of my hometown but me." Sensing that Barkley has entered one of his "I'm a serious guy with serious views" modes, I sneak upstairs to the control room to meet everyone. When I return close to midnight, Barkley has a 12-pack of Corona sitting in front of him. Sometimes he drinks a beer or two during doubleheaders, just to break the monotony of the whole night. "You still here?" he asks me. "I'm still here. You're never getting rid of me." Barkley swings his chair around: "All right, here's what you need to know about this show. First of all, I know basketball better than anybody. Second of all, so does Kenny. Ernie's the voice of reason. And me and Kenny feed off one another. That's it. That's the show. That's all you need to know." I ask Charles if we can go over some of his viewing room observations from the past two days, just in case I want to use anything for my column. Barkley detests when reporters hang out in the viewing room, feeling that it's a sacred place, almost like an office ("Would you want someone in your office writing down everything you said?"). But he's a fair guy, and I haven't done anything to make him not trust me. Plus, he could sense from our MVP ballot arguments that I'm a true basketball fan. So Barkley ends up OK'ing every borderline quote from my notebook: "Yeah, you can use that ... yeah, that one's OK ... yeah, that's fine." When we get to Wednesday's riff about the pipe bomber, Chuck gets wound up all over again: "Yeah, you can keep that in. That's fine. What's he got to be upset about? He's in a band, he's got a girlfriend, he's white, he's got a website. So what are you pissed off about? (
Thinking
) Yeah, keep that in." He mulls it over for another second. "And if people can't take a joke, (expletive) 'em."
12:10 a.m.
We're officially in the dog days of the two-game marathon. Everybody's collective energy is beginning to wane ... except Barkley, of course. "Yo, J-Ro, you want a beer?" he asks Rose. Captivated by the Kings-Mavs game, Rose shakes his head no. Kenny is so smitten by the game -- a high-scoring, retro-'80s affair -- that he hasn't spoken to anybody in about 20 minutes. Even Barkley finds himself getting sucked in. With two minutes left in the fourth, one of the relevant players clearly seems to be shrinking from the action. On this particular play, the player is posting up, but you can tell that he doesn't really
want
the ball. Barkley narrates the entire play: "Come on, (player), come get the ball. Come on, come get it!" Not a chance. The player's teammate finally gives up and swings the ball to the other side. "He didn't want the ball, Kenny!" Barkley exclaims. "Didn't want it," Kenny repeats. Both of them seem disappointed. Even Jalen seems bummed out. "(Expletive)," Barkley says again. "He didn't want the (expletive) ball." The Mavs end up polishing off the Kings in regulation time. As the game winds down and overtime is removed as a possibility, Barkley celebrates by telling one of the funniest stories I've ever heard in my life. Of course, like much of things Barkley is saying tonight, the story isn't suitable for print. Right around the same time, one of the producers comes over to me to ask how I'm doing. "There are two columns I'm working on," I tell him. "The column that would have been the greatest sports column of all-time, and the one that will actually get posted."
12:30 p.m.
Time for the final show of the night, the postgame show following the Kings-Mavs game. Barkley kicks things off by sticking his feet on the desk, interrupting Ernie, pulling out Thursday's USA Today, then announcing, "I'm boycotting the show tonight" before reading excerpts from the aforementioned USA Today feature. When Ernie blames the headline writer for the "big egos" passage, Chuck replies, "We're not big egos ... (Kenny's) the big ego and I'm the id." You knew it was coming. And the show keeps rolling from there. The highlight comes when Barkley notices a clip of Raef LaFrentz talking to reporters in a white terrycloth robe, looking like he was about to film a cologne commercial or something. That leads to this exchange: Chuck (
just rambling
): "Times have changed in the league when guys sit around in these huge terrycloth robes ... (back in my day), my ass is really big and I had this skimpy little towel and half of my right cheek would always hang out. I wish I had Mark Cuban as an owner. I would have felt much more comfortable (than) standing up there in that skimpy towel." Ernie: "I could do without the imagery." Chuck: "You all know my ass is sexy though." Kenny: "Big sexy." And standing there on the set, listening to a 6-foot-4, 300-pound man discuss his sexy ass ... well, I'm not even batting an eyelash. After spending two straight days with Charles Barkley on the set of the greatest studio show of our time, you learn to deal with these things.
Bill Simmons writes three columns a week for Page 2.