By Bill Simmons
Page 2 columnist
Well, it's been two weeks ... time to crack open another NBA Six-Pack:
1. The demise of the Mavs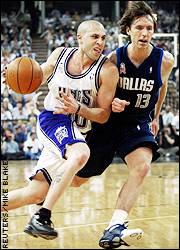 Mike Bibby passes Steve Nash, right, once again.
The more things change, the more they stay the same. A Don Nelson team self-destructing in the playoffs because they weren't tough enough and because they didn't play defense? Jeez, I can't believe it. And the thing that really gets me? I fell for them, hook, line and sinker.
Think about that Mavs-Kings series. The Mavs pull a hideous no-show in Game 1, even though they were resting for six bleeping days. They rally back to win Game 2, thanks to Steve Nash's only good game before Mike Bibby gave him $20 to stop playing defense for the rest of the series. So they're back at home for Game 3, playing in front of a raucous Dallas crowd ... and Peja Stojakovic sprains his ankle during the game (knocking him out for the series). Good teams do not lose these games at home. Period. And somehow they give this one away at home, allowing the Kings to shoot 53 percent and out-rebound them by nine.
Now they're facing a must-win Game 4, and they get every significant call because the league is desperate for a seven-game series (both Webber and Divac foul out before the end of the game, and if you don't believe in this stuff, you probably leave cookies and milk for Santa every Christmas Eve). But they still bungle the game because Nelson is the last person on the planet to realize that Bobby Jackson is killing Nick Van Exel. Plus, Sacramento runs 57 straight pick-and-rolls that Dallas' defenders botch. The Kings could have brought in Sam Lacey and Pete Carril to run a pick-and-roll in the fourth quarter, and it would have worked.
(And if that's not enough, Michael Finley gives Bibby baseline on the game-deciding play, even though that "crossover-go baseline" move is Bibby's specialty. This is why you hire scouts. Besides, as my old GCDS coach Tom Brody used to say, "Never give baseline!" It's the first thing you learn in basketball camp. I could be playing basketball with two prosthetic legs, and I would throw one of them at my guy before I gave up baseline. Goes without saying. Good God, I'm riled up.)
So the series swings back to Sacramento for Game 5, and instead of calming things down and concentrating on defense and rebounding, Dallas revs the engines and inadvertently forms a layup line for Sacramento. Would anyone like another layup? Anyone? Mr. Bibby, would you like to roll off another pick and drive uncontested down the middle of the lane? Here, we're begging you. Please, come right down the middle. And Mr. Turkoglu, we're going to leave you alone in your favorite spot so you can keep shooting 3s until you break out of your shooting slump. Is that cool?
Well, you get the idea. Game over, series over.
Say what you want about the ugly Pistons-Celtics series, but at least both of those teams played hard on both ends. Sure, the Pistons have a knack for dragging teams down to their level, and sure, it isn't too much fun to watch. But at least they wouldn't give up baseline. At least they don't allow easy layups. At least they make you work. The way the Mavs played in that Sacramento series was an outright disgrace. They had three of the four best offensive players in the series, and they still got their butts kicked because they weren't working hard enough.
Maybe the only silver lining? Craig Sager's hysterical interview with Mark Cuban and the Maloof Brothers before the second half of Game 2, which took place at a bar in somebody's luxury box. Highest of high comedy. It looked like they were sitting there waiting for the strippers to arrive, when Sager came barging in with two cameras (please tell me you saw this). And Cuban's performance throughout the entire series deserves kudos -- he became increasingly deranged as the series went along, finally looking like Private Pyle during Game 5. Could somebody renew Cuban's Zoloft prescription, please?
(All right, enough venting about the Mavs. And yes, I'm bitter because I wagered heavily on them before the series; now I have to sell semen and blood to avoid getting my legs broken. The NBA ... it's fannnnnn-tastic! I love this game!)
2. The Celtics, the Eastern Conference finals and the Juvenation Machine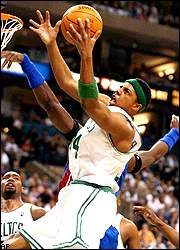 Paul Pierce summons the power of Gino.
You know what? I'm not ready to discuss this rationally. Give me a few days. I'll take a mulligan on No. 2.
2. The power of Gino
I've never been a fan of the Jumbotron era, partly because it's insulting and idiotic, partly because some fans seem more interested in getting on the Jumbtron than actually watching games, and partly because it teaches fans to react to Jumbotron prompting instead of thinking for themselves. Make some noise!! It's noise time!! I can't tell you how much I hate this stuff. Drives me crazy.
With that said, I have to say ... when it's used properly, the Jumbotron becomes an enormous weapon during playoff games. For instance, during Celtics games, the Fleet Center slapped together a highlight clip which combines highlights of Paul "The Truth" Pierce with the pivotal courtroom scene between Jack Nicholson and Tom Cruise in "A Few Good Men." At the end of the clip -- when Nicholson finally screams, "You can't handle the truth!", quickly followed by a Pierce dunk -- the crowd always goes ballistic, especially during Game 5 of the Philly-Boston series (when Pierce was ripping the Sixers up for 46).
But here's the clip that gets me: When the Celtics are putting away an opponent in the fourth quarter, the Jumbtron cues up an "American Bandstand" clip from the Disco era and blasts "Stayin' Alive" by the Bee Gees. And they intersperse old footage (of Bandstand people dancing in hideous '70s outfits) with live footage (of numbskulls dancing at the Fleet Center and trying to get on the Jumbotron). Just an average Jumbtron gimmick, right?
Wrong.
Near the end of the Bandstand footage, they show one Tony Manero wannabe with a terrifying, George Lucas-style beard and a middle part in his hair, grooving to the music in tight pants and wearing a shirt that says "Gino." That's right, Gino. As an added bonus, he's only about 6-feet tall, but somebody put Kevin McHale's arms on his body... so when he's dancing, his freakish, gigantic arms are swaying back and forth, yet he's totally into the music and in rhythm. Remember my Unintentional Comedy Rating? Gino doesn't even qualify. He's off the charts. On a scale of 1 to 100, he's like a 400. He's one of a kind.
And the crowd eats him up. Every time they start showing the clip now, a buzz builds in the crowd, and it builds, and people are waiting, and waiting ... then, BOOM! There's Gino. And the place explodes. I'm not making this up. The place explodes. Even some of the players look up and start giggling. It's amazing that there hasn't been a "Geee-no! Geee-no!" chant (I bet it's coming in the Nets series).
Anyway, I hate the Jumbotron, I hate everything it represents, I long for the old days ... but I love Gino. He's like the new-wave version of Red Auerbach's victory cigar. I just had to share.
3. The Rules
Three rules that need to be changed immediately:
A. Instant replay for last-second shots. We already covered this. Much like Kirsten Dunst filming an erotic thriller in which she gets naked in six different scenes, there isn't a single reason why "NBA instant replay" shouldn't happen.
B. The "teams can call another timeout following a timeout" rule, which always struck me as the dumbest, most counterproductive rule imaginable. The last four minutes of every game take 25 minutes (because of all the timeouts), and since this has been happening for years and years, nobody running the league seems to care. But we care. We're the ones practically flat-lining in front of our televisions while they're playing that damn Lenny Kravitz song 37 times in a 20-minute span. So why not make a rule that teams can't call consecutive timeouts unless the ball has been inbounded?
(Wouldn't that make the end of games much more exciting? Wouldn't that reward teams that play good defense off the inbounds pass, instead of bailing them out by allowing the offensive team to call a second timeout, because they were too inept to throw the ball in? Doesn't this make sense? Wouldn't the games flow much better? Anyone? Bueller? Bueller?)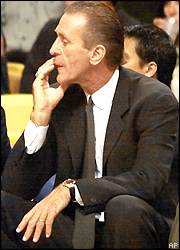 Pat Riley might be behind all those lame TV reunion shows.
C. The whole concept of "double technicals." If two players have a non-punching altercation, or if they keep jawing at one another to the point that they have to be separated and the referees can't keep the game moving ... yes, I can see it. But NBA referees hand out double technicals if two players look cross-eyed at one another. It's absolutely inane. What's wrong with allowing the competitive juices to flow? Isn't a reasonable amount of trash-talking part of what makes the NBA so much fun?
As always, I blame the Knicks. They tried to use trash-talking as a psychological weapon against those great Bulls teams in the early-'90s, but they went completely overboard -- par for the course with Pat Riley, the master of excess -- trash-talking became an epidemic, and the league had to step in before there was the first-ever locker room drive-by shooting after a game. Now the pendulum has swung so far in the other direction, the players aren't even allowed to banter anymore. And that's sad. Most of the great playoff games in NBA history featured at least one fight or heated argument that never amounted to anything serious.
Maybe the best example of this: Game 4 of the 1984 NBA Finals (Boston vs. L.A.), one of the five greatest games of all-time, which deserves its own column at some point. Anyway, that game featured not one, not two, but three heated altercations, including that spineless ninny Kareem whistling an elbow dangerously close to The Legend's head, followed by Kareem and The Legend going jaw-to-jaw before about eight guys stepped in between them. Just an electric moment. Ahhhhh ... the good old days.
(Hey, it all goes back to my theory: Every problem that plagued the NBA in the past decade, minor or major, can somehow be traced back to Pat Riley and the Knicks. If they ever built the Anti-NBA Hall of Fame, they should shape the building like Pat Riley's head. Damn him to hell. Can you tell I'm fired up today? And don't even get me started on flagrant fouls. Let's just move on.)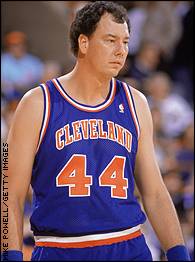 Paul Mokeski had slightly changed his look by the time he landed with the Cavs in 1989.
4. The Lee Family (Ug, Home, Ghast, Nar, Butt-Ug ...)
Please note, this is all in good fun, and we don't want to hurt anyone's feelings. With that said, I've always made a concerted effort to discuss the same things in this space that I would discuss with my buddies, and we simply can't ignore the phenomenon of the 2002 Sacramento Kings any longer. Not only did these guys fall out of the ugly tree, they hit just about every branch on the way down. I'm not breaking any ground here. It's just a fact.
So regardless of how their title quest turns out, we need to determine their place in the All-Ugly Pantheon right away. Here's how the "Team" version of the Pantheon shaped up before this season, in no particular order:
The 1986 Celtics -- A starting lineup that included Larry Bird (hold on, I'm just ducking the lightning bolt), Kevin McHale and Dennis Johnson, as well as Greg Kite, Sam Vincent, David Thirdkill and Bill Walton coming off the bench ... they celebrated their championship that season at the "Star Wars" bar.
The 1987 Bucks -- Trotting out a three-headed center tandem of Jack Sikma (ghastly blonde perm), Randy Breuer (7-foot-3, always looked like he just woke up) and Paul Mokeski (quite simply, the most improbable athlete of our lifetime -- balding perm, receding hairline, no chin, wispy porn mustache) was bad enough ... and if that wasn't enough, they threw Terry Cummings at you ... it's just a shame that Greg "Cadillac" Anderson didn't play with these guys until the following decade.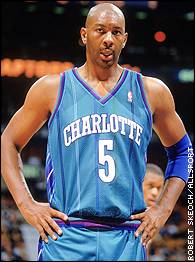 Elden Campbell was part of a legendary starting five for the 2000 Hornets.
The 1984 Knicks -- Featured two first-ballot All-Ugly Hall of Famers, Pat Cummings (looked like a heavier Reverend Jim from "Taxi") and Ken "The Animal" Bannister (best described as having "things" on his face), who were the Ruth & Gehrig of the All-Ugly Hall of Fame ... seriously, they deserve their own "SportsCentury" episode at some point ... this team also had perennial All-Stars like Louis Orr, Ray Williams, Ernie Grunfeld, Marvin Webster and Hall of Fame coach Hubie Brown ... unquestionably the scariest-looking team of all-time ... during their road games, fans actually passed out in the stands, like the people who saw "The Exorcist" back in 1973 ... let's just say that when Bernard King went out after home games, he usually went out solo.
The 2000 Hornets -- A legendary starting five: Elden Campbell, Derrick Coleman, Anthony Mason, David Wesley and Baron Davis ... the first team that was nearly required by the league to wear those "broken-nose protective masks" that Lucious Harris wears.
So that's how the Pantheon shaped up ... and than the 2002 Kings came in and blew away everyone. I mean, couldn't the Maloofs bring Dick Versace and Frank Layden out of retirement to coach these guys? Bibby, Vlade Divac, four-time All-Star Scot Pollard, six-time All-Star Doug Christie, Mateen Cleaves, Jackson and the immortal Hedu "Camera Two!" Turkoglu. Are you kidding me?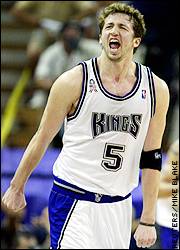 Hedo Turkoglu put the Kings over the top -- in a number of categories.
The final verdict: We're waiving the five-year waiting period and inducting the 2002 Kings into the All-Ugly Hall of Fame right away.
(Note: My apologies to Popeye Jones, Sam Cassell, Tim Thomas and Jake Tsakalidis for not figuring out a way to include them in this section. Hopefully, they'll get traded to the Kings next season.)
5. The art of the fast break
Back in the old days, if you had numbers, you scored. End of story. When the league gradually stopped running because of the success of Riley's Knicks (remember, every negative NBA development of the '90s can somehow be traced back to those Knicks teams), the fast break died a slow death, nearly killing the sport in the process. But thanks to new "speed-up play" rules and a considerable upgrade in talent over the past few years, teams are making a concerted effort to push the ball again ... unfortunately, they don't know what they're doing.
For instance, the Celtics could have won Games 3 and 4 of the Detroit series by 15 and 25 points, respectively, if they didn't give away so many fast break chances -- they practically invent ways to make the wrong decision on two-on-ones, three-on-ones and three-on-twos. It's amazing. I can't remember a better team screwing up more fast breaks than the Celts. You're holding your breath every time they're in the open court.
And that brings us to the Nets. The No. 1 reason they made the Eastern Conference finals is because Jason Kidd is playing out of his mind. Let there be no doubt. But the No. 2 reason is because they steal 10-12 points per game on fast breaks. In close games, which inevitably get decided by broken plays, turnovers and foul shots, the Nets possess an innate knack for stealing a basket here, a basket there ... in the end, they add up.
So when you're watching the Nets and thinking to yourself, "Man, this team sucks, how are they in the Eastern finals?", watch them stealing points on fast breaks, and it should make a little more sense. And while we're here, Phoenix should have realized these things before they gave up Kidd, especially when they knew the rules were changing. Good point guards are like good women -- when you find one, you don't let them go. Or something like that.
6. Bill Laimbeer
During Game 3 of the Boston-Detroit series, my dad and I were watching our old nemesis (now a Pistons broadcaster) sitting at the scorer's table, about 20 feet in front of us, killing time during a taped halftime show. He's about 50 pounds heavier than he was during his playing career -- equipped with a gigantic pot belly -- and his hair seems to be graying a little on top. Other than that, he's still the anti-Christ.
So Laimbeer started watching the TV monitor in front of him, probably bracing himself in case any Celtics fans walking behind him tried to sucker-punch him. We always hated Laimbeer in Boston. I mean, we hated him. And it wasn't just because he was the dirtiest player of his era, or because he was a natural Boston Garden villain.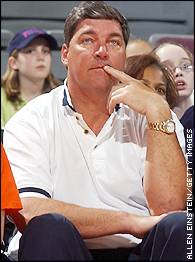 Celts fans still can't forgive Bill Laimbeer.
During Game 4 of the 1987 Eastern Conference finals, Laimbeer had the gall to clothesline Larry Bird, causing a brawl and getting the Basketball Jesus thrown out of that game in the process (which the Pistons ended up winning). When Game 5 of the series shifted to the Boston Garden, you could actually feel the collective hatred in the crowd for him. It was tangible. We wanted blood. I'm still convinced that this was the reason Robert Parish snapped and sucker-punched Laimbeer in the first half ... we practically willed the Chief to do it. I'm dead-serious. We brainwashed him. I will believe that one until the day I die. You really had to be there. It was primal.
Anyway, Laimbeer's TV station was showing a montage of highlights from that same '87 playoffs. We could see Laimbeer trying not to watch it, inevitably getting sucked in for a trip down Memory Lane. When they reached the game where Laimbeer cheapshotted Bird, Laimbeer watched that part, then glanced up after it was over, an evil smirk on his face. You could almost picture this man running the Cobra Kai with Terry Silva and John Creese. When they showed the section where Parish belted him, he barely moved. When they showed Bird stealing the ball against Isiah and saving Game 5, he shook his head slightly, then glanced away, pretending he wasn't really watching.
But he was watching. Ohhhhhhhhhhhh ... he was watching. The bastard.
When they showed highlights from Game 7 -- Vinnie Johnson and Adrian Dantley banging heads, Dantley getting carried off on a stretcher, Bird taking over at crunch-time, a crucial section in which the Celts had five different offensive chances on the same possession before Danny Ainge finally nailed a 3 -- Laimbeer subjected himself to everything, finally looking away as they showed the Celtics celebrating. You could tell that the series still killed him, even 15 years later. Just a beautiful thing to watch. I couldn't have enjoyed it any more than I did. It's not possible.
Here's why I'm telling you this: When we finished watching Laimbeer suffering through this highlight package, my father turned to me with an enormous grin on his face. Normally he's the least spiteful, least vindictive man on the planet. Not on this day.
"That was great," Dad said. "God, I hate that guy."
Good times ... very good times.
Bill Simmons writes three columns a week for Page 2. Tomorrow: Part 2 of the Six-Pack, with the Dow Report for Round 2 of the playoffs.