By Bill Simmons
Page 2 columnist
I feel like a proud father. Like one of those dads who never thought one of his kids would amount to anything ... and then, suddenly, improbably, they're sending that same child off to an Ivy League school. How did this happen? Is this really happening? Could somebody pinch me? That's how I feel.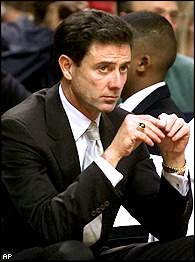 The Pitino Era in Boston was hard to watch.
Just 16 months ago, my father and I were watching our beloved Celtics going through the motions against the lowly Warriors. The Fleet Center was half-empty, just another depressing night in another depressing season. Our best player (Antoine Walker) doubled as the most-despised player on the team. The second-best player on our team (Paul Pierce) was nearly stabbed to death in September and hadn't been the same since. Their supporting cast vaguely resembled Michael J. Fox's supporting cast in "Teen Wolf," although they didn't have a token fat guy. And the players hadn't just stopped playing hard for their millionaire coach, Rick Pitino, they openly dogged it during games, hoping he might finally resign. Believe me, I was there. They dogged it.
During that Warriors game, the boys were mailing it in with a special flair. And the fans had lost the capacity to even care. It was so deadly quiet, you could hear the ball bouncing, shoes squeaking, players talking to referees. A drunken man in our section was openly berating Pitino all game, and deservedly so. This was all Pitino's fault. Let there be no doubt. His judgement for NBA talent was absolutely appalling; his ability to motivate NBA talent was even worse. He was a collossal failure in every sense of the word. "Yo, Pitino!" the guy behind us kept screaming. "You suck!!!!!! This is all your fault! You suck! Why don't you quit? You suck! Go away! You're a joke!" It went on and on. Pitino just sat there, taking it like Chuck Wepner. At this point, he wasn't even pacing on the sidelines that much anymore. He was thoroughly beaten. And this blowhard's voice kept echoing through the arena.
Pitino ... you suck!
Pitino kept staring out onto the court, hoping the game would just end. We all felt that way. The Celts ended up blowing the game in the fourth quarter. Pitino resigned that weekend, leaving the C's a broken-down franchise with no hope, no future and no chance. The only two tradeable players on the roster were Pierce and Walker. Thanks to Pitino's short-sighted signings and trades, the team wouldn't fall under the salary cap until after the 2003 season. They didn't know how to play defense, they couldn't rebound and they didn't play well together. With the Garden Mystique long gone, the once-great Celtics fans now treated every home game like a two-hour root canal. And we were headed toward our sixth straight trip to the lottery. You want to talk about rock bottom? This was rock bottom. When we were leaving that night after the Warriors game, Dad broached the possibility of giving up our tickets after the season. This was unchartered territory. We had been going to games together ever since the '73-'74 season, when he bought one season ticket and carried me into games. I was 4. Now he was thinking about giving them up ... and I couldn't even blame him. "I can't take much more of this," Dad said. "I don't think I've enjoyed more than two games in the past four years." He was serious. Needless to say, Dad calmed down and thought better of it. Sixteen months later, these same Celtics find themselves on the cusp of the NBA Finals -- seven playoff wins in the bank, three to go -- and the chain of events leading to this moment were so improbable and so farfetched that, frankly, I'm afraid to write about them. You think I want to jinx
this
? The C's have ignited the city, much like the Patriots did last winter. More importantly, they rekindled something that had been lying dormant for years and years: Celtics Pride. These are happy times. People care about basketball in Boston again. Best of all, you could see it coming. During the season, there were little baby steps along the way; none of them were monumental, but they added up in the end. A buzzer-beating victory in Miami, followed by an overtime romp in New Jersey four days later. Another OT win over the Clippers. Whupping the Knicks in New York twice. A sweet come-from-behind road victory against the Lakers, capped off by a wild 3-pointer from Walker. A surprising victory in Philly (a team that always had Boston's number). Gritty road wins in April against Jersey, Minnesota and Indiana. Somewhere along the line, they became a team that took care of business. The pattern was simple -- keep it close, turn up the defense in the fourth quarter, and Pierce and Walker would take care of the rest. Somehow it worked. When the playoffs rolled around, suddenly -- finally -- the home crowd came around, and they carried these guys to another level. Game 2 of the Philly series was a game they couldn't have won as recently as March, a night when Pierce was struggling against a good team and they still prevailed. Three games later, in a must-win situation, they blew Philly out of the Fleet Center, the ultimate response to a pressure situation. That one felt like a final exam. The boys had finally arrived. But the question remains ... how did the Celtics get here? As strange as this sounds, the rise of this current Boston team could serve as a blueprint for success in the modern NBA. For instance ...
Theme No. 1: Play in the Eastern Conference
Goes without saying.
Theme No. 2: You need to get lucky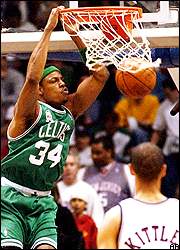 The Celtics got lucky with Paul Pierce ... on two occasions.
And the Celtics got lucky with Pierce -- not once, but twice. During the '98 draft, they nabbed Pierce after a bizarre chain of circumstances resulted in the Kansas star freefalling to the 10th spot ... then they almost lost him before the 2000-01 season, when he was nearly stabbed to death by a gangbanger at a local club. I always thought those two events hardened him. Back in college, Pierce battled a reputation for being soft and drifting through games; now he plays every game like he has something to prove, one of the rarest possible traits for an NBA player (only Iverson, Duncan and Kobe could say the same). And he has shown a knack for raising his game when it truly matters.
Of course, it wasn't until Pitino bolted that Pierce showed the complete goods. Like everyone else, Pitino's constant yapping had worn him down; during the first part of that season, there were at least five or six situations where Pitino was yelling at him and Pierce either walked away, made a face, or yelled back at him. It was high school stuff. Even the most staunch Pierce defender would admit that he was going through the motions, as personified by the grim expression on his face. This was a guy who used to motivate himself with fist pumps and chest bumps; now he looked like a guy who wanted to be anywhere else on the planet. But then Pitino left ... and Pierce immediately took off, emerging as an elite scorer during the second half of last season (playing without a point guard, no less), then raising his game on both ends of the floor this season. The most important two-game stretch in his career happened after Thanksgiving, when he vanquished the Heat in Miami (a game-winning layup at the buzzer), then dropped 46 on the Nets
after haltime
(in an overtime win at the Meadowlands). Right around then, the collective light bulb went off for everybody around here: "Hey, this guy might be special." And everything has fallen into place ever since. Does Pierce have a ceiling? We're probably two years away from finding out, mainly because NBA players don't peak until their sixth season (something people around here keep forgetting). He has struggled at times with defenses solely designed to stop him (the shoving-pushing-holding routine can disrupt him, as Detroit proved in their series). He has a terrible habit of picking up stupid, ticky-tack fouls and getting into foul trouble (something that has plagued him all season). And he hasn't fully grasped how to find open teammates when he's being double-teamed. But there's so much here to like: the flair for the dramatic, the ability to score on anyone, the charisma and exuberance, the fact that he isn't nearly as good as he's going to be. My favorite quality about him is the way he manages to make things happen even when he isn't scoring. For instance, during Game 4 of the Detroit series, he pulled down 17 rebounds and made a number of huge defensive plays. Same thing in Game 2 of the Nets series, when he yanked down 14 boards and took a couple of key charges. That's the old Larry Bird mentality -- "I'm not helping us this way, so maybe I can help us that way" -- one of the subtle traits that separates good players from great ones. Back to the luck thing. Sometimes you're good in the NBA ... other times you're just plain lucky. The Lakers were lucky Kobe Bryant slipped down to Charlotte at No. 13, so they could pull off that pre-arranged trade for Vlade Divac. The Nets were lucky the Suns were dumb enough to trade Jason Kidd. The Kings were lucky the Wizards were dumb enough to trade Chris Webber. The Mavs were lucky the Bucks were dumb enough to trade the rights to Dirk Nowitzki. The Magic were lucky the Raptors never locked up Tracy McGrady. And the Celtics were lucky with Paul Pierce. Twice.
Theme No. 3: You need to be patient with young players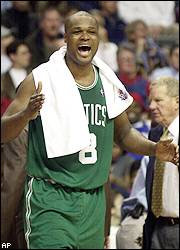 Antoine Walker has grown up just enough to become a major force.
Especially these days. There will never, ever, ever be a better case study for this one then Antoine Walker, who came into the league at 19, cutting his teeth on a 15-win team with a sham for a coach (M.L. Carr), a season which ended with Twan gunning for his own stats in a shameless bid for the Rookie of the Year trophy. Walker dealt with a coaching change in his second season (Pitino), followed by Boston's hopeless transformation into a pressing, run-and-gun team. The fans turned on him during his third season, when he signed a $71 million extension and came into the lockout-shortened season woefully out of shape.
It has been an up-and-down battle ever since. Quite simply, the Antoine Walker Era has been fascinating to watch. Once upon a time, he was woefully immature, the kind of player who responded to insults coming from the crowd, who rubbed it in when his team was winning, who sulked during some games when his shot wasn't falling. I probably gave up on at least 25 times over the past four years. I'm not kidding. There were times when he seemed utterly unredeemable. Two things saved him. First, there isn't another forward in the league with his passing vision, his 3-point range, his variety of shots, his rebounding and his ability to handle the ball (can any other forward grab a rebound in traffic and take it coast-to-coast like Twan?). And second, he
cared
. He was always competitive, sometimes over-competitive, to the point that he would get caught up in trash-talking and mano-a-mano duels. Maybe Twan was misguided, and he definitely went overboard at times, but his heart always seemed like it was in the right place. Of course, Walker never got a fair deal with Pitino, who constantly tried to trade him, belittled him during games, undermined his trust and bad-mouthed him behind the scenes. Even after Pitino skipped town, an admitted failure, he couldn't resist leaking negative stories to his cronies in the Boston media about Walker, petty stuff designed solely to make Walker look bad. At the same time, new coach Jim O'Brien quickly geared the team around Walker and Pierce, telling them, "This is your team now. I'm riding you as far as you can take us." And Walker immediately thrived, starting with a West Coast road swing where he nearly averaged a triple-double and 30 points a game. Without Pitino badgering him at every turn, Walker instinctively started doing the very same things that Pitino always badgered him about -- crashing the boards, looking for his teammates, getting other players involved, playing good defense, acting like a leader and everything else. Everything that's happened since January 2001 has basically been a giant "SCREW YOU" from Walker to Pitino. You'll just have to trust me. Now he's the second-best player, captain and Swagger Provider on a potential Eastern Conference champion. Better yet, he's the toughest player in the league -- not only did he lead the league in minutes, not only did he average an astonishing 43 minutes a game through 94 games this season (and counting), but he has only missed six games in six years, logging huge minutes every step of the way. During this year's playoffs, the ultimate litmus test, he has been the team's most consistent player. He has already had three games during this year's playoffs where I said to my father, "That's the best game I've ever seen him play." And counting. Of course, he's still a little crazy. Still hoists up ill-advised shots. Still relies on his jumper instead of pounding it out down low. Still whines to the referees incessantly. Still gets so competitive during games that he inadvertently shows up his teammates from time to time. Still trash-talks to the wrong people at the wrong times. Still remains the worst winner in the league, the kind of guy who needs to be taken out of certain victories before he shows up the opposing team. And because of these things, the Boston fans have been painfully slow to respond to Walker, directing all of their affection toward the more likable Pierce. But Antoine is changing, and we're changing. During Game 4 of the Detroit series, Walker submitted a virtuoso performance -- 30 points, great help defense, a number of huge shots, cerebral at times -- before exiting to a standing ovation, the first genuinely appreciative standing ovation he has received here in six seasons. And Antoine soaked in every second, walking slowly off the court, holding one index finger in the air. Watching the whole thing in person, I almost felt myself getting choked up for him. Almost.
Theme No. 4: You need to settle the Alpha Dog battle
Here's another area in which the Celtics just plain lucked out. When Pierce arrived, Walker was the best player on the team, the guy blessed with the responsibility to take big shots when it mattered. But when it became apparent that Pierce was better than everyone thought, a subtle tug of war took place.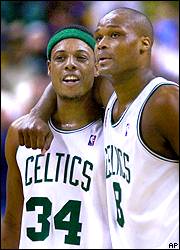 AP
By focusing everything on Pierce and Walker, the Celtics created a much better atmosphere.
Remember in "Lord of the Flies," when everyone was fighting over who got to hold the conch? The same thing happens in the NBA. Stars want the conch. And if you have two guys who both believe that they're conch-worthy, you aren't going anywhere until the battle gets resolved.
Walker slowly started deferring to Pierce last season, when they carried the Celts to a 24-24 record over the past 48 games (despite the fact that guys like Milt Palacio, Bryant Stith and Mark Blount were all playing big minutes). But he never fully gave in until Pierce's 48-point explosion in New Jersey last November. That changed everything. Even Walker had to admit to himself, "I'm good, but I'm not
that
good." It also helped that, by sheer luck, these guys became best friends over the past few years. Now there isn't a single Celtics-related thing that happens without both of them being involved. They're a true team. And the hierarchy fell into place. Pierce grabbed the conch and assumed the Sonny Crockett role. Walker assumed that Ricardo Tubbs' sidekick spot, occasionally carrying his own episode from time to time. And the team never looked back. During the playoffs, you might have even noticed Walker saying things like "I know Paul's our No. 1 guy and I'm No. 2," even going out of his way to make this clear to reporters and broadcasters. Trust me -- and I can't emphasize this strongly enough -- that was the upset of the season. Nobody imagined that Walker would ever take a backseat and fully relinquish the conch. (Of course, the season's not over yet ...)
Theme No. 5: Cater to your best players
In case you missed the memo, modern NBA players need to be coddled and stroked. They need to feel like they're the ones winning the games, not some coach who commands the headlines. They need to be treated like men, not little boys. They need to feel included in everything that happens off the court. They don't want to be embarrassed, screamed at or shown up. They're willing to play team basketball, but only on their terms. It's all about ego. And if you have a giant ego coaching your basketball team -- someone like, say, oh, I don't know, Rick Pitino -- the players will instinctively rebel against him. Think about it. These same Celtics that are playing in the Eastern Conference Finals, except for Rodney Rogers and Tony Delk, all tanked for Pitino. Why?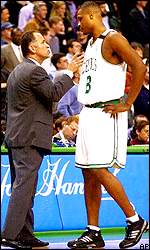 Jim O'Brien has brought out the best in Walker -- something Pitino could never do.
Because they didn't want to win for him.
They couldn't win without Pitino commanding the limelight, only because it was
his
team,
his
system and
his
players. Guys making $8-10 million a season want no part of that, especially if they don't like the guy in the first place. And given that Pitino would have traded any of them in a heartbeat, establishing that fact from Day 1 ... well, why would anyone bust their butt for a guy like that? When Jim O'Brien took over, things were different from the start, partly because the players all liked him, partly because they were all banding together to prove that they could win without the Rick-tator. And they did. To his credit, O'Brien revamped Boston's offense around his two best players (Walker and Pierce), running everything through them and abandoning Pitino's press so they would have more energy at the end of games. Once Walker and Pierce felt like it was their team, they threw everything into that season, something that continued this year. If that wasn't enough, the post-Pitino regime smartly catered to both stars, gearing the 2002 ticket campaign around them, even soliciting their opinions on draft picks and trades. For years, all we heard was "Pitino this" and "Pitino that" ... now all we heard was "Antoine and Paul" and "Walker and Pierce," giving the franchise a sense of family and continuity for the first time in years. O'Brien catered to them, as well, respecting their wishes to play big minutes, effusively praising them to anyone who would listen, even acting like their friend off the court. When Walker's grandmother died last year, O'Brien flew down to Chicago for the funeral, a gesture Walker would never forget (especially when Pitino never even sent a card). Hey, it's the little things. O'Brien isn't the second coming of Red Auerbach by any means -- this team has been offensively challenged all season -- but he's a very good defensive coach, a terrific motivator and someone who doesn't crave the limelight. And that's one of the goofy ironies of this whole thing: The Celtics spent $50 million on one of the splashiest coaching failures in professional sports history ... and inadvertently ended up with the perfect coach for their team. Go figure.
Theme No. 6: Don't be afraid to make a run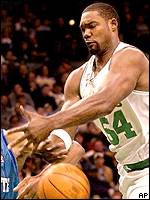 The trade for Rodney Rogers gave the Celtics a reliable scorer off the bench.
Celtics GM Chris Wallace was sitting there right before the trading deadline, thinking to himself, "The East is wide-open this year." All the Celts' goals centered around just making the playoffs -- even O'Brien playing Walker and Pierce an obscene number of minutes, with no fear of the repurcussions in May -- but now Wallace was looking around and saying to himself, "With the right trade, we might actually play a couple rounds this spring."
Wallace ended up pulling the trigger on a risky deal with Phoenix, giving up a package headlined by lottery pick Joe Johnson for two proven bench players (Tony Delk and Rodney Rogers). Since Rogers becomes a free agent after the season, Wallace knew there was a good chance that they would only be renting Rogers for a few months (a potential disaster if they lost in Round 1). Wallace rolled the dice, anyway ... and everything worked out wonderfully. Rogers gave them just what they needed -- a forward coming off the bench who could score and occasionally play crunch-time minutes. Even if he leaves after the season, the Celtics wouldn't have gotten this far without him (or Delk, to a lesser extent). Warrants mentioning.
Theme No. 7: Some things just defy explanation
Like Kenny Anderson, for instance. He wasn't just washed up, he was washed out. Even Vanilla Ice had more of a fastball left. You might remember when Pitino traded for Kenny and his mammoth contract during the '98 season; within three years, Kenny was the most untradeable guy in the league. When the Celtics tried to move him last summer, teams only offered to take Kenny and the final two years of his contract (two years, $22 million) off their hands if the Celtics threw in two first-rounders. Not one. Two. That might have been a record for Anti-Trade Value.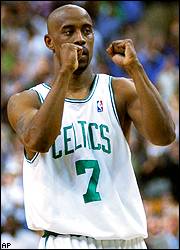 AP
The rejuvenation of Kenny Anderson was a very unexpected development.
So the Celtics rolled the dice with Kenny one more season, and not by choice. For Anderson to regain his starting position, he needed to devote himself to an off-season conditioning program; show up to camp in shape; come to grips with being a supporting player in an offense that revolved around Pierce and Walker; show some veteran leadership; contribute defense and hustle (something he hadn't done consistently in six years); and walk across the Charles River after every home game (all right, I made that last one up, but it was just about as realistic).
So what happens? Kenny does it. All of it. By the time the playoffs roll around, he's the third best player on the team. In the Philly series, he does an admirable job defending Allen Iverson -- Allen Iverson!?!?!?! -- and spends much of the Detroit series eating up Chucky Atkins and Damon Jones, to the point that one announcer actually said the words, "They don't have an answer for Kenny Anderson." As far as comebacks go, this was "Travolta in 'Pulp Fiction' "-caliber stuff. Wait, there's more. Rogers started playing defense for the first time in his life, emerging as the sixth man off the bench. Tony Battie matured into a second-tier shot-blocker and rebounder who could occasionally make big jumpers. Eric Williams (buried by Pitino) emerged as the fifth wheel every winning team needs, the guy who does all the nitty-gritty, Battier-esque things. Even someone like Walter McCarty, a walking disaster for the past two seasons, somehow emerged as an occasional Energy Boost guy off the bench. Add these things up together, throw in the maturation of Pierce and Walker, remember that everything has been spearheaded by a coach who failed miserably at Dayton University, of all places ... I mean, does it get more improbable than this? Even as recently as last February, the Celts still hoisted too many bad 3-pointers, they still drifted in games, and they never played team defense like this. But something snapped in March, and it carried over to April -- remember, baby steps -- and suddenly they were hanging with Philly in Round 1 and thinking, "Hey, we're as good as these guys." Now we're here. Sixteen months removed from Rock Bottom, the Boston Celtics are three wins away from the NBA Finals, just another feather in the cap for Boston sports fans. Memorial Day Weekend just kicked off, the sun is shining, two Celtics playoff games are slated for Saturday and Monday, the Yankees and Red Sox are battling for first place at Fenway, the Patriots are shining their Super Bowl trophy ... and somewhere in the distance, there's a familiar chant looming ... so faint that you can barely hear it ... but it's there ... and it's getting louder by the day ... and hot damn, it sure sounds like something ... could it be ... could it be ... (Beat L.A.!) (Beat L.A.!) (Beat L.A.!) (Beat L.A.!)
Bill Simmons writes three columns a week for Page 2.