By Bill Simmons
Page 2 columnist
The subplots during baseball's All-Star week revolved around labor disputes, performance-enhancing drugs, contraction, shaky trades, the growing disparity between big-market teams and small-market teams, the fact baseball owners are morons and the greatest hitter of all time dropping dead, then being cryonically frozen by his son. The only thing missing was a sex scandal involving Catholic priests, major league batboys and members of Al Qaeda. Maybe next year.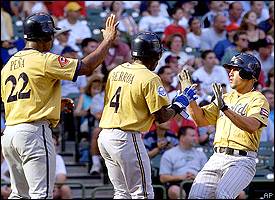 Hey, that's really Wily Mo Pena, Angel Berroa and Andres Torres at the futures game!
Here in Milwaukee, nobody cared. For three days, everything revolved around baseball ... we tried to ignore the other stuff. And since I attended the festivities at Miller Park, here's a recap:
Sunday
As a sleazy way to milk more cash from unsuspecting hometown fans, MLB created the Futures Game and the Celebrity Softball Game back in 1999. Of course, most fans just want to be involved in any aspect of All-Star Week, and since it was impossible to find Home Run Derby tickets or All-Star tickets in Milwaukee, Sunday's contrived events were the next best thing. It's like a training day for the real All-Star Game. Instead of having partners from law firms, you have junior associates. Instead of executive vice presidents, you have directors of sales. Instead of wives, you have girlfriends. Instead of groupies, you have groupies-in-training. And so on.
The Futures Game came first, always a better event on television, if only because Peter Gammons is spouting out Gammons-esque things like "With a little work, Wily Mo Pena could be the next Sammy Sosa," and "Scouts were drooling over Brandon Phillips before the Colon trade," or even "Including locker room prowess, Juan Reyes is a six-tool guy."
Watching the game in person, none of this stuff translates -- 99.95463 percent of the fans have no idea who these guys are. They separate teams into "USA" and "World" categories. Everyone gets to pitch, so there are about 100 pitching changes. Most of the players look nervous as hell. And unless you collect baseball cards and can spout out things like "I have Joe Borchardt's 'Donruss Golden Spear Diamond First-Cut Game Jersey + Authentic Sweat, Blood & Semen Sample Limited Edition' rookie card from 1996 when he was in eighth grade ... and there were only three of them made!", then I can't imagine why anyone would be interested in this game unless you're a scout or a GM. It's almost like they created the event so you could be impressed that you were there five years from now. Maybe it's a necessary event, but the Miller Park crowd was absolutely dead for two straight hours -- it was like we had been collectively frozen by John Henry Williams.
Who would have believed that the celebrity softball game emerged as the saving grace on Sunday? I'll even go this far ... looking back, it was my favorite event of the whole week. Is playing in a celebrity softball game a step up or a step down from appearing on a game show? Has that ever been definitively answered?
This year's game included a number of ex-baseball stars -- George Brett, Ozzie Smith, Don Mattingly, Dave Winfield and so on -- but their collective star power was dwarfed by the staggering array of celebs on hand: skiier Picabo Street, actress Nadia Dajani, two guys from "West Wing" (Bradley Whitford and Richard Schiff), Olympian Derek Parra, Dale Earnhardt Jr., Chi McBride of "Boston Public," singer Joy Enriquez, sitcom star Kevin James, rapper Coolio (as always, he was available), actor Tony Todd (more on him in a second), Howie Long, Kenny Mayne (the Calvin Schiraldi of celebrity softball games), the immortal Meat Loaf (wearing a jersey that said "Loaf" on the back) and special guest announcer Rich Eisen (wearing an "As soon as I get back to my hotel toom, I'm firing my agent" look on his face by the third inning).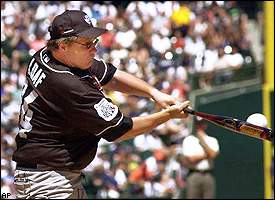 You can't have celebrity softball without Meat Loaf.
Was that a murderer's row or what? Brett Somers, Teresa Ganzell and Charles Nelson Reilly were unavailable for comment, but trust me, you couldn't have slapped together a more improbable, ridiculous group of B-list celebrities (and in some cases, C-list celebs) if you tried. Here were my favorite moments from the celeb game:
Watching everyone warm up before the game. When's the next time you'll see Mayne playing catch with McBride, or Street tossing grounders to Whitford, or Coolio throwing like he had been tutored before the game by Tim Robbins, or a disproportionately intense James winging it so hard to Brett (who had a "Hey, calm down, buddy" look on his face)? Why isn't this stuff televised? I have no idea.
My buddy Chipper and I were playing the "Add embarrassing info to someone's introduction" game and having an immense amount of fun. For instance, when Dave Winfield gets announced as, "He's a 16-time All-Star, as well as a member of the 3,000-hit and 500-homer clubs," you simply throw in, "He was also sued by Robin Givens' mother after allegedly giving her VD ... ladies and gentleman, Dave Winfield!"
Speaking of intros, Todd's introduction centered on this piece: "He's appeared in 'The Scout' and 'Little Big League.'" Hands down, that's the worst introduction in the history of celebrity sporting events. That will never be topped. I mean, ever. If that wasn't enough, Coolio was announced as "Grammy Award-winning artist Coolio," prompting a stunned Chipper to sum up everyone's feelings: "Wait a second, Coolio won a Grammy?" We were absolutely floored by that one. Since that improbable Grammy win, it hasn't been a fantastic voyage for Coolio ... he's a mortal lock for any celebrity all-star game. You could stage one in your garage and he'd probably show up.
My personal favorite moment: There was about a five-minute lapse after warmups and before introductions, when people were just milling around, chatting and killing time. For some reason, the two "West Wing" guys weren't warmed up enough yet -- even though everyone had been throwing for 20 minutes, and even though they were gearing up for a freaking softball game -- so they remained out there by first base, whipping throws back and forth, even throwing some mock grounders. This wasn't just the funniest moment of the entire day, it might have been the funniest moment of my life. You really had to see it. Wait a second, we're almost done, I just need 10 more mock grounders and I'm ready to go.
The actual game was highlighted by Rollie Fingers going deep, the surreal sight of Mattingly playing third base, and Meat Loaf, Brett and the home plate umpire re-enacting the famous "Pine Tar" incident (it was actually pretty funny).

Another standout was the performance of James, who looked like he dipped into the National League All-Star Team's HGH supply before the game (he should have just gone the whole nine yards and put eye black under his eyes). During one at-bat, a crazed James struck a double, kept going for a triple, then tried to bowl over poor Parra at third base, who tagged him out; it was nearly Rose-Fosse all over again. James had clearly gone insane. That prompted me to offer Chipper $20 to yell, "Come on, Raymond!" during James' next at-bat, just to push him over the edge, but Chip was too afraid of him. Frankly, so was I.

Still, the star of the game was shortstop Todd, who used the game as a platform to audition for another crappy baseball movie, even catching Street straying from first base after a flyout, then cruelly gunning her out at first for a double play. People were universally horrified; Todd became the first guy ever to get booed during a celebrity softball game. There was another classic moment when Todd went from first to third on a single to left as Eisen narrated, "He's gonna test Kevin James' arm," prompting Chipper to joke, "When in doubt, I think you should always test Kevin James' arm." We should have been the announcers for this thing. Maybe next year.

All in all, we couldn't have enjoyed the celeb game any more. It's not possible. And if that wasn't a great capper to the night, the organizers outdid themselves by inviting the Counting Crows to give a free concert outside Miller Park (in the Little League stadium). Is there a better phrase in the English language than "free concert"? Of course not.

(While we're here, the Counting Crows have to be the most enigmatic live band of the past decade. On the one hand, they bring an incredible amount of energy to the table, they always sound good, and Adam Duritz always commands your attention. On the flip side, Duritz constantly changes songs from the way they were initially recorded, which only antagonizes the audience, so you're trying to sign along and get into it ... and suddenly he mixes up the cadence on you. I'm telling you, he hasn't sung a version of "Mr. Jones" or "Rain King" in eight years that hasn't left the crowd totally frustrated. Somebody needs to stage an intervention with him. Then again, maybe this is how he lands all the hot chicks in Hollywood. OK, I'm babbling.)

Final grade for Sunday: A-minus.

Monday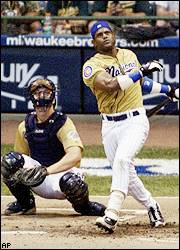 Let's see how far Sammy Sosa can mash using metal.
The home run derby always reminds me of the NBA slam dunk contest or a four-hour block of the Spice Channel ... after about 45 minutes, you've seen everything you want to see, you're numb, you're somewhat cross-eyed and you need to replenish your fluids. There's also a distortion of reality because they use oversized golf balls for the event, so you take a leap of faith when you're watching (and, folks, that's why they sell beer). This year's derby was especially fun because of the "Who's On the Juice?" side game, which dominated everyone's conversations before, during and after the event (Sammy Sosa certainly didn't help his cause by belting eight 500-foot homers and looking more wired than Michael Corleone coming out of the bathroom at Louis' Ristorante; you kept waiting for his head to start doing 360s).
Chipper and I went corporate for this one, weaseling our way into ESPN's Bleacher Bash party in left field (I'd like to tell you we went for the schmoozing, but we were really there for the free beer and bratwurst). Any doubts that we were standing too far away for a home run (we were in the second tier of bleachers, underneath Bernie Brewer's home run slide) were erased when Sosa started blasting shots in batting practice. And yet, inexplicably, in a horrible lapse of judgment that rivalled Rick Pitino signing Travis Knight for $21 million, Chipper and I decided to sit in our actual seats for the contest, located on the third base side. Bad move. Badddddddd move.
For one thing, we sat down and quickly noticed that the "West Wing" guys were three rows away from us. Not a good sign. We kept waiting for them to start throwing mock pop-ups to one another, just in case a foul ball came their way, but it didn't happen. As an added bonus, one of the guys (Whitford) was sitting with his kids and his wife, who coincidentally plays the mom on "Malcolm in the Middle." I'm not making this up. Then we turned around and noticed Jonathan Silverman sitting two rows behind us, with his agent for the past five years, Bernie Lomax. We were officially in B-List Celebrity Hell, and it became official when I bought a Miller Lite from the guy selling beers in our section, Grammy Award-winning artist Coolio.
(Just as an aside, there are three types of people around celebrities -- people who could care less, people who are strangely captivated and impressed, and people like me, who just want to walk up to them and say things like, "Jonathan, any plans for a 'Weekend At Bernie's III'?" This is why I can't attend any celebrity events. I can't be trusted. There's a reason they kept me away from the ESPYs.)
Here's the point: We had to get me out of there. And once the contest kicked off and Sosa cranked 12 homers, including about eight in the general vicinity of the Bleacher Bash party, we quickly left our seats and skipped back to the left field area ... just in time to have people telling us stories like, "You guys missed it, two of the homers bounced right off Bernie Brewer's slide and almost landed right in here!" and "I can't believe you guys left." Ouch.
Improving the derby
My suggestion to improve the Derby: Cut this from three rounds to two.

Every year, the best guys peak in Round 1, then they slowly fade as the contest drags on. So why not have the top three hitters from Round 1 advance to the1finals in Round 2?

You can salvage the missing round by staging a one-round Legends/Celebrities Home Run Derby with Reggie Jackson, Dale Earnhardt Jr., Dave Winfield, Coolio and everyone else. Who wouldn't enjoy that? They could even have the guys from "West Wing" shagging flies in the outfield.

This can't miss.
So we watched the rest of the home run derby from left field, poised to catch a home run ball that never came. To everyone's chagrin, the contest peaked with Sosa's first-round barrage and Barry Bonds falling flat on his face in the same round (people cheered lustily -- let there be no doubt, nobody likes Barry Bonds). Jason Giambi kept cranking out 450-foot homers -- 25 in all, like a machine -- but after Sosa's jaw-dropping display in Round 1, watching Giambi was like listening to the "edited for teenagers" version of a 2Pac album.
By the second round, we were totally numb -- Sosa would have had to slam one off the Jumbotron to get us excited again, and wouldn't you know, he almost did. Just missed it by about 10 feet. The crowd completely faded as the contest limped on into its third hour, capped off by Sosa pulling a Phil Mickelson in the finals. By the time Giambi hoisted the trophy over his head, most of us had fled the premises. It's pretty sad that, after Round One, my most memorable moment happened when it started to rain and the retractable roof slowly closed above us. Everyone was transfixed. It was like we were watching the spaceship from "Close Encounters" land. For some reason, I'll always remember that.
Final grade for Monday: B-minus.
Tuesday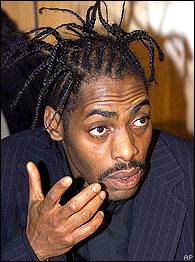 Hey, Coolio, send the peanut guy up this way.
With few exceptions, the All-Star Game usually peaks during the opening ceremonies, a 45-minute barrage of fireworks, goosebump-inducing video clips, living legends and unexpected surprises. This year's opener almost matched the '99 game at Fenway, and probably would have surpassed it if John Henry Williams had attended, just to see him dodging plastic bags of urine being thrown from the crowd. Maybe next year.
Things kicked off with hundreds of kids dressed in red, white and blue, holding lit baseball bats in the darkened stadium. Then special guest announcer Ray Liotta came out, which drew gasps from the crowd. Ray Liotta! He was available. So Ray takes us through the top 30 moments in baseball history, accentuated by Willie Mays trotting out from the right field bullpen, Hank Aaron emerging from left field, Cal Ripken skipping out to third base, and Bill Mazeroski, Carlton Fisk, Joe Carter, Reggie Jackson and Kirk Gibson coming out at the same time to stand at home plate. I'm telling you, the place was electric.
Willie pushed everyone over the top. Who doesn't love Willie Mays? Maybe he didn't have the post-career charisma and mystique of Mantle, Williams and DiMaggio, but he's the greatest living baseball player now that the Splinter has left us; he's probably the only living legend that gives you that "Good God, there he is!" feeling. And when you're standing there watching all these legends standing on the same field, with all 60 All-Stars from this year's game ... I mean, if you can't get goosebumps from that, you probably shouldn't be attending the game in the first place. Before you die, you have to see one All-Star Game. Just trust me.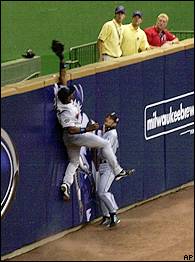 Torii Hunter leaps high above the fence to steal a home run from Barry Bonds.
As for the actual game, Torii Hunter electrified the crowd during Barry Bonds's first at-bat. Chipper and I were sitting in shallow right field, a few rows from the field, so we had a perfect angle -- Bonds crushing a high fly ball to right-center ... Hunter taking off at the crack of the bat, sprinting towards the wall ... Ichiro coming over from right field, then stopping at the warning track, resigned to the fact that the ball was gone ... but there was Hunter, moving in rhythm, never breaking stride, glancing quickly at the wall, then climbing up, and up, and up ... did he get it? He got it! And the crowd made one of those, "Ohhhhh ... whooooooooooooooooaaaaaaaaa!" sounds. Best catch I've ever seen in person. They could have stopped the game right there and everyone would have gone home happy.
Then Chipper took things to the next level. Right before the second inning started, Sosa was playing catch with Vlad Guerrero, finally turning towards our section and flipping the ball into the stands ... in an improbable turn of events, it bounced off about nine hands and finally dropped behind my seat. Of course, I was holding my notebook in one hand and a beer in the other, so I was looking on helplessly when Chip came flying in, grabbing the ball right before a swarm of people swooped on it. Unbelievable. I swear, this stuff only happens when I'm around. And maybe it doesn't count as an actual "catch of a foul ball," but still, it's an authentic 2002 All-Star Game baseball, it's a genuine keepsake for Chip and I wish he would choke to death.
The rest of the proceedings were especially good for an All-Star Game -- a few lead changes, a few defensive gems, a few timely hits, tons of star power. All-Star Games always stink after the fourth inning -- once all the major stars have been removed from the game -- but this one actually maintained its momentum with the Randy Winns and Robert Ficks. Everyone was thoroughly enjoying it. Then extra innings came along, and we slowly started to realize that both teams were running out of pitchers, and then there was a prolonged stoppage before the bottom of the 11th -- both managers (Brenly and Torre) conferring with commissioner Bud Selig -- and just like that, they dropped the bombshell on us:
This is the final inning.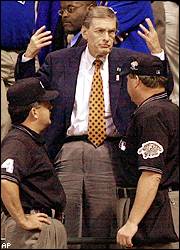 Bud Selig is still trying to figure out the answer to No. 9.
We booed. We hissed. On the 25th anniversary of "Bad News Bears in Breaking Training," we even chanted "Let them play!" And when the game was halted after the 11th, we waited for Tanner Boyle to run out on the field and dodge the umpires, and we waited for Bob Watson and Cesar Cedeno to show up in Astros uniforms and say, "Come on, let the kids play," and we waited for the jumbotron to show a belated "PLAY BALL!" message. Never happened. Apparently this stuff only happens in the movies.
So that was it. In a classic turn of events, this was going to be the first All-Star Game in which they awarded the Ted Williams Award to the MVP ... needless to say, there was no MVP. You couldn't make this stuff up. And given that baseball has been run by idiots and shortsighted fools for years and years, it came as no surprise that there was no contingency plan in place for an extra inning All-Star Game -- no "All players and pitchers become eligible again in extra innings" rule, no "All games will be decided by a Home Run contest after the 11th inning" corollary, not an "Each side has three extra All-Stars who can only be used in extra innings rule," not even a "Meat Loaf and Kevin James become eligible as pitchers after the 11th" addendum. Nothing. Not a thing. Game over.
In a weird way, it was perfect. Our flawed American pastime had figured out another inventive, groundbreaking way to embarrass itself -- the "We can even screw up an All-Star Game" monkey wrench. And after three terrific days in Milwaukee, everyone went home unhappy. That's baseball for you, the sport that's going straight to hell in a handbasket. We're only around for the ride.
Final grade for Tuesday: A tie between an "A" and an "F"
Bill Simmons is a columnist for Page 2 and ESPN Magazine.