By Bill Simmons
Page 2 columnist
If you missed Part One, we examined the Eastern Conference on Tuesday. Here's one man's predictions for the West, in reverse order (from worst to first):
14. Denver Nuggets
We've seen franchises rehauled, rebuilt and revamped, but we've never seen a full-fledged evacuation plan ... until now. Blessed with the fact that he was following the immortal Dan Issel -- whose reign in Denver was the NBA equivalent of the Fred Silverman Era at NBC -- new GM Kiki Vandeweghe knew he could take 3-4 years to blow up the franchise and start from scratch. And he did. And he's taking his time. Even when he announced his picks on Draft Night to a group of ticketholders, it almost looked like an infomercial -- he was babbling on and on, never raising his voice, and you almost felt like he was trying to sell one of those machines that shaves back hair. It was a mesmerizing performance.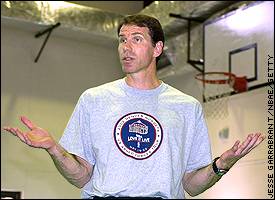 Kiki has done more home improvement than the Home Depot.
But does Kiki know what he's doing? I'm still reeling that he passed on Caron Butler -- not once, but twice -- to snare foreign forwards Nene Hilario and Nikoloz Tskitsisvlshsvllsslshsllli. First of all, Kiki never passed when he played, so why start now? Second of all, it's not like he was grabbing Dirk Nowitzki and Pau Gasol here -- by all accounts, neither of these guys are nearly as polished coming into the league, and there's a better-than-good chance that one of them might stink, especially when they're getting thrown into the fire. And you can't tell Nuggets fans to remain patient, not when they've witnessed more rebuilding plans over the past 25 years then Mike Brady. Why not take Butler and Amare Stoudamire, two rookies with UPPPPPPside who could have actually played this season without embarrassing themselves?
As for the rest of the team ... yikes. Your go-to guy is none other than Juwan Howard, the preeminent "Guy Who Puts Up Big Stats On Bad Teams" of his generation. They might actually have to run some plays for James Posey. Ryan Bowen is prominently involved. Piston castoff Rodney White might get some time (as fantasy owners monitor his progress with bated breath). And Nuggets fans will be treated to the sight of Marcus Camby in street clothes -- the official sign that the NBA season has started -- as well as Chris Whitney running the pick-and-roll with Mark Blount. Just remember, the record for the fewest wins in a season is nine.
13. Utah
In my Yearbook Quotes column, I included one of Koglan's Laws from "Cocktail": "Everything ends badly, or else it wouldn't end," which Tom Cruise also ended up saying near the end of the movie. For years and years, we've been waiting for the season when this quote would apply to the Stockton-Malone Era, a maddening experience which featured two "Top 50" players playing on the same team, bringing out the best in one another, hanging around forever, and doing all of this in the least appealing style possible. Everyone appreciated them, few people enjoyed them. Hey, it wasn't their fault; they did what they had to do. Only in their waning years, as they kept thriving just by doing the Little Things, did people start saying, "I can't believe I'm saying this, but I might actually miss watching these guys."
And now, we're looking at those 79 combined years of age, and the fact that they're relying on Matt Harpring and Andrei Kirilenko (terrific role players, but non-scorers) for scoring help, and a Utah bench that includes DeShawn Stevenson, Mark Jackson and Cal Cheaney (yikes), and a center rotation of Jarron Collins, Greg Ostertag, John Amaeche and Curtis Borchardt ... it just feels like this is the year when everything comes to a crashing halt. Remember, everything ends badly, or else it wouldn't end.
12. Golden State
Introducing this year's winner of the "I can't wait to see their boxscores!" award. Good Lord. Is this a fantasy team? These guys actually have to play together? By my count, they have two centers (Erick Dampier and Adonal Foyle), three power forwards (Troy Murphy, Antawn Jamison and Danny Fortson), and five shooting guards (Gilbert Arenas, Jason Richardson, Mike Dunleavy, Jiri Welsch, Bobby Sura).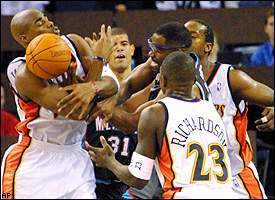 AP
The Warriors are going to have to fight for their shots this season.
Now ...
Jamison needs shots, Richardson needs shots, and Dunleavy needs minutes, but he can't get them unless he's playing the "3" spot, and that's where Jamison has to play if they make minutes for Murphy and Fortson, only Jamison doesn't like playing the "4," he likes playing the "3," but they need Murphy on the court because he's their only low-post threat, although he won't get the ball in the right spots, because Arenas and Sura aren't natural point guards, so they might have to go big and play Dunleavy at point, only that puts Jamison back at the "3" when he likes playing the "4," and Richardson would be guarding the other team's point guards, which he doesn't want to do, so you can't do that, so now Arenas and Sura are splitting duties again, only neither of them are true point guards, and we haven't even gotten to Jiri Welsch yet, who plays three positions but won't be playing any of them if Richardson and Jamison are getting 40 minutes a game, because Dunleavy gets the leftovers, unless he's playing the point, in which case you could probably play Welsch at the "3" and move Jamison back to "4," and maybe even play Murphy at center, but then Erick Dampier would be ticked off ...
(My head is spinning.)
The preseason squad for the Bill Simmons All-Stars, a k a, "Guys I Inexplicably Like Who Haven't Hit the Big Time Yet (And Maybe Never Will)"
Bench: Troy Murphy, Eduardo Najera, Jason Collins, Dan Gadzuric, Zeljko Rebraca, Carlos Boozer
Sixth Man: Jared Jeffries
Starters: Andrei Kirilenko, Emanuel Ginobili, Ricky Davis, Shammond Williams, Jeff Foster
11. Phoenix Remember in "Boogie Nights," when the Colonel barges into the back bedroom of Jack Horner's party, where one of his girls is covered in coke, passed out, frothing at the mouth and bleeding from the nose. Her sobbing male companion quickly explains, "I think she OD'ed," so the Colonel says without missing a beat, "Oh, you think so, Doctor?" Well, that's how I felt when I read that the Suns are wondering if Stephon Marbury might be better suited for shooting guard. Oh, you think so, Doctor?
If it happens, Penny Hardaway and Joe Johnson would share the ballhandling chores, which makes sense, because the NBA is determined to prove to America's youth that the point guard position doesn't matter, passing is irrelevant, setting up teammates is overrated, and anyone with two arms and two legs can run a basketball team. Just plain infuriating. And you wonder why John Stockton might play until he's 50.
Anyway, the Suns look intriguing on paper ... then you remember that Penny Hardaway can't stay healthy, Tom Gugliotta was finished four years ago, Shawn Marion can't create his own shot, Marbury can't make his teammates better, Bo Outlaw looks like he's on his last legs, Amare Stoudamire is probably a year away (although everyone likes him), and Jake Tsakaladis is Jake Tsakaladis. If Joe Johnson made The Leap, things might be different. Unfortunately, I watched him in Boston for 50 games. Intently. And he doesn't have it. I can spot three things in life -- toupees, fake breasts and NBA players who drift during games. And he's a drifter. Considering that the Suns need him to make The Leap, that doesn't bode too well for their playoff hopes.
10. Clippers
Has any team looked better on paper and more doomed at the same time? They're heading into the season with Michael Olowokandi six months away from skipping town, as well as Andre Miller, Elton Brand and Lamar Odom all hoping for contract extensions. In other words, every man for himself! They might as well stick them all on a sinking ship, then have them fight over two lifeboats. It's just like last year. Just to ensure chaos, they brought back Alvin Gentry, who modeled his coaching style after the opposing coach against Hickory High at the end of "Hoosiers" -- sit on the bench with your hands clasped, keep a befuddled expression on your face at all times, and don't distract your players when they're trying to blow the game.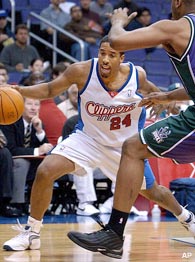 The only thing that can stop the Clips now is Donald Sterling.
What a shame. Few teams in the league have two proven low-post players (Brand and the KandiMan), a natural point guard who actually cares about setting up teammates (Miller), two scorers off the bench (Quentin Richardson and Corey Maggette), fresh legs off the bench (rookies Chris Wilcox, Marvin Ely and Marko Jaric), and one of the most versatile talents in the league (the mercurial Lamar Odom). Those are eight quality guys. How many of the 29 NBA teams would switch rosters with LA in a heartbeat? 20? 24? What a shame, what a shame, what a shame. This team degenerated so badly last season, even I turned on them, jettisoning them in favor of Seattle as my "Favorite West Coast Team to watch on DirecTV in the wee hours."
So what needs to happen? If I were running the Clippers, I would trade Odom to the Knicks, just because he would get all the pathetic Knicks fans excited and invariably break their hearts. That would be fun. Then I would sign everyone else, but not before offering a Brand-Olowokandi-Ely-two No. 1's package to the Timberwolves for Kevin Garnett. But Donald Sterling won't do any of that -- I bet everyone ends up leaving but Brand. For God's sake, Donald, you're in LA! Everyone has tons of disposable income! People would pay to see a good basketball team! Spend the money! We're begging you! I can't stop using exclamation points!
9. Minnesota
I'm not in the mood.
8. Seattle
Hey, it's the generic section of predictions for the Sonics season, updated from my 2001 preview! Let's go down the checklist; feel free to play along at home: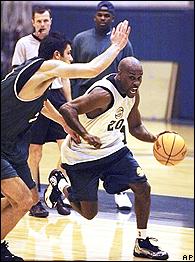 Gary Payton is an all-star at being unhappy.
"During a losing streak, Gary Payton sounds off and questions his future in Seattle." (CHECK HERE)
"Fifteen million dollar center Jerome James hasn't panned out like the Sonics had hoped. Calvin Booth and Jim McIllvane are unavailable for comment." (CHECK HERE)
"Everyone's still pinching themselves that Vin Baker isn't on the team anymore. Can you believe somebody traded for that guy?" (CHECK HERE)
"An unhappy Kenny Anderson wants to get traded so he can get more playing time, but he also doesn't want to give up any of his $9.3 million contract, but if he complains enough, the team will probably end up waiving him and paying his full salary, because that's how the NBA works." (CHECK HERE)
"The Sonics need Rashard Lewis to step up and become the leader of the team, especially now that he's one of the most overpaid guys in the league." (CHECK HERE)
"Payton's very unhappy that he's not getting his contract extension -- would welcome a trade if possible." (CHECK HERE)
"Won over by the play of The Drobber and the Radman (Predrag Drobjnak and Vlad Radmanovich) in Baker's absence, Sonics fans stop shaving and showering in their honor." (CHECK HERE)
"Sonics quietly make Calvin Booth and his $35 million contract available before trading deadline -- rest of the league laughs uproariously." (CHECK HERE)
"Celtics trade for Calvin Booth." (CHECK HERE)
"Pining for more minutes, a frustrated Desmond Mason spends most of his practice time trying to trip Brent Barry." (CHECK HERE)
"Repeat: Payton is very, very unhappy." (CHECK HERE)
"Somehow the Sonics sneak into the playoffs again." (CHECK HERE)
7. Memphis
As Pete Carroll would say, "I'm as shocked as you guys!" Once Drew Gooden started slapping 20-10's on everyone in the preseason, it pushed me over the edge. Drew Gooden! Who knew? I'm so excited about the Grizzlies, I'm dusting off the old Hubie Brown impression:
"Okay, you're Jerry West. You have Drew Gooden, who plays hard every night, crashes the boards, and does all the Little Things that helps your team win. You have Shane Battier and Michael Dickerson, who also love ... doing ... the Little Things. Then you have two athletic bodies with upside, Lorenzen Wright and Stromile Swift. You have Wesley Person and Gordon Giricek shooting threes. You have Jason Williams pushing the ball and CREATING scoring opportunities. And you have a premier offensive player in Pau Gasol, who commands double-teams. Now you're getting easy points, you're getting threes, you're wearing out other teams, and you have a GENUINE OFFENSIVE OPTION at the end of games. You're also not as bad as you were defensively last year. And you have a fan base that WANTS to win. Everywhere you look, you see upside, nothing but upside."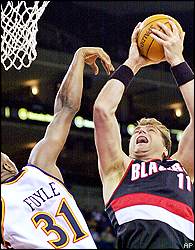 AP
Arvydas Sabonis continues to cause solar eclipses with his noggin.
6. Portland
I'm brimming with questions. How many years in a row can Bob Whitsitt keep trotting in head cases and watch the team fall short without wondering, "You know, maybe this is the wrong tactic"? Did that whole "Shawn Kemp leaving millions on the table in exchange for his release" thing really happen? Would anything be funnier than the Blazers swapping Derek Anderson for Latrell Sprewell? Is there a place for Latrell to park his yacht in Portland? Could he keep it on a lake? Is Rasheed Wallace honing in on the career record for technicals, or did he already break it? Who holds that record? Why doesn't Bonzi Wells average 22-24 a game? Is there a more overpaid guy in the league than Damon Stoudamire? Who does Dale Davis hang out with on this team? When Qyntel Woods, Zach Randolph and Ruben Patterson head out together after games, do the Portland police automatically send a squad car to follow them?
Wait, I have more: Did Arvydas Sabonis make a comeback just so his wife could break Rod Strickland's DWI record in Oregon? Did his head get bigger when he was away? Is his head bigger than Jay Leno's head, Conan O'Brien's head or Greg Gumbel's head? Does anyone else have a fascination with big heads? When they signed Jeff McInnis, were they thinking, "We need a backup point guard who will talk back to the coach and make Damon Stoudamire even more unhappy ... is Jeff McInnis a free agent?" Where does Antonio Daniels fit into everything? And didn't Mo Cheeks sum it up best when he told Sports Illustrated, "We have a lot of pretty good players ... we don't have, like, great, great players"?
5. Los Angeles
You know the drill. Shaq misses some games. The Lakers struggle. Everyone wonders if the wheels are coming off. Kobe carries them for awhile. Shaq comes back. The Lakers start winning again. Everyone rounds into shape by April. Frankly, it's boring.
But here's the thing ... one of these years, the Lakers will fall asleep just long enough for someone to steal it from them. It's human nature. I'm watching it happen to the Patriots right now -- the same guys who were flying around last season are stumbling around this season. Quite simply, success has a way of softening people. I remember watching Shaq during the Emmitt Smith Roast this summer, giggling at all the jokes Guy Torre made about the Kings, seeming like the most confident, satisfied guy on the planet. At some point, you end up slipping up, just a little, but enough. When you think about it, the Lakers were ready to give it away last spring, only the Kings weren't ready to take it. More on this later.
(One question that's been nagging me all summer: Four years and $18.6 million for Devean George? Excuse me? What does he give you that Rick Fox doesn't already give you? What other team would have given him even $10 million? Wouldn't it have made much more sense to spend that money on Rodney Rogers and Byron Russell? Or Michael Redd? It's amazing, the Lakers haven't made a good front office move since they signed Rick Fox a few years ago -- which only happened because he wanted to move to LA -- and yet they've won three straight titles. I've stopped trying to figure it out.)
4. Houston
I love the NBA. Have I mentioned that? Here you have the Rockets, who were already one of the most fun teams in the league ... and now they have a 7-foot-5 Chinese guy playing center. It's too good to be true. Stevie Francis, Cuttino Mobley, Eddie Griffin, Glen Rice, Mo Taylor, Rudy T., Moochie Norris, Moochie Norris's hair, Kelvin Cato's Burmese snake, and a gigantic Chinese guy who also happens to be the most intriguing new player in the league. I still think he will be a modified bust -- Rik Smits with 20 times more distractions -- but Bob Ryan swears up and down that Yao Ming will eventually become the most important player in the league. And Ryan has forgotten more hoops than I ever learned.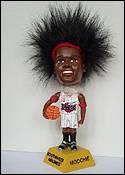 The Sports Guy always shows Moochie some love.
Now I'm torn. When I was stating the case against Yao last June, one of the things I worried about was his personality -- every video clip of him in China looked like a hostage video, like the camera could pan back a couple of feet and you would see a gun being pointed to his head. And yet, by all accounts, Yao seems much happier in America. Just yesterday, I was reading a story in which Yao was startled after hearing a teammate say "What's up?" because the sound of the phrase resembled a Mandarin obscenity. So after they cleared up the confusion, Yao started shouting the phrase to everyone, and it's become a running joke in the locker room. Can you imagine Mobley and Francis saying "Wassup, Yao?", Yao breaking into hysterics, and then everyone attempting a nine-step handshake? These are the things that need to be televised.
Anyway, I'm digging the Rockets, not just because I might have been wrong about Yao, but because Francis and Taylor are healthy, Griffin is ready to make The Leap, and there isn't a better coach on the planet than Rudy T. If anyone can figure out how to make this work, it's him. Better yet, this is fun. I like having a 7-5 Chinese guy on the Rockets who may or may not be the future of the NBA.
(And imagine a five-game playoff series with the Lakers and Rockets in Round One? I just high-fived my Moochie bobblehead doll.)
Playoff Predictions
First round: Sacramento, Dallas, San Antonio and LA all advance
Second round: Dallas over San Antonio, Sacramento over LA
Western Finals: Sacramento over Dallas (5 games)
NBA Finals: Sacramento over New Jersey (5 games)
3. San Antonio
Reason No. 145 why I'm excited for the 2002-2003 season: San Antonio's backcourt of Tony Parker and Emanuel Ginobili (or as Sonny Crockett would call him, "The Argentinian"). Parker was the only Spur other than Tim Duncan who wasn't scared in the Lakers series last spring; the fact that the Celtics passed him up for Joe Forte keeps me awake at night. And Ginobili ... I mean, did you see this guy in the World Championships? He was like a cross between Brent Barry, Sarunas Marciulionis, Paul Westphal and Matt Vasgersian. I loved him to death. I'm not kidding. Remember when everyone played like that in the '70s, the slashing-penetrating-attacking game? The three-point line made everyone lazy. Maybe the Argentinian will bring that style back in vogue.
And by the way, Tim Duncan's still here. Just thought I'd mention that.
2. Dallas
Everyone's rooting for the Mavs to win it all, and for one reason -- what would Mark Cuban do if it happened? Would his head spin in a complete 360? Would he break down and start sobbing uncontrollably, to the point that everyone felt wildly uncomfortable? Would a grinning, wild-eyed, manical Cuban be able to accept the trophy from David Stern without taking a shot at him? What would happen during the post-game champagne celebration? What kind of money would they spend on a parade? Would the championship flag have diamond letters? The possibilites are endless. This man is completely, utterly insane, but in a positive way -- he runs on the court during melees, he gives Raef LaFrentz a $69 million extension when nobody else would have offered him $30 million, that kind of stuff. I like him. And I like watching his team.
Coincidentally, I watched the Mavs play a preseason game in Boston last week. You know how some teams give you that, "Everyone's on the same page" feeling? That's the Mavs. Steve Nash was attacking the paint, finding open shooters and winning over the Sports Gal, who kept calling him "Pigpen" because of his hair. Raef LaFrentz was perched behind the three-point line, ready to launch threes. Michael Finley was doing Michael Finley things. Dirk Nowitzki almost looked bored -- there wasn't a single guy on the Celtics roster who could guard him. Nick Van Exel sprang off the bench and was firing threes even before his warmups came off. Eduardo Najera and Walt Williams (Walt Williams!!!!) gave them good minutes. And Don Nelson looked so confident and relaxed, he even grew himself a porn mustache over the summer.
Can they win it all? Probably not. As we witnessed last spring, Sacramento does everything that Dallas does, only better. But if a chain of events unfolded in which LA beat Sacramento in Round Two, and then Dallas played the Lakers in the Western Finals, and then they caught fire for a few games ... well, stranger things have happened.
1. Sacramento
You know it killed them all summer. It was right there. If Peja doesn't sprain his ankle, if Horry doesn't make that three in Game 4, if the refs don't fix Game 6, if Peja or Christie makes those shots in Game 7 ... if any of those things happened, maybe we're calling them the defending champs right now. They just weren't ready. Now they're bringing back the same team as last year, with an interesting upgrade -- Keon Clark as insurance for C-Webb's next sprained ankle.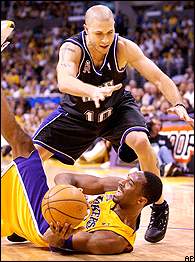 Mike Bibby & Co. will knock the Lakers out for good this season.
(Of course, Keon was available for cheap money because he was arrested during the summer for marijuana possession, my favorite off-season moment. Don't you just love the NBA? Where else would that happen? Can you imagine Keon's agent juggling $20 million offers, then getting a phone call from Keon, who tells him, "Um, this is my one phone call, so don't hang up"?)
Anyway, you know what you're getting here: Bibby, Webber, Divac and a cast of quality role players, as well as Doug Christie's wife as the team's enforcer. It's clearly the best team in the league. And they should clearly win it all.
(Here comes the "but.")
But I sure wouldn't bet money on them, not after last season's debacle, not after everyone but Bibby and Divac was terrified in that series. Even Episode 1 of "American Idol" didn't feature that many deer-in-the-headlights looks.
(Wait a second, here comes the "and yet"!)
And yet, there are some jarring similarities here to Isiah's Pistons teams of the late-'80s. Remember how Detroit could have beaten the (banged-up) defending champs in the '87 Eastern Finals, if not for Vinnie Johnson and Adrian Dantley banging heads in Game 7 (like Peja's sprained ankle), or the Basketball Jesus singlehandedly saving the day in Game 5 (like Horry's back-breaking shot in Game 4)? The next season, those same Pistons regrouped and toppled their bitter rivals in six games. As the old saying goes, whatever doesn't kill you makes you stronger.
In other words, I'm picking the Kings.
Bill Simmons is a columnist for Page 2 and ESPN The Magazine.