By Bill Simmons
Page 2 columnist
Much like 50 Cent's buddy Shawdy, I feel like it's my birthday right now. The NBA playoffs are here. And these aren't just any playoffs, not when five teams have a legitimate chance of winning the title, not with this many up-and-coming superstars hitting NBA Playoff Puberty at the same time, not with the Eastern Conference such a crapshoot that six different teams could sneak into the Finals.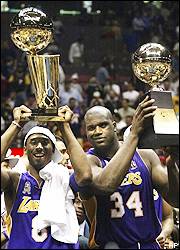 Kobe and Shaq have been survivors the past three years, but can they survive the tough Western Conference?
Sadly, I couldn't finish this preview before the playoffs started, so you'll just have to trust me: None of my upcoming picks were affected by the events of the weekend. Just so you believe me, I swear on Larry Bird's life. Also, I'm concentrating on the Western Conference for two reasons: 1) We already tackled the East last month, and 2) None of the Eastern teams can win the title. It's impossible. None of them are good enough.
Anyway, since we used the "Survivor" gimmick last year, I thought we could use a "Bachelor" gimmick this year: handing out roses to eight playoff teams in the first round, four in the second round, two in the conference finals, and then one final rose for the champion. But the more I thought about it, under "Bachelor" rules, I would have to promote every round with the phrase, "Stay tuned for the most dramatic rose ceremony yet!" I just didn't feel like sinking to that, so we're going with the Survivor gimmick again.
On to the picks ...
Round One
16. Minnesota (voted off by Los Angeles, 4-0)
Imagine being the T-Wolves last Wednesday night, watching the dysfunctional Clippers blow out the Blazers at home ... which meant that Portland dropped to the sixth seed, the Lakers moved up to fifth, and Minnesota was guaranteed another playoff death in Round One. That hurts.
And so the question pops up once again: Trade Kevin Garnett while he's still in his prime, or build around him, hope you get lucky with draft picks (oh, wait, you don't have any), and hope you lure some premium free agents (oh, wait, none of them want to play in Minnesota)? I thought they should have traded him last summer, and this was before KG submitted the finest season of his career, even if his stats weren't much different from the previous few seasons (23-13-6). I just don't see the point of keeping a franchise player on your team when A) you can't get him any help, and B) he isn't quite as good as the other franchise players. Maybe I'm crazy.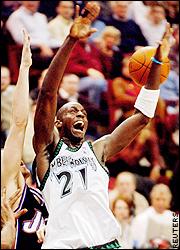 Hey, KG, thanks for a great year. But you don't deserve the MVP and you're going home early yet again.
One more note: There's a good chance KG will win the MVP this season, making it the first time in six years -- since Karl Malone improbably beat out MJ in '97 -- that somebody captured the award simply because everyone else felt sorry for him. Maybe Garnett peaked as a player this season, and maybe he finally displayed some crunch-time prowess ... but the fact remains, KG won 50 games with an average supporting cast, but Tim Duncan won 60 games with an average supporting cast. How can anyone not vote for Duncan? Please explain this to me.
15. New Orleans (voted off by Philly, 4-1)
Even if Baron Davis was healthy -- and he's not -- I don't think they could handle Iverson and Philly. On the bright side, now they have the whole summer to think up a new last name. Aren't there enough NBA teams with dumb last names that make no sense, like the Utah Jazz, LA Lakers or Memphis Grizzlies? Couldn't they change to the "New Orleans Gumbo" or something? Does this drive anyone else batty?
14. Utah (voted off by Sacramento, 4-1)
I'm not sure how history will remember John Stockton, since he wasn't as flashy as Magic, he wasn't as gifted as Isiah, and only the Utah fans and basketball diehards truly appreciated him. Stockton's final few weeks barely registered against all the "Say Goodbye to MJ, Take 3" stuff. And that's pretty sad. He was the most fundamentally sound point guard of my lifetime, someone who played the position as selflessly and thoughtfully as it was supposed to be played, only for an extraordinary length of time. Most point guards play at a high level for 10-12 years; Stockton did it for 17.
(And just for the record, nobody was better at running the pick-and-roll, nobody was better at going coast-to-coast in big moments, and nobody was better at the "We're up by two, we're on the road, the crowd's going bonkers, there's a minute left, the other team just got a fast break dunk, they have all the momentum, and that's why I'm bringing it down and dropping a 25-footer on them" backbreaker. He was one of a kind. Boring as hell ... but one of a kind.)
As for the rest of the Utah season, count me among the people who were amazed that they kept chugging along -- especially Karl Malone, who really should have a giant salad fork sticking from his back at this point. The key addition was Matt Harpring, who thrived in Utah's motion offense; after watching him struggle last season in Philly as an Iverson prop, it makes you realize how much of this game is timing and luck (look at Malone -- would he have been 70 percent as successful without Stockton?). Still, they weren't on the same level as the Spurs and Kings; you almost wish they conceded this spot to the Rockets, just to get my man Yao involved in the postseason. I was not prepared for the intensity of these playoffs, which left me feeling like a farmer in need of a hot bath ...
13. Milwaukee (voted off by New Jersey, 4-1)
Full disclosure: Originally in this column, I had them losing in seven until their legal problems popped up. Call me crazy, but I'm not a big fan of distractions like "Coach, I have to fly back to Canada before Game 2 to get served with some papers by the police ... and by the way, GP and Sam are coming, too." That's a little much.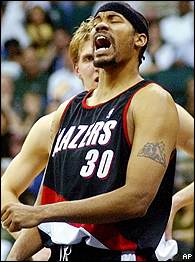 The Blazers are going nowhere, which is why they should build the least likable team in NBA history around 'Sheed.
12. Portland (voted off by Dallas, 4-1)
Forget about another Round One loss ... these Blazers aren't even remotely close to being as talented as people seem to think; those days of the "Deepest team in the league" are long gone. Other than Rasheed Wallace, is there a player on this roster who could crack Sacramento's top-eight? Or Indiana's top-nine? This team is heading nowhere fast, like one of those expensive Hollywood action movies that the studio needs to release even though they know it's going to lose a ton of money. The Blazers should just hire John Travolta as their next coach.
But here's the thing ...
Instead of cleaning house, shouldn't the Blazers just go in the other direction? Why waste spots on people like Scottie Pippen and Dale Davis when they could be filled with the Ron Artests and Ricky Davises of the world? Imagine Davis and Artest taking the court with Rasheed, Damon Stoudamire and Zach Randolph, with Qyntel Woods, Ruben Patterson, Ruben Patterson's electronic tracking bracelet, Theo Fleury and (in an emotional comeback) Jayson Williams coming off the bench? Why not assemble the least likable team in league history? Why not antagonize your fans to the point where none of them will actually want to come to a game?
Of course, I see them doing the more prudent thing and cleaning house, because if we've learned anything here, it's that fans get turned off by marijuana arrests, waves of technical fouls, players fighting fans in the stands, teammates sucker-punching each other in practice, and players saying things like, "He's my teammate, he made a mistake, and I can't retaliate, trying to fight him or beat him up, because I'm on probation, so I would get in trouble" (actual quote from Patterson). Under these circumstances, the NBA is definitely not fannnnnnn-tastic. Except for people like me. I love this stuff.
11. Detroit (voted off by Orlando, 4-2)
You couldn't have drawn this one up any better: Tracy McGrady poised for his "MJ against the Cavs in '88" breakout playoffs ... and the NBA Gods serve up a weak No. 1 seed for him. Perfect.
10. Indiana (voted off by Boston, 4-2)
The Pacers are going to lose this series even though, other than Pierce and Walker, nobody else on Boston's team could crack Indiana's 10-man rotation. Two lessons here: A) The team with the best player almost always wins the series, regardless of the circumstances, and B) coaching matters.
(And if you watched Game 1, you know what I mean.)
9. Phoenix (voted off by San Antonio, 4-3)
And this prediction comes from a guy who wagered on the Suns to win the series in six (at 15-to-1 odds, no less). Every San Antonio weakness -- difficulties defending quality point guards, below-average small forwards, trouble getting Duncan good shots if the other team has size -- are strengths for the Suns. If the stars align going into Game 6, and they head back to Phoenix with a 3-2 lead, I honestly believe they could finish off the Spurs. That's why I backed them. I think they're one of five teams who could win the title this year ... and no, I'm not kidding.
Will it happen? This is the only Round One series that looks like it could go seven games, and we all know that the NBA would never let eight playoff series unfold without at least one of them going seven, even if they have to assign Dick Bavetta to six games in 48 hours to make it happen. And I can't shake the feeling that these Suns are a year away -- this is one of those "get-your-feet-wet" series, like the Kings against the Jazz in '98. So I'll go with the Spurs here. Even if it kills me.
Regardless of what happens, the Suns were directly involved with two of the three most important developments of the season (the other being Yao, of course):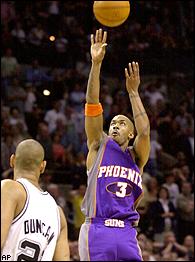 Stephon Marbury's running 3-pointer won Game 1 for the eighth-seeded Suns.
Stephon Marbury evolving into a viable MVP candidate. Not since Isiah has a point guard been so destructive off the dribble; he's basically doing whatever the hell he wants. Someday, we might remember that Kidd-Marbury trade as the most important trade of the decade. Seriously. And just for the record, I had him right behind Duncan, KG, McGrady and Kobe on my MVP ballot, even though I don't have a ballot (just play along). Remember when we were arguing about The Next Great Point Guard and comparing Andre Miller and Baron Davis? Those guys aren't even in the same ballpark as Marbury. Just an astounding turn of events.

(And what about the parallels between Marbury and Chris Webber, two young studs who were supposed to become superstars, struggled, changed teams not once but twice, seemed unredeemable, and just when we gave up on them, they put everything together in their seventh season? You gotta love the NBA sometimes.)
A few months ago, Bob Ryan compared Amare Stoudemire to Roy Tarpley and Moses Malone. Rare company. And I agree. Maybe I would throw in a little Shawn Kemp as well, because of the way he dunks on people, but the message remains the same: Stoudemire is the most important forward to enter the league in five years. When he's feeling it, he overpowers you, the same way Shaq does and the same way Moses did back in the day. He's a force of nature.

What does this all mean? Well, the Suns suddenly have the best under-30 point guard, the best under-25 forward not named "Dirk," and one of the best small forwards in the league. Put it this way: They aren't going anywhere for awhile. Just what we needed, another powerhouse in the West.

Round 2
8. Boston (voted off by New Jersey, 4-1)
Some teams just have your number. Good playoffs for Vin Baker, by the way. I thought he had some solid moments.

7. San Antonio (voted off by Los Angeles, 4-2)
Yeah, yeah, I know. The Spurs swept the regular season against the Lakers. I just can't shake two things:
Those free-throw shooting woes, which have haunted them all season. You saw how it killed them in Game 1 of the Phoenix series. I don't trust them in close games with bigger stakes.
Their crunch-time backcourt -- Tony Parker and Manu Ginobili -- doesn't have enough big-game experience yet. I like them both, but you're telling me they're ready to win four out of seven against Shaq and Kobe? Doesn't that seem like a lot to ask, especially from Parker, who carries an inordinate amount of responsibility for a second-year point guard, and already seems to be folding under the pressure? I would rather bet on the guys with three rings.

I think the Spurs carry some of the blame with the Parker situation; they easily could have diffused those Jason Kidd rumors this winter, but they let them fester, and now the kid's pressing in what has amounted to a two-month audition to keep his job. Really, did that need to happen? I can't imagine why the Spurs would want to spend all their money on Kidd this summer, especially when he already has been in the league 10 seasons. Do they honestly feel that he's peaking in Seasons 11 through 17? Please.

More importantly, what is wrong with Parker? Go back through the past 30 years ... how many 60-win teams were helmed by a 21-year-old point guard? He doesn't get any credit for what's happening here? He's not going to improve as the years pass? Let's say they kept Parker and spent Kidd's free-agent money on Gilbert Arenas (as a 2-guard, where he should be playing, anyway) and Brad Miller. That wouldn't work? It's too late now, because Parker's turning into a basket case, but bringing in Kidd at Parker's expense feels eerily reminiscent of Orlando dumping Ben Wallace so they could sign Grant Hill ... sometimes, the best moves are the ones you don't make. Maybe I'm crazy. Actually, don't answer that one.

6. Dallas (voted off by Sacramento, 4-2)
The Mavs remind me of one of those dumb blondes that every guy has in his past -- it was fun to date them, you have no regrets, but there also wasn't any point in the relationship where you thought it would last for more than a few months. In Dallas' case, they look like a supermodel ... and you still know it can't last. For them to win an NBA title would defy everything that ever happened in the history of the NBA.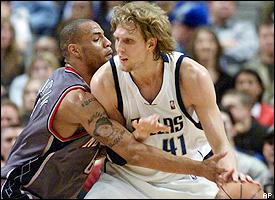 Can Dirk lead the Mavs into the NBA Finals? Maybe not with Don Nelson at the helm.
Remember, in the playoffs, things slow down just enough that little things like defense, foul shooting and offensive rebounds decide games. Last spring, the Kings simply pounded them inside and the Mavs couldn't handle it. I don't see why anything has changed this season. Dallas will always have a puncher's chance, only because they could catch fire for a month straight, a little like what happened with them at the beginning of the season, or what happened with the Angels in the baseball playoffs last year. But would you bet on them over a team as good as the Kings? Me neither.
A couple of additional thoughts:
I would love to see these guys with a different coach. Too many dumb things seem to happen to them at the end of games ... it's like Rick Adelman is coaching two teams at once. The bottom line: Don Nelson has been coaching for about 600 years, and he has never made a single NBA Finals. Fell short with some pretty good teams, too. Those Bucks teams in the early-'80s were terrific. He took over a Knicks team that ended up making the Finals after he left. Even those "Run TMC" Warriors teams were fun to watch -- you forget, the '94 team had Tim Hardaway, Billy Owens, Latrell Sprewell and Chris Webber. And this Mavericks team has as much horsepower as anybody. It would be a shame to see them end up like those great Bucks teams.
Remember when they tried to steal Michael Redd from Milwaukee and the Bucks matched the offer? Imagine them with Redd instead of that Eduardo Najera-Walt Williams-Adrian Griffin combo? Yikes.
When the discussion about "Overpaid NBA Players" comes up, just remember to mention Raef LaFrentz. Sixty million for the next seven years and he couldn't even average a 10-5 this season.
Dirk Nowitzki averaged 28 points and 10 rebounds a game over the last three months of the season. And he isn't even 25 yet. Warrants mentioning. Who cares if he can't guard anybody?

5. Orlando (voted off by Philly, 4-3)
T-Mac proves his point. Now he just needs some help. By the way, when Vince Carter and Allen Iverson battled in the 2000 playoffs, that was the best individual battle in 10 years (since MJ and Barkley squared off in the '93 Finals). I mention this only because an Iverson-McGrady duel could put both of them to shame. Have two players ever averaged 40 points a game in the same playoff series?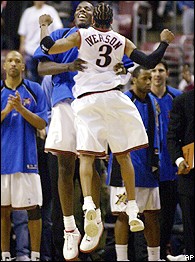 How can Iverson top his 55-point playoff opener? Lead the Sixers back to the Finals.
Conference finals
4. New Jersey (voted off by Philly, 4-2)
Only because of the "Whomever has the best player usually wins the series" corollary: Iverson is just a little more unstoppable than Kidd right now. And I like their crunch-time five a little more than Jersey's crunch-time five. That's all.
One Iverson note: Is anyone else excited to see what he's capable of in the celebration department as the playoffs drag along? In Game 1 of the Hornets series, he poured in 55, then pranced around during a stoppage in play -- first, he pointed to the sky at one of the 25 dead friends, then he pounded his chest like he was giving himself CPR, then he pulled his jersey out and proudly displayed the letters, then he screamed happy expletives to the crowd, then he pointed at the sky again ... the whole display lasted for about 25 seconds. He's completely insane. if they make the Finals, he might perform a strip tease like Ned in Slap Shot.
3. Los Angeles (voted off by Sacramento, 4-3)
I wrote about the L.A.'s impending demise in my magazine column last week. Believe me, I've been watching them all season -- the supporting cast just isn't there anymore. Watch some of those classic games from their three-year run -- like Game 7 of the Portland series in 2000, or Game 4 of the Indiana series that same year, or Game 4 of the Sacramento series last year -- and you'll notice guys like Brian Shaw and Robert Horry made some enormous plays in those games. Everyone's washed up or below-average at this point. It's a two-man team.
Here's the thing: As a front office, you have to screw up pretty badly to not give these guys enough support so they don't win 10 straight titles -- which they should, because they're two of the best three players in the league (sorry, McGrady makes the cut, at least for me). Look at the Lakers' moves from the past few years. Eddie Jones and Elden Campbell for Glen Rice? Nick Van Exel for Travis Knight? Horace Grant, Mitch Richmond and John Salley? Forty-three million combined to keep Devean George and Derek Fisher? Screwing up last year's $4.5 million exemption? Only the Robert Horry trade worked out for them in the past six years ... and he was available because he whipped a towel at his coach's head in Phoenix. It's weird that nobody ever mentions this stuff.
One other Lakers note, and I know it has been mentioned elsewhere, but this was my first chance to write about it: What about the NBA changing the playoff rules during the season, changing the first round from five games to seven?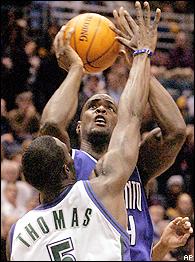 Chris Webber's health may be an issue, but this is the Kings' year.
Was that unbelievable? I know they were desperate to get at least one seven-game series with the Lakers, who were floundering at the time, but really ... do you have to be that shameless? That was the equivalent of the Masters Committee watching Tiger shoot a 77 on Day One, then announcing that the cut has been expanded to included every player that finishes plus-5 or lower after two rounds. I can't believe that happened. What other sport changes their playoff rules during the season???? And nobody even batted an eyelash. Oh, and you don't think Chicago or New York is getting LeBron James? Please.
The Finals
2. Philadelphia (voted off by Sacramento, 4-2)
When you think about it, it's amazing that Philly could make it this far, for two reasons:
1) That would mean that Iverson made it through another playoffs, even though he takes more punishment than just about anyone, even though he's no bigger than 5-foot-10, even though he hangs around with just about the shadiest crew in the league. Put it this way: We've already well-surpassed the "How much will we get out of Allen Iverson's career" over-under. One of the special players of my lifetime.
2) With MacCulloch's health problems, this team couldn't possibly make it through an 82-game season and 20-plus playoff games unless Derrick Coleman showed up, day in and day out, giving his all for seven months straight. Think about that for a second. In the Reverse Pantheon for potential superstars who never panned out and only have themselves to blame, DC is right up there -- it's him, Marvin Barnes, David Thompson, Shawn Kemp, Roy Tarpley and some others. Coleman was especially infuriating because he wasn't sidetracked by drugs or anything; he just didn't want it. And yet in the waning years of his career, after the Hornets gave up on him, he has played some of the most inspired basketball of his career.
And that's another great thing about the NBA: Just when you thought the league was out of surprises, there's someone like Derrick Coleman busting his butt as a crucial member of an NBA Finals team. Go figure.
Unfortunately, his Sixers don't have nearly enough manpower to handle ...
1. Sacramento (The Survivor)
The Kings should have won last year ... and they know it. Everything that happened against the Lakers was explainable: An unfortunate turn of events in Game 4, Peja Stojakovic hampered by that sprained ankle, the refs singlehandedly taking over Game 6, nobody stepping up other than Bibby in Game 7 ... they just weren't ready.
This year? They're ready. This is the '89 Pistons all over again.
Bill Simmons is a columnist for Page 2 and ESPN The Magazine, and he's a writer for Jimmy Kimmel Live.