By Bill Simmons
Page 2 columnist
In the words of George Costanza ... "I'm back, baby!"
After a tumultous six-month stretch which included a cross-country move, new digs, a new job, a new dog, my very own Vegas bachelor party, and yes, even a marriage, the merry-go-round stops here. Remember when Jimmy Chitwood told the town of Hickory, "I think it's time I started playing ball again?" Well, I think it's time I started writing columns again.
My original plan was to wait until next week, then unleash a two-part NBA playoff awards-movie quotes column heading into the conference finals. But I couldn't allow another unchallenged week for Charley Rosen on Page 2, not after his "How the Celtics could come back against the Nets" column last week. Really, this is how Page 2 replaced me as their basketball guru? The Celtics couldn't have taken 4 games from the Nets if it was a 27-game series. If you're not starting that column, "Suggestion No. 1: Try to knock Jason Kidd unconscious every time he drives to the basket," why even bother?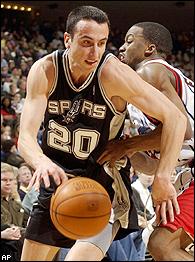 Ginobili has increased his regular-season scoring average from 7.6 to 9.6 during the playoffs.
Whatever. I'm back, it's the middle of the NBA playoffs, Doug Christie's wife is giving him seaweed baths before games, Chris Webber's gimpy knee could take the Ewing Theory to new heights, the NBA is poised to fix another Lakers series, and everything seems right with the world. Let's break out our first Dow Report of the playoffs -- here's whose stock rose and dropped in the first month:
Manu Ginobili ... it's funny, the NBA is turning into an assembly line for athletic 2-guards, all of whom do the same things, just in slightly different ways. So Ginobili comes into the league and sprains an ankle right away, but anyone who watched him in the World Championships last summer knew he would be making a splash at some point. So we're waiting, and we're waiting ... and then, BOOM! There he is. A cerebral lefty who penetrates with either hand, creates layups for teammates, comes up big offensively when it matters, and wreaks absolute havoc defensively. It's like San Antonio ordered him on Amazon.com and rush-delivered him in time for the playoffs.
Anyway, I always judge players by two questions: "Does he show up when it matters?" and "How much would I enjoy playing with him?" Well, wouldn't you absolutely love to play with Ginobili? Over any other 2-guard in the league? Me, too.
The Ewing Theory ... which could take its biggest hit in years if Sacramento fails to make the NBA Finals without Chris Webber. Stay tuned. If the Kings win the NBA title without C-Webb, 16 months after the Pats won the Super Bowl with Drew Bledsoe on the bench, we might be changing the "Ewing Theory" to the "Ewing Law."
Kevin Garnett ... for playing two of the best playoff games I've seen in a long time, Games 2 and 3 of the Lakers series. Just plain inspiring. I'm willing to re-think this whole "KG can't be the franchise player on a championship" thing.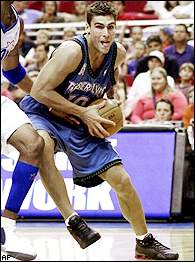 Here's Wally trying unsuccessfully to create his own shot.
Wally Szczerbiak ... for my money, pound for pound, he's the most overrated player in the league. He can't even create his own shot. How does this guy make a U.S. National team? Wait, don't answer that.
(That reminds me, did you see who snuck onto the U.S. Qualifying team this summer? Ladies and gentleman, this year's winner of the Raef LaFrentz Award for "Best Available Token White Guy" ... Mr. Nick Collison! Good Lord. If he wasn't available, Plan B was apparently Joel Przybilla.)
Joe Dumars ... pulled the string on Stackhouse for Rip Hamilton, Tayshaun Prince (the unequivocal steal of the 2003 Draft), free agent Chauncey Billups (for reasonable money), Ben Wallace and Chucky Atkins for Grant Hill, Jon Barry for Mateen Cleaves, drafting Mehmet Okur (huh?), Corliss Williamson for Jerome Williams, and he even gets to play with Memphis' No. 1 pick and eight figures of cap space this summer. Just an incredible GM job. He's like the anti-Chris Wallace, isn't he?
The NBA ... for shattering its own record for "most fishy calls in one game," during the watershed Game 3 of the Minnesota-L.A. series. It's hard to pick one favorite, but I think I have to go with the fast break in OT where Wally Szczerbiak ran alongside Kobe Bryant, allowed him to have the layup, HELD HIS HANDS IN THE AIR TO SIGNIFY THAT HE WASN'T FOULING HIM, and they still called a foul on him. Just a surreal game. Remember when the Nazis were getting all the calls against the Allies down the stretch in "Victory"? That's what this game was like. They should show it again on ESPN Classic's new series "Great Fixed Games of the Kobe-Shaq Era."
Predictions for the week
SPURS-LAKERS You know Game 6 will be more rigged than the Andre the Giant-Hulk Hogan match in "WrestleMania III." Also, the Spurs showed me just enough fear and hesitation down the stretch of Game 5 that it makes you wonder ... are they ready to beat the Lakers in a seven-game series? Just doesn't seem like it. LA IN 7.

KINGS-MAVS It feels like this series is taking place in the Matrix. I've stopped trying to figure it out ... so let's stand by the Ewing Theory. KINGS IN 7.

PISTONS-SIXERS If the Pistons made it, with a gimpy Billups, no less, wouldn't they be the worst Conference Finals team in recent memory? That can't happen, right? And doesn't the NBA need Iverson in this Final Four? SIXERS IN 7.
Mateen Cleaves ... he's taken the "I'm not good enough to make the playoff roster, but I'm still on the team" wardrobe thing to the next level. Did it get any better than his Nate Archibald throwback jersey this week that looked like an actual home jersey, coupled with the incessant finger pointing and high-fiving? All he was missing was some necklaces and the rap name "Black Haley."
NBATV ... I didn't mind that the NBA tossed some Round 1 games onto my favorite DirecTV channel, but was that HDTV gimmick really warranted? Seriously, do you know ANYONE with HDTV? It's like watching a 3D movie without the glasses. I must have dropped 245 F-bombs during Game 2 of the Pacers-Celts series. Plus, they stuck their creepy HDTV cameras in the corners of the arenas, so it was like trying to watch a game with especially crappy seats, only if you just finished two keg stands with Larry Eustachy. Hey, I'm glad the 55 people with HDTV enjoyed it.
Mo Cheeks ... for helping out that 13-year-old girl sing the Star-Spangled Banner before Game 3 of the Blazers-Mavs series. You know it's a moment that transcends sports when my Mom calls me two days later and says, "Hey, how 'bout that Mo Cheeks?" Maybe the greatest anthem moment that didn't involve Carl Lewis.
The Mavs ... first, they almost blow a 3-0 lead against the Blazers, which would have been one of the most remarkable moments in gambling history (the Blazers were 5000-1 underdogs to win the series after Game 3). Then they steal a double-OT game against the Webber-less Kings in Game 3, come back the next night and roll over. What does Dirk Nowitzki say after Game 4? That's all right, it was like a free game for us. Really? There are free games in a seven-game series? I had no idea. What's the opposite of "killer instinct"? Pacifist instinct? Is anyone else waiting for them to blow this Kings series?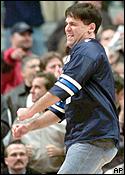 The Mavs are soft and their owner is a doofus.
(Maybe Jim Rome is right: Maybe the Cuban Treatment is doing this team more harm than good. Chartered flights. Lockers the size of one-bedroom apartments. $60 million contract extensions for guys averaging a 10-and-5. And instead of acting like your boss, your owner travels to every game, dressed like he just got kicked out of Ashton Kutcher's posse, high-fives you during timeouts and acts like a general doofus. This team is soft, they've always been soft, and it's going to bite them in the butt in the end. Contrast them to ...
The Nets ... say what you want about the East, but that Game 4 victory in Boston might have been the best moment of the playoffs. They had every reason to roll over and finish off an overmatched Celtics team in five; instead, they rallied back to force OT, trudged through two overtimes, ripped the heart out of the Celts, and then J-Kidd rammed home the final dagger with a meaningless 3-pointer at the buzzer. Just a hungry team taking care of business. You learn a lot about a team when they're up 3-0 in a seven-game series. Seriously.
Boston fans ... for another round of "Wifebeater" chants at Jason Kidd this spring. Wouldn't some simple booing get the message across? And aren't sports supposed to be fun? What's fun about a "Wifebeater!" chant? Even Philly fans wouldn't have sunk that low. All right, that's not true.
Danny Ainge ... cool, it's a guy running the Celtics who might actually know what he's doing! I think this is a step in the right direction. Call me crazy.
Jimmy Jackson ... one of the strangest careers in the NBA continues. I always thought he was the NBA version of Tim Matheson -- he should have been a star for years and years, but the wheels came off, and you're not even really sure when it happened or why. Do you know that Jackson averaged 25.7 points a game one year? That he's played for nine teams? That he never appeared in a playoff game before this year? That he wasn't even in the league when this season started? And now he's logging crunch-time minutes in the Kings-Mavs series? Why hasn't somebody written a great magazine feature about him?
Reggie Miller ... here's my theory: Because Reggie looks the same physically as he did 10 years ago -- right down to the haircut, the skinny body, the jumper, the stomping around the court, the underbite and everything else -- you're deceived into believing that he's the same player. He isn't even close. It's an optical illusion. He's finished. Put a fork in him. Fortunately for the Celtics, Isiah Thomas was hoodwinked like everyone else. Which reminds me ...
Isiah Thomas ... Indiana's el foldo would have been the least surprising collapse of the spring if Jack Osborne hadn't gone into rehab. Here are the Pacers with 10 of the best 12 players in the Celtics series, including two of the best 25 guys in the league (Jermaine O'Neal and Ron Artest), and they lose convincingly ... and nobody even bats an eyelash. Are you KIDDING me? This didn't bother anyone?
(It would be one thing if it looked like Isiah knew what he was doing, but, I mean ... did you SEE him on the sidelines? Shouldn't we waive the five-year waiting period and induct the Isiah Thomas Face into the Pantheon of Faces? Was he even alive? What was with the whole "Standing frozen with my hand under my lip" thing? He made David Gest seem animated by comparison. I can't even imagine what it's like to be a Pacers fan and watch my team blow that series -- it would have sent me on a three-state killing spree.)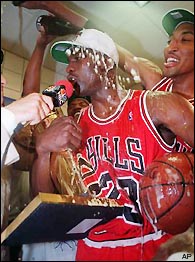 Could MJ and Pippen be suiting up with Shaq and Kobe next season?
To the best rumor of the playoffs ... that Pippen, Malone AND MJ are all playing in LA next season. As the story goes, Pippen and Malone would split the free-agent exemption, MJ would sign for the one-year veteran's minimum, and David Stern would do about 800 backflips. Imagine that starting five with Shaq and Kobe? On an 82-game schedule, ABC would somehow stick them on national TV 154 times.
Phil Jackson ... can somebody get this man away from Kobe before his body completely falls apart?
Doug Christie ... he's taking the Christie Jersey phenomenon to new heights. Did you read how his wife made him a "soothing seaweed bath" before Game 4 of the Mavs series, which he then credited to his inspired play? A soothing seaweed bath? Can his teammates even make eye contact with him at this point? Shouldn't cameras be following this man around 24-7?
The theory that "Yao Ming is the next great center in the NBA" ... have you been watching these Spurs games? Tim Duncan is a center. He's a center. He plays center. He's built like a center. Everything about him screams "center." Offensively, he's a center. Defensively, he should be playing center, but the Spurs are afraid to get him in foul trouble against the Shaqs and Divacs of the world. But he's a center. He plays center. I will not argue about this.
Allen Iverson ... for the two games he's about to unleash in Games 6 and 7 against the Pistons. Call it a preemptive stock purchase. He's good for 79 points at least, especially coming off a 5 for 25 and those two gagged freebies in Game 2.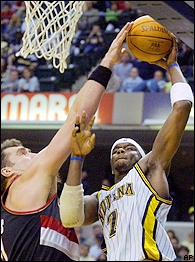 Maybe the Blazers would have beat the Mavs if they hadn't traded O'Neal to the Pacers.
Jermaine O'Neal ... quietly hauled down 105 rebounds in that series. You read that correctly. Imagine him playing with Duncan, Parker, Ginobili and everyone else next season? Yikes. Just out of curiosity, where does "O'Neal straight up for Dale Davis" rank among the most one-sided trades of the past 15 years? Probably behind "Robert Traylor for Dirk Nowitzki and Pat Garrity" and "Charles Barkley for Jeff Hornacek, Tim Perry and Andrew Lang," but dead-even with "Chris Webber for Mitch Richmond," right?
Those NBA ads where Paul Simon sings that "I'm gonna watch you shine" song. You know, my head is shining -- I just slammed it against my desk because I can't get that freaking song out of my head. Whatever happened to the good old days of the "NBA is Fannnnn-tastic!" ads, when the Pointer Sisters were singing "I'm so excited!" and Worthy and MJ were dunking over everybody? Now cuddly Paul Simon ballads are supposed to whet my appetite for playoff basketball? I will now light myself on fire.
Dirk Nowitzki .... for that goofy goatee thing. Maybe the most enjoyable facial hair on an athlete since Jeff Hostetler's cheesy porn mustache. I'm not just asking for an episode of "The Life" that just follows Dirk and Steve Nash hitting Dallas nightspots, I'm demanding it. Don't you think Dirk wears leather pants and those Steve Sanders blouse-shirts when he goes on the town? We need to know these things, don't we?
(Speaking of Steve Sanders ... I'm not ready to discuss the "90210" reunion yet. No Tori Spelling, no Brian Austin Green, no Tiffani-Amber Thiessen, Jason Priestley with a reconstructed face, a totally bald Mr. Walsh, and Shannen Doherty apparently borrowing Baron Davis' teeth for the show? Are they trying to rip my heart out? Let's just move on.)
Dikembe Mutombo ... yup, nobody ages faster than a seven-footer. It's a bizarre process: Kareem, Ewing, Parish, Gilmore, Dikembe ... they all hit their late 30s and immediately turned into James Donaldson. Like, instantly.
ABC ... for telecasting the NBA Lottery in prime time next week. This should have happened 10 years ago. Who doesn't love the NBA Lottery? Of course, knowing ABC, they'll probably have Lorenzo Lamas shooting a laser pointer at Carmelo Anthony while Luke Walton gets an extreme makeover and 25 women clamor to be LeBron James's first groupie.
Jack Nicholson ... apparently he's taken his "Drunk and somewhat delirious guy in sunglasses at the awards shows" persona and merged it with his "Guy at the Lakers game" persona. He's about two more vodka-and-tonics away from pulling a Calvin Klein at the Staples Center. Hey, not that we'd be against it.
Walter McCarty ... after a sterling playoff performance, he officially cemented his reputation as the Poor Man's Robert Horry. Imagine him on a team like the Lakers or Spurs? And speaking of coming-out parties, how 'bout Tayshaun Prince's emergence this spring? Yet another guy who produced in college and slipped in the draft because he didn't have a "typical" NBA body. How many Cuttino Mobleys, Troy Murphys and Rip Hamiltons have to make it (and how many Kedrick Browns have to fail) before NBA teams start approaching the draft process differently?
Big Shot Rob Horry ... as much as I hate the Lakers, it pained me to see that Game 5 three rattle in and out. Like the end of an era. And to think, Horry's musical alter-ego Nate Dogg is still going strong (now he's hooked up with 50 Cent).
Chauncey Billups... his sprained ankle against Philly was the biggest disappointment of the playoffs, if only because he was putting himself on the map Bibby-style this spring (77 points in the final two games of the Orlando series????). Is there another player in the league quite like him, someone with no discernable position, a throwback to the days when guards were just guards and it didn't matter who brought the ball up? Just think, just over five years ago, Rick Pitino traded him after 50 games. Savvy.
By the way, have you noticed that Billups, Bibby, Stephon Marbury, Steve Nash and Jason Williams all seemed to "get it" after a few years in the league, like the lightbulb went off for all of them? And yet the four of them played for 14 teams combined before it finally happened for them. Makes you wonder ... shouldn't teams be more patient with young point guards, the way NFL teams are patient with young QBs? If I were running an NBA team -- like, oh, say, Danny Ainge -- I'd spend my summer trying to pry a "struggling" Jay Williams from the Bulls, or a "struggling" Andre Miller from the Clips, just because those teams might be dumb enough to trade them.
Rick Adelman ... watching him get outmaneuvered by Don Nelson, Donn Nelson, Donnn Nelson, Donnnn Nelson, Frank Drebin, and the other 19 Dallas assistants gives me that same queasy feeling I get when Ashton Kutcher is pulling pranks on Justin Timberlake and Frankie Muniz on that "Punk'D" show. Come on, Rick ... we know you're not the greatest coach, but you're getting outcoached by Don Nelson! Step it up! The Ewing Theory is at stake!
Kenyon Martin ... other than Billups, he's the guy who made the biggest jump from "good" to "really, really good" this spring. He positively destroyed Antoine Walker in Round Two, a much ballyhooed matchup which played out like the first Frazier-Foreman fight. Down goes Antoine! Down goes Antoine! Down goes Antoine! Down goes Antoine! Maybe the lowest moment was when Twan tried to engage him in some trashtalking near the end of Game 3, and Martin pulled the DeNiro "Can you believe this guy?" shrug-and-smile to the referees. Downright humiliating.
The NBA ... for what they're about to do with Game 6 of the Lakers-Spurs series tonight. The tentative officials for tonight's game: Dick Bavetta, Earl Hebner and James Worthy.
TNT ... for its addition of "The Rack," that dopey shooting game where people bank shots off the backboard. Why are these gimmicks so enjoyable?
TNT ... for its addition of Magic Johnson to its studio team. For the love of God, why? This was like the cast of "Seinfeld" saying after season four, "You know what, things are working great, we couldn't be more popular ... let's add Nipsy Russell to the cast! He'll take us to the next level!" I will never understand this until the day I die.
The Maloofs ... I just enjoy them. Every time the cameras show them, don't you get the feeling that they can't wait for the playoffs to end, just so they can go back to their lives -- owning the hottest casino in Vegas and dating hot chicks? I always imagine them looking at their watches during timeouts and saying, "Come on, come on, hurry up ... I want to be back at the Palms by 12:30, it's 'Body Shot Night' at Rain." Can you blame them?
Tracy McGrady ... he wasn't quite ready for his "MJ against the Cavs in '88" series. More importantly, I think he drops a notch behind Kobe again. Kobe comes up big when it matters. In the last three games of that Pistons series, you couldn't say the same about T-Mac. I'll admit it ... I'm disappointed.
The Celtics ... for giving me one last memorable home game in Beantown (Game 6 against the Pacers, on a Thursday night, the only night I could have possibly gone). I didn't realize how much I missed Boston until I was standing in the Harp about 30 minutes before the game -- in a crowded bar full of rabid Celtics fans chanting "Here we go, Celtics, here we go!" -- and started talking to some readers, including a drunk guy wearing a John Bagley warmup jersey from the 1992 season. You just don't have these moments in California. People don't care about sports that much. They just don't. Alas.
Bill Simmons is a columnist for Page 2 and ESPN The Magazine, and he's a writer for Jimmy Kimmel Live.