By Bill Simmons
Page 2 columnist
Editor's Note: This column appears in the June 26 edition of ESPN The Magazine.
My dad is one of the last true sports fans. He supports every New England team, regardless of the circumstance. If Tufts were playing for the NCAA Ping-Pong championship, Dad would be on the bandwagon. The man inhales the NHL draft -- a parade of players nobody, including him, has ever seen, rooting for the B's to take someone he "has a gut feeling about." He watches the Belmont. He watches the TPC. He'll catch Hoosiers for the 234th time on HBO6, even if he just saw it for the 233rd time a week earlier. He has nodded off in more third quarters and sixth innings than you can imagine. But he always wakes up at the right time.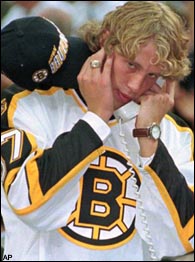 After getting drafted, Joe Thornton takes a congratulatory call from the Sports Dad.
He and I spend a lot of time on the phone, even while games are in progress. Nobody cuts to the chase like Dad. Nine weeks into the '02 Sox season, I called him after a one-run defeat. "They don't have it this year," Dad grumbled. He was right. He's always right. When new addition Alaa Abdelnaby submitted a decent debut for the Celts, the local papers went on and on about him. "He's not gonna work out," hissed Dad, who'd been at the game. During a fourth-quarter timeout, Abdelnaby sought out a friend in a section near Dad's seats, and waved to him like a little kid. These are the things my dad notices. And, yes, Alaa never quite made a mark.
You only get one chance with Dad. In the '90 Stanley Cup Finals, Glen Wesley missed an open net in a triple-OT loss to the Oilers, and Dad never forgave him. Poor Wesley could have flown to Iraq and wiped out each and every Hussein; Dad wouldn't have cared. When Boston traded Wesley to Hartford four years later for three first-rounders, my father laughed. "I would've given the guy away," he said. Lately he's been on a crusade to get the Celtics to dump GM Chris Wallace, who made that Vin Baker trade. "They should fire Wallace, and they should make him take Baker with him," Dad says. "And then they should have to live together."
Speaking of disappointments, Dad used to throw grounders and tight spirals at me for hours. He's still annoyed that I didn't turn into the next Randy Vataha. "All those balls I threw you," he says now, "you caught 'em all. You had great hands. But you had slow legs, and you didn't want to get hit." As far as he's concerned, I'm Wesley or Alaa.
But I definitely wouldn't be a Sports Guy without him. Dad bought a single Celtics season ticket in 1974 and carried me into the games. I slept through the famous triple-OT game against the Suns, spread across his lap and the legs of two strangers. I was 6, but he still makes fun of me about it. When I was 8, he bought me my own seat. They moved us to midcourt because nobody was going, and Larry Bird arrived in Boston the following season. A gift from the hoop gods. We attended just about every relevant Bird game together. How do you repay someone for a gift like that?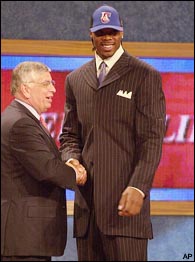 His play may have disappointed fans, but Chris Wilcox's outfit didn't.
When I started writing columns, Dad became a running character. And something strange happened: My readers felt they knew him. To my continuing amazement, I get more e-mails about Dad than anyone else I write about. People ask how he's doing, send him best wishes, even quote some of his memorable NBA draft lines (like "That suit has no buttons" about Drew Gooden). Every year, around Father's Day, readers thank me for writing about him, because it reminds them of why they miss their own dad so much.
Sadly, Dad and I can't watch the NBA draft together this year, because I'm in California. It's one of those things we did every year, a father-son tradition. Decades from now, when he's long gone, my favorite memory of Dad will be of sitting with him during the draft. Here's an accomplished guy with a law degree and a Ph.D, but you've got to see him sprawled on the sofa, juggling eight mock drafts, frantically crossing off names in pen, eyes widening every time Stern approaches the microphone. He cracks me up.
Happy Father's Day, Pop. Wish I could be there.
Bill Simmons is a columnist for Page 2 and ESPN The Magazine, and he's a writer for Jimmy Kimmel Live.