By Bill Simmons
Page 2 columnist
Editor's Note: This column appears in the Feb. 16 edition of ESPN The Magazine.
You had to be there. Had to be a kid. Had to care about sports. Had to be a dreamer. Had to feel like it changed your life.
No hockey game should have that kind of effect, right? Well, this one did. The 1980 Olympic Team changed the course of my life. Validated every reason I ever had for liking sports. Made me believe I could accomplish anything. Kept me watching all kinds of games, hoping for the next miracle. Think it's coincidence I do this for a living?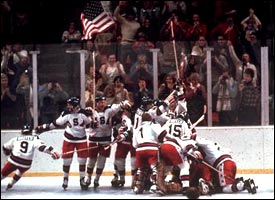 Team USA celebrates after its shocking 4-3 victory over the Soviets in 1980.
Now they've made a movie about it. This baby could be a cross between "Hoosiers," "Slap Shot" and "Rocky IV." I'm not going. Believe me, I remember everything just fine. The boys getting reamed in that exhibition at MSG. The crazy-low expectations heading into Lake Placid. All those "That's Incredible!" promos. Our hockey team was barely a blip on the radar. Then everything changed.
Imagine life without computers, cable, the Internet and video games. Imagine killing time every day, hoping for snow just so you'd have something to do. Imagine pinning your hopes on a ragtag group of college kids and minor leaguers, just because you happened to love hockey. In bed on a school night, you listen to the Sweden game on your clock radio. They're down 2-1, and they pull the goalie, but you keep listening, and you keep hoping ... and then Billy Baker scores with 27 seconds left. Euphoria. Until you get in trouble because you're supposed to be sleeping.
They own you after that. And when they play the evil Soviets on Friday, you know two things: they're the best, and we might see them again in WW III. They're Drago, Shute, Clubber, and the Nazis in Victory rolled into one. No way the kids hang with them. But you never stop hoping. ABC tape-delays the game for prime time, so you're dying all afternoon. Something's happening. At the supermarket with Mom, someone in frozen foods says, "Just heard it's 2-2 in the second." You feel like you might pass out.
The "Miracle"
"Miracle," about the 1980 U.S. Olympic Team, opens Friday. Check out all our "Miracle" content and then watch a replay of the historical "Miracle on Ice" game against the Soviet Union tonight on ESPN Classic.

Content

You wait and wait, and finally, Jim McKay comes on. You study his face -- every smirk and eyebrow raise. He says, you definitely want to stick around for this one. What does that mean? Your heart starts doing 360s. And for two periods, they hang with the Russians, just like the supermarket guy said. When Johnson scores a fluke off a ricochet, you leap up and down. You just -- you can't even believe it. The crowd makes a noise you've never heard -- one that combines utter disbelief and palpable joy, a constant shriek that keeps getting louder. The most magnificent sound.
Third period, halfway through ... Eruzione scores. 4-3, USA. Indescribable. If you could be anywhere for five minutes, wouldn't you pick Lake Placid at that moment? Flags wave everywhere. Chants of "U-S-A!" cascade down. Players rush the ice to jump on their captain, because you could do that back then. The Soviets skate around in shock. We're beating the Russians. We are beating the Russians.
The next 10 minutes feel like 10 days, kind of like those last few minutes on a treadmill. The Russians keep coming, and coming. They take about 600 shots. Jimmy Craig stops them all. You may as well be watching someone walk a tightrope while dodging a barrage of bullets. That final minute comes, and the Russians stage one last, furious thrust, but we clear it out of there ... and Michaels is screaming, "Do you believe in miracles?" and you do, you really do. Sticks fly in the air. Strangers hug. Flags bob. The Russians stand dazed, destroyed. Players roll around in glee.
U-S-A! U-S-A! U-S-A! U-S-A!
And you didn't wonder how much Craig was going to make in endorsements or who was winning your Olympic roto league. You just cheered for your country, on tape delay, and you felt liberated.
If none of this makes sense ... well, see the movie. I'm staying home. I didn't want a videographer at my wedding, either. I can't imagine any movie topping the real thing.
(By the way, I'm seeing it on Friday.)
Bill Simmons is a columnist for Page 2 and ESPN The Magazine, as well as one of the writers for "Jimmy Kimmel Live" on ABC