By Bill Simmons
Page 2 columnist
For anyone suffering from severe back problems -- like me, for instance -- March Madness feels like a three-hour massage and a bottle of Percocets combined.
See, my doctor implored me to stay off my feet for a few days. That's the only way screwed-up backs can heal. Unfortunately, I can't stay off my feet. I just can't. If I'm lying around the house for too long, I get bored, I get restless ... next thing you know, I'm pushing a shopping cart around Target, battling 400-pound guys for the last 20-pack of AA batteries, even debating whether I should drop $9.44 for a "Varsity Blues" DVD that doesn't have any extras.
Backup Plan
If you ever find yourself in a similar "bad back" situation, here's some advice so you don't ruffle feathers at home:

1. Don't go overboard cheering/screaming at the TV -- they may think you're having too good of a time.
2. Eat a lot, because it makes you seem depressed.
3. Inexplicably start smoking again.
4. Don't shower or shave all weekend.
5. When you head to the bathroom/kitchen during commercials, throw in enough wincing and limping that you look like Vince Carter after a hard foul.
6. Don't cheer when they leave the house.
7. Don't say "Boy, my back's starting to feel much better" until the second half of the final group of Sunday games.
8. Hide the rest of your painkillers, just so you can open the empty bottle, whip it across the bathroom, then throw one of those crazed, Donna Martin-esque "Where the (bleep) are my Percocets?!?!?!?" tantrums (just for kicks).

Follow these rules and you might make it without hearing one sarcastic "Yeah, you look like you're REALLY miserable watching basketball all weekend" comment. And yes, I'm an expert.
Fortunately for my vertebrae, other than NFL Sundays and maybe an old-school "Real World" marathon, does anything else keep you planted on the sofa like that first weekend of March Madness? Better yet, the Sports Gal couldn't protest this time around. Hell, she's seen my MRIs. She's listened to my doctors. Bad backs are the ultimate "Get out of jail free" card.
(See accompanying sidebar.)
And since I needed something to keep my off my feet -- wink-wink -- I purchased DirecTV's March Madness package. Every minute of every game for the piddling price of $59.95! Yeah, like that bill isn't getting sent right to Bristol this week. I think I'll stick it in the same envelope with my 25,000-word confidential memo, "The Top 50 Ways You Screwed Up 'Dream Job.'"
Anyway, I have a few lingering questions. Well, more than a few. For instance ...
Imagine if Carmelo stayed at Syracuse and LeBron had done a year of school somewhere? Imagine what Final Four Weekend would be like?

(I can't stop thinking about it. We should have all chipped in $50 apiece last spring to keep them in college for this season. We could have topped LeBron's Nike deal, right?)
Which name was more enjoyable -- "Boo Wade" or "Squeaky Johnson"? Do you think anyone ever said the sentence: Mom, Dad ... I'd like you to meet my boyfriend, Squeaky Johnson?
Why hasn't CBS been pushing this year's version of "Falcone" on us -- the annual overhyped new show that will unquestionably stink? Couldn't "Century City" have filled that role perfectly? Didn't you miss those ludicrous promos this year? They should have run the old "Baby Bob" ads.
Sure, we're used to good teams self-destructing in March (like Kentucky). But is the coaching situation worse than ever, or is just me?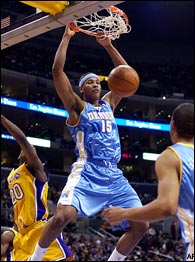 What's missing from the NCAA Tournament? Carmelo Anthony trying to win back-to-back titles.
What about Bob Huggins nearly falling asleep in crunch time in the first round? Roy Williams practically hyperventilating from the pressure against Texas? Tubby Smith botching the UAB game beyond repair? The Richmond coach hoarding his timeouts as Wisconsin went on a 87-2 run? The list was endless. It was like Isiah Thomas had been hired as a consultant for 20 of the 64 teams.
It's the little things. Coaches calling two timeouts on the same possession to set up one shot. Teams not sticking with what's working -- like G-Tech abandoning their deadly press and letting BC back in the game. Teams that can't adjust on the fly -- like Gonzaga, who kept calling Blake Stepp's number when he clearly didn't have it. Poorly prepared teams that can't even get off a good shot in the final 10 seconds -- like N.C. State running a game-ending pick-and-roll 35 feet from the basket against Vandy.
And then there was Dayton, who did something I've never seen before: At the end of regulation and OT against DePaul, they ran the exact same play -- setting up for a game-ending 3 from the corner when they only needed two. It was insane. Two game-winning shots from a combined 46 feet. Unbelievable.
Here's one theory: Top teams don't have two or three NBA-ready guys anymore ... it's a mishmash of inexperienced guys and seniors not good enough to skip to the NBA. In other words, college coaches actually have to coach. Few of them can. And every year, they get exposed a little bit more. (Dramatic Bob Ley-like pause.) We'll be back after this.
Hey, did we really witness an 0-for-14 for buzzer-beaters in the first two rounds? Has that ever happened before?
Wasn't it nice to watch a college team like UAB that actually played well together? Same with Illinois, and even Pitt on defense, right? And speaking of Pitt, can you ever remember a team getting a rawer deal than that Wisconsin game in Milwaukee in Round 2? Here's a 3-seed playing a 6-seed ... and the 6-seed is favored because it's basically a home game. Unbelievable.)

(More importantly, haven't the poor fans in Pittsburgh suffered enough over the years? They really needed to be screwed by the Committee when they had their first quality sports team since the Bonds Era? I mean, my friend Shek was excited this winter because his beloved Pirates signed Raul Mondesi. Raul Mondesi! What happened to the City of Champions? Was that title revoked or something? This would be a whole other column if anyone cared about Pittsburgh. Alas.)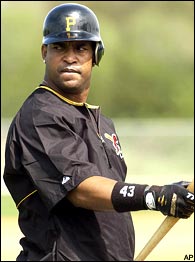 This Pirate has gone overboard.
Speaking of Bonds, everyone accuses him of doing steroids because his head keeps getting bigger and bigger ... so why doesn't anyone ever point fingers at Jay Leno or Greg Gumbel?
It's the year 2004 ... can't play-by-play announcers figure out another way to describe a made jump shot than "He buries it"?
Is there a more boring device on the planet than the possession arrow? Couldn't it have a few more wrinkles to make things more interesting? What about on the fifth possession arrow, the captain of the team gets $500 in illegal booster money? Or his team has to play 4-on-5 for 30 seconds? Or their male cheerleaders have to immediately head back to the locker room -- which should probably happen, anyway? They should try this out in the NIT.
Wait a second ... there's a college referee named Tommy Nunez Jr.? This is like finding out that they made "Gymkata 2."
Whatever happened to the days when the "Best player on an unheralded mid-level seed" was actually good? Remember the days of Bo Kimble, Ron Harper, Alfrederick Hughes and Fennis Dembo, guys who could actually explode for 40 on any given night? Now we have to listen to announcers telling us to watch out for Andre Emmitt and Craig Smith. I miss the old days.
How many more times do we have to see the Microsoft Office guy celebrating in that commercial? 500? 1000? 10,000? Give me a rough estimate so I know whether to hang myself or not.
All right, I'll ask: Why are so many teams going for tough twos at the end of games when they're down by three? How does it help your team to launch a running banker into two guys from 15 feet, or a fallaway jumper falling out of bounds? When did this become a good idea? Wasn't the whole concept to go for the easy two if it's there, and if it isn't, you go for three? When did this change?
You know, I don't care if Mike Gminski is an announcer now ... shouldn't he be called "G-Mo" at all times? Shouldn't this be a law?
When Jim Nantz jokingly asked Billy Packer if he would give Wake Forest a pep talk before Thursday's St. Joe's game, did I really hear Packer shoot him down with the words, "I try not to interject myself with specific teams"?

(Yes. I did. Even wrote it down.)

Now ...

This raises an interesting situation. Normally when other media members are involved, I figure out creative ways to get my points across. As you know by now, house rules prevent me from taking them to task. That's the tradeoff of writing for ESPN -- more visibility, less flexibility to tackle other members of the media.

And I know this. I know this. Ninety-nine percent of the time, I can deal with that reality. It's like trying to win 20 games when your manager won't let you throw your slider -- maybe it's one of your best pitches, but you can get by with the fastball and the curve. But then someone like Billy Packer is standing at the plate, and I can't throw my slider.

Anyway, I have four follow-up questions.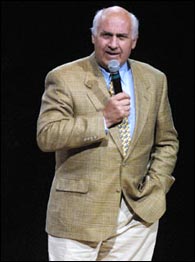 Billy Packer will definitely be a hot topic of conversation this week.
1. If Packer is really trying not to "interject" himself with specific teams, why does he manage to interject himself into some sort of ruckus every year?
2. Why would Packer take the St. Joe's-Wake Forest assignment when he knows his presence will cast a shadow on the game? Is there a bigger possible interjection?
3. If Billy Packer disappeared from the NCAAs tomorrow, would you miss him?
4. Can you hear my bloodcurdling screams coming from Southern California?
All right, if I name my first son "Dee Brown," wouldn't that increase his chances of becoming a star athlete by about 2500 percent?
How does Trot Nixon find time to run the point for Syracuse?
Did anyone else notice that the tattoos are getting much better at the college level? Remember the days where every tattoo looked like it was done in a juvie detention center? Now they're comparable to some of the NBA ones, aren't they?
More importantly, wouldn't you rather find out the reasons behind the tattoos over stuff like "He majored in hotel management"? When I'm running the March Madness coverage on ESPN6, all women's scores will be in pink typeface, all tattoos will be explained in detail, and Marv Albert and Gus Johnson will provide play-by-play for every game, even if we have to fly them around in a Disney jet.

(That reminds me, does anyone else think that Marv should set up his own XM radio station, then sit in his living room and give play-by-play of all the NCAA games as they're happening? Wouldn't you order this service for $29.95? Just mute the announcers, listen to Marv. I'm not even kidding.)
Does anyone else get excited for the potential of a "Survivor" threesome ... and then eventually talk yourself out of it when you remember that nobody on the island has showered for more than a month?
When former Holy Cross coach George Blaney briefly took over for Jim Calhoun (battling a stomach virus) in Saturday's game, did any other HC grads think to themselves, "All right, they're up by 19, just 15 minutes left ... you know what? I think George can still blow this!"?
Speaking of UConn, if Okafor is healthy, they're a mortal lock at this point, aren't they? They're just on a different level than anyone else. Tons of UPPPPPPPP-side. There's no way they can blow this. They're just too good. It's a done deal. Mail them the trophy right now.

(How was that for a reverse jinx? Did that work?)
Did I actually hear an announcer say during the Pitt-Wisconsin game, "So much at stake for both of these coaches, one very old, one very young"? I heard that, right?
Does it drive anyone else bonkers when an announcer audibly gives up on a team coming back, but you don't give up -- since you gambled on them and all -- and then when the team actually DOES come back, the announcer goes overboard with the "Wow, I can't believe this, I never, EVER thought they could come back, I thought they were out of this game!" routine?

(And, yes, this happened during Maryland's comeback against Syracuse, even though the Terps spent the last three weeks rallying back from behind against everyone in the ACC. I'll give one guess who was involved?)
It's 87-74, Xavier, with 4.2 seconds remaining ... and Mississippi State fouls intentionally to stop the clock? What's the thought process here? Was the coach trying to get one of his players to swallow their own tongue on the sidelines? Isn't this the kind of question that a sideline reporter should ask?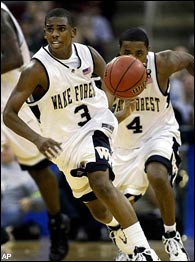 Freshman point guard Chris Paul has been perhaps the Tournament's most impressive player.
In all honesty, would Cincinnati fare better in the NCAAs if Bob Huggins didn't dress like he was thinking about squeezing in nine holes after the game?
Is it just me, or are Emeka Okafor and Chris Paul looking like the only Tournament stars who could make an NBA All-Star team some day? I know guys like Luol Deng, Josh Childress, Devin Harris, Ben Gordon and Jameer Nelson are potential top-15 picks ... but would you wager on seeing any of them in an All-Star Game?
Why don't trailing teams know who to foul in the final minute? For God's sake, how does someone like Gerry McNamara or one of the 19 Diener brothers ever get fouled at the end of the game? Shouldn't you be triple-teaming them and forcing the ball somewhere else? Don't coaches tell them this? Or do guys blank at the end of games and forget the scouting reports? And if that's true, why even call timeouts then?

(Here's a helpful hint for the fouling thing: Stay away from the point guard with the crewcut and the Mark Price poster in his room, and just look for the seven-footer with no neck and Tom Boerwinkle's body. Just trust me on this.)
And finally, can anyone turn down a good gambling story from the first weekend of March Madness? Not Page 2. Thus, I'm giving you not one but TWO gambling stories from the weekend.

1. (Not a March Madness story, but worth mentioning ...)

Ever since the Rasheed trade, the Pistons have been money in the bank. It's been uncanny. Nobody can score on them. Throw the Detroit money line with the under and you're golden. So they're playing the Cavs on Sunday, and I'm parlaying the Detroit money line with all my college bets. Just for kicks, I tease the Pistons down to minus-1 and tease the over-under down to 172.5 -- only because the Cavs can't guard anybody and the Pistons are good for 95-100 by themselves.

Fast-forward to the final two minutes. The Pistons are up by 20, which means we've officially entered Darko Time. Highest of high comedy. This is a whole other column. I don't know what's better -- Darko in garbage time, Darko's hair, or every Chad Ford column where he defends Darko. It's a three-way tossup.

Anyway, we're in the final minute and I need one more basket to cover the over. Kedrick Brown blows a layup. The Pistons milk the clock and launch a horrible three. We're under 10 seconds. It's not happening. DaJuan Wagner is dribbling out the clock. Suddenly he explodes to the basket for a last-second dunk. It's inexplicable.

And as he's soaring towards the basket, something even more inexplicable happens ... Darko stumbles over to contest the shot, jumps up like a drunk guy trying to do a chest-bump, and absolutely CLOBBERS Wagner. The ball goes flying in one direction. Wagner goes flying in another direction. The buzzer sounds.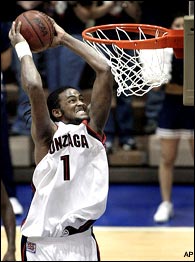 If Ronny Turiaf hadn't gotten into foul trouble, maybe Gonzaga would have had a chance.

No call.

Game over.

I swear on Larry Bird's life, this happened.

2. I threw the Gonzaga-Nevada game in nearly every one of my Saturday parlays, thinking the Zags' money line was a lock. Within 10 minutes, I locked out. It was a classic "No F*****g Way Game" out of the "Madden" video series, the one where you're down 21-0 to the computer before you even know what happened.

It was unbelievable. Turiaf picked up two fouls in 150 seconds. Stepp started out 2 for 10. Some skinny white dude on Nevada started draining fallaway threes. The officiating was so impossibly one-sided, I actually called one of my friends to make sure the back spasms weren't causing me to hallucinate. I've never seen anything like it. Even Dick Bavetta must have been embarrassed.

So I tried to make up for the losses with Maryland, learning a valuable lesson in the process: Never bet on a team where Darryl Strawberry's son could end up taking the last shot. For God's sake, the '86 World Series happened 18 years ago -- I'm still getting reamed. Fifty years from now, I'll have the Seton Hall women's field hockey team in a four-team parlay and Lee Mazzilli's great-grandaughter will end give up the game-winning goal.

The Sports Guy's NCAA picks
ELITE 8: Wake Forest; OK State; Syracuse; UConn; Illinois; Texas; Ga. Tech; UAB

FINAL 4: Wake Forest; UConn; Illinois; Ga. Tech

TITLE GAME: UConn over Wake Forest

Anyway, now I was furious. And that's always a bad thing for gamblers. I limped over to my computer -- let's hear it for online gambling, everyone! -- intending to throw a ridiculous amount of money on the UConn money line.

(Note to any aspiring gamblers out there: Don't ever try to recoup your losses with one wager. This is how cars end up getting repossessed. Repeat: Don't do this.)

Of course, the UConn game had just started ... no bet for me. Just my luck. I'm not exagerrating -- if I had gotten that bet in, I think it would have changed the outcome of the game. Regardless, I helplessly watched the Huskies cruise to a double-digit win, toggling that game with my longshot title bet (UNC at 22-1 for $100), as the Heels went down in flames against Texas. By the end of the game, it was a race between me and Roy Williams to see who would pass out first.

The lesson, as always: You probably shouldn't gamble.

Probably.

(And yes, I'm headed to Vegas this weekend -- bad back and all. Hell, I may even gamble with real money. Stay tuned.)

Bill Simmons is a columnist for Page 2 and ESPN The Magazine, as well as one of the writers for "Jimmy Kimmel Live" on ABC