By Bill Simmons
Page 2
Editor's Note: This column appears in the April 12 edition of ESPN The Magazine.
Ever spent time trying to figure out Hickory High's box score the night it beat South Bend Central? What about arguing over who was better -- James Edwards or Bill Cartwright? Or determining the starting five for the Ken Bannister Memorial All-Ugly Team?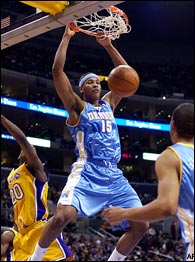 How good is Melo? He's hanging with the big boys out West.
Well, I have. I love arguing hoops. That's just me. So when Detroit drafted Darko over Carmelo last June, I felt like a lawyer handed a case I couldn't lose. This was a slam dunk. Not only had the Pistons pulled a Bartman, it was potentially a once-in-a-generation blunder -- right up there with Portland taking Bowie over MJ, or Coppola casting his daughter in The Godfather: Part III.
This isn't about Darko as much as it's about Melo. Ever notice how many Hall of Famers played in an NCAA championship game? This is no accident. Carrying your school to the title means something. Either you're a winner or you aren't. Throw in Bernard King's game, Dale Ellis' range, Magic's personality ... somehow, it still wasn't enough for the Pistons.
Like Paris Hilton, Melo was a sure thing. But teams can't help themselves from getting involved with the Darko du jour. NBA drafts are fueled by upside and more upside. Heck, if upside were a drug, every GM would be in rehab. Around draft time, you hear words like "long" and "athletic" much more often than "winner." One-on-one contests and jumping drills carry more weight than game tapes. Suddenly, someone like Reece Gaines is leapfrogging Josh Howard and Luke Walton. It happens every year, and nobody learns.
Maybe Darko is the wake-up call. Melo is averaging 24 since the break, and his impact on Denver's win total compares favorably with Larry Bird's on Boston's in 1980. And what about his age? At 19, Bird was driving a garbage truck, T-Mac was carrying Vince's water and even Kobe and KG were just getting their feet wet. But here's a baby-faced teen rejuvenating a scarred franchise in an impossibly tough conference.
And then there are the Pistons, one scorer away from being the equal of any of the bigwigs in the West. (Note: I'm in Vegas as I write this, and the Pistons are 10-1 to win the title. They'd be 5-2 with Carmelo. Don't blame me, I'm just the messenger.)
Pistons fans seem to be stuck in collective denial, like they're still hung over from drinking the Joe Dumars Kool-Aid. They all spout the same excuses:
1. We didn't need Melo. And why is that? Because they already had Tayshaun Prince. Tayshaun Prince?! That's like passing up a free Ferrari because you already own a Miata. I see no brewing NBA subplot more intriguing than Melo and LeBron (certainly not Tayshaun and LeBron) battling for supremacy of the East every season, with the possible exception of Canada decriminalizing pot. C'mon, Detroit, who would you rather watch? Is this even worth discussing?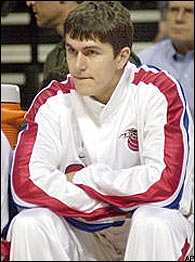 Smile Darko, you've got the best seats in the house come playoffs.
2. A bunch of teams wanted to trade up to get Darko, including Denver. Well, I'm definitely wrong now. NBA teams never screw up.
3. You always go big over small. That's fine, except in this case, small was a mortal lock, and big was an 18-year-old Serbian project. There are no guarantees with projects -- just ask Shawn Bradley, William Bedford, Benoit Benjamin ... I could go on for days. More important, the Pistons already had a good team that just needed another option. Carmelo would have pushed them over the hump. The East sucks. Their window is right now, dammit. I swear, I might have a seizure.
4. You need to be patient; just look at Dirk Nowitzki. Excellent point. Now, I'll let you in on a little secret ... like just about every other European, Dirk is soft. Hasn't gotten better in three years. Can't rebound when it matters. Still settles for his jumper instead of drawing contact. Couldn't guard Paul Mokeski ... now. I love watching the guy, but if he's your "best-case scenario" for passing up a future 10-time All-Star, you need to go back to the situation room.
And then there's this. How does it help Darko to spend his rookie season as a clumsy victory cigar, his frosted hair making him look like a misplaced troubled sitcom son? For godsakes, he's a sideshow. Meanwhile, Carmelo's success only illuminates Darko's failures. If the Pistons fall short this spring, the Carmelo backers will sprout like the pods in Invasion of the Body Snatchers. This sound like a healthy spot to put an impressionable rookie adjusting to life in America?
5. Have you seen our Pistons since the Rasheed trade? We're doing just fine without Carmelo, thanks. Yeah, but you're still not going to beat the Kings or the Lakers. Trust me on this. And even if you do, you won't have the privilege of watching Melo in person for the next 15 years.
Hey, there's always DirecTV.
Bill Simmons is a columnist for Page 2 and ESPN The Magazine, as well as one of the writers for "Jimmy Kimmel Live" on ABC