By Bill Simmons
Page 2
Start stockpiling canned goods and NBA Entertainment tapes. Build a bomb shelter in your backyard with a TV, VCR and NBATV. Say goodbye to your loved ones. That's right, the NBA apocalypse is coming -- a Finals that could end the league and ABC as we know them.
See if this puts a chill down your spine ...
"You're looking live at the SBC Center -- it's Game 6 of the NBA Finals! Along with Byron Scott, Tom Tolbert and Bill Laimbeer, I'm Mike Tirico. Last Thursday night, the Pistons staved off elimination with a hard-fought 45-41 victory over the Spurs. Both teams set a record in this one -- a combined 18 percent field-goal shooting, plus a Bruce Bowen 3-pointer that careened off the side of the rim and accidentally killed a ballboy. Guys, have you ever seen anything like this before?"
The NBA Finals no fan wants to see: Spurs vs. Pistons.
Don't laugh. We're headed for hardwood hell. I don't mind watching the Spurs or the Pistons -- it's always fun watching teams that play well together, take charges, execute textbook switches on defense and do all the little things. You just don't want two defensive dynamos facing each other. There's a reason people still have nightmares about the Holyfield-Ruiz trilogy. Some matchups just can't work.
Here's the problem: The Pistons are going to make the Finals. That Rasheed Wallace trade kicked them into another gear -- nobody can touch them in the East. They're too tough defensively. And with the Kings mired in an Amanda Peet-like freefall, and the Lakers battling more issues than Frankie on the "Real World," it's basically down to Minnesota and San Antonio in the West. As if KG and the Wolves didn't have enough pressure on them.
Without further ado, let's play 20 questions about the 2004 NBA Playoffs:
1. Why was the final night of the regular season so important?
Usually that final night settles fantasy drafts and allows guys like Tamar Slay to say they played big minutes in an NBA game. Not this year. First, Milwaukee blew the No. 5 spot by gagging at home against Toronto (now they're stuck playing the Pistons). Then Golden State shocked Sacramento, followed by Kobe's incredible game against Portland ... now the Lakers are sitting pretty at No. 2 and avoid the Mavericks in Round 1.
(On the bright side, Slay played 26 minutes against the Heat, going 4 for 13 and even getting a couple of steals. And that's not all, folks. The best player in the history of Haiti, as well as the guy who hopped the railing near the end of the first round in 2002 to shake hands with a terrified David Stern -- the immortal Samuel Dalembert -- put up a 23 and 10, one final salvo in his race with Bobby Sura to see who could put up better fantasy stats on a crummier NBA team. The final winner? America, that's who.)
2. Who's the worst team in the playoffs?
The Celtics. You can't imagine how brutal this team is. They won 16 of their last 43 games. They have the worst home-court advantage in the league, mainly because their fans are still in shock that the front office raised ticket prices, then dismantled a 48-win team in a lousy conference. And Danny Ainge has been so inept, he couldn't even sabotage the team enough so it wouldn't make the playoffs.
See what happens when you start hanging out with Ricky Davis?
It gets worse. Their one All-Star, Paul Pierce, has played maybe six All-Star-caliber games since mid-December, right when the Celtics traded for Ricky Davis ... a move which unfolded like a "Simpsons" episode where Marge brings in a foster kid who teaches Bart how to smoke cigs, avoid curfew and hotwire Homer's car. Everyone loves Ricky -- he's a great guy by all accounts. You just don't want your franchise player hanging with him until all hours of the night.
Anyway, I hate watching this team. I hate what happened. I hate the fact that they're about to be swept by an average of 20 points a game. At least we get a lottery pick out of it.
(Oh, wait ... we don't.)
3. What's the upset special for Round 1?
Well, Boston, Milwaukee, Houston, Denver and New Orleans are out. As much as I like Memphis, they aren't taking four games from the Spurs. And the Knicks aren't beating New Jersey without Allan Houston, not unless Kidd's knee comes flying off during the series.
That leaves the Mavs. And when you think about it, Dallas and Sacramento have similar problems: Erratic player rotations, defensive breakdowns, shaky coaching, just a general sense of bad karma. What happened with Webber's gradual acclimation to the lineup was one of the weirder NBA subplots in recent memory -- you had a team playing better than anyone, and things got screwed up because they added another talented player to the mix. When does that ever happen? Even the curators at the Ewing Theory Hall of Fame were perplexed by this one.
And with that said, I'm still taking the Kings, who are too big upfront for Dallas. So no upsets in Round 1 ... which sounds like an upset in itself.
4. Just out of curiosity, what was the most underrated moment of the season?
Other than Calvin Murphy admitting that he had 14 children by six women, but making it clear that all the children lived in the Houston area, as if that somehow made it OK? Other than that?
Umm ....
I'd have to go with the Harlem Globetrotters testifying at Jayson Williams' trial. Did they fly them in from Gilligan's Island? Did they enter the courtroom to "Sweet Georgia Brown"? Did they pull the "bucket of feathers" trick on the jury? Did two of the players play keepaway with the judge's gavel? I could watch a 10-hour documentary about this.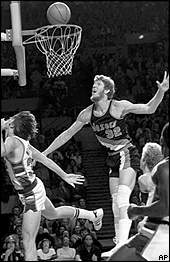 Can Minnesota pull off the same feat as the '77 Blazers?
5. When was the last time a team went from "Never winning an NBA playoff series" to "Winning the title" in a single season?
You have to go all the way back to Walton and the '77 Blazers -- one of my all-time favorite teams -- in the ABA merger season. Here's the point: These things don't naturally happen. Title contenders take baby steps -- you learn how to win in the playoffs over a few years, and eventually you advance to a bigger stage. So expecting Minnesota to suddenly win the title seems a little far-fetched. Let's see them win two series in a row first.
6. What's it been like living in L.A. and following the Lakers on a day-to-day basis?
Just plain bizarre. During the first few weeks of the season, they were playing at a higher level than any team since the '96 Bulls -- there was a 10-game stretch where they were just KILLING teams. Beautiful to watch.
Then Malone injured his knee. Kobe's trial wouldn't go away, overshadowing the day-to-day grind of the season. Payton started griping about the triangle offense. Opponents realized that they could run on them. Those familiar problems defending opposing point guards popped up for the umpteenth straight year. Phil Jackson stubbornly stuck to the triangle when it was painfully obvious that the offense should have been running through Payton and Kobe. Shaq started dropping F-bombs. And then Kobe pulled his surreal "You think I'm shooting too much? Well, watch this!" performance in Sacramento last Sunday (reminiscent of Rick Barry in Game 7 of the Warriors-Suns series in '76, and yes, I watch way too much NBATV).
The jury is still out on whether Kobe Bryant and Shaquille O'Neal can co-exist.
My gut feeling: There's just too much going on. You can't carry this much baggage into the playoffs. It's always a recipe for disaster. Throw in the fact that San Antonio owns them and I can't see them getting past Round 2.
7. When was the last time one of the best NBA players was distracted in the playoffs by his own rape trial, even flying back and forth between games on a private jet?
The last time it happened was way back in 1953, when Rochester Royals big man Cookie Thomas ...
(Sorry, just kidding -- wanted to make sure you were still paying attention.)
8. Who's the most surprising starter for a playoff team?
I'd have to narrow it down to these three ...
Ricky Davis -- One of those guys who seemed destined to play on 20-win teams for his entire career. And frankly, there's still time.
Nene -- Has anyone with one name ever started a playoff game before? And is anyone else enjoying the Nene Era as much as me? Why do we have to limit this phenomenon to Brazilians? Couldn't Jumaine Jones just start calling himself "Jumaine"? Who's against this?
Damon Jones -- Hasn't he played on every NBA team? Hasn't he chest-bumped at least three-fourths of the players in the league? I could swear he had a cup of coffee with the Celtics during the M.L. Carr Era -- back in the days when I woke up at 1 p.m. every afternoon, played entire seasons of "NHL '96" in three weeks, and nodded affirmatively in bars as my buddy J-Bug told girls that he was a Formula One race car driver. Now Damon Jones is starting for an NBA playoff team? Really?

(Are we sure this isn't a reality TV show, one of those feel-good projects where they stick one of the Wayans brothers on an NBA team, rig it so he succeeds and keep the cameras rolling for six months? Can somebody find out?)

9. Give me one reason why each of the favorites WON'T win the title.
In the name of Don Buse, this is not an NBA championship-caliber point guard.
Indiana -- In my lifetime, no NBA team has won a championship with the likes of Jamaal Tinsley, Anthony Johnson and Kenny Anderson playing the point.
Detroit -- I'm not sold on their crunch-time options in close games. Rasheed rarely posts up anymore. Defenses that know how to switch can shut down Rip Hamilton coming off those screens. They start two players (Tayshaun Prince and Ben Wallace) who averaged a combined 67 minutes a game and couldn't even crack 20 points between them. They're afraid to play Corliss at the end of games because of his defense. And for whatever reason, they haven't properly explored pick-and-rolls with Chauncey Billups and either Rasheed or Mehmet Okur (both of whom can shoot).

So that leaves Chauncey -- one of the ballsiest players in the league, no question -- and his "whittle it down to the last five seconds of the shot clock, stutter-step a few times and launch the stepback three" routine. Sometimes it works, sometimes it doesn't. Remember, he's a 39 percent shooter. I'm just not sure you can win a championship with someone like Chauncey as your Go-To Guy.
Los Angeles -- See above.
Sacramento -- They quit down the stretch. Never a good sign.
Minnesota -- Lack of experience, too much self-imposed pressure on KG.
San Antonio -- Free-throw shooting. Duncan shot 60 percent, Parker 70, Bowen 58 and Nesterovic 47. That's hideous.

10. What's the best possible thing about a New Orleans-Miami series?
Odom led Miami's second-half surge and finished with averages of 17.1 points and 9.7 rebounds.
Other than TNT and ESPN gleefully handing off all seven games to NBATV? Well, it's the ultimate test for Lamar Odom -- he wasn't just one of the feel-good stories of the season, his career turned around in a "Bernard King in 1983" kind of way. Did anyone NOT write this guy off?
Now he's one of the best 20 players in the league, capable of playing four positions, abusing smaller players down low and throwing up a 20-10-10 on any given night. Imagine being a Clippers season-ticket holder and watching Lamar leave town, then hook himself to the Juvenation Machine for an entire season? Along with KG, Kirilenko, Kidd, and LeBron, Odom was a first-team All-Star on the "Guys Who Just Look Like They're Fun To Play Hoops With" team.
Here's why I'm mentioning this: Does anyone else see the irony in Lamar Odom finishing an 82-game season for Miami -- a notorious NBA city for partying -- taking them to the playoffs, then battling New Orleans in the first round? It's like the playoffs for Self-Control.
11. Why is it better for Houston if they get swept by the Lakers?
Because that means they'll clean house. We have now wasted two years of Yao's career. The best passing big man in two decades ... and he's stuck playing with shoot-first guards and people who can't move without the ball. It's criminal. Do you realize that Yao finshed the season with 122 assists in 82 games? How is this even possible? Imagine him on the Kings, or even the Jazz? This is insane.
12. Is David Stern slipping?
Put it this way: At Stern's absolute apex, the following things never would have happened:
"That's funny. What do you mean we're not in the playoffs? Stern promised we'd get in."
Kobe's case never goes to trial ... the Pistons take Carmelo over Darko (just to get 'Melo and LeBron in the same division) ... Mark Cuban's Web blog never sees the light of day ... every NBA team is strongly discouraged to avoid signing Vin Baker, for the good of the league ... and there's ABSOLUTELY NO WAY IN HELL that either Carmelo or LeBron misses the playoffs, even if Dick Bavetta has to referee every Cavs and Nuggets game in March and April.
Is Stern getting soft? Has he entered the "Vito Corleone stopping to buy some fruit with only Fredo as his bodyguard" stage of his career? We'll know if the Knicks are still playing six weeks from now ... because the David Stern I grew up with never would have allowed a Final Four of Indiana, Minny, San Antonio and Detroit.
13. Who are the feel-good teams this spring?
A) Miami
Did you ever think you would see the day where the Heat would be fun to watch? We already covered Odom, the best all-around player in the East this season. Dwyane Wade turned out to be a future All-Star, as well as another guy who would have helped the Pistons 200 times more than Darko did. Eddie Jones still has some juice. They finally got Caron Butler on track in these last few months. And Rafer Alston has to be the happiest story of the season, a streetball legend who finally found a home.
I see them killing the Hornets in Round 1 and making things VERY difficult for Indiana in Round 2.
B) Memphis
See, this is what I grew up with -- teams that went nine or 10 deep, where you never knew who would be playing at the end of games. It's a beautiful thing. I'm just not sure if the "Different guys step up every game" approach can work in the playoffs, when everything slows down and you need one or two guys who can deliver night after night.
(As for Hubie Brown, you know how much I love the guy ... it's just that Jerry Sloan HAS to be the Coach of the Year. It's not even a debate. How could that Jazz team finish with a winning record in the West? How was it even in the realm of possibility? I swear I watched them win a game on the road last month with a starting lineup of Raja Bell, Googs, Ostertag, Arroyo and Woody Harrelson.)
Carmelo made the Nuggets one of the best stories of the NBA season.
C) Denver
Just a dead franchise. Nobody cared. And Kiki comes in, clears some cap space, picks the right free agents and lucks out with 'Melo. It's almost enough to make you forget about the Nik Tskitishvili pick. What about 43 wins in the West? This is one of those teams where they show Denver's bench during crunch time and all the players are standing and waving towels. There isn't a guy in their top nine you wouldn't want on your team.
And then there's 'Melo. I couldn't decide between him and LeBron for Rookie of the Year, mainly because of the "If they switched teams, would either team be worse?" rule of thumb (and yes, Cleveland would be worse, but Denver would be about the same). But then I watched the Portland game -- the Nuggets needing a win to stay alive, 'Melo dunking on Ratliff with 30 seconds to play, then forcing OT with a ballsy 20-foot fallaway with 4 seconds left, eventually finishing with 30 -- and my mind was made up.
14. What's the most overrated angle of any playoff preview so far?
Anyone excited about Shaq-Yao in Round 1. You have a better chance of seeing Shaq get struck by the Light Rail in Houston than seeing him have problems with Yao in a playoff series. Give Yao two more years, some upper-body strength and teammates who understand his strengths ... then we can talk.
15. What would be some fun gambling props for the playoffs? Right up my alley! Let's go with these ...
Total points Indiana outscores Boston in the series: Over/Under 55.
Number of Kobe trips to Colorado while Lakers are still alive: O/U 2.5.
Longest Magic Johnson monologue without anyone else speaking: O/U 140 seconds.
They're back ...
Will Shaq punch Kobe after a game?
(Yes: +700 ... No: -850)
Number of times the cameras show Joumana and TJ: O/U 975.
ABC's overall rating for a Spurs-Pistons Finals: O/U 5.0

16. Come on, can't you come up with a couple more?
Will Stephen A. Smith make it through a pregame show without screaming angrily into the camera?
(Yes: +450 ... No: -600)
Number of Heat-Hornets games shown on NBATV: O/U 3.5
Will Vin Baker miss a practice or game during the playoffs?
(Yes: -200 ... No: +150)
Number of times cameras show Antoine Walker sitting on the bench during crunch time, trying to pretend he's not ticked off: O/U 25.
Total points for Darko in the playoffs: O/U 10.5
Who will screw up the Kings-Mavs series?
(Rick Adelman +120 ... Don Nelson -110)
Number of inexplicable WNBA promos that serve only to antagonize and enrage the NBA's core audience of fans: O/U 3500.

17. For God's sake, is this column almost over?

Almost.

18. What's the most underrated Round 1 matchup?
MVP of the regular season is one thing, but MVP of the playoffs is a tougher task.
Minnesota-Denver features two of my favorite players (KG and 'Melo), with some interesting supporting characters (Camby, Boykins, Spree, Cassell) and some enjoyable random white guys (Fred Hoiberg, Mark Madsen, Chris Andersen, Jon Barry) to boot. You couldn't ask for much more in a series. And geez, if the Nuggets can somehow take a 3-2 lead back to Denver for Game 6 ...
19. What are some random exciting subplots over these next two months?
In order ...
A. This whole C-Webb thing ... yikes. Nothing would surprise me here. He could pull out a gun like the running back in "Last Boy Scout" and I wouldn't be surprised.
B. Seeing unknown stars playing on the big stage and winning fans. For instance, I'm not sure most fans realize how good Carmelo is. Or Odom and Wade in Miami. Or Michael Redd. Or even the remarkable Marquis Daniels, an undrafted free agent who's pushing Steve Nash out of Dallas as we speak. And which role player will win the Tyrone Lue Memorial Award for "Best Over-His-Head Performance By A Free Agent That Directly Results In Him Getting a Ludicrous Contract This Summer"? My money is on Hedo Turkoglu.
C. Another spring with Kenny, Ernie and Chuck.
D. Watching this Lakers' saga unfold. Again, nothing would surprise me. They could get swept in Round 2, or they could lose two games over the next two months. At least they're interesting.
E. Seeing MSG come alive in a playoff series. Sure, it's a pipe dream, and I despise the Knicks at heart ... but let's face it: Those are the only fans in the league who can directly affect a professional basketball game. When MSG catches fire, it's always a good thing. And that's why you can never ignore the Knicks. Not even with Lenny Wilkens coaching.
20. Who's the best player in the playoffs?
When in doubt, this is always the rule of thumb: Find the best player and go from there. And as good as KG has been playing, I'm still going with Duncan until someone takes the juice from him.
The final call: Duncan and the Spurs will repeat as champs.
Which means the playoffs will unfold like this ...
The Spurs handle L.A. in Round 2, kickstarting a chain of events in which Malone and Payton flee the premises, Kobe heads over to the Clippers, Jackson retires and Shaq either retires or drops 40 pounds and vows revenge on the entire league.
The Kings implode against Minnesota, leading to the inevitable Webber trade (Memphis?), Adelman's firing and the Maloof brothers being depressed for about 20 minutes ... right until they remember that they own an NBA team and a casino in Vegas.
Detroit destroys New Jersey. Just kills them. Indiana barely fends off Miami in the other series, leading to the inevitable "Carlisle and Brown face their old teams" conference finals, which Detroit wins in six. Not a bad series, either.
In the other conference finals, Duncan holds off KG and keeps the juice. Spurs in six.
Then we have the Finals: San Antonio outlasting Detroit in six grueling games. And I mean, grueling. For everyone. Just remember to build that bomb shelter.

Bill Simmons is a columnist for Page 2 and ESPN The Magazine, as well as one of the writers for "Jimmy Kimmel Live" on ABC