By Bill Simmons
Page 2
For the past few months, my favorite SportsCenter segment has been "Fact or Fiction." It's just a good gimmick. I keep waiting for ESPN to dilute it with ripoff ideas, like "Half-Truth or Half-Lie?" or John Clayton and Sean Salisbury playing "Truth or Dare." But that hasn't happened. At least not yet.
And since I'm always looking for ways to spruce up my NBA Playoff Column ... screw it. Let's play "Fact or Fiction."
FACT OR FICTION:You will never hear the phrase "Chess Match" during a playoff series involving Rick Adelman and Don Nelson.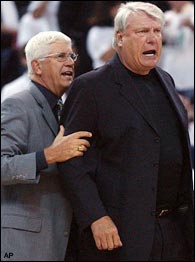 "Nellie, it's OK. We'll get you a hot dog after the game."
That's a fact. This latest one was like watching Rupert and Big Tom strategizing on "Survivor," multiplied by 100. Have you ever seen two good teams make more mistakes during crunch-time? Do you realize that Dallas squandered not one, not two but three games on their final possession (all off-balance jump shots)? Or that the Kings slowed their offense down for most of the series, running everything through a hobbled C-Webb, when nobody on the Mavs could guard Mike Bibby? Why wasn't Dallas running more pick-and-rolls and taking advantage of the fact that Webber couldn't move? Why weren't the Kings running Bibby and Peja off more screens? We may never know.
Nelson took home the coveted booby prize in the end, which is why he's about to get canned (about four months too late). He spent the season yanking around everyone's minutes and trying different rotations, which never, ever, EVER works. NBA players need structure. Scroll through the champions of the past 40 years and I defy you to find a team that didn't have a set rotation. So what happens in the playoffs? He keeps tinkering. Nobody gets into a groove. They lose in five.
Other than trying to rush through a pick-and-roll in eight seconds at the end of Game 4, my favorite Nellie move happened in Game 2. Looking for a spark, he called on Najera -- only his toughest player and someone who could push the softer Kings around. So what happened? Najera predictably shoves C-Webb around, crashes the boards, keeps about 100 loose balls alive and wills the Mavs back into the game, just like he did in the Spurs series last spring. See, this is what Najera does. You would think he would play 30-to-35 minutes a game. You would think.
So Najera zooms around like the Great Cornholio. He's all over the place. You can't possibly play harder than this. Of course, Nellie never takes him out. Najera plays the whole second half at warp-speed ... by the end of the game, he's not even close to being the same guy. Amazingly, the same thing happens to Nash in Game 5 -- he's going all-out, never gets rested, then fades down the stretch and botches a couple key plays (including a crucial lay-up).
So I ask you ...
Is it a coincidence that Nelson hasn't coached in the Finals, and he doesn't abide by the rules of "Always settle on a rotation," "Put your best defensive players on the court when it matters" and "Rest your guys when they're tired"? I think not.
FACT OR FICTION: In retrospect, those Walker-Jamison moves didn't work out for Dallas.
That's fiction. They weren't winning a title no matter what happened last summer. It never hurts to stockpile quality players ... or in Walker's case, a salary that expires next summer (as opposed to Raef LaFrentz's albatross deal). Both guys had more value than what the Mavs gave up to get them. And Walker's contract, coupled with Finley or any of their young guys, gives them a major bargaining chip next season.
Here was the problem: The Mavs honestly thought they improved because of that "You can never have too much offense" crap. But Walker worked against them -- he didn't complement the other players or fill in any of the gaps they were missing. If anything, he took too many big shots away from Nowitzki and Nash, something that reared its head again in Game 5. They just didn't need him. They were always better off with Najera or Josh Howard out there.
Like Kenny Smith was saying Thursday night -- you CAN have too much offense. You only need two scoring options, three at most. You don't need four, and you definitely don't need five. What you do need are guys who can rebound, play some D and make Najera Plays (intangible plays that don't show up in box scores). That's basketball. There's a reason Bruce Bowen plays 35 minutes a game for the best team in the league.
(And if I'm discussing the Mavs too much, it's only because I liked watching them. Couldn't that series have gone seven? Would that have been too much to ask? Where was my man Dick Bavetta for Game 5? Is David Stern even in the country right now? What's happening here?)
FACT OR FICTION: The Heat-Hornets series has been going on since January and we haven't even reached Game 5.
Fiction. It actually started two weekends ago. In mid-April. Now we're one day away from May. Game 7 is tentatively scheduled for mid-June. Just hang in there.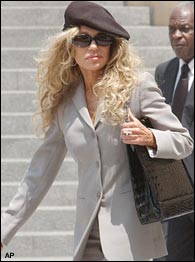 Of course Dyan actually will be at the Kobe trial. What else does she have to do?
FACT OR FICTION: I convinced the Sports Gal last week that Jack Nicholson and Dyan Cannon paid big bucks to sit in the front row during the Kobe Trial next month.
Fact. Although she was pretty sleepy when it happened.
FACT OR FICTION: Richard Jefferson is making one of those "Bibby in the 2002 Playoffs"-style leaps.
Fact. He's even showing signs of becoming a legitimate GTG (Go-To Guy) from time to time. Jefferson sneaks up on you -- you never think of him as one of the best athletes at that position, and yet he makes one or two "Wow!!!!" plays every game. And when he ate Frankie Muniz alive at the Celebrity All-Star Game in February, it pushed his career to another level.
Three other young guys making mini-Leaps:
Marquis Daniels -- In retrospect, last summer he would have been better off destroying all his college tapes, dropping three years from his brith certificate and pretending he was from France. Maybe he could have even changed his name to Marqo.
Michael Redd -- Capped an All-Star season by rising to the occasion against the Pistons this month. He's one of those guys who plays hard on both ends, never tries to do too much and never gets in anyone else's way. I love guys like that. And he can score on anyone. Would you rather start a team with Redd at reasonable money, or pay twice as much for Pierce, Carter, Francis, Shareef, Marbury, Baron Davis or Ray Allen? I thought so.
Tayshaun Prince -- Begrudgingly took over the Bucks series midway through Game 3, and only because his team had run out of options and Milwaukee was officially getting ideas about winning the series. It was like seeing eight college kids struggle to pay a dinner tab with fives and ones, then somebody at the table says, "Wait, I have some money" and pulls out a wad of 100s. Once he started asserting himself on offense, the Bucks were done. So why doesn't he play like that all the time?
FACT OR FICTION: The Knicks should retire Bernard King's number.
Fact. During the Knicks-Nets game on Sunday, I was perusing the retired numbers at MSG and did a quadruple-take when I realized he wasn't up there. Who meant more to the Knicks in the '80's than Bernard King? I don't care if he was only playing Pantheon-level hoops for two and a half seasons. That's like penalizing Nirvana because they only made a couple of albums. Put him up there. Nobody would be against this.
FACT OR FICTION: Jimmy Jackson grabbed 20 rebounds in Game 4 of the Lakers series.
Fact. Other than 'Melo's one-for-16 in Game 4, that has to be the stat of the playoffs so far. Twenty boards for Double J? Twenty?
Just goes to show you -- you can always find quality veterans who haven't found the right situation yet, whether it's Jackson, Najera, Trenton Hassell (Minnesota), Matt Harpring and Raja Bell (Utah), James Posey (Memphis), Bobby Jackson (Sacramento) ... it's always someone. Watch younger guys like Brian Cardinal, Juan Dixon and Jiri Welsch over these next few years, or even older guys like Eric Snow and Aaron McKie. Any of them would thrive in the right situation.
FACT OR FICTION: Billy Joel is the Celtics GM.
Fiction. It's actually Danny Ainge. Although he did manage to drive the bandwagon into a telephone pole.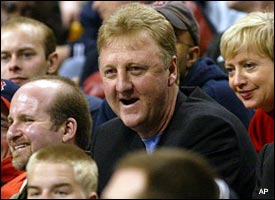 Just like in the 80s, Larry Legend smiles after getting an assist from Ainge.
FACT OR FICTION: The 2004 Celtics were the worst team that ever made the playoffs.
Fact. I don't have any statistical evidence to prove this. Sure, they were a 36-win team that lost every playoff game by double figures, something that hasn't happened since 1980 (and that was a Rockets team that had Moses Malone). But the utter hopelessness pushed these guys over the top.
Their best player made Frankie from "Real World: San Diego" seem upbeat by comparison. They quit down the stretch in Game 2, followed by Danny Ainge fleeing to Europe to avoid the heat. Boston fans stayed away in droves -- more than half the luxury boxes were dark for Game 4. Free-agent-to-be Mark Blount was openly pining for a different team. Chucky Atkins said it was the "softest team he ever played on." Interim coach John Carroll was so disliked, the halftime scene at the end of "Varsity Blues" didn't seem so far-fetched anymore. Only Ricky Davis seemed fine. Then again, as my friend Hench pointed out, you can turn on any Celtics game, watch Ricky for a few minutes and be utterly unable to determine whether the game is close or somebody's up by 20.
On the heels of everything that happened two years ago -- the unexpected run to the Conference Finals, with basketball meaning something in Boston again -- it was jarring to watch. These guys were a disgrace -- they just didn't care. And because of the Baker trade, the LaFrentz-Davis deals, all those botched draft picks and no cap space, it will be at least two more years before this team becomes competitive again.
That's why I wasn't surprised when Doc Rivers jumped at the chance to save the day. How could he make things any worse?
FACT OR FICTION: The Rockets should have been up 3-1 heading into Game 5.
Fact. Jackson makes that three at the end of Game 1, Francis gets off a decent shot at the end of Game 4 ... seriously, Jeff Van Gundy may not sleep until August. Tough series. The Lakers were ready to roll over. And frankly, they still are.
FACT OR FICTION: The New Jersey Nets are about to get destroyed by the Pistons.
Fiction. The Nets won't go away. They just won't. It's like seeing Joel Stein on one of those goofy lists shows on E! or VH1. Just when you think you're done hearing him deadpan jokes about the Top 40 Celebrity Feuds, he's giving you his unsolicited opinion on the top 20 Starlicious Makeovers. It never ends. He just keeps coming. He's relentless.
Same with the Nets. Everyone wrote them off this winter because of Kidd's knee. Including me. If anything, he's as good as ever, even unleashing a new weapon in the Knicks series, where he started backing down their guards in the low post, then either forcing a double-team or spinning towards the basket. Unstoppable. Then throw in three more X-factors:
1. K-Mart gunning for that max contract, his confidence swelling to crazy heights as the dominant forward in a crummy conference. Nobody can touch him. It's hard to remember another frontcourt player mixing so much talent with so much preening and posing. Usually, I hate this stuff -- Dikembe Mutombo's finger-shaking actually made me insane -- but it works with K-Mart because he's always playing so hard. He isn't showing off; he's just a lunatic. There's a difference. Nobody has a bigger effect, just from a personality standpoint, on the overall demeanor of his team.
2. Jefferson (mentioned above).
3. These guys have been playing together for so long, it gives them a decided advantage in close games. Look around the league -- only the Kings and Pistons have similar crunch-time lineups from last spring. You need time to jell. Just ask the Mavs.
FACT OR FICTION: Chris Andersen is the league's first certifiable wildcard since Scot Pollard was still alive.
Fact. First he breaks out the "Duke's errand boy in 'Escape From New York'" spiked hairdo ... inexplicably goes with the schoolboy part for the first three games of the Minny series ... then pulls out Jack Sikma's perm for Game 4, which practically brought tears of joy to my eyes. Was anyone else getting Mike Brady and Randy West flashbacks? That was too good.
FACT OR FICTION: You will see a European star come up big in a playoff series before you die.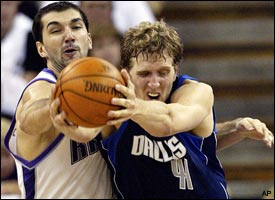 Isn't the Euro worth more than American currency? Not in the NBA Playoffs.
Ummmmmm . . . fact. Although this proved I need to take a geography course -- originally I wrote that Manu Ginobili came up big last year, but he's from Argentina, which definitely isn't in Europe. The lesson, as always: I'm an idiot. But Tony Parker IS from France, and he looked fantastic in the Round One. So I think we can still say "Fact." I think.
(Um, France is in Europe, right?)
This wasn't the best month for Euros. Nowitzki missed 17-of-22 in a must-win in Game 4. I liked his competitiveness in Game 5, but did anyone think he would make that final shot? It wasn't his finest series; with C-Webb hobbling around, was there a single player on the Kings who could handle him? Of course not. Pau Gasol was worse in the Spurs series, taking a grande (fill in the Spanish word for "dump") for four straight games.
And then there's Peja, who looked like Jimmy Chitwood for the first three months of the season, even invoking Larry Legend comparisons from a few moronic sportswriters now facing an eternity in Hell. Then C-Webb returned, Peja deferred to him, the Kings stumbled into the playoffs and he turned into the same old Playoff Peja. What's up with him squaring up on guys, stutter-stepping and launching off-balance 20-footers? Where did that come from? If he hadn't made a couple of key defensive plays, he would have been a lost cause.
But still ... what is it with these Euro guys? Do they lack a certain level of killer instinct? Is it a language thing? As soon as the playoffs roll around, most Europeans stars get the Trish Face going. Remember the way Trish's eyeballs bulged out of her head when she realized the Bachelor's friend had been in the house listening to her stories about threesomes and affairs with married men? Yeah, the Trish Face.
(And don't kill me for watching "The Bachelor" ... you'll understand when you're married. If you can watch a TV show with your wife, it might as well be a show revolving around the theme "hot chicks acting crazy." And to be honest, I like the poignant guitar music at the end after some of the girls have been dumped, when they cry into the camera and say, "I don't know what happened; I thought we really made a connection."
(You know, the more I'm thinking about it, TNT should play that song every time somebody gets eliminated in the playoffs, when everyone's shaking hands and stuff. That smarmy Bachelor host could even come out after the buzzer and tell the losing team, "Gentleman, I'm gonna have to ask you to say your goodbyes." Then we would see Michael Redd hugging Rip and Sheed. I'm telling you, it would be emotional.)
FACT OR FICTION: It took Larry Brown nearly three games to realize that he should probably start double-teaming Michael Redd and leaving Brevin Knight open.
Fact. Really? You should leave open a guy who's played on 20 different NBA teams because he can't make an open jumper? You think so, doctor?
FACT OR FICTION: This feisty Nuggets series was just what the T-Wolves needed.
Fact. Hell, it's what everyone needed -- a throwback series with trash-talking and shoving, some cheap shots, a rowdy Denver crowd that rose to the occasion on Game 4, even Francisco Elson questioning KG's manhood for "touching me in my private parts." Didn't it remind you of the days when the NBA allowed teams to compete like men, before Riley and the Knicks ruined everything? Fun series. We were one 'Melo sprained knee away from going seven. And no, KG and the Wolves haven't proved anything yet.
FACT OR FICTION: Doug Christie has been playing the best hoops of his career in Round One.
Fact. He's been unbelievable. Even as he's seemingly gone off the deep end with those crazy hand signals to his wife. Have you ever taken a step back and thought about how bizarre that ritual is? And you thought Nomar's routine with his batting gloves was strange.
Then again, the Christies bring us so much joy. Like this e-mail from reader Jason Milletary in Pittsburgh: "You know those NBA playoff commercials where the players are trying to seduce the championship trophy? When do we get the one with Doug Christie trying to talk to it but only to have his wife enter the scene and accuse the trophy of trying to steal her man?"
Or this e-mail that I sent to some friends after Game 4: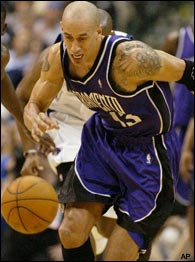 Christie tries to bat the ball out of the way to escape his charging wife (not pictured).
"Classic moment from last night's Kings-Mavs game: Star of the game Doug Christie is grabbed by Pam Oliver. Uh-oh. He's not supposed to talk to other women. This is very dramatic. Plus, she made the mistake of touching his arm and smiling at him in the set-up. That's a no-no.
"So he's answering her questions and being careful not to crack a smile or flirt in any way ... she wraps it up, throws it back to the studio. Even as she's wrapping it up, he's fleeing like it's a crime scene; and as he's fleeing, a third party comes into frame -- Mrs. Christie! -- who's grabbing his arm and pulling him away from Pam. So now he's bolting away from Pam AND Mrs. Christie, pulling his arm away from her and running off into the background behind Pam as Mrs. Christie scurries after him. Unbelievable! Highlight of the playoffs!"
See, that's what I love about sports -- when you're hoping that something happens, and then it actually does.
FACT OR FICTION: The Grizzlies were never in that Spurs series.
Fiction. After looking tight in Game 1, they made a run in the third quarter of Game 2, even taking the lead ... and then the Spurs laid the smack down. Big Shot Rob pulled his Nate Dogg routine and made two big threes. The crowd turned it up a notch. The Spurs shifted their defense up to All-Madden level. Duncan took over the game. And the Grizzlies just couldn't keep up. It was like watching the 12-year-old Philly runner trying to keep up with Rocky in "Rocky 2." They were never the same after that sequence.
Here's why I'm mentioning this: San Antonio's "best" is still better than anyone else's "best." They have an extra gear. They just do.
As the Lakers are about to find out.
Bill Simmons is a columnist for Page 2 and ESPN the Magazine, as well as one of the writers for Jimmy Kimmel Live.