By Bill Simmons
Page 2
Between the enigmatic Lakers, KG's Pantheon Run, Mark Madsen dunking in crunch time, yet another Kings collapse, the distinct possibility of a pier-six brawl in the Nets-Pistons series and everything else, this could potentially be one of the best playoff weeks in recent memory.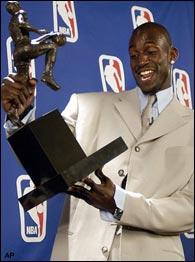 We interrupt this KG moment to talk about some list injustice.
But we can deal with that stuff on Friday when everything plays out. Today, I wanted to tackle Jeff Merron's list of "Top NBA Non-Finals Playoff Performances," which ran yesterday on Page 2 and left me with the Sami Kapanen "Could somebody help me skate back to my bench?" Face for about three hours afterwards. Eventually, I called my editors and demanded Merron's e-mail address so I could sign him up for various porn sites. When they refused, I demanded equal time. Which they granted. Nervously.
Anyway, before we tackle Merron's list, here are the top five things that annoy me about lists:
No. 1. Everyone does them now.
You can't spend 48 hours without stumbling across somebody's list of the "Top 50 Most Beautiful People," "100 Hottest Women," "50 Funniest Movie Scenes," "20 Greatest Athletes," "20 Best Celebrity Makeovers," "50 Best Russian Hockey Players That Anna Kournikova Has Made Out With" ... it's like every magazine, Web site and TV network collectively threw up their hands and said, "We give up, we can't come up with anything interesting anymore."
No. 2. Every list is completely subjective and almost always ridiculous.
They shouldn't make you angry. Really, they shouldn't. For instance, FHM's most recent "100 Sexiest Women" list ranked the Olsen Twins at No. 21, Jessica Alba at No. 35, and the Band Camp girl from "American Pie" at No. 48. Take it from someone who's seen all four of them in person -- sandwiching those other three around Jessica Alba is like ranking the greatest NBA players ever and putting Larry Bird between Pat Cummings and the Van Arsdale twins. This shouldn't make me angry. Really, it shouldn't.
No. 3. These lists always have a way of sucking you in ... right up to the point where something goes terribly wrong.
Like VH1's show about "40 Greatest Celebrity Feuds," the show where the Biggie-Tupac feud didn't even crack the top five. Wait a second -- didn't both guys die? What else needed to happen? You're telling me that the Biggie-2Pac feud was slightly tamer than the Dixie Chicks and Toby Keith? Really?
No. 4. Even though I hate these lists, I always enjoy them. If that makes sense.
Like Blender's entertaining list of the "Worst 50 Songs Ever" last month -- I didn't agree with half the picks, but their No. 1 choice redeemed everything: "We Built This City" by Jefferson Starship. Now that's a horrendous song. Personally, I would have voted for either "Cleopatra's Cat" by the Spin Doctors, "Spin the Black Circle" by Pearl Jam or "Mother" by The Police. If there's a hell, all three of those songs would be playing at once while Skip Bayless and Stephen A. Smith scream at one another. But still, you can't argue with "We Built This City."
Here's the point: I hate getting sucked in by gimmicks specifically designed to suck me in and make me crazy. It's like giving your dog a treat for peeing on the living room carpet. That's why I didn't want to read Merron's NBA list yesterday, at least until a reader alerted me that Sleepy Floyd's 29-point fourth quarter against the '87 Lakers only made "Honorable Mention."
Honorable mention?
You score 34 points in 11 minutes against one of the 10 best teams of all-time, in a must-win game ... and that doesn't make the top 10?
Really?
Well, now I had to see this list. I'm not holding the Sleepy screw-up against Merron; for God's sake, I'm the same guy who wrote that Manu Ginobili was European last week. There's a decent possibility that Merron just had a brainfart, or that he was trapped in a drainage sewer back in '87. So we'll give him the benefit of the doubt. I'm like the Wolf in "Pulp Fiction" right now -- I don't want to ruffle any feathers, I'm just here to clean up someone else's mess.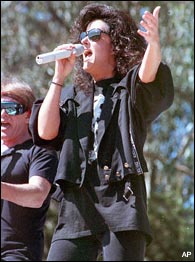 Coming soon to a Six Flags near you ... Jefferson Starship.
For the most part, I thought Merron did a good job. Even agreed with six of his 10 choices.
1. Reggie Miller dropping 25 on the Knicks (Game 5, '94)
This one actually passes the "I Remember Exactly Where I Was When I Watched This Game" Test (in my case, the Warren Tavern in Charlestown). Nobody has ever been that scorching hot, from that far away, with that much on the line. It was incredible. As an added bonus, this was the game where the country finally started to turn on Spike Lee. A good day all around.
2. Bernard King putting up 44 against Detroit (Game 5, '84)
Remember, he scored 211 points in 5 games against the Pistons, then dropped 40-plus twice on the future champs from Boston in the next series. Even Huey Lewis didn't have that many hits in 1984. But this one featured the dramatic Isiah shootout, Marv Albert at his absolute apex, and my favorite follow-up dunk ever (King's running two-hander in traffic that put the game away in OT). Just a thoroughly entertaining game. Probably in my top 10.
(And yes, I know I've mentioned Bernard in 22 of my last 27 columns. Hey, it's the 20-year anniversary of the Year of Bernard. What do you want from me?)
3. Jordan notching 54 in a must-win against the Knicks (Game 4, 1993)
One of the definitive MJ Games. I always thought that specific Knicks team brought the best out of him -- like Merron mentioned, Starks always made him work for everything, and they used to gleefully knock him down every time he drove to the basket. You know the phrase "blood money"? Any time MJ sprung for 40-plus on those Knicks teams, those points always felt like the NBA equivalent of blood money. What a series. The Chaz Smith Game grows even more unbelievable over time, doesn't it?
4. The Larry-Dominique Shootout (Game 7, 1988).
See, this would have been first on my list -- Game 7 in the Garden, palpable drama, and both guys rose to the occasion. Wilkins was simply remarkable -- 47 points, and in the Garden, no less -- absolutely the defining moment of his career. This was also Larry's last transcendent playoff moment: 20 points in the fourth. His body broke down pretty much right after this game. All you need to know is that ESPN Classic uses a Musberger soundbite from this game for its commercials.
5. Barkley exploding for 56 against the Warriors (Game 3, 1994)
He just killed them -- 23 for 31, 27 in the first quarter alone, yapping his mouth the entire time. And Don Nelson never double-teamed him. Not once. That's my favorite part of the whole game. I think Don Nelson is destined to manage the Red Sox for a season before everything's said and done. Somebody needs to arrange this.
6. MJ's 63-point game (Game 2, 1986)
Yeah, it belongs on the list ... but No. 1? For one thing, they lost. He also needed two OTs to break 60. Heck, in Game 1, he scored 49 in regulation and they lost that one, too. Why was that performance any better or worse? And if you actually watch the tape, there's no point during those 58 minutes where you will say, "Wow, this guy was in the zone!" When you heave 41 shots and get to the line another 21 times, there's a pretty good chance you're breaking 50 (especially if DJ gets into foul trouble, which was the real key to this game).
I'll go this far: I don't think this one ranks among MJ's top five playoff performances. Give me the Flu Game; Game 6 in '98 against the Jazz; Game 5 in '89 against the Cavs; the 55-point game in the '93 Finals; the 35-point half against Portland in the '92 Finals; and the 54-point game against the Knicks. If Larry never said that "God disguised as Michael Jordan" quote, people, we wouldn't even be having this discussion.
As for Merron's other choices for the top 10, one of them just plain confused me: The '67 Chamberlain selection. That came out of left field. That series was more about the end of the Celtics dynasty than anything else. I also didn't agree with the Cousy game in '53 because it happened before the shot clock. That's like choosing a 1953 stag film as one of the top 10 porn films of all time.
As for Iverson's 50-point games ... seriously, can you name five guys from the 2001 Raptors? Shouldn't the situation count for something here? And besides, anything that involves VC's defense should probably be taken with a grain of salt, right?
Same with the Stockton game from '88 -- yeah, 24 points and 23 assists sounds pretty good, but they lost the game. How was this superior to Isiah scoring 25 in one quarter against the '87 Hawks and winning the game? Or Bird carrying a crippled Celtics team into Game 5 against the '87 Pistons, then stealing the ball against Isiah to save the series? What about Kobe exploding for 48 points and 16 boards to complete the Sacramento sweep in 2001?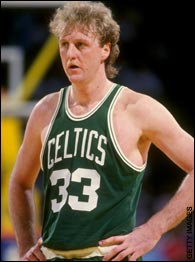 A compliment from Basketball Jesus can go a long way.
None of those performances were any better or worse than the other. Personally, I would expand the list to 12, then add Bird's steal against the Pistons, Isiah's 25-point quarter, plus honorable mention for David Stern's performance in Game 7 of the Suns-Sonics Western Conference finals (for further details, read Kevin Jackson's Seattle column this week).
And I would fill out the list with these four games:
Hakeem's 49-25 against the Sonics (Game 6, 1987)
You read that one right ... 49 points, 25 rebounds. Maybe they lost the game (and the series), but this was the best individual performance by a center in the past 20 years. Remember, he was playing for a terrible team -- this was the year when Lloyd and Wiggins got nailed by drug suspensions and Sampson was battling knee problems. A one-man wrecking crew.
MJ makes The Shot against the Cavs (Game 5, 1989)
MJ makes The Leap, scoring 44 and draining two game-winners in six seconds. The first one gave Chicago the lead in the closing seconds. Then the Cavs ran one of the niftiest inbounds plays ever -- this was back when Lenny Wilkens was still alive -- when Craig Ehlo threw a 30-foot inbounds pass to Larry Nance (posting up like a tight end), then sprinted towards Nance, who gave Ehlo a little-give-and-go for the go-ahead layup. And if you see the tape, MJ was the only guy on the court who realized what was happening, ditching his guy (Mark Price) halfway through the play, flying in from the foul line and nearly blocking the shot.
So what happened next? MJ rattled home that memorable double-clutch jumper to win the series. And Doug Collins (with that gawd-awful Marcia Clark perm) ran around like an idiot, hugging everyone in sight and leading Jerry Krause to think, "Unless we win the title, I have to fire this guy." Fantastic game.
(By the way, everyone in Cleveland is dying right now. Sorry, guys.)
Hakeem simply decides to destroy David Robinson (Game 2, 1995)
Kenny Smith just told this story on TNT last week. It's one of my favorites. Robinson won the MVP in '95, which was ridiculous because everyone knew Hakeem was still the best player in the league. I never understood this logic -- maybe the most egregious example happened in '93, when Barkley won the MVP when MJ was in his absolute prime. So MJ had to annihilate the Suns in the Finals -- I think he actually left body parts and wreckage when that one was over. And to be honest, if KG and the T'Wolves survive the Kings series, Duncan will end up doing the same thing. Tim Duncan is the best player in the league. He should always win the MVP if he's healthy. Always. Always. Always. I will not argue about this.
Anyway, before Game 2, they presented Robinson with his MVP award ... and the Admiral gave a speech and thanked some of the great centers who had won the award before him. Well, he didn't mention Hakeem. Big mistake. A suddenly-motivated Hakeem exploded for 41 points and 16 boards, including 29 points in the second half. In the final two games of the series, he outscored Robinson 81-41. For the series, Hakeem averaged 35.3 points 12.5 rebounds, 5.0 assists, 4.1 blocks and 1.3 steals. You could even argue that Robinson's career was never quite the same. And it all started with that speech in Game 2. NBATV needs to show that whole game. With the speech.
(Here's my favorite thing about Hakeem: In a 13-month span, he bested all three rivals from his generation in the playoffs -- Ewing, Shaq and Robinson. How many athletes could say that? In any sport?)
---
And then there's No. 12, forever known as the Sleepy Floyd Game, as well as the reason for this column. A few things you need to know:
Sleepy Floyd had a good career. Not great, but good. He played in an All-Star Game but never averaged 20 in a season. He had a herky-jerky style handling the ball -- high dribble, stutter steps, dangerous first step -- so he was tough to guard and nearly unstoppable in transition. But there's a reason they called him "Sleepy" -- he had a reputation of drifting in games and only intermittently giving a crap. He always left you with the nagging feeling that he should have been better.
Meanwhile, the '87 Lakers were one of the best teams of that decade. Worthy and Magic were in their primes. Kareem still had something left in the tank; this was the final season before he shaved his head and calcified. They had the best defensive player in the league (Michael Cooper), as well as quality role players (Mychal Thompson, Kurt Rambis, Byron Scott) who would have started for just about anyone else. So this wasn't exactly the 2001 Raptors.
Sleepy's teammates included Joe Barry Carroll, Larry Smith, Greg Ballard, Jerome Whitehead and Terry Teagle. Chris Mullin was riding the bench because he was still boozing. Even the immortal Chris Washburn was involved. These guys weren't exactly the '83 Sixers. They were down 3-0 in the series and headed for a sweep. On the bright side, they were playing Game 4 at home, and you couldn't ask for a more loyal, knowledgeable, appreciative group of fans than the ones in Golden State. So if somebody randomly decided to spring for 34 points in 11 minutes against the future champs ... well, let's just say we're in the right place here.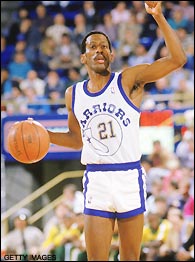 If we're talking moments, and not career, you can't forget about Sleepy.
Fast-forward to the end of the third quarter. The Warriors are trailing by fifteen, 98-83, with one minute remaining. Sleepy has 17 points. He's playing with Ballard, Whitehead, Teagle and Carroll. He's being guarded by Byron Scott, who's playing with Magic, Worthy, Kareem and A.C. Green. If this were a pickup game, somebody would have uttered the words "Let's switch 'em up" by now.
G-State spreads the floor. Sleepy blows past Scott and scoops in a righty lay-up in traffic. Three-point play. On the next possession, he beats Scott again and makes two free throws. 22 points. The Warriors still trail by 14 heading into the fourth. There is no reason to believe that anything memorable is about to happen.
The fourth quarter starts. Sleepy misses a running floater over Green. He won't miss again for the entire fourth quarter. We don't know this yet. Coming back down, he beats Cooper off the dribble and sinks a running one-handed scoop shot. Then he beats Cooper again, executes a gorgeous spin move in traffic, draws a goaltending call AND a foul. Three-point play. Sleepy has 27 points. Suddenly it's 102-93. And by the way, nobody goes by Michael Cooper like that. And it just happened twice.
Now the crowd is involved. After a Magic turnover, Sleepy cherry-picks the other direction for a fast-break dunk. Timeout, L.A. .Sleepy just tied his playoff career high. 29. Remember that number.
After the timeout, Sleepy drives left on Cooper, stutter-steps, beats him baseline -- repeat: beats Michael Cooper baseline -- and lays it in. Seconds later, he converts a fast-break layup off an LA turnover. 33 points. The Warriors are down by three, nine minutes remaining. And yes, Sleepy has just scored 16 points in less than four minutes, none from more than six feet.
He's just killing Cooper at this point. It's unfathomable. This time, he beats him off the dribble yet again, glides down the middle and lays it in. You would think Kareem would be helping out at this point, but that was always the thing about Kareem -- he was a giant ninny who didn't play defense. Don't forget this. Not for a second. There's a reason they joked about it in "Airplane." It was true.
Next possession: Sleepy zips downcourt in transition, never changes speed, crosses over on a backpedaling Green and gets another layup. 37 points. Then he outhustles Magic to a loose ball, gets fouled and makes both free throws. 39 points. The Warriors take the lead.
Sleepy isn't done. He steals an entry pass, goes coast-to-coast, beats Scott off the dribble and somehow makes a one-legged, 10-foot fall-away over Kareem (who may or may not be awake). 41 points. On their next possession, he beats Scott again -- notice how many times I keep writing that -- slices down the middle, changes hands in mid-air to avoid Kareem and somehow makes a twisting lefty layup. Incredible. The crowd is ready to charge the court. 43 points for Sleepy.
Let's take a breath. With 6:49 remaining and the Warriors leading 111-108, Sleepy just scored 26 of the last 28 Golden State points, all on layups, scoop shots, dunks and one-legged fall-aways ... and he did it in six minutes.
Sadly, Sleepy is now exhausted. It's tough to score on every possession for a solid half-hour. He doesn't shoot the next two times down, then gets called for an offensive foul. Looks like the run is over.
Nope.
On the ensuing possession, Sleepy beats Cooper in transition, takes him to the rack and makes a double-clutch layup in traffic. 45 points. Now he's feeling it again. Next time down, he stutter-steps Cooper, stutter-steps him some more, then buries a step-back jumper at the foul line. His longest basket of the streak. 47 points. That one also ties Isiah for most points in a quarter -- 25 -- which just happened two days before. Go figure.
Sleepy is now running on fumes and solar power. He can barely get up and down the court. OK, I'm exaggerating. But he's tired. No points the next three possessions. Sensing a window, the Lakers climb within two points with just under three minutes to play. So Sleepy takes over. Again. Carroll sets him a pick and Sleepy drains a 15-footer. 49 points. The crowd has officially run out of new ways to make noise.
Following a Warriors offensive rebound, Sleepy drives full-speed into a terrified Kareem and gets fouled. My favorite play of the game. Kareem may have been 15 inches taller than Sleepy, but that didn't stop him from looking like a guy jumping on a counter to avoid a mouse. What a wuss. God, it's fun to hate Kareem. Anyway, Sleepy makes both free throws, giving him 29 points in the quarter and 51 for the game. And there's still 1:58 to play.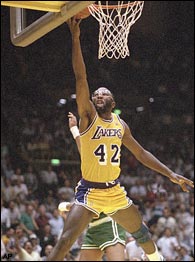 Worthy and Co. won the title, but they couldn't stop Sleepy.
Now here's the weird thing ...
Sleepy never shoots again. He gets a couple of assists, gives the ball up on one 2-on-1 fast break, leaves the game with 13 seconds remaining, hugs a chubby Mullin and soaks in the heart-felt ovation from the fans. He could have gone for 55, maybe even 60. But he just wanted to win the game and go home. That's why they call him "Sleepy."
To recap: Sleepy scored 34 points in 11 minutes. During that stretch he went 13 for 14 from the field and 8 for 8 from the line. He didn't shoot a single three or anything from more than 15 feet. He made eight shots from inside three feet, six of them in traffic. He single-handedly brought his team back from 15 down and saved their season. And he did it against Cooper (the best defender in the league) and Scott (one of the top five or six), the two stoppers on a team that would eventually win back-to-back titles.
Seventeen years later, he gets honorable mention. And you wonder why I hate lists.
Bill Simmons is a columnist for Page 2 and ESPN The Magazine